Which LED bulbs for my Pinball Machine?
There are so many types of LED bulbs available these days, that it is hard to choose the correct one for your pin.
Thereby the LED bulbs has become much better in quality in recent years, but old/bad ones are still available on the market.
That's why we have made a selection of only the latest and best LED bulbs, which we think are the best choice for a pinball machine.
With our explanation below, we would like to help you to make a correct LED bulbs choice for your pinball machine.
The differences between the LED bulbs in our shop:
Frosted: This is most similar with the traditional light bulb, the perfect replacement if you like the pin to have an original look.
Clear: Also similar with the traditional light bulb, just a bit brighter, ideal for places that needs more lighting.
FLUX: Ideal for inserts and spots. With Flux LED bulbs, the ghosting/flickering effect is minimal.
SMD: Similar with Flux, just a bit more bright.
What is Ghosting/Flickering?
Ghosting: The LED bulb stays on a little bit, while it should be completely off.
Flickering: The LED bulb flickers a bit.
Most people won't even notice the ghosting/flickering effect, unless they are pointed to and pays attention to it.
Some might find it very annoying and some doesn't notice it at all.
You can eliminate the ghosting/flickering effect completely with a LED OCD board.
BA9, T10, BA15, T15???
These are the names for the fitting used by the LED / Light bulb.
BA9 is mostly used for GI lighting, other names: #44 and Bayonet.
T10 is mostly used for Insert lighting, other names: #555 en Wedge.
BA15(s) and T15 are used for flashers.
Which LED where to use? Flux, SMD, Frosted or Clear?
The most beautifull effect is created when you use a combination of these LED bulbs.
For example, use Flux and SMD for inserts, Frosted beneath the plastics and Clear also beneath plastics where it can be a bit brighter.
Use Frosted LED bulbs at places where you are looking straight into, so you won't be blinded by the bulb.
You can use a combination in the backbox, for example use a FLUX or SMD to light up a specific spot on the translite.
And use Frosted or Clear LED bulbs if you want the light to be diffused as much as possible behind the translite.
Ps. Frosted and Clear LED bulbs can also be used for inserts, but you might get a bit more ghosting/flickering (recommended: LED OCD board).
Replace Flashers with LED Flashers?
Yes, we we would do that! A traditional Flasher bulb can get very hot and uses a lot of energy.
A higher electricity bill, worn power driver board and plastics getting melted are reasons to choose for LED bulbs.
We have two types of flashers available, Super Flux and 9x Round.
You can use the Super Flux in domes (360 degree lighting) and the 9x Round for below the playfield/insert or backboard (direct lighting).
Warm White or Cold/Cool White?
For an original look, just like with traditional bulbs, go for Warm White 100%.
Warm White has about the same color as a traditional bulb, so a perfect replacement..
So with Warm White LED bulbs you are not only keeping the pin original, but you also have the advantages of LED bulbs (saving energy).
Cold White has a very modern look, very beautifull in modern pinball machines.
But also beautifull in older machines with a fitting theme, for example Twilight Zone, TX Sector other pins with a futuristic theme.
With Cold White LED bulbs, the true color of an insert or plastic is shown.
For example a white insert will be really white, while with a traditional bulb it is more yellowish.
Colored LED bulbs?
This is where the LED fun begins, you can play with colors!
A colored LED bulb makes the color of an insert or plastic much more intense.
For example, if you place a blue LED below a blue insert or plastic, the blue will be much more intense / deeper blue.
The pin will have a much more lively, colorfull and modern look.
It is also recommended for the backbox, with a correct choice of LED colors, the translite will look much better.
But you have to like it ofcouse, it is a matter of taste.
Point of Attention: Not all LED colors have the same intensity/brightness.
For example the colors cold white, warm white, blue, green and red are brighter/intenser than the colors yellow, orange, pink and purple.
Where can I order LED bulbs for my Pinball Machine?
Of course at PinballShop.nl, you can browse our LED bulbs here: http://www.pinballshop.nl/pinball-leds/
Sours: https://www.pinballshop.nl/pinballshop-news/welke-led-lampjes-voor-mijn-flipperkast/?sl=en
Best LED lights?
Quoted from Soulrider911:

Also visited cointaker, theybhave kits as well but are super cheap ? Which made me a little hesistsnt, but I know they make a great product
Yeah actually, they DON'T make a great product, which is why I don't understand why people keep buying their product. Every single time I run into Cointaker crap, it falls apart in my hands. I cannot get their 44's into or out of a tight socket without the LED breaking free of the body. It's ONLY theirs, and it's a problem my wife and I have had repeatedly. Every time I buy a game and it has LEDs and they bust when getting removed for cleaning...sure enough the "CT Stamp of Quality" on the body..
And before someone gets all butthurt and uppity, this is not an isolated incident by far. I've had it happen with things I ordered from them, I've had it happen with UV lamps I bought from them on the floor of Texas Pinball Festival, and I've had it happen with LEDs that have come in games I've purchased from other collectors.. it's quite baffling to me, it's been a problem I've had with their product for over 5 years, and I just don't have the heart to ask for a refund of 80 cents or whatever. I just don't buy their product, and if at all possible I don't take a game being LED'ed into price consideration if it's got their product in it...because I know I'll be replacing it.
My preference by far is Comet, but I've used NiftyLED and PinballBulbs too..
Quoted from Nokoro:

When do people choose frosted over non frosted? When would you choose a flat head vs. a rounded dome? When would you chose a faceted look vs. smooth?
Frosted - If the bulb is visible from player perspective it helps to tone it down. Frankly, I buy *all* frosted and then pop off the tops if I want to use them for inserts.
Flat vs. Rounded - Rounded will have less light thrown to the side and more towards the tip of the lamp. Again...frosted is the way to go IMO, and if you pop the white cap off...guess what...you've got a flat head SMD LED now.
Faceted vs. Smooth - I can't really think of a single reason to pay the premium for the faceted ones. The point is again, it changes the directions the light travels and faceted are supposed to be a more even coverage out the sides. I don't personally buy it, I've owned the faceted ones with round tops from mulitple companies..I'd rather just have...wait for it....frosted.
Sours: https://pinside.com/pinball/forum/topic/best-led-lights

All the four main bulb types are available #44 / #555 / #89 / #906 in various forms and in Seven Colour Variants.
#44 ( Bayonet ) /  #555 ( Wedge )
These bulbs are sold in Six different formats.
1 Led Bulbs
We sell three types of 1 LED : Concave, Flat Top Clear & Frosted Flat Top, Frosted Dome.
Concave - these bulbs spread the light 170 degrees and can be used in the Back Box or as GI, also ideal for playfield inserts where the lamp socket is at 90 degrees to the playfield.
Flat Top Clear - these bulbs spread the light 120 degrees and are usually used under the Playfield, ideal for small and medium inserts
Frosted Flat Top - these bulbs spread the light in a general diffused manner and can be used in any location Back Box, GI and playfield medium inserts.
Frosted Dome - Ideal for GI lighting and recommended by the Norths premier repair man who fits them in all of his machines
3 Led Bulbs
Super Bright 3 led bulbs, for those that find a 1 led bulb too dim.
These LEDs are AC/DC, meaning they can be used in both controlled (inserts) and uncontrolled (GI lighting) sockets.
4 Led Bulbs
For those where Super Bright is still not enough , these are mega bright 4 led bulbs , low profile and will work in any part of your machine the you want to shine , backbox , GI , playfield inserts, especially good in spotlights.
These LEDs are AC/DC, meaning they can be used in both controlled (inserts) and uncontrolled (GI lighting) sockets.
Ghost Busters
Tired of LEDs that stay slightly lit up when they are supposed to be completely off ?  These LEDs are the answer !

Guaranteed to completely eliminate all ghosting issues on the following manufacturer's/systems:

Williams/Bally WPC
Williams/Bally WPC-95
Sega - Apollo 13 and after
Modern Stern (1999-present)
Gottlieb System 3
Capcom
Colour Changers
For those clear inserts where you want to add a bit of variety , these colour changers ( "slow" change every three seconds ) rotate through a 7 colour cycle
RedRed/GreenGreenGreen/BlueBlueBlue/Red    Red/Green/Blue
Ideally suited as a feature bulb , or in a bank of clear inserts.
#89 ( Bayonet ) / #906 ( Wedge )  Flashers
The flashers that are sold are 9 Led and not to be confused with the cheaper versions of flasher that are sold.
These are top of the range 9 Led flashers ( the Rolls Royce of Flashers ) that are the brightest bulbs on the market.
These bulbs are rated at 100,000 hours ( over 11 years ) of constant use , probably the last bulb you will ever need to buy.
 Now also available 8 Led Flasher ( fixed and directional ) / Tower Flashers and 1 Led #906 ( directional )
All of our LEDs are guaranteed to work and will be replaced if returned to us.
If you can't find the LED's you are looking for, pleasecontact usand we'll do our best to source them for you.
Sours: https://www.onestoppinball.co.uk/collections/leds
Important Information about LED's

Any pinball machine can be converted from incandescent bulbs to LED's.
Reasons to convert:
They are brighter.
LED's last much longer, draw less current (connectors don't burn) and generate a lot less heat.
Playfield plastics are less likely to warp.
Less heat behind the backbox / head may mean longer life for the backglass.
They look great.
Reasons not to convert:
Expense. It can cost $100 and up to convert a game.
Not easy. Many of the bulbs are difficult to get to.
Brighter is not always better. Many people go overboard. Making a 30 year old pinball machine as bright as a new Stern looks silly.
Not all machines do well with LED's. May need new boards, extensive modifications, or special bulbs.
Even with the correct bulbs and adapters in the right machine, LED's turn on and off faster than incandescent bulbs and it can lead to an undesirable strobe effect.  Adapter boards can fix that problem.
Suggestions of what to do and what not to do:
Always use 'Warm White' or possibly 'Sunlight White'.   'Daylight Bright', 'Cool White' or 'Natural White' is just, well, unnatural. Other color temperatures are too blue for older pins.  Note that the names used to describe color temperature are confusing.  The best is to find the color temperature number and compare it to the color scale.
Stay with frosted. They diffuse the light like regular bulbs.
5050 SMD (surface mounted device / diodes) – single SMD is a good choice. Don't go overboard. It is like turning up the color on a TV and going 'oh wow'. You will get tired of it.
Flashers do not have to be converted. Flasher bulbs are bright, last a very long time and do not use much power. If you want to save some money, skip those.
We color match. It makes color inserts look 'richer'. Yet orange LED's are not as bright and we sometimes use white there. An alternative is to use brighter white LED's (2x 5050 SMD) on darker colored inserts – but they do not look as good as matched colors.
Spot lights / flood lights can use brighter LED's and can work out well. Because spot lights usually light up broad areas of a playfield, sometimes brighter is better.
Kits are great, especially if doing one game. But they are more expensive.
If the bulb under the insert is not pointed up directly into the insert, a regular LED might not be bright looking. Install a single LED on a flexible wires so it can be pointed into the insert.
Make sure your LED's work on AC circuits. All but the least expensive do. DC LED bulbs are becoming rare, so not much of an issue anymore.
Use right boards / adapters for the correct machines (see below).
Don't listen to the fanatics that love to make their games blinding bright. They are idiots.
A well done brightness comparison.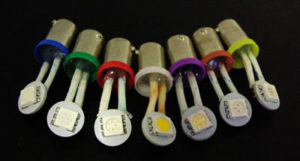 Where to purchase LED's:
Cointaker – A pioneer in pinball LED's. Perhaps the best selection of kits with exactly the right type and color of LED's for a specific game.
Comet – Perhaps the largest selection of LED's. We have used their lower priced LED's in non-ghostbuster applications.
Pinball Life – Great LED's at slightly lower prices.  We use their bulbs extensively.
Titan Pinballs – A good selection and good prices.  Great non-ghosting LED's. 
Action Pinball – They look fine but we do not have any experience with them.
Pinball Blubs – A nice selection. We have no experience with them.
We generally do not recommend purchasing LED's and kits from general pinball parts suppliers. They are higher priced and do not have as good a selection.
General Information
Glossary
COB LEDs – COB LEDs are the next generation of LEDs, and may someday replace SMD LEDs. Brighter and cheaper to make.  3rd generation of LED lighting – it is coming.
Color Temperature – When shopping for home LEDs, color temperature is used to describe the color.  With most pin LED's, the color temperature is not specified.  Warm white, sunlight white and natural white (or cool white) are frequently used instead.  Generally, warm white is closest to the color of incandescent lamps.  A color comparison.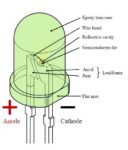 DIP – Direct In-line Package .  Traditional LED where each LED is clearly separated from others, with two leads attached.  Not used in pinball much anymore, except in opto switches.
Ghosting – This is an LED that may appear as faintly on, even when it is supposed to be off.  A pinball machine with ghosting will require the use of non-ghosting LEDs in the switched lamps.
Non-Ghosting Pinball Machine – A pinball machine that does not exhibit ghosting and can use standard LED bulbs.
Ghostbuster or non-ghosting LED's are required on newer Bally / Williams (WPC), Sega/DE and Stern pins for the switched lamps only. If using regular LED's on those pinball machines, the LED's may glow faintly when they should be off.  These have a resistor in series with the LED to keep it from glowing. Even on some EM's, ghosting might be an issue for switched lamps.  GI lamps can use regular (not non-ghosting) LED's.  Note that Williams changed the code for WPC95 pins so most of them should not need non-ghosting.
GI – General Illumination. These are on all the time (some machines may dim or turn them on or off). Any cheap AC LED will work just fine in the GI circuit.
LED's – Light Emitting Diodes.  Diodes are DC and allow current to pass in one direction only.
Lumen – A measure of brightness.  The higher the number, the brighter.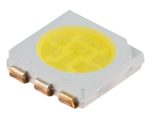 SMDs – 'Surface Mounted Device' or 'Surface Mounted Diode'. LEDs are mounted on an aluminum substrate and enveloped in an epoxy resin.  Replaced DIP LEDs.  Second generation of LED lighting.
Switched lamps – These are lamps that are turned on and off during game play. These may require special circuit changes or non-ghosting LED's. Or not. See notes on the specific games, below to see if you must use anti-ghosting bulbs.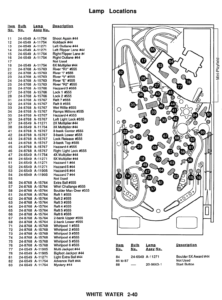 Most, but not all, inserts are switched lamps. Most of the rest are GI. The best way to tell is to go into your service menu and select testing lamps. Have all switched lamps turn on and off. This will identify which are and are not switched lamps.  Or check your manual.
Note that some pins use a relay to turn on and off GI lamps. They are still GI lamps, not switched, and never need special anti-ghosting bulbs. Another way to tell is to look at the wiring. All GI lamps use the same two wires and are 'daisy chained' from lamp to lamp. Look at the back of the wood inset in the backbox to see the difference in wiring of GI vs. switched lamps.
It does not hurt to use non-ghosting bulbs in GI lamps.  It can be a bit more expensive.  But non-ghosting should not be used with most lamp LED aftermarket boards.
Strobing – Incandescent bulbs glow and slowly get brighter and dimmer. LED lamps turn on and off very quickly. This leads to a strobe effect that some find unnerving or even upsetting. If this happens in a game, the only way to get rid of it is to go back to incandescents or put in a lamp board designed for LED's.
DC vs. AC LEDs – All LEDs run on DC (direct current). GI circuits are AC (alternating current). When hooking up the original LED bulbs, these DC LEDs flickered, like bad fluorescent lights. To solve those problems, manufacturers installed tiny circuits in the bulbs to convert AC to DC so the bulbs would work on AC. Almost all LEDs sold now contain those circuits so DC vs AC is no longer an issue. But always check with the seller to insure you are getting AC compatible LED bulbs.
SMD LEDs – Brightness – What do those numbers mean?
SMD's may also be referred to by an ID number. The most common are 3528 and 5050. Those numbers refer to the size.  A 3528 is 3.5mm x 2.8mm.  3528 contains one 3.5mm by 2.8mm (9.8 sq. mm) LED per chip. 3528 are somewhat comparable in brightness to the traditional LED (although they can be a little brighter).
5050 SMD's contain a larger LED at 5.0mm by 5.0mm (25 sq mm or 2.5 times larger). Therefore, they are much brighter than 3528 or regular LED bulbs. 5050 SMD's are quite useful when installing multicolor lights as each LED can be one of the three primary colors.
We used to prefer the single SMD 3528 lights but they are getting harder to find, so we are buying single 5050 SMD's.  Double 5050 SMD's are also available.  These brighter LEDs work exceptionally well in darker inserts, but mixing single and double 5050 SMD's on one playfield can cause problems.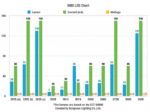 While generally, the larger the SMD the brighter, but that would be too easy.  Example of SMD numbers are: 2835, 3528, 3020, 3030, 3535, 3014, 4014, 5050, 5060, 5630 and 5730.  With new technology, some newer smaller sizes can take more power and get brighter than just their size would indicate.  For example, 3528 can handle just 0.06 watts. But the newer designed 2835 could handle up to 1 watt and be up to 15x brighter. More information from LEDlighslighting and saving-star.com.
So which to pick?  What to look for is the output in Lumen, which is a measure of brightness similar to wattage as a measure of power.  3528's output is 6 – 9 Lumen, 5050 output is 18 – 24 Lumen, and 5630 / 5730 is 50 – 63 Lumen.
It is also important to look at the light spread and the cap.  A clear cap can mean a more focused bright dot, while a frosted cap spreads out the light more.  Some bulbs have all the SMD LEDs on the top, while others have them spread around for better dissipation.   Which to use depends on where they are mounted. In most cases, the traditional shaped lamp with a frosted dome is the safest choice.
Game / Manufacturer Specific Information:
EMs:
EM (electromechanical) machines can be easily converted. If you feel the need, be sure to use single SMD LED or 'retro' LED's.
Connectors do not burn. And incandescents do not burn out often enough in home use to make conversion of EM's a priority. Yet we have seen EM's with subtle LED's that look great and we have recently converted a Grand Prix EM and love it.  
Putting LED's in the backglass would be smart.  The heat from regular incandescents might lead to peeling the backglass.  And the brighter LED's can make the backglass 'pop'.  Whether that is a good thing is up to you.
There are reports that 'non-ghosting' LED's might be required in switched lamps in EM's – we have noticed a slight flicker if regular LEDs are used.  This is curious as, in theory, the lamps are completely disconnected when off.  However,  enough power could be induced into nearby wires from higher voltage circuits and arcing, enough to light LED's to a dim level.
Early Bally Solid State and Stern: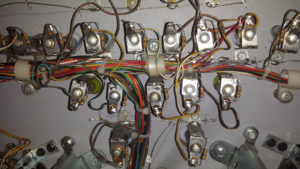 If you have an early Bally SS pin and it is a AS-2518-17,  AS2518-35, AS2513-133,  Stern M-100 or M-200 MPU (go here and select the list under 'MPU'), you have a challenge.  The lamp circuit design will not work with LED's. You have three options:
* Buy a new lamp circuit board such as this, this or this.
* Install a special adapter on your current lamp board.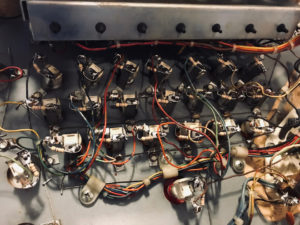 * Or solder a 470 ohm resistor (1/4 or 1/2 watt from GPE, or 1/4 watt from Marco) across every single switched lamp on the pinball machine. Note: switched lamps are those that turn on and off with game play. GI lamps stay on all the time and do not require any special modification.
Once these modifications have been made, you can slap in any AC LED in there. They do not need to be 'Ghostbusters' or non-ghosting LED's.  
Non-ghosting LED's, alone, will not work here.  One of these three options must be followed for the switched lamps to operate properly.  Otherwise, most of the switched lamps will continually flicker when on.
Early Williams Solid State:
To the best of our knowledge, early Williams solid state – system 3 – 7, 9 and 11, do not require any modifications nor do they have to be 'Ghostbusters' non-ghosting LED's so any AC LED can be used in these games.  To soften the 'strobing' effect, a special board is available for Williams System 11.
Gottlieb System 1 and 80:
These early Gottlieb pinball machines can use any AC LED's.  It is not necessary to use non-ghosting LEDs.
Williams WPC, Gottlieb System 3, Sega, Data East and Stern:
We used to have a simple answer for this: 
* Williams / Bally WPC89 and WPC-S – you need to use non-ghosting LEDs.***
* Williams / Bally WPC95 – Can use regular bulbs.***
* Gottlieb System 3 – Need non-ghosting.
* Data East/Sega/Stern* or Stern** from 1989 until Stern** started using LEDs, need non-ghosting.
However, it appears that there are many games in the WPC89 category that may not require non-ghosting bulbs.  And the information out there may not be reliable.  We converted a WPC89 Hurricane which required non-ghosting bulbs.  Yet this is listed in some accounts as being able to use standard bulbs.  And the terminology can be confusing.  A pinball machine labelled 'ghosting' requires ghostbuster or non-ghosting bulbs.  A pinball machine labelled as 'not-ghosting' can use standard bulbs.
All GI lamps can use cheaper regular LED's.  Non-ghosting are nearly double the price, so this is quite a cost savings.
Note that many of these games have an auto dimming selection for the GI's, to turn them down when the game is in standby. Turn that off (leave GI at full brightness) when using LED's, or else LED bulbs will flicker.
An alternative to purchasing non-ghosting bulbs is to purchase a newly designed lamp board specifically designed for your model machine. These are available for Bally Williams WPC, and Stern SAM, Stern Sega Whitestar. Those boards are made to work better with regular (NOT non-ghosting) LED's. The added benefit is that these boards are supposed to 'soften' the on / off of the bulbs so that it is not as harsh and does not cause a strobe effect.  We converted a Lord of the Rings and found that we just had to use an OCD board or it was irritating.
There is also an unofficial software code update for Bally / Williams WPC machines with code that fixes the ghosting problem.  You will need to 'burn' new EPROMs or purchase EPROMs to use this code.  Note that EPROM burning services are not allowed to offer EPROMs with this code for sale.  But they may burn custom EPROMs if you supply the code.
* Data East / Sega pins from 1989 (Version 1 through 3b) plus Sega / Stern Whitestar may require non-ghosting lamps (unless a new lamp board is purchased – for Whitestar pins, not available for DE/Sega V1 – 3b).  There are reports that Data East / Sega V1 – 3b might not require non-ghosting.
** Stern 'SAM' systems require non-ghosting LEDs in machines that were manufactured with incandescent lamps (unless a new lamp board is purchased).
*** WPC89 includes WPC Alpha Numeric, WPC Dot Matrix, WPC Fliptronics 1, WPC Fliptronics 2, and WPC-DCS.  The exception to this should be Williams/ Bally WPC95 pins. Somewhere around 1996, Williams changed their code to get rid of the ghosting problem so later Williams / Bally pins should not require non-ghosting LEDs. Some earlier Williams pins incorporated this change, including:  Attack From Mars rev 1.13, Whitewater rev LH-6, and Twilight Zone rev 9.4H.  These have the update in their EPROMs and do not require non-ghosting LEDs.





Recommendations
If looking for the quick, low risk, and easy, getting a Cointaker kit for your one pin is the way to go.
If willing to work a little more and, perhaps, doing more than one pin, we shop around and buy in bulk to get a discount. We like:
Comet single LED warm white frosted single 505o SMD domed bulb. A hundred pack is $59 as of 02/2020. We use them in all GI lighting and switched lamps where non-ghosting is NOT required. 
Terry at Pinball Life does a great job of providing quality products at reasonable prices. Their anti-ghosting 'Ghost Buster' are great bulbs.  They have recently added less expensive standard (not non-ghosting) LEDs that work well. We buy these in bulk and use them extensively.
For single 5050 SMD LED's, it is hard to beat Titan Pinball's frosted dome warm white, but these bulbs are not 'ghost busting'.
Color match.  It is worth the hassle.  Those color inserts will look better – richer colors.  Orange LEDs are not bright.  White or orange can be used for those orange inserts with similar result.
But if we were just doing one pin and wanted the least hassle, we would just grab the kit at Cointaker (or, if it available, at Comet or Pinball Life) and be pleased as heck.   If doing several pins, we would buy in bulk and make our own 'kits' – and this is exactly what we do.
If you cannot stand the strobe effect, investigate the LED OCD boards. but these are better with standard (not non-ghosting) LED bulbs.
With the changes going on in this high tech market of LEDs, things will change quickly. None of the distributors of these products will steer you in the wrong direction – they are all great people. Make your decision and go with confidence with any of them.
External References
The difference between SMD LEDs -For the geek who wants to know more about the 'guts' of SMD's.
Brightness Comparison – Almost as good as getting samples.
Pop Number LED Review Part 1 & Part 2
LED Ghosting in WPC Pins & Software Patch – A detailed explanation about LED ghosting in WPC pins.
PinballBulbs.com – A list of pins that do and do not require non-ghosting bulbs.  Accurate?
GitHub WPC non-ghosting code – This program will update the lamp matrix driver code for WPC & WPC95 pinball game roms to eliminate 'ghosting' when using LEDs.
Comments
Comments, including suggestions, improvements, errors, etc. are welcome (see below).
If you have a specific question about your game that does not directly apply to LED's, please see our FAQ section.
Sours: https://homepinballrepair.com/convert-a-pinball-machine-to-leds/
Leds pinball
Thank you when I put it in your mouth. Now come on, work Soska, - he already demandedly said. Ulanka looked offendedly at Sergei, but meeting his stern gaze again averted her eyes. She did not understand how he could be like this, then good and gentle, and a minute later already rude and even.
Cruel.
Comparing LEDs and bulbs in a pinball machine - which is best? - PinballHelp.com
He licked with moans, sucked my dick, squeezing the last drops of sperm onto his tongue. When it was over, I lay down to him and licked into his mouth. And his mouth already smelled like his anus, apparently, my dick brought greetings from the ass to his mouth - fragrant and spicy.
Now discussing:
The eyes begin to shine with tears, the nipples harden like a stone. I'm already shivering, hers too. I cant hold back any longer. I want to enter this charming creature.
5720
5721
5722
5723
5724