3 Ride Review: Pushing the limits of the new Pivot Mach 4 in Park City
One of the best parts about PressCamp in Park City is always the proximity to incredible trails. Whether you're looking for lift access, or you want to earn your turns, Deer Valley and the surrounding mountains have something for just about everyone. That always makes testing new bikes a bit easier since there is such a vast trail network to choose from.
This year, the big news from Pivot (and one of the few mountain bikes launched at PressCamp) was an updated version of their popular Mach 4 as well as a new LES 27.5. Both bikes gained boost spacing and a few other tweaks, but naturally the trails of the Wasatch left me reaching for the full suspension option – which proved to be far more capable than the numbers would suggest…
Realistically, if I had more options at my disposal, I would probably reach for something with a bit more than 115mm of travel for the trails in Park City. I was however, on the "Trail Build" which thankfully added a longer 130mm Fox 34 fork as well as a dropper post, larger and more aggressive 27.5 x 2.35″ Maxxis Ardent Race tires ,and a slightly shorter stem with a wider riser bar. Unless I was purchasing this bike with the sole intent of racing, this is the build I would choose every time. Compared to a lot of current "trail bikes" (like Pivot's new Mach 5.5), even the Mach 4 Trail build is still on the XC-ish side, but it's an XC bike that can definitely rally.
My time in Park City was spent on the Mach 4 over three very different days. On the first ride I found myself only riding park, which meant pushing the Mach 4 far past its intended comfort zone. It wasn't the ideal tool for Deer Valley's Black and Double Black diamond trails, but with the addition of the Fox Transfer Dropper post and slightly larger tires, I was able to make it down each trail without issue. Granted, the Ardent Race tires led to some sketchy drifts through the moon dust and gravel on sections of the trail, but for an XC rig it handled everything incredibly well.
Day two found us on what has become an annual PressCamp tradition – the Camelbak Porter ride. Lift up to the top of the mountain, then traverse along to the continually improving WOW Trail, and then it's almost 14 miles of sweet single track descent that spits you out at the bottom of the Heber Valley. More aggressive tires would have helped immensely on the loose, dusty corners, but this turned out to be a perfect ride for the Mach 4. Most of the WOW trail is pretty buffed out, and the XC pedigree helped on the few climbs to the start of the trail. My instinct before the ride had me wishing for one of the few Mach 5.5s on hand, but when the ride was over, the Mach 4 itself did not leave me wanting more.
All good things must come to an end, so for the final day in Park City it was an awesome mix of a ride that tested both extremes of the Mach 4. The ride started with a climb from Mid-mountain up to Empire Pass, which for a sea-level flatlander is a great test of both man and machine when it comes to climbing. This is certainly the time I was most happy to be on the Mach 4 over something bigger as the bike's light weight and dw-link efficiency made me feel better on the climb in hot conditions than I should have.
The reward for the climbing however was a sampling of some of the more fun trails on the mountain which included jumps, drops, berms, and generally trails that you would expect to ride on a bigger bike. Once again, the Mach 4 handled it all in stride and made for a memorable day on the bike with the Pivot crew.
As usual, even three days on the Mach 4 leaves us well short of a full review, but it did make for a solid first impression. True to form, Pivot has once again managed to make a full suspension bike that feels like it goes far deeper into the travel than the numbers would suggest. Bottomless is a term that is often overused, but it's fitting here as the 115mm travel lightweight seemed to punch high above it's weight class.
Compared to other new bikes in the Pivot line up, the Mach 4 is still shorter in the reach department as it's meant for XC racers which still tend towards longer stems. However, with the shorter stem on the Trail build and the riser bar, it didn't feel out of place. As mentioned, even if I was personally planning to race this thing, I wouldn't opt for the XC build. The Trail build is still extremely efficient and completely capable of making its way around an XC race course without slowing most of us down. Dedicated racers have the option though, which is what's important.
At the end of the day, it's that versatility that seems to make the Mach 4 shine. Call it a modern XC bike, call it a trail bike – just don't call it incapable.
Rider notes: Zach is about 5'8″, 150lbs with gear, and has a 690mm saddle to center of BB measurement. For this review he was riding the stock medium Trail build with the Fox Transfer dropper post. 
pivotcycles.com
Sours: https://bikerumor.com/2017/07/11/3-ride-review-pushing-the-limits-of-the-new-pivot-mach-4-in-park-city/
Press Camp 2017: New Pivot Mach 4 and Les 27.5
Mach 4 Carbon
Winner of trail bike and XC bike awards, as well as professional races around the world, the Mach 4 Carbon perfectly embodies Pivot Cycles' philosophy of designing every Pivot to perform at the pinnacle of its category. For riders seeking the ultimate in lightweight trail bikes, the flickable, confidence-inspiring Mach 4 Carbon shines in technical terrain, and anywhere the singletrack gets rough. For racers, the ability to unleash on descents is matched only by the Mach 4 Carbon's World Cup pedaling efficiency and power transfer. Whether it is time to cut loose on your favorite trail or crush the competition at your next race, the Mach 4 Carbon is one bike that does it all.
"Our Mach 4 Carbon is one of the most versatile bikes we've ever designed. Not only does it shine at the highest competitive levels, it is also the most capable XC trail bike you can get", said Pivot President/CEO, Chris Cocalis.
New for 2018 is a fully redesigned rear triangle with increased stiffness and more tire clearance as well as Boost 148 rear hub spacing. "We are also offering this bike in both trail and XC Race configurations", said Cocalis, "enabling riders to get a bike that is dialed for exactly how they want to ride." Riders can choose between a trail-ready build with 130mm travel Fox 34, Maxxis Ardent 2.35 tires and 740mm wide riser bars with shorter stems or a competition ready machine with Fox 32 Step Cast fork, fast rolling Maxxis IKON 2.2" tires and a Phoenix Team Flat Carbon handlebar.
The new Mach 4 Carbon is offered in 5 sizes to fit a wide range of rider sizes and riding styles, including sizes XS and S. Pivot's rider-size-specific geometry relies on a balanced fit and adjusted geometry to maintain correct wheelbase length and handling to properly accommodate the proportions of a smaller rider. Our smaller sizes are built with shorter head tubes to create more stand-over height. Size-specific carbon molds use smaller diameters and unique carbon layups for lighter frames while maintaining the same high strength in a more compact frame design. Additionally, for riders on our extra small and small bikes, lighter shock tuning and leverage rates enable us to set up the Mach 4 Carbon for a diverse range of rider weights and abilities. Pivot complete bikes are also designed to intelligently address real-world rider differences, with the option to choose women's specific saddle on any size and shorter cranks on our S and XS sizes.
Pricing, Specifications, and Availability: Riders have a choice of 3 colors options: Red, Blue, and Lavender (XS, S only). Both XC race and trail oriented options are available with a wide range of Shimano or SRAM components and wheel upgrade options. For complete build details and MSRP, see Pivot's website: http://www.pivotcycles.com/bike/mach-4-carbon
Les 27.5
The LES hardtail family holds victories in professional races around the world. Now, we are proud to introduce the newest member of this winning team – the new LES 27.5. Following in the footsteps of the LES 29, the LES 27.5 is a hardtail aficionado's dream machine – an ultra-light chassis with BMX-like handling and the rollover advantage of bigger wheels, all in a snappy, fast-accelerating package to fit a wide range of rider sizes.
The lightweight, carbon LES 27.5 exceeds previous standards for stiffness and power transfer. This new design incorporates Boost 110mm front and 148mm rear dropout spacing enabling riders to take advantage of wider hub spacing for stiffer wheels and the most precise handling and rider input.  "Our LES 29 is a World Cup winner, with a recent victory in the first 2017 Men's Eliminator event. The new LES 27.5 shares the LES 29's carbon frame features and shaping but has the super nimble handling of 27.5" wheels and really short chainstays, giving it an entirely different personality" said Pivot President/CEO, Chris Cocalis, " it's a fun bike that really rips through berms and technical sections."
The LES 27.5 is available in sizes from extra small (XS) to large (L). Size XS easily fits a large waterbottle inside the frame's main triangle. "With this design, we are able to fit riders all the way down to 4'10", meaning that almost anyone can have a world class race bike. "said Cocalis. "We support a lot of professional female racers across every discipline. Our top XC racer, Chloe Woodruff, is just 5'1", and making a bike that can take her to the front of the pack is a huge priority for us. She has been racing and winning on the prototype for almost a year in both World Cups and in National XC and short track events."
Pricing, Specifications, and Availability: Riders have a choice of 2 color options (Red or Blue), and four sizes (XS, S, M, L). Competition ready bikes with Fox 32 Step Cast fork, fast rolling Maxxis IKON 2.2" tires and a Phoenix Team Flat Carbon handlebar are available with a wide range of Shimano or SRAM components and wheel upgrade options.
For complete build details and MSRP, see Pivot's website: http://www.pivotcycles.com/bike/LES-27.5
Sours: https://mbaction.com/press-camp-2017-new-pivot-mach-4-and-les-27-5/
Pivot has been rolling out all manner of new models of late. Today came the announcement that they were waving the magic re-design wand towards two of their cross-country/trail offerings, the Mach 4 Carbon and LES hardtail.
Here's the Cliff Notes version: The Mach 4 Carbon remains an ultra-light, speed weapon, but receives a stiffer chassis in the bargain, while the brand's World Cup carbon hardtail is now available in a more nimble 27.5 package.
The Mach 4—A Little Bit Country, a Little Bit Rock and Roll
The Mach 4 has been kicking around Pivot's line up from the company's start. In all that time it's always been a wicked little cross-country whip. Well, Pivot didn't screw with the basic formula much with this update on the old standard bearer, but they, no doubt, noticed that even cross-country riders are demanding more descending prowess from their featherweight rides. Long gone are the days of ultra-steep head angles, mile-long stems and a design rationale that went something like "Well, it's twitchy as a meth addict in lock up, so that must make it a great race bike". Long gone. And good friggin' riddance. That's me editorializing. I'll get back to facts in a second.
So, for 2018 Pivot completely redesigned the rear triangle with an eye to increasing stiffness and adding tire clearance. Pivot says the bike will fit up to a 2.6-inch tire… that's a lot of rubber for a little 'ol XC bike. Impressive. As you probably guessed by now, the bike gets Boost 148 rear hub spacing. The company is also offering the Mach 4 Carbon in both Trail and XC Race build kits. You spend your nights dreaming of donning a skin suit and crushing the dreams of other people in skin suits? You're probably going to opt for the XC kit with the Fox 32 Step Cast fork, pinner Maxxis Ikon 2.2" tires and flat carbon bars. Want to just, you know, ride the hell out of a fast bike on a trail? A trail kit with a 130mm-travel Fox 34, a set of Maxxis Ardent 2.35s and wider riser bars is probably the better choice.
Those are, frankly, the main distinctions. Drivetrain, brakes, and wheels remain constant, so it's not like you're gaining a piggyback shock and a gift certificate for a full-face helmet when you opt for the trail build kit, but the differences are distinct enough to matter on the trail and it's cool to see more companies offer XC bikes in more flavors…including, real-world-capable configurations. How much does the Mach 4 Carbon cost? Pivot currently offers 14 different build kits (both Shimano and SRAM). Starting price for complete bikes is $4,599 (single-ring, XT build kit) to $9,499 (XTR Di2, 2x group).
Pivot has been offering their ultra-light, LES 29er hardtail for some time now. The LES 27.5 is, you guessed it, a smaller-wheeled model that, according to Pivot, exceeds previous standards for stiffness and power transfer. Bold-ass claim there. What we can say at this point is that the new carbon hardtail features Boost 110/148 front and rear spacing, and stubby (16.77 inches/426 mm) chainstays. The addition of smaller wheels will appeal to riders who prioritize nimble handling and Pivot claims that the bike has a decidedly BMX feel to it… or as BMX-like as a World Cup-caliber, cross-country bike gets. We'll see.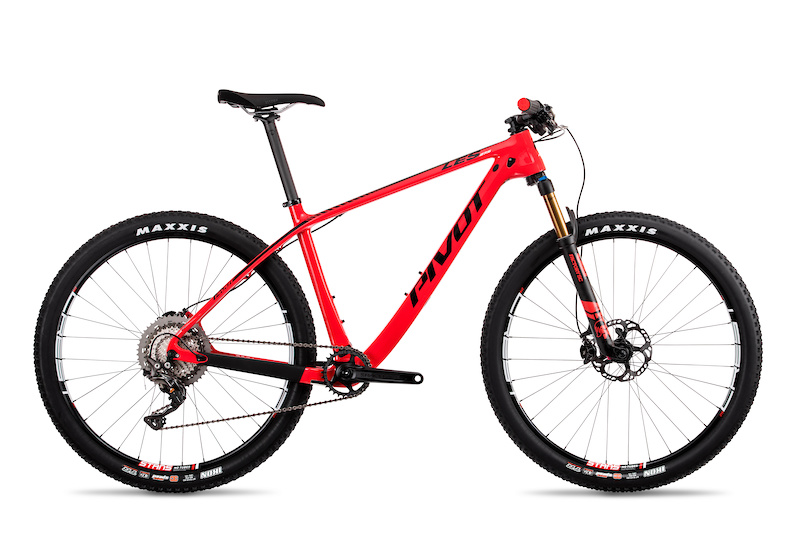 The LES 27.5 is available in a wide range of sizes—from Extra Small to Large. The XS model fits riders on down to 4'10" and still accommodates a water bottle inside the front triangle. The LES 27.5's compact frame design makes it possible to build a sub-19.4lb / 8.79kg race bike—sweet music to the ears of people seeking the best possible power to weight ratio.
Pivot dresses the LES 27.5 in nine different build kits at present. Prices range from $3,599 (USD) to $8,599 (USD)
Sours: https://www.pinkbike.com/news/pivot-releases-new-mach-4-carbon-and-les-275-models.html
Pivot have laid down the gauntlet with the latest generation of the Mach 4 Carbon, declaring 'Performance Redefined.' Back at the Design & Innovation Award 2015, the bike had no issues in winning over the jury, so we're even more excited to see how the Pivot Mach 4 Carbon will fare in this tough head-to-head group test.
[emaillocker id="132050″]
A real jar of marmite, the Pivot Mach 4 has one of those truly field-splitting looks with its buttery-soft curvy frame. But love it or hate it, the bike knows how to be ridden! As the top tube drops so low, there's tons of room for maneuvering on the Mach 4, and the riding position is mega-comfortable with a light stretch out to the bars, making it ideal for long days in the saddle.
Add in the outstanding rear end with dw-link suspension design and the level of comfort shoots into space. Even without activating the rear shock platform damping, the Pivot charges forward and shells out masses on traction when you need it most on technical ups. At 428 mm, the Mach 4 has the shortest chainstays on test, and they're to thank (along with the slack 68.2° head angle) for the satisfyingly smooth and agile handling package. The FOX suspension, with 115 mm at the rear and 120 mm at the front, manages to take all sizes of hits in its stride, recovering rapidly and delivering great feedback. The super-precise handling is down to the FOX 34 fork as well as the rigid frame and well-designed cockpit. The harder-packed, drier trails are where the stock MAXXIS Ardent Race tyres deliver a ton of traction, but they're decent whatever the scenario.
The stock sag indicator helps to simplify the set-up at the rear, and you can choose between a firmer, more charge-orientated set-up, or a softer, comfier trail set-up. We settled on a compromise between the two, setting the sag in the wonderful middle ground. Despite the lower price-point discs, the SRAM Guide brakes serve up sufficient braking power, and the SRAM X1 groupset shifts rapidly and reliably. If we were forced to whine and moan, it'd be about the lack of dropper post and the pretty steep price tag.
Details of the Pivot Mach 4 Carbon
Specification of the Pivot Mach 4 Carbon
Fork: FOX 34 Performance 120 mm
Shock: FOX Float DPS Kashima
Drivetrain: SRAM X1
Brakes: SRAM Guide R
Seatpost: Phoenix Sport Alloy
Stem: Phoenix Race 60 mm
Handlebars: Race Face Ride 740 mm
Tyres: Maxxis Ardent Race 2,2
Wheelsize: 27,5″
Wheels: DT Swiss Spline Two 1700 / Sun Ringle Charger Comp
Weight: 11.62 kg
Price: € 4,999
Conclusion
Not just marketing hype, Pivot's revamped Mach 4 Carbon does have the skills to redefine XC performance. An efficient climber, it left the field for dead on the descents and dominated the test. A well-deserved winner!
Strengths
Playful and smooth
Outstanding suspension
Super high-quality finish
Weaknesses
Price
Lack of dropper post
More information on the bike can be found on the Pivot Website.
[/emaillocker]
About the XC Bike Group Test 2016
Just outside the sprawl of Barcelona, we took out the test fleet onto the varied trails, confronting them with everything from frighteningly steep climbs to challenging descents. All of this occurred with the backdrop and climate of the Mediterranean Sea – and despite it being February, the conditions couldn't have been better. The test team consisted of four riders, each with their own nuances when it comes to mountain biking, but all with years of experience when it comes to testing bikes.
For an overview of the test fleet head to the main article: XC Bikes Group Test 2016
All bikes in test:Canyon Lux CF 9.9 Race | Giant Anthem SX Advanced | Pivot Mach 4 Carbon | ROSE THRILL HILL 3 27,5″ 2016 | ROTWILD R.R2 FS 29 Evo | SCOTT Spark 710 | Specialized Epic Elite Carbon 29 World Cup | Trek Top Fuel 9.8 SL
Words & Photos: Christoph Bayer
Sours: https://enduro-mtb.com/en/pivot-mach-4-carbon-review/
Mach 2017 4 pivot
Pivot Mach 4 Carbon Pro XT/XTR 1x
2017
PivotMach 42017
5699
Cross Country
Compare
---
Colour / Natural Carbon/Red, Natural Carbon/Blue, Anthracite Grey/Green, Natural Carbon/Pink
Size / XS, S, M, L, L (long)
Manufacturer Website
At a glance
The 2017 Pivot Mach 4 Carbon Pro XT/XTR 1x is an Cross Country Carbon mountain bike. It sports 27.5" wheels, is priced at $5,699 USD, comes in a range of sizes, including XS, S, M, L, L (long), has Fox suspension and a Shimano drivetrain. The bike is part of Pivot's Mach 4range of mountain bikes.
115mm DW-Link Suspension (XS size features 100mm travel), Shimano Di2 compatible with cable port system, Dropper post compatible with internal routing, Enduro Max cartridge bearings, Frame weight from 5.1lbs (2.3kg), Complete bike weights from 22lbs (10kg)
Where To Buy
Specifications
Frameset
Frame

Full carbon frame, hollow box internal molding, full length internal cable routing, rubberized leather downtube and swingarm protection

Fork

FOX 34 Factory Kashima, 130mm

Shock

FOX Float DPS Kashima
Wheels
Hubs

DT Swiss Spline-Two M1700 wheels, Boost front, Upgrade option: DT Swiss XMC Carbon wheels, Boost front

Wheels

DT Swiss Spline-Two M1700 wheels, Upgrade option: DT Swiss XMC Carbon wheels

Spokes

DT Swiss Spline-Two M1700 wheels, Upgrade option: DT Swiss XMC Carbon wheels

Tires

Maxxis Ardent Race 27.5"x 2.35" TR
Drivetrain
Chain

428mm, N/A, 30 tooth, Shimano

Crank

Race Face Aeffect SL

Bottom Bracket

340.4mm, PF92

Rear Derailleur

Shimano XTR 11-speed GS

Shifters

Shimano XT 11-speed
Components
Brakeset

Shimano XT 8000, Shimano XT 8000

Handlebar

Phoenix Carbon Riser, 740mm

Saddle

Pivot WTB Volt Race

Seatpost

Phoenix Race Carbon (dropper options available), 30.9mm, 34.9mm standard single bolt, 30.9mm, 34.9mm standard single bolt

Headset

Pivot Precision Sealed Bearing
FAQ
Q: How much is a 2017 Pivot Mach 4 Carbon Pro XT/XTR 1x?
A 2017 Pivot Mach 4 Carbon Pro XT/XTR 1x is typically priced around $5,699 USD when new. Be sure to shop around for the best price, and also look to the used market for a great deal.
Q: Where to buy a 2017 Pivot Mach 4 Carbon Pro XT/XTR 1x?
The 2017 Pivot Mach 4 Carbon Pro XT/XTR 1x may be purchased directly from Pivot.
Q: What size wheels does the 2017 Pivot Mach 4 Carbon Pro XT/XTR 1x have?
The 2017 Pivot Mach 4 Carbon Pro XT/XTR 1x has 27.5" wheels.
Q: What size 2017 Pivot Mach 4 Carbon Pro XT/XTR 1x should I get?
The 2017 Pivot Mach 4 Carbon Pro XT/XTR 1x comes in sizes XS, S, M, L, L (long). After measuring your height, use the below size chart to find the correct size Pivot Mach 4 Carbon Pro XT/XTR 1x for your height.
| Rider Height (cm) | Rider Height (in) | Frame Size |
| --- | --- | --- |
| 148cm - 158cm | 4'10" - 5'2" | XS |
| 158cm - 168cm | 5'2" - 5'6" | S |
| 168cm - 178cm | 5'6" - 5' 10" | M |
| 178cm - 185cm | 5'10" - 6'1" | L |
| 185cm - 193cm | 6'1" - 6'4" | XL |
| 193cm - 198cm | 6'4" - 6'6" | XXL |
This website uses cookies to ensure you get the best experience possible.
Learn more
Sours: https://mtbdatabase.com/bikes/2017/pivot/mach-4/2017-pivot-mach-4-carbon-pro-xt-xtr-1x/
MY NEW MOUNTAIN BIKE! - 2017 Pivot Mach 6 Aluminum (MTB)
Original Price: $5,799
Buy Now: $4,349 on Competitive Cyclist
Twenty-niners may be all the rage for cross-country style riding and racing, but there are a few 27.5-inch wheeled outliers that are worth taking a look at if you're looking for a quick, nimble and light bike. Pivot's Mach 4 Carbon happens to be one of those great 27.5-inch bikes, and previous year models are on sale right now for 25 percent off at Competitivecyclist.com.
Pivot may have just launched the 2018 updated version of the Mach 4 and yes, it's improved, but only slightly with a stiffer boost width swingarm—which makes the discounted model a pretty sweet deal. With 115mm of DW-link rear-wheel travel and a 120mm Fox fork, the Mach 4 blurs the lines between an XC race and trail bike. It's one of those bikes that makes you feel like a rocket going up yet it's still playful and capable enough to have fun on the way back down. This is a very modern bike too, and was the very first to include Shimano Di2 integration with a dedicated internal battery mount and clean, easy to service modular cable/wire port system.
This content is created and maintained by a third party, and imported onto this page to help users provide their email addresses. You may be able to find more information about this and similar content at piano.io
Sours: https://www.bicycling.com/bikes-gear/a20005559/deal-of-the-day-pivot-mach-4-carbon/
Similar news:
Pivot Mach 4 Carbon - Review

The frame alone of Pivot's Mach 4 Carbon costs as much as a good quality, entry-level, dual-suspension trail bike and it would take over three times that sum to duplicate our test bike. The message here is that you should be absolutely sure of what you want before laying down that kind of cash for a mountain bike. The good news is that Pivot makes that task easy. The Mach 4 Carbon is beautifully designed and executed to fulfill a specific role: a no-compromise cross-country trail bike, built tough enough to last a lifetime, and light enough to ensure that its owner need not wish for something else a few years down the road. If you own an elite level XC bike, have a few bib shorts hiding in the closet, collect KOMs on Strava, and have a burning desire to get rowdier than the rest of the boys and girls on your weekend cross-country rides, the Mach 4 Carbon will show you a whole new world. - RC
Sours: https://www.pinkbike.com/news/pivot-mach-4-carbon-review-2015.html
309
310
311
312
313