Cal Guard runners complete Lincoln National Guard Marathon
ROSEVILLE, Calif. —There's a bullseye target on the back of U.S. Army Capt. Kenny Rayner, the California National Guard's running phenomenon. He's the prey avoiding a pack of hungry wolves.

It's truly an honor, Rayner claims, to have that distinction. He recently led Cal Guard's six-member team into the May 2, 2021 Lincoln National Guard Marathon Time Trials in Nebraska, where the 30-year-old Rayner has dominated. Not only was he the defending champion, Rayner has won the 26.2-mile event four times.

"There is always pressure to 'repeat' a victory. You never know who is going to show up to the start line, who trained harder this year, and who is going to have the race of their lives," said Rayner, who took second place this year, ending in two hours, 42 minutes and 47 seconds. "However, that challenge is what makes any victory feel so special, knowing that it is never guaranteed. Whoever wins this year, I hope they soak in the win and enjoy the moment."

Like Rayner, Cal Guard's Maj. Samantha Wood also shined, placing third woman overall in 3:30:39. Wood was the 55th National Guardsman to cross the finish line out of nearly 200 Soldiers and Airmen from 42 states and territories. Both Wood and Rayner qualified for the National Guard All-Marathon Team that will showcase the National Guard Bureau in upcoming events.

Rayner, a security officer at Maneuver Training Center, Camp Roberts, ended second to U.S. Army Sgt. Derek Yorek with the Arkansas National Guard. Yorek, a familiar foe, beat Rayner in the 2019 Lincoln National Guard Marathon Time Trials, ending Rayner's two-year reign.

"I enter every race with the goal of beating the best version of myself," said Rayner, who averaged 6:13 per mile throughout the 26.2-mile course. "The marathon is less about running and more about gaining the confidence to accomplish an unimaginably difficult task."

Ironically, Rayner won the 2017 event with the same finishing time as this year.

Cal Guard's marathoners also include:
- U.S. Army Master Sgt. Chi Huynh, operations noncommissioned officer for the 115th Regional Support Group, who finished 51st overall in 3:27:30. He bested last year's finish by more than 10 minutes.
- U.S. Army Staff Sgt. Christopher M. Monk, a senior paralegal sergeant with the 40th Infantry Division, was 67th overall in 3:37:43.
- U.S. Army 1st Sgt. Kelsey M. Lockard, assistant inspector general at Joint Forces Headquarters, ended 140th overall in 4:30:17. The 38-year-old marathoner was the 27th female finisher.

Cal Guard team organizer U.S. Army Maj. Angela Delwiche, deputy director of California Installation Management Command at Camp Roberts, finished the Lincoln Half Marathon in 2:51:23.

The race simultaneously ran with the 44th annual Lincoln Marathon which has served as the National Guard marathon trials since 1984. Altogether, more than 725 completed the marathon. Rayner ended 18th overall.

This was Rayner's 29th marathon. He set a personal best time of 2:22:31 in the 2019 Chicago Marathon.

"(Five kilometer races) and 10-Ks are incredibly less satisfying to me," said the endurance runner. "Regardless of the finish time, completing a marathon always feels like a big accomplishment in itself. You can't help but smile when you cross that finish line, you just ran 26.2 miles!"

Cal Guard's participation assisted Project Purple, the event's designated charity. The organization raises funds and awareness for the cure for pancreatic cancer. This cancer is ranked No. 4 of the 10 deadliest cancers, Project Purple states. It is also the least funded of the Top 10 cancers. 

Last year's coronavirus outbreak cancelled the Lincoln Marathon, but the September 2020 Omaha Marathon became the National Guard trials. Rayner won that in 2:35:18.

"It was definitely a special year to win due to COVID-19 taking away most of the racing and team based training opportunities," said Rayner. "Almost all of my training runs become solo endeavors and relied heavily on self-motivation and the motivation of my teammates across the US. Running solo workouts and long runs can only get you so far."

Rayner has been with Cal Guard for two years. His 10-year military career has put him in the Rhode Island, Massachusetts and District of Columbia National Guards. He credits the 2019 Chicago and 2013 Boston marathons as his most significant races.

"The impact of the Boston Marathon bombing was a tragedy to my home city and the running community as a whole. That day became a major motivator in my desire to establish a career in federal law enforcement," Rayner explained. "I crossed the finish line in 2:37 with my family standing near one of the locations where the bombs would go off a few hours later."

He hasn't ruled out the possibility of competing for a slot on the 2024 U.S. Olympic Marathon Team, when it'll be held in Paris, France.

"Anything is now possible," Rayner concluded. "I'm incredibly excited to go for a chance at being one of the Top 200 or so marathoners in the U.S.."

The top 40 National Guard runners to cross the finish line become members of the All-Guard team for the year, enabling them to compete in events across the country.

The National Guard Bureau sponsors a Military Competitions Program that allows National Guard members to compete in national and Outside Continental United States (OCONUS) competitions representing the National Guard Bureau. The program encompasses four types of events: marathon, marksmanship, biathlon and parachuting. Nebraska, Arkansas, Vermont and Rhode Island, respectively, provide event coordinators.
| | |
| --- | --- |
| Date Taken: | 05.03.2021 |
| Date Posted: | 05.05.2021 11:55 |
| Story ID: | 395651 |
| Location: | LINCOLN, CA, US |
| Hometown: | CAMP ROBERTS, CA, US |
| Hometown: | SACRAMENTO, CA, US |
---
---
PUBLIC DOMAIN
This work, Cal Guard runners complete Lincoln National Guard Marathon, by SSG Edward Siguenza, identified by DVIDS, must comply with the restrictions shown on https://www.dvidshub.net/about/copyright.
Sours: https://www.dvidshub.net/news/395651/cal-guard-runners-complete-lincoln-national-guard-marathon
Cal Guard marathon team competes in Nebraska
Story and photos by Sgt. Lisa Crawford
Nebraska National Guard Public Affairs
Sept. 20, 2020
OMAHA, Neb. – National Guard athletes from 34 different states and territories ran more than 26 miles to compete for spots on the elite All-Guard Marathon Team during the National Guard Marathon Time Trials at the Omaha Marathon, Sept. 20, 2020, in Omaha, Nebraska.
For the past 36 years, the Lincoln Marathon and Half Marathon in Nebraska has also served as the National Guard Marathon – the official time trials for determining the All-Guard Marathon Team. After the Lincoln Track Club announced the cancellation of the marathon in mid-March in compliance with recommendations by the Centers for Disease Control and Prevention due to the COVID-19 global pandemic, the National Guard had to find a new host race for the official time trials to determine the 2020-2021All-Guard Marathon Team – and hope that public health conditions would allow for the event to take place.
Fortunately, the Omaha Marathon was a "Go," and more than 125 National Guard runners traveled to the familiar state of Nebraska to run a similar 26.2-mile race in a different city, on a different route, during a different season, but with the same goal in mind.
"We are getting ready for the first marathon in a lot of months for many of us due to COVID," said U.S. Army Capt. Kenny Rayner, of the California Army National Guard, the day prior to the race. Rayner is a security officer with the Camp Roberts Garrison Training Command.
Because the pandemic cancelled many traditional road races, including the annual Boston Marathon – which was canceled for the first time in its 124-year history – the Omaha Marathon was the first full-length event this year for many of the National Guard runners.
"I'm a little nervous because in Lincoln you just know exactly where you're going, and you kind of have that mental preparation beforehand," Rayner said.
Rayner, who has been with the Marathon Team since 2013, said the National Guard runners typically start training in January for the May race in Lincoln, so this year's race taking place in Omaha in September – under COVID restrictions – will be very different.
The runners were expected to wear masks at both the start and finish of the race, and the aid stations were mostly self-service with small, capped water bottles instead of open water cups.
The lack of other organized events, including 5K, 10K, and half-marathon races made keeping traditional training schedules more difficult. Restrictions on gyms and training facilities, as well as mask requirements in some states created new challenges for runners, too.
Additionally, for some runners on the West coast – like Rayner – COVID restrictions and wildfire smoke forced runners to train with masks on, even while running indoors on treadmills in recent weeks leading up to the marathon.
"I think all of us just kind of have to get used to the COVID environment and how it affects racing," Rayner said. "It's affected our training, so it's just going to be a different race all together, I think, for a lot of us."
The ongoing pandemic also changed race plans for a few Arkansas National Guard runners, including now retired Lt. Col. James Mann, running coordinator for the Arkansas Army National Guard, who planned to run his last Lincoln Marathon as a Guardsman this year before retiring this past June.
"Since I did my first Lincoln in 1989, this year was supposed to be my fifth decade of doing the Lincoln Marathon, so I was kind of looking forward to that. Plus, actually it being my last official race as a Guardsman," Mann said. "Being in Omaha, it is really great that we are getting a race in, but it will definitely be different not being on the same course that I have run year after year."
Mann ran the half marathon distance in Omaha, but assuming things go back to normal in 2021, he plans on returning to Lincoln in May, to make up for what he missed this year. He also wants to encourage young Guardsmen to participate in the National Guard Marathon Program in the future.
"I would say that if you ever come to one, then you'll be hooked from then on, because it is just such an awesome experience," he said.
Mann believes that the addition of the All-Guard Endurance Team adds a special element by broadening the Marathon Program to a wider group, giving athletes more options and events to train for and compete in. The Endurance Team – which will compete in obstacle races as compared to traditional road races – was a new addition to the Marathon Program this year, and the team's inaugural time trials were held in Hastings, Nebraska in August.
This year's top National Guard Marathon Team winners:
California National Guard Capt. Kenny Rayner, San Francisco, overall male winner with an unofficial time of 2:35:18.
Kentucky National Guard Lt. Col. Varinka Ensminger, of Lexington, Kentucky, overall female winner with an unofficial time of 3:16:21.
The Indiana National Guard Team was named the overall National Guard team winner of the 2020 National Guard Marathon Team Time Trials at the Omaha Marathon with an unofficial average team time of 3:05:16.
Rayner was not only the winner for the National Guard, but the first to finish the marathon, beating out the entire Omaha Marathon field as well.
While winning wasn't his ultimate goal, Rayner said he is always proud to represent the National Guard on the podium. More than anything, though, he said he loves the travel, the memories he's made and the camaraderie built with the other athletes, and he plans to continue to run as part of the National Guard Marathon Team as long as he can.
"It's definitely the best experience in the Guard I've had," Rayner said. The top National Guard runners selected for the 2020-2021 All-Guard Marathon Team will travel the country to compete in select events as part of the All-Guard Military Competitions Program.
Soldiers and Airmen interested in joining the Cal Guard Marathon Team should contact Maj. Angela Delwiche, Marathon Team State Coordinator, at [email protected]
Sours: https://grizzly.shorthandstories.com/cal-guard-marathon-team-competes-in-nebraska/index.html
2021 Lincoln National Guard Marathon
2021 Lincoln Marathon Results
Story by Spc. Lauren Behn | 111th Public Affairs Detachment

LINCOLN, Neb. - After a year hiatus due to the COVID-19 pandemic, nearly 200 National Guard Soldiers and Airmen representing 42 different states and U.S. territories returned to the 2021 Lincoln Marathon, May 2.
The Lincoln Marathon has served as the official time trial for Soldiers and Airmen hoping to compete for a spot on the "All Guard" Marathon team every year since 1984, with one exception. The 2020 time trial shifted to the Omaha Marathon in September after the Lincoln race was cancelled during the height of the first wave of COVID-19 in Nebraska.
California Army National Guard Capt. Kenny Rayner was the second male Guardsman to cross the finish line and has participated in the Lincoln Marathon almost every year since 2013. According to Rayner, the National Guard marathon program has convinced guardsmen to stay in longer, because it is a unique experience that the Guard provides.
"This is probably the best retention piece I've ever seen in the Guard," Rayner said. "It's definitely the best opportunity you get to travel the country and represent the Guard in races."
Idaho Army National Guard Maj. Laura Newell participated in the Lincoln Marathon for the first time this year and was the first female Guardsman to finish. Despite being newer to the National Guard marathon program, Newell has already seen the impact it has made for bringing in new Soldiers.
"There will be some young people for whom this is going to be part of the reason they join or continue serving," Newell said.
"If it's one soldier or ten soldiers that we can bring in or retain because they want to have this be part of their experience, then I think it's totally worth it."
In previous years, each state's running team would train together as often as possible, but because of COVID-19, this year's marathon preparation looked a little bit different.
For Rayner, his usual runs with the California National Guard Marathon Team were put on hold, so he had to find his own way to train solo.
"It's hard when no one's really pushing you," confessed Rayner. "So you get to race day and you're not as mentally prepared."
However, for Newell, who had never trained for a marathon before the pandemic, the limitations were something she could use to her advantage. Because of the restrictions in her daily life, she was able to focus more on her training.
"It made my training better," Newell said. "That's all I've been doing for the past year, just getting outside and running and being as active as I can."
With the Lincoln Marathon making its long awaited return, seasoned marathon runners like Rayner were eager to be back and running the race they remember from years past.
"I ran Omaha last year, but Lincoln's kind of the tradition," Rayner said. "It's where we're supposed to be, and it's the best place to be for the race."
This year's top National Guard Marathon Team awards went to the following individuals and overall team:
National Guard men:
Sgt. Derek Yorek (Arkansas) 2:36:52
Capt. Kenny Rayner (California) 2:42:47
Spc. Nathaniel Sink (Ohio) 2:49:48
National Guard women:
Maj. Laura Newell (Idaho) 3:20:53
Capt. Rebecca Linder (South Dakota) 3:29:03
Maj. Samantha Wood (California) 3:30:39

The following guardsmen fall into the masters division (Age 50 and older):
National Guard Men:
Staff Sgt. William Collins (Ohio) 3:15:03
Lt. Col. Brad W. Marlow (South Carolina) 3:41:43
Maj. Jeffrey Kragh (Oklahoma) 3:43:56
National Guard Women:
Lt. Col. Deborah Fisher (Pennsylvania) 3:48:59
Maj. Miki Matsuo (New Mexico) 3:51:13
Capt. Amanda Tooke (Texas) 4:19:21

The Idaho National Guard Team was named the overall National Guard team winner of the 2021 competition.
Altogether, out of the field of nearly 200 who registered, 76 National Guard runners were named to the All Guard Marathon team.

This year's All Guard team qualifiers are as follows:
Staff Sgt. William Collins (Ohio)
Lt. Col. Brad W. Marlow (South Carolina)
Maj. Jeffrey Kragh (Oklahoma)
Lt. Col. Deborah Fisher (Pennsylvania)
Maj. Miki Matsuo (New Mexico)
Capt. Amanda Tooke (Texas)
Sgt. Derek Yorek (Arkansas)
Capt. Kenny Rayner (California)
Spc. Nathaniel Sink (Ohio)
Staff Sgt. Tyler Lundquist (Pennsylvania)
2nd Lt. Gage Garcia (Kansas)
Sgt. Jesse Dunn (Idaho)
Spc. Nathan Wanuch (Tennessee)
Capt. Valentine Roberts (Hawaii)
Sgt. Geovanne Popoca (Kansas)
Sgt. Daniel Soliz (New Mexico)
Staff Sgt. Richard Mercedes (Puerto Rico)
Maj. Bob Luther (West Virginia)
Staff Sgt. Chris Edwards (Ohio)
Staff Sgt. Jerrod Abel (Ohio)
Capt. Ethan McIntosh (Texas)
Staff Sgt. Earnest Fullwood (Pennsylvania)
Staff Sgt. Javuer Torres Rolon (Puerto Rice)
1st Sgt. Eddie Clements (New Hampshire)
Maj. Seth Kaste (Wisconsin)
Capt. Gary Parks (Indiana)
Pfc. Mason Grundy (Wisconsin)
Staff Sgt. Whitney Lake (Indiana)
Sgt. Maj. Joe McFarren (Indiana)
Maj. Miguel Perez (New Mexico)
Maj. Lex Grimley (Utah)
Sgt. Jesus Ortega(New Jersey)
Sgt. Timothy Rollings (Arkansas)
Staff Sgt. Paul Duncan (Nevada)
Staff Sgt. Robert Gibson (Wisconsin)
Sgt. 1st Class Eric Schafer (North Dakota)
Spc. Joseph Kubiak (Texas)
1st Lt. Lucas Bourget (Maine)
Capt. Paul Fitzpatrick (Michigan)
Sgt. 1st Class David Langford (Arkansas)
Staff Sgt. Ben Blessing (Idaho)
Spc. Richard Langdeaux (South Dakota)
Capt. Joel Engle(South Dakota)
Pfc. Bryce Peterson(Colorado)
Maj. Brendan Thompson (Washington)
Sgt. 1st Class Adam Walton (Minnesota)
Capt. Travis Kirchner (Nebraska)
1st Lt. Daniel Kysela (Pennsylvania)
Sgt. 1st Class Michael Embury (Kentucky)
Chief Warrant Officer 3 Martin Ellison (West Virginia)
Spc. Brandon Hurst (Oklahoma)
Sgt. Jordan Reid (Utah)
1st Sgt. James Roller (Iowa)
Master Sgt. Chi Huynh (California)
Lt. Col. Joseph Gagnon (New Jersey)
Col. Ryan Price (South Carolina)
Maj. Laura Newell (Idaho)
Capt. Rebecca Linder (South Dakota)
Maj. Samantha Wood (California)
2nd Lt. Anna Potts (Oklahoma)
Spc. Jennifer St Amand (Minnesota)
Maj. Brooke Muhich (Washington)
Sgt. Miranda Kibler (Ohio)
1st Lt. Lauren McGettrick (Texas)
Capt. Leah Baldwin (Wisconsin)
Capt. Hannah Manson (Oklahoma)
Capt. Ferne Ryder (Colorado)
Spc. Jessica Pal (Kansas)
2nd Lt. Tonisia Jackson (Ohio)
Chief Warrant Officer 2 Jasmyne Huffman (West Virginia)
Sgt. 1st Class Phoebe Begay (New Mexico)
Staff Sgt. Ayrin Hamner-Ripperger (Iowa)
Chief Warrant Officer 3 Amanda Nesbitt (Pennsylvania)
Maj. Elizabeth (Noel) Collins (Louisiana)
Sgt. Maj. Shelley Horner (Texas)

This year's top National Guard Marathon Team awards went to the following teams:
1st place: Idaho
2nd place: Ohio
3rd place: Pennsylvania

-30-
| | |
| --- | --- |
| Date Taken: | 05.01.2021 |
| Date Posted: | 05.05.2021 11:56 |
| Story ID: | 395691 |
| Location: | LINCOLN, NE, US |
---
---
PUBLIC DOMAIN
This work, 2021 Lincoln National Guard Marathon, by SPC Skyler Sandoz, identified by DVIDS, must comply with the restrictions shown on https://www.dvidshub.net/about/copyright.
Sours: https://www.dvidshub.net/news/395691/2021-lincoln-national-guard-marathon
A Race for the Guard
National Guard Soldiers Run to Qualify for the All Guard Marathon Team
This past May, 143 Army National Guard Soldiers from around the country burned up a marathon course running amidst 12,000 civilians at the Lincoln Track Club in Lincoln, Nebraska.
The Lincoln National Guard Marathon – a public marathon that is funded, in part, by the State of Nebraska – serves as the only qualifying marathon for the All Guard Marathon Team.
"The program encourages and enhances the National Guard's [recruitment and] retention program mainly by instilling physical fitness and self-discipline and esprit de corps," said SFC Christopher Sterns, the marathon's coordinator with the Nebraska Army National Guard's Joint Force Headquarters.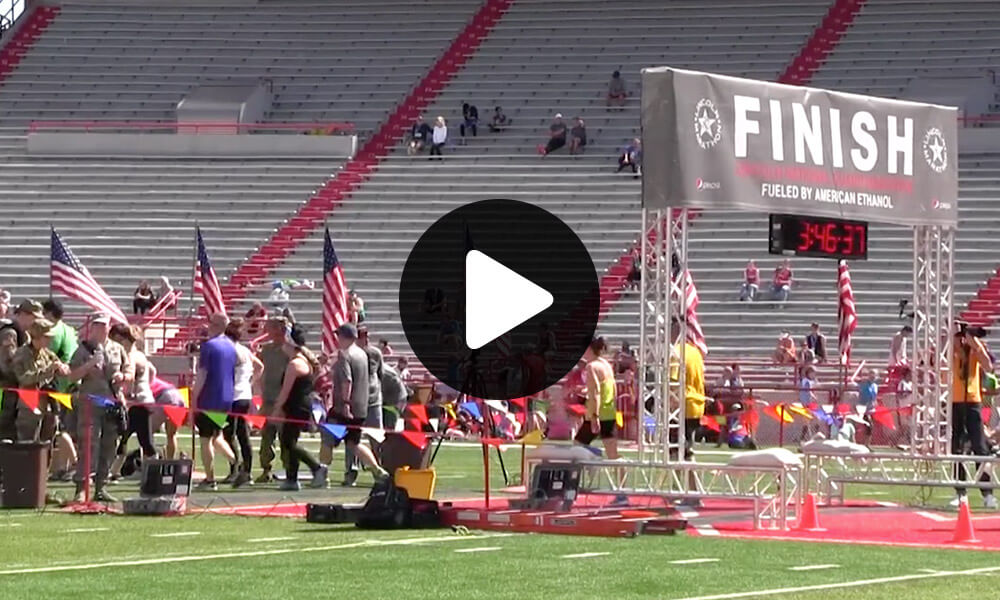 In an average year, just over 60 male and female Soldiers make the team, SFC Sterns said. The team competes in several marathons throughout the year in an effort to promote just some of the many benefits related to serving with the Army National Guard.
Each year, States and Territories send National Guard athletic teams to compete in the Lincoln Marathon. Those with the fastest times join the All Guard team.
"They are competing for 61 slots," SFC Sterns explained. "We choose the top fastest 40 males and the top 15 females. Then we have three male Masters [Soldiers over the age of 40] and three female Masters."
To qualify for the Lincoln Marathon, male Soldiers under the age of 40 must have run a recognized marathon, taking place in the 18 months prior to the Lincoln Marathon, in under four hours. For women and Masters, the time requirement is 4 hours 30 minutes.
SFC Sterns said part of his role is to notify State coordinators about the number of competitive slots available for their State.
"I send out State rosters in December of each year saying, 'Hey, you need to start building your team,'" he said. "I tell them how many Soldiers the marathon program can fund. The program will fund [Soldiers] to come to Lincoln and run. Some States really believe in the program and they will fund people past what we can fund."
The 26.2-mile race starts and ends at the University of Nebraska – specifically at the Lincoln Football Stadium. The race course winds through a significant portion of the city, then wraps back around to end on the 50-yard line.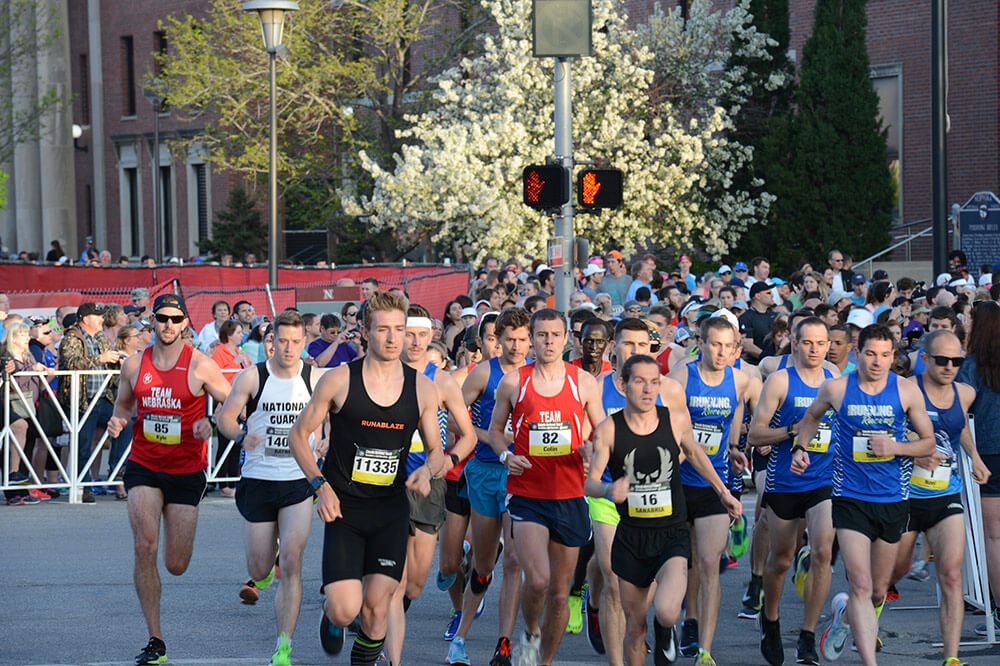 During the race, runners get an up-close-and-personal tour of Lincoln, Nebraska. They pass by both urban and suburban scenes, run across college and high school campuses and even stride past the State capitol and the city's zoo.
This year, leading the pack of National Guard qualifiers were CPT Kenneth Raynor and CPT Kimberly Quinn, who came in first place for the male and female categories, respectively. They are now both on the 2018 All Guard Marathon Team. This year's win marks a first for CPT Quinn, while CPT Raynor is an old pro when it comes to running on the All Guard team.
First Place Winner, National Guard Men's Category
CPT Kenneth Raynor, Headquarters and Headquarters Detachment, 74th Troop Command, D.C. Army National Guard
Running Time: 2:38:55
CPT Raynor came to run at the 2018 Lincoln marathon, sent by the Washington, D.C. Army National Guard. It was the fifth year he had run the race and the third time he had come in first among National Guard contenders. The Lincoln marathon marked CPT Raynor's 16th completed marathon. He came in sixth place overall – just 9 minutes 18 seconds behind the overall winner, a civilian by the name of Geofrey Terer.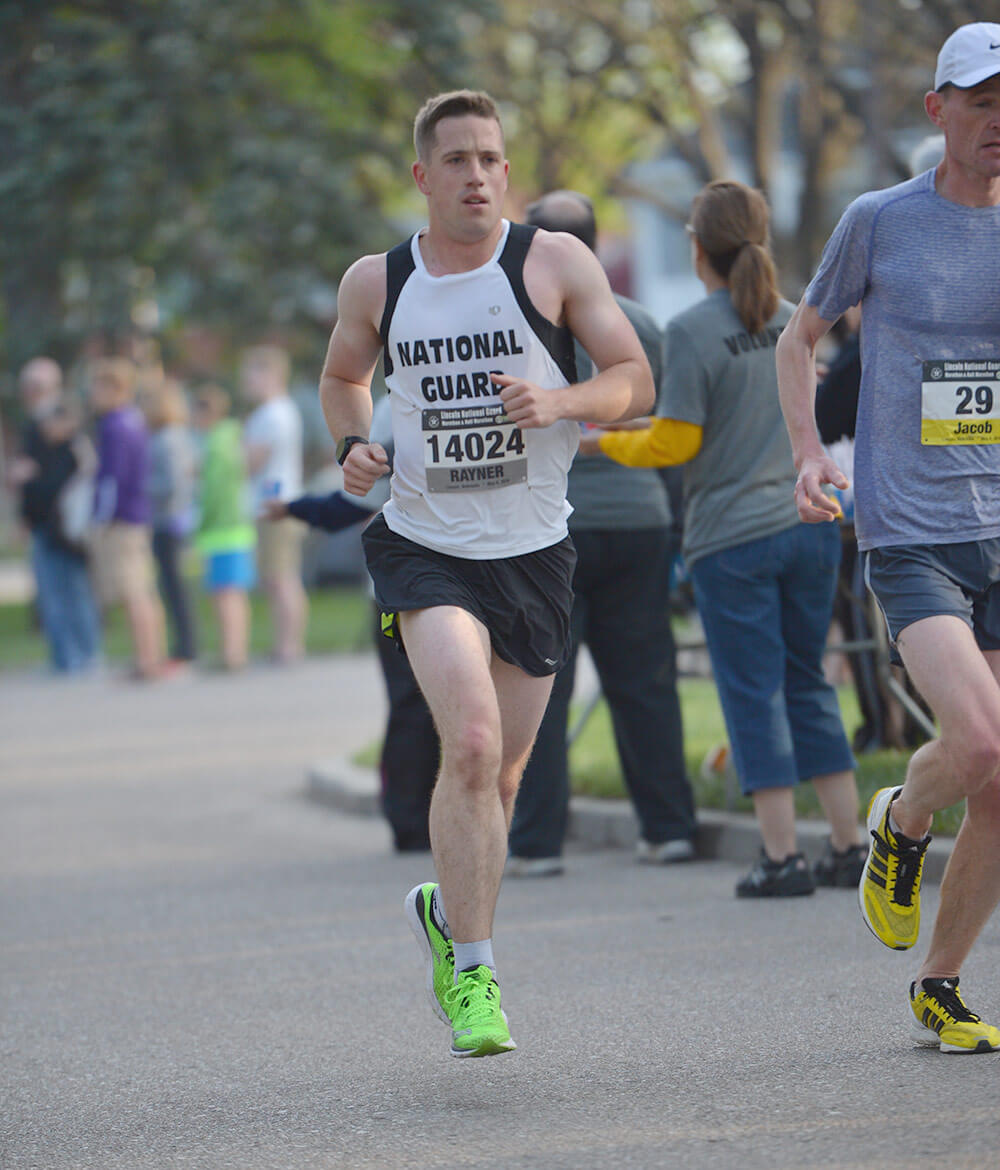 CPT Raynor has been a member of the All Guard Marathon Team for five years and has been a competitive runner since high school. His civilian job is in law enforcement. He simultaneously began both his law enforcement and military careers right out of college. He said he realized that being part of a police force and being part of the Guard meshed well for him.
"I definitely thought of different avenues, but I think the challenge of [doing both] was really big for me," CPT Raynor commented. "I felt like, physically and mentally, law enforcement and the military gave me that opportunity to challenge myself more than anything else. The military gave me that good balance to start with and that really helped me in law enforcement. Having that base of fitness and military toughness from being in the Guard helped me."
When talking about this year's marathon, CPT Raynor said the course has not changed much over the years he has participated. He describes it as mostly flat, except for some slight elevations towards the end, with little shade. The warm May temperatures can make the last miles of the marathon particularly grueling, he said.
"The route is good," CPT Raynor noted. "But there's no shade, so by the time you get to the second half of the race, the heat gets really bad. It's tough. It definitely heats up."
CPT Raynor noted that in recent years warm run days have been the rule in Lincoln, rather than the exception.
"A May race is usually pretty tough, especially when there is no shade and the sun's out," he said. "This is probably the hottest year we've had, but it's been hot four out of five [years]. The last year it was cool was 2013, when it was around 40 degrees. It's been tough for a lot of Soldiers, especially for these guys that are doing their first marathon in that kind of weather."
CPT Raynor went on to note the wave of support from local residents, who came out in droves to cheer on all the runners.
"It is a cool city," CPT Raynor recalled. "I think it has a good feel to it. The community is really, really into it, especially for a race of that size. It seemed like the whole community was out there. It's a great place to hold the marathon."
First Place Winner, National Guard Women's Category
CPT Kimberly Quinn, Range Officer, Camp Blanding Joint Training Center, Florida Army National Guard
Running Time: 3:11:29
CPT Quinn also expressed a sense of appreciation for the supportive nature of the Lincoln city residents.
"Lincoln, Nebraska is awesome!" she said. "The community out there supports the National Guard. There were patriots lining the street the entire way and it was incredible. It's beautiful. I just ran the whole time thanking people. It was amazing."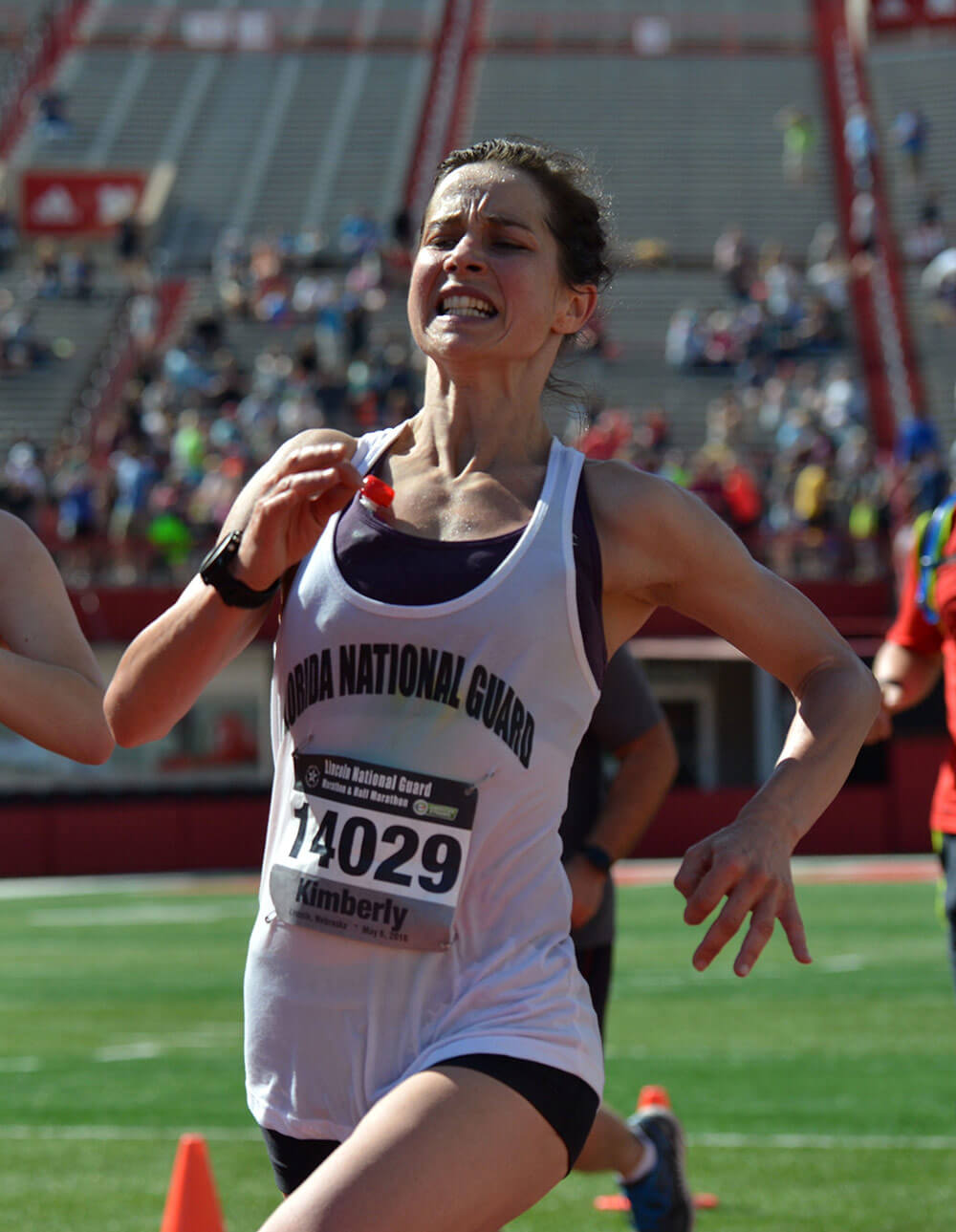 CPT Quinn is one half of an Army National Guard power couple. Together with her husband CPT Ryan Quinn – a regionally recognized racecar-drifting driver – the Quinns work hard to support each other's passions and to support the recruiting and retention efforts of the Florida Army National Guard.
Being a member of an initiative that works in direct support of the National Guard's recruitment and retention program is a perfect fit for CPT Quinn, but making the team was no easy feat as the Lincoln race was just her second marathon. She had raced only once before in Clearwater, Florida, to qualify for the Lincoln contest. An obvious natural for the sport, she placed fourth out of all female runners in the Lincoln marathon.
While she may possess a natural propensity for running, placing in the top four at a national-level marathon did not come by luck. CPT Quinn explained that she at first had a love-hate relationship for the training required to enter the marathons.
"I found out [there was a chance I could make the State team] last October and I started training last October," she recalled. "My first race was in January. To train for that marathon, I was running once a week. I ran up to 21 miles. I would do one run a week and the rest of the week was weightlifting and cross-training."
She said her training was a bit of a trial-and-error experience. The final miles in Clearwater showed her that she needed to move her training up a notch.
She laughed about it in retrospect.
"I despise the fact that it hurt really, really, really bad," she said. "It worked, because I qualified – I had like a three-and-a-half-hour [race] time. It just hurt really badly, especially the last mile. My legs were just in complete and utter pain."
When she was chosen for the State team, she decided to devote more time to training. She started running six days a week. The increased training paid off. In Lincoln, CPT Quinn still had plenty of gas in her tank as she approached the end of the race. She actually sprinted toward the finish line.
"I felt so good," she said. It was really hard to find my pace to keep from setting myself up. That was the hardest part—knowing how hard to push myself."
Being on the All Guard Marathon Team also gives CPT Quinn the opportunity to work on another important Army National Guard initiative. CPT Quinn regularly scores 300-plus on her Army Physical Fitness Test (APFT) and she wants to see her fellow Soldiers excel in this area as well. As she explained, physical fitness is not only important for personal development, but for the health of the Guard as a whole.
"We need people to be healthy so that they can continue to fight and win our Nation's wars – and not necessarily just for our wartime missions, but for peacetime missions and to serve in times of natural disasters. We have to be a fit force. The health of our Nation is important. This marathon team allows me a platform to speak to that threat."
By Staff Writer Matthew Liptak
More on National Guard Marathons
Shadow Run Brings Slice of Kansas City Marathon to Kuwait
Sours: https://citizen-soldiermagazine.com/a-race-for-the-guard/
Team marathon national guard

Paul: You are on the National Guard Marathon and Endurance Team! How long have you been with the team? Tell us a little about how that program works?

Jerrod: I first made the National Guard Marathon team in May 2019 at the Lincoln Marathon. Every year each state and territory form a team to compete for a spot on the All Guard Marathon Team, which is held at the Lincoln Marathon in Nebraska. To make the national team you have to be amongst the top 20 males or top 15 females. The state teams compete for a trophy known as the Cob, which is awarded to the team with the lowest average marathon time. This year (2020) the Lincoln Marathon was canceled so the team trials were hosted by the Omaha Marathon in Omaha, Nebraska.
I made the All Guard Endurance Team in August 2020, which was actually the first year for the event tryouts. The competition consisted of a timed 10 station Dekafit workout, which is much harder than I anticipated, a full Army obstacle course, an Army Combat Fitness Test (ACFT), sandbag carry, plate carry, and about 8 miles of running between the obstacles. The tryouts are very similar to the Marathon Team, as each state/territory form a team to compete at the tryouts. Then the top 20 males and top 10 females are named the All Guard Endurance Team.
Both National Teams travel the country competing in their respective sport, which is road and trail races for the Marathon Team and Spartan type races for the Endurance Team, while also assisting local National Guard Recruiters at the race events. Those interested can get in contact with their state coordinator to figure out the requirements to make their state team.
Paul: Tell us about equipment- Running Shoe of choice? Any other running gear you would recommend?
Jerrod: I am pretty loyal to theNike Pegasus, which I have been using for about 10 years now. Even though I have tried a variety of other shoes, I always end up resorting back to the Pegasus. The shoe seems to suit me well and I have 2 Nike Outlets relatively close, so I get them at a great price. I highly recommend a GPS watch (Garmin for me) to help track all the data from your workouts. I used to run with just a Timex Ironman stopwatch, so I had no clue how fast or far I was going until I either mapped it out online or drove the route in my car. So, unless I was on a track all I had was a rough estimate on how I performed.
Paul: How long have you been a runner? When was your first marathon?
Jerrod: I have been running since the 8th grade but didn't really start taking it serious until my junior year of high school. After I graduated high school in 2010, I was all over the place with running. I took lots of time off to focus more on lifting, while maybe running a couple times a month. Then I'd get back into it here and there just to be able to compete in 5k races. It wasn't until 2014 that I decided I'd really start focusing on running again. Once I started seeing the results of consistent running, I built up enough courage to run my first marathon in 2016, which was the Nationwide Children's Columbus Marathon. Since then I have run 9 Marathons, one of which being Boston in 2019.
Sours: http://www.coachpaulduncan.com/training/jerrodabel
All Guard Marathon Team sets physical fitness example
Lincoln National Guard Marathon Lincoln NE - May 2, 2021 OVERALL NATIONAL GUARD RACE RESULTS Place No. 8:49:05 Ohio (2:56:22) ======================================================= 1 2:49:48 Nathaniel Sink OH 24 M 2 2:59:38 Chris Edwards OH 33 M 3 2:59:39 Jerrod Abel OH 29 M 4 (3:15:03) William Collins OH 50 M 5 (3:37:17) Damion Bontz OH 21 M 6 (3:43:46) Miranda Kibler OH 35 F 7 (3:54:27) Tonisia Jackson OH 33 F 8 (4:00:05) Kyle Ciballi OH 23 M 9 (4:02:07) Anthony Walker OH 54 M 2. 8:52:14 Arkansas (2:57:25) ======================================================= 1 2:36:52 Derek Yorek AR 37 M 2 3:05:12 Timothy Rollings AR 31 M 3 3:10:10 David Langford AR 43 M 4 (3:56:15) Keith Holland AL 44 M 5 (4:10:32) Zander Propes AR 25 M 6 (4:17:53) Jamie Newton AR 33 F 7 (4:51:51) Austin Garvin AR 21 M 8 (5:34:51) Sherry Kimbel AR 26 F 9 (5:40:30) James Mann AR 54 M 3. 9:08:22 Indiana (3:02:48) ======================================================= 1 3:02:12 Gary Parks IN 30 M 2 3:02:39 Whitney Lake IN 38 M 3 3:03:31 Joe McFarren IN 40 M 4. 9:10:19 Pennsylvania (3:03:27) ======================================================= 1 2:50:20 Tyler Lundquist PA 29 M 2 3:00:13 Earnest Fullwood PA 38 M 3 3:19:46 Daniel Kysela PA 35 M 4 (3:48:59) Deborah Fisher PA 50 F 5 (4:05:48) Amanda Nesbitt PA 37 F 6 (6:04:40) Michael Smith PA 62 M 5. 9:11:49 Wisconsin (3:03:57) ======================================================= 1 3:01:59 Seth Kaste WI 41 M 2 3:02:38 Mason Grundy WI 27 M 3 3:07:12 Robert Gibson WI 31 M 4 (3:36:27) James Ross WI 31 M 5 (3:45:10) Leah Baldwin WI 34 F Lincoln National Guard Marathon Lincoln NE - May 2, 2021 TEAM RESULTS 6. 9:13:32 Kansas (3:04:31) ======================================================= 1 2:51:58 Gage Garcia KS 26 M 2 2:55:58 Geovanni Popoca KS 33 M 3 3:25:36 Jason Dolan KS 40 M 4 (3:46:27) Yacub Muzee KS 34 M 5 (3:53:23) Jessica Pal KS 22 F 6 (3:57:46) Jeffrey Austin KS 32 M 7 (4:11:28) Nick Ledet KS 27 M 8 (4:43:16) Sarah Freelend KS 29 F 9 (6:00:57) Lisa Tillman KS 37 F 7. 9:26:15 Idaho (3:08:45) ======================================================= 1 2:54:01 Jesse Dunn UT 29 M 2 3:11:21 Ben Blessing ID 37 M 3 3:20:53 Laura Newell ID 39 F 4 (4:07:20) Anthony Peace ID 25 M 5 (4:39:14) Trinity Sackos ID 44 M 8. 9:40:56 California (3:13:39) ======================================================= 1 2:42:47 Kenny Rayner CA 30 M 2 3:27:30 Chi Huynh CA 43 M 3 3:30:39 Samantha Wood CO 35 F 4 (3:37:43) Christopher Monk CA 33 M 5 (4:30:17) Kelsey Lockard CA 38 F 9. 9:42:00 Puerto Rico (3:14:00) ======================================================= 1 2:58:47 Richard Mercedes PR 44 M 2 3:01:16 Javuer Torres Rolon PR 38 M 3 3:41:57 Julio Baez PR 37 M 10. 9:44:24 Texas (3:14:48) ======================================================= 1 2:59:59 Ethan McIntosh TX 30 M 2 3:08:07 Joseph Kubiak TX 29 M 3 3:36:18 Christopher Reagan TX 36 M 4 (3:44:49) Lauren McGettrick TX 27 F 5 (3:49:11) Noah Mitchell TX 45 M 6 (4:11:13) Shelley Horner TX 39 F 7 (4:19:21) Amanda Tooke TX 52 F 8 (4:21:31) Michael Diaz TX 49 M Lincoln National Guard Marathon Lincoln NE - May 2, 2021 TEAM RESULTS 11. 9:52:07 New Mexico (3:17:23) ======================================================= 1 2:56:47 Daniel Soliz NM 25 M 2 3:04:07 Miguel Perez CO 38 M 3 3:51:13 Miki Matsuo NM 51 F 4 (4:00:53) Phoebe Begay NM 41 F 12. 9:53:09 West Virginia (3:17:43) ======================================================= 1 2:59:23 Bob Luther WV 45 M 2 3:22:10 Martin Ellison WV 41 M 3 3:31:36 Nicholas Plocar WV 34 M 4 (3:57:03) Jasmyne Huffman WV 43 F 13. 9:53:52 South Dakota (3:17:58) ======================================================= 1 3:11:45 Richard Langdeaux SD 30 M 2 3:13:04 Joel Engle SD 36 M 3 3:29:03 Rebecca Linder SD 33 F 4 (3:44:37) Louis du Randt SD 38 M 5 (3:50:12) Kenny Maas SD 39 M 6 (4:31:17) Amber Gustafson SD 37 F 14. 10:32:56 Utah (3:30:59) ======================================================= 1 3:04:09 Lex Grimley UT 40 M 2 3:23:54 Jordan Reid UT 29 M 3 4:04:53 Cody Adamson UT 41 M 15. 10:36:03 Minnesota (3:32:01) ======================================================= 1 3:14:54 Adam Walton MN 40 M 2 3:38:59 Jennifer St Amand MN 46 F 3 3:42:10 Timothy Gearns MN 37 M Lincoln National Guard Marathon Lincoln NE - May 2, 2021 TEAM RESULTS 16. 10:39:38 New Jersey (3:33:13) ======================================================= 1 3:04:16 Jesus Ortega NJ 34 M 2 3:29:11 Joseph Gagnon NJ 49 M 3 4:06:11 Paul Hesch NJ 28 M 17. 10:44:24 Oklahoma (3:34:48) ======================================================= 1 3:23:20 Brandon Hurst OK 25 M 2 3:37:18 Anna Potts OK 33 F 3 3:43:46 Jeffrey Kragh OK 53 M 4 (3:44:30) Brian Coleman OK 51 M 5 (3:47:13) Hannah Manson VA 31 F 6 (3:50:32) Bill Dycus OK 51 M 7 (4:16:16) Michael Senn OK 32 M 8 (4:21:08) Christopher Buck OK 41 M 18. 10:49:39 South Carolina (3:36:33) ======================================================= 1 3:30:13 Ryan Price SC 44 M 2 3:37:43 Kenny Culbertson SC 49 M 3 3:41:43 W Brad Marlow SC 57 M 19. 10:50:31 Tennessee (3:36:51) ======================================================= 1 2:54:24 Nathan Wanuch TN 30 M 2 3:43:04 Steven Gill TN 40 M 3 4:13:03 Victoria Salibi TN 32 F 4 (4:21:34) Daniel Isley TN 42 M 5 (6:32:31) Tammy Cook TN 51 F 20. 10:56:26 Washington (3:38:49) ======================================================= 1 3:13:53 Brendan Thompson WA 34 M 2 3:43:08 Brooke Muhich WA 40 F 3 3:59:25 Joshua Madison WA 32 M Lincoln National Guard Marathon Lincoln NE - May 2, 2021 TEAM RESULTS 21. 10:58:35 New Hampshire (3:39:32) ======================================================= 1 3:01:24 Eddie Clements NH 41 M 2 3:53:17 Corey Caza NH 35 M 3 4:03:54 Raymond Youngs NH 43 M 4 (4:48:02) Kayla Denison NH 27 F 5 (5:37:21) Carley Rotenberg NH 24 F 22. 11:05:17 Michigan (3:41:46) ======================================================= 1 3:09:22 Paul Fitzpatrick AE 29 M 2 3:36:24 Andrew Griffin MI 36 M 3 4:19:31 Erica Risner MI 26 F 4 (4:25:29) Sarah Barnes MI 36 F 23. 11:06:55 Nebraska (3:42:19) ======================================================= 1 3:19:16 Travis Kirchner NE 32 M 2 3:48:30 Stephen Dorcey NE 39 M 3 3:59:09 James Cole NE 37 M 4 (4:10:39) Andrew Hunt NE 26 M 5 (4:10:40) Shawn Schomer NE 37 M 6 (4:42:06) Kate Higgins NE 37 F 24. 11:14:31 Virginia (3:44:51) ======================================================= 1 3:33:02 James Potteiger VA 29 M 2 3:50:38 Michael Martin VA 41 M 3 3:50:51 Ramon Abreu-Perez VA 54 M 4 (4:53:52) Dustin Smith VA 27 M 25. 11:37:47 North Dakota (3:52:36) ======================================================= 1 3:07:46 Eric Schafer ND 39 M 2 3:53:15 Joshua Warmbold MN 41 M 3 4:36:46 Adam Walsvik ND 33 M Lincoln National Guard Marathon Lincoln NE - May 2, 2021 TEAM RESULTS 26. 11:40:11 Georgia (3:53:24) ======================================================= 1 3:32:23 Michael Mallon PA 35 M 2 3:49:53 Julio Cruz GA 39 M 3 4:17:55 Kelsi McLane GA 24 F 27. 12:15:11 Massachusetts (4:05:04) ======================================================= 1 3:34:44 John Cleverly MA 33 M 2 3:52:40 Henry Och MA 43 M 3 4:47:47 Caroline Slyer MA 22 F 28. 12:45:54 Kentucky (4:15:18) ======================================================= 1 3:20:17 Michael Embury OH 47 M 2 4:19:24 Allen Davis KY 56 M 3 5:06:13 Steven Jones KY 25 M 4 (5:37:32) Abigail Weeks KY 24 F 5 (5:37:34) George Nelson KY 28 M 29. 13:48:54 Alabama (4:36:18) ======================================================= 1 4:01:35 James Hill AL 37 M 2 4:35:29 Jonathan Torres AL 26 M 3 5:11:50 Judith Wallace AL 43 F 4 (6:04:22) Cheyenne Dean AL 19 F
Sours: https://www.mtecresults.com/race/show/11136/2021_Lincoln_Marathon-National_Guard_Results
You will also be interested:
For the most part, she was silent, occasionally inserting small cues, and a couple of times I caught her curious glance in the rearview mirror. Alice averted her eyes, pretending to look at everything, but I felt that she was interested. Arriving at the place, we jumped out of the stuffy car and felt all the charm of a dense pine forest.
7393
7394
7395
7396
7397