Incredibly Easy Low Carb Keto Ricotta Gnocchi is a melt-in-the-mouth, tasty, keto version of the traditional recipe. 5.5g carbs per serving.
I love Italian food sooooo much. Bread. Pasta. Polenta. Semolina. Pizza. Gnocchi. Makes me drool just thinking about them all. Butketogeniclife is prohibitive when it comes to many traditional Italian dishes because they are often based on what Italians themselves call 'cucina povera', i.e. 'poor cuisine', so termed because their main ingredient is grains, and in historical times of hardship grains were the only cheap food available to everyone.
So how does one cope with staying in ketosisAND indulge in Italian food? Surely that's a paradox! But there are ways… you just have to be a little bit inventive and a little bit maverick!
So here is my keto gnocchi story….
A mozzarella gnocchi nightmare
I woke up one morning thinking about how to make gnocchi without white flour or potatoes, and it quickly became my morning obsession. I searched the internet for inspiration and sure enough lots of low carb gnocchi recipes popped up, all using mozzarella as the main ingredient, all very similar. The photos looked nice, the recipes seemed simple enough, so off I went to buy the recommended dry type of mozzarella. By 'dry' I mean the industrial mozzarella type that is vacuum packed and dry. Finding it proved to be an issue to start with. You see, I am currently at my house in Italy, and produce here tends to be seasonal, local and authentic. So I drove to 3 different shop before I eventually found 'dry' mozzarella. Not a good start.
Later on, myItalian ragúwassimmering away and I started making the gnocchi, following recipe instructions to the letter. Sure enough, problem number two didn't hide for long: my microwave melted mozzarella was just a ball of chewing gum swimming in cloudy water. Problem number three came next. As I continued to microwave the mozzarella chewing gum into submission, the most horrid smell of molten plastic was filling my kitchen.
Concerned, but determined to see the recipe through and have my gnocchi dinner, I ploughed on, trying not to gag. Still the chewing gum would not budge, so I decided that maybe, just maybe, adding the other ingredients would help, and I carried on, attempting to knead the impossible. A lot of frustration later, I took the squidgy, egg-wet rubbery ball from the bowl and nearly threw it over the field. But no. I had nothing else for dinner, and surely it would be edible? Unable to roll, shape or cut the alien mass, I pulled it apart into stringy blobs that I then plunged in boiling water.
Needless to say that the blobs almost dissolved in the hot water, and all I could do was scoop strings out with a sieve.
Trying not to be defeatist, I ate the chewing gum strings, which now resembled the same plastic mass I was trying to knead earlier. Topped with my ragú and lots of Parmesan, they didn't taste too bad. Within an hour, however, my stomach was tight and felt uncomfortable. I hardly slept. I was in pain most of the night. That was that. End of mozzarella gnocchi for me.
Now, I am not suggesting for a minute that the recipe I'd looked at was flawed. It was likely down to the 'mozzarella' I used.  I hope I never come across that fake crap, ever, again.
A ricotta gnocchi delight
After a painful night's sleep half-dreaming about my house being flooded with chewing gum and me drowning inside, I got up with a fighting spirit and thought of an alternative. Ricotta. Why not? I use it in cakes, biscuits, pastry and cold desserts. So why not in gnocchi?
And with that, I cycled off to my favourite shop to buy some fresh ricotta.
The fresh counter ricotta was fairly dry already, but to be on the safe side, I wrapped it in muslin cloth, popped it in a colander on top of a bowl and left it in the fridge for a few hours.  If you buy packaged ricotta, it will be quite wet and you should strain it for 24 hours.
Once I mixed it with an egg and somelupin flour, I ended up with a very soft mix. Certainly not something I could roll out over a surface and cut – as I would have done in the past with a classic gnocchi mixture. 
And there comes the most 'difficult' part of this recipe: shaping quenelles. If you've ever watched Masterchef, you'll know what to do. If not, making a quenelle means scooping a bit of mix with one spoon and then scooping it out again with the other spoon, over and over until you have a walnut-size egg shape. It's really easy, but it may take some practice to get right, if you've never done it before.
Was it worth persisting on day 2? You bet! These beautifully soft and delicate easy low carb keto ricotta gnocchi were just divine!
I must admit that, as I was making quenelles and placing them on a flat dish, I worried about them being too soft. But to my surprise, they held their shape very well once plunged into the boiling water, and actually firmed up somehow. (Since that first attempt, I have been using Guar Gum and the gnocchi hold out even better)
I served them piping hot, topped with myItalian ragú(re-heated left-over from the previous night) and plenty of freshly grated Parmesan cheese.
I have eaten these regularly since then and they've never failed me. Always great. Always delicious.
I hope you will try my Easy Low Carb Keto Ricotta Gnocchi. You will not be disappointed.
Enjoy my new, updated recipe!
INCREDIBLY EASY LOW CARB KETO RICOTTA GNOCCHI
Author: Antya
Nutrition
Fat: 17.5g
Net Carbs: 5.5g
Protein: 18g
Recipe type: Pasta and Gnocchi
Cuisine: Ketogenic. LCHF. Low Carb. Grain Free. Gluten Free.
Prep time:
Cook time:
Total time:
wrap the ricotta in a cheesecloth and place it in a sieve over a bowl for 24 hours.
put strained ricotta in a medium bowl and whisk so as to get rid of any lumps.
break the whole egg directly into the ricotta bowl, add salt and stir gently, using a fork.
incorporate lupin flour and guar gum.
scatter coconut flour over a plate.
using 2 teaspoons, form quinels of ricotta mix, the size of small walnuts, easing each one onto the coconut flour plate.
roll them gently in the coconut flour to coat them, and finally transfer them to another plate, nicely spaced from each other.
you should end up with 32 gnocchi.
put the gnocchi in the fridge while you bring a medium size pot of salted water to the boil.
with the water on full boil, gently ease 7-8 gnocchi into it by hand, in quick succession, one at a time.
as soon as they float, remove the gnocchi with a straining ladle and put them onto a serving plate.
discard the coconut flour foam that will gather both on the ladle and at the top of the boiling water.
repeat until you've cooked all the gnocchi.
tilt the serving plate and soak up any remaining water that may seep out, using a kitchen paper towel.
serve topped with plenty of Italian ragú and lots of freshly grated Parmesan.
Macros are for gnocchi only.

Metric kitchen scales are an inexpensive yet invaluable gadget to enable accurate measurement of ingredients. Store them upright in a cupboard or over your worktop and they'll only take up a tiny bit of space. Click HERE for the ones I use (UK Link). For U.S. option click HERE.
3.5.3251
Enjoyed this post? I really value your feedback! Please leave me a comment. If you make this recipe, make my day and post a photo on social media with the hashtag #queenketo. Thank you! 🙂
Sours: https://queenketo.com/incredibly-easy-low-carb-keto-ricotta-gnocchi/
---
Serves 3-4
Ingredients
For the ricotta gnocchi:
250g ricotta
1 cup almond meal or plain flour
1 egg
Salt and pepper to taste
75g Parmesan cheese
For the garlic butter sauce:
1 tablespoon MCT Oil
70g butter
Salt and pepper to taste
1 vegetable stock cube
2 teaspoons crushed garlic
1 bunch asparagus
10 cherry tomatoes
For the garnish:
Handful of pine nuts - toasted
Few springs of parsley
Extra Parmesan cheese
---
Directions
To make gnocchi: Place all ingredients in a bowl and mix well. You may need to use your hands for this.
Once dough comes together, tip onto a floured bench surface and continue to kneed and work together.
Divide dough into 4 sections. Take the first section and roll it out to a 1.5cm thick log. Cut gnocchi pieces 1-2cm long, give a slight pinch in the centre and place on a tray ready to use.
Repeat with remaining 3 logs.
If you make too much gnocchi, it can be frozen. Simply place it in a snap lock bag and lay it flat. Don't pile gnocchi on top of each other to freeze.
Place some water into a pot and bring to the boil.
To make sauce: Heat MCT Oil in a pan.
Add garlic and stir to brown.
In a separate bowl, dissolve stock cube in 2 tablespoons of boiling water.
Add butter and stock to pan with garlic.
Once melted and simmering, add cherry tomatoes and asparagus.
Once the tomatoes and cherry tomatoes are nearly cooked, place gnocchi in the pot of boiling water.
The gnocchi will be ready when it floats to the top of the water.
When gnocchi is ready, removed it from water and add to the pan of sauce.
Cook until well coated in sauce.
Serve into 3-4 bowls and garnish with toasted pine nuts, parsley and parmesan.
---
Nutritional Information
Per serve (230g) / Per 100g
Energy (kJ): 2480/1080 | Protein (g): 25.2/11 | Fat (g): 51.5/22.4 | Saturated Fat (g): 22.1/9.6 | Carbohydrates (g): 10.2/4.5 | Sugar (g): 5.3/2.3 | Sodium (mg): 569/247
Want to try a Bulk Nutrients product for free? Click here to request a free sample!
---
Sours: https://www.bulknutrients.com.au/blog/keto-ricotta-gnocchi-with-tomatoes-and-asparagus/
Making your own homemade ricotta keto gnocchi is a great way to enjoy a classic (and comforting) pasta dish, but without the carbs. This gnocchi recipe is incredibly low carb and it goes phenomenally well with pesto sauce. Here's how I make it.
How to Make Keto Gnocchi
Process the first few ingredients. Add the almond flour, coconut flour, xanthan gum, grated Parmesan cheese, and salt to a food processor and pulse a few times.
Add the remaining ingredients. Add the egg and ricotta cheese and process until mixture comes together to form a dough ball.
Knead the dough. Wrap it in cling wrap and knead for 1-2 minutes. The dough should be smooth and elastic once you're done.
Refrigerate the dough for at least one hour.
Sprinkle a cutting board with coconut flour.
Prepare the dough. Shape small portions of the dough into long 'snakes' before cutting into 1 inch pieces. Press each piece with a fork. Take your time doing this so that the pieces will be uniform.
Refrigerate. Refrigerate the gnocchi dough pieces for a minimum of 30 minutes.
Cook. Heat either olive oil or butter over low heat in a nonstick pan. Add the gnocchi and cook for 1-2 minutes per side or until golden.
Toss. Remove the gnocchi from the heat, add the pesto sauce, and toss to combine.
Serve. Sprinkle with extra grated Parmesan and serve.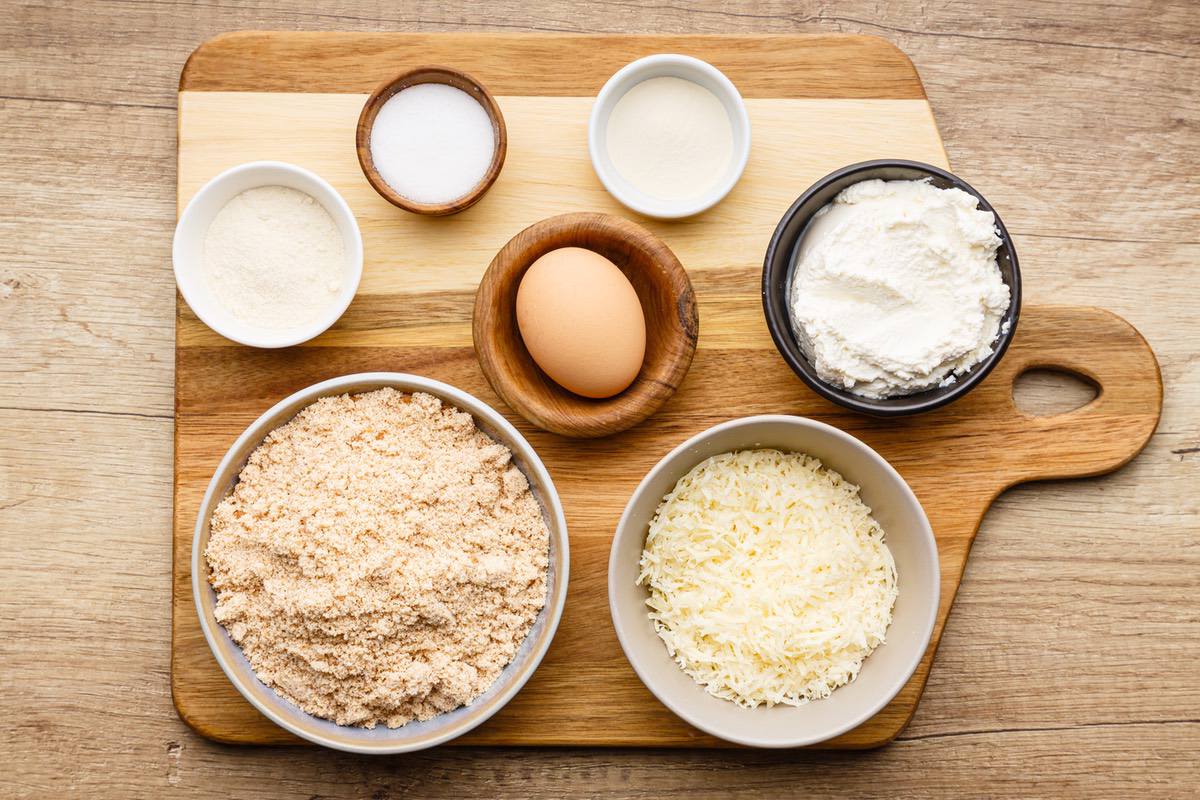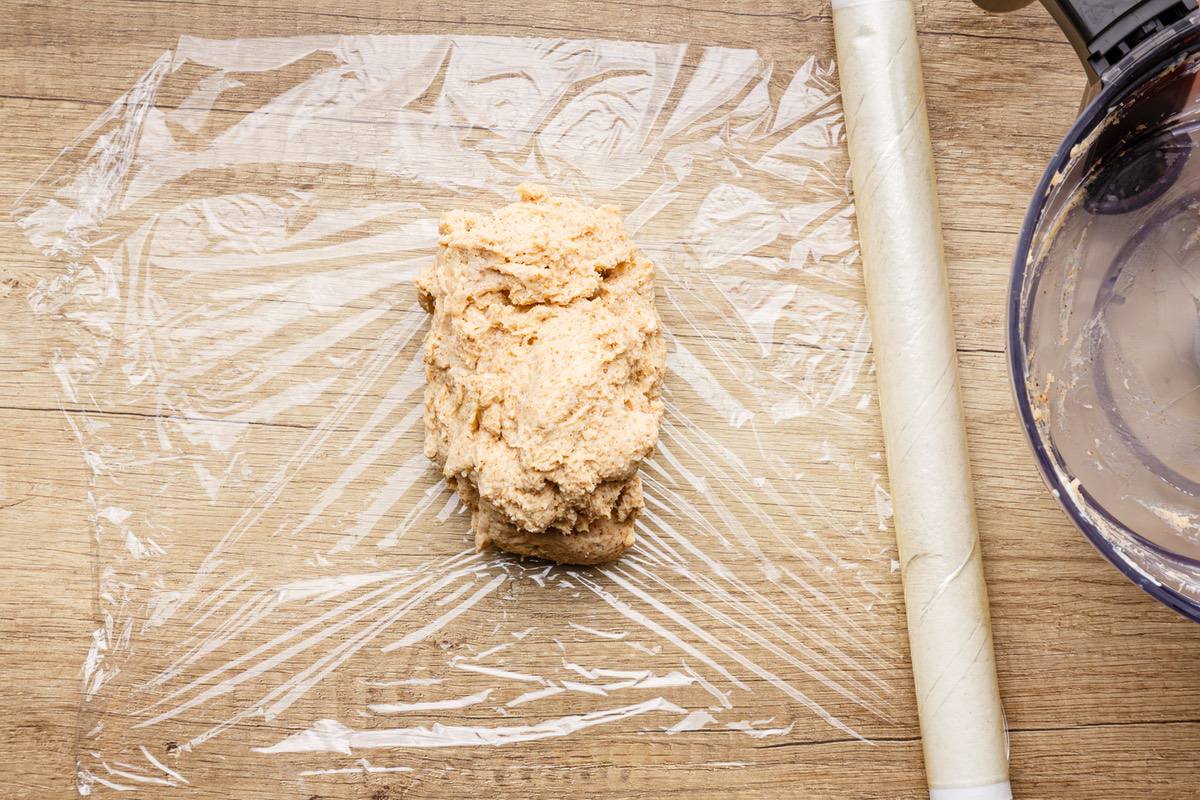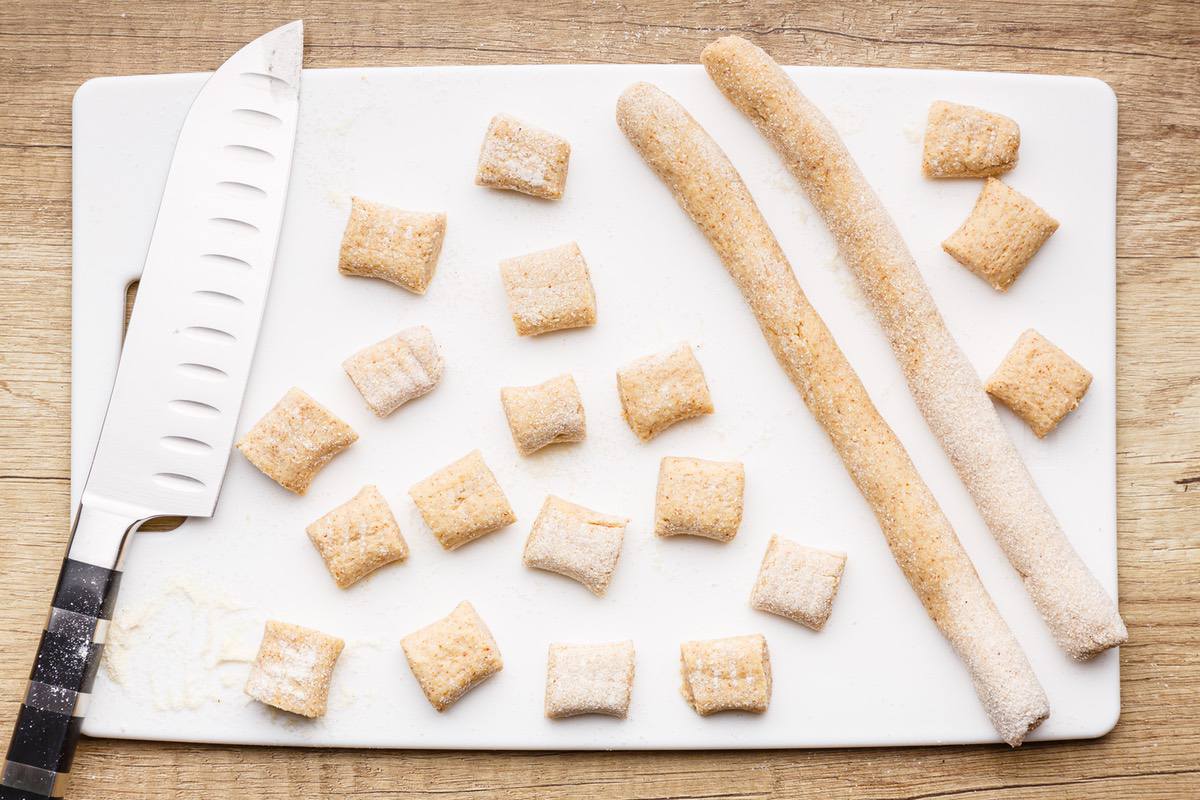 How to Make Homemade Pesto Sauce
While you can use either store-bought or homemade pesto when making this gnocchi recipe, I like to make my own from scratch whenever possible. With that in mind, here's my go-to homemade pesto sauce recipe:
Prepare the pine nuts. Add pine nuts to a dry skillet and toast over medium heat until golden.
Process the ingredients. Add the toasted pine nuts, fresh basil leaves, garlic cloves, extra virgin olive oil, and grated Parmesan to a food processor and process until the mixture forms a paste.
Season. Season with salt to taste.
Refrigerate. Refrigerate until ready to use.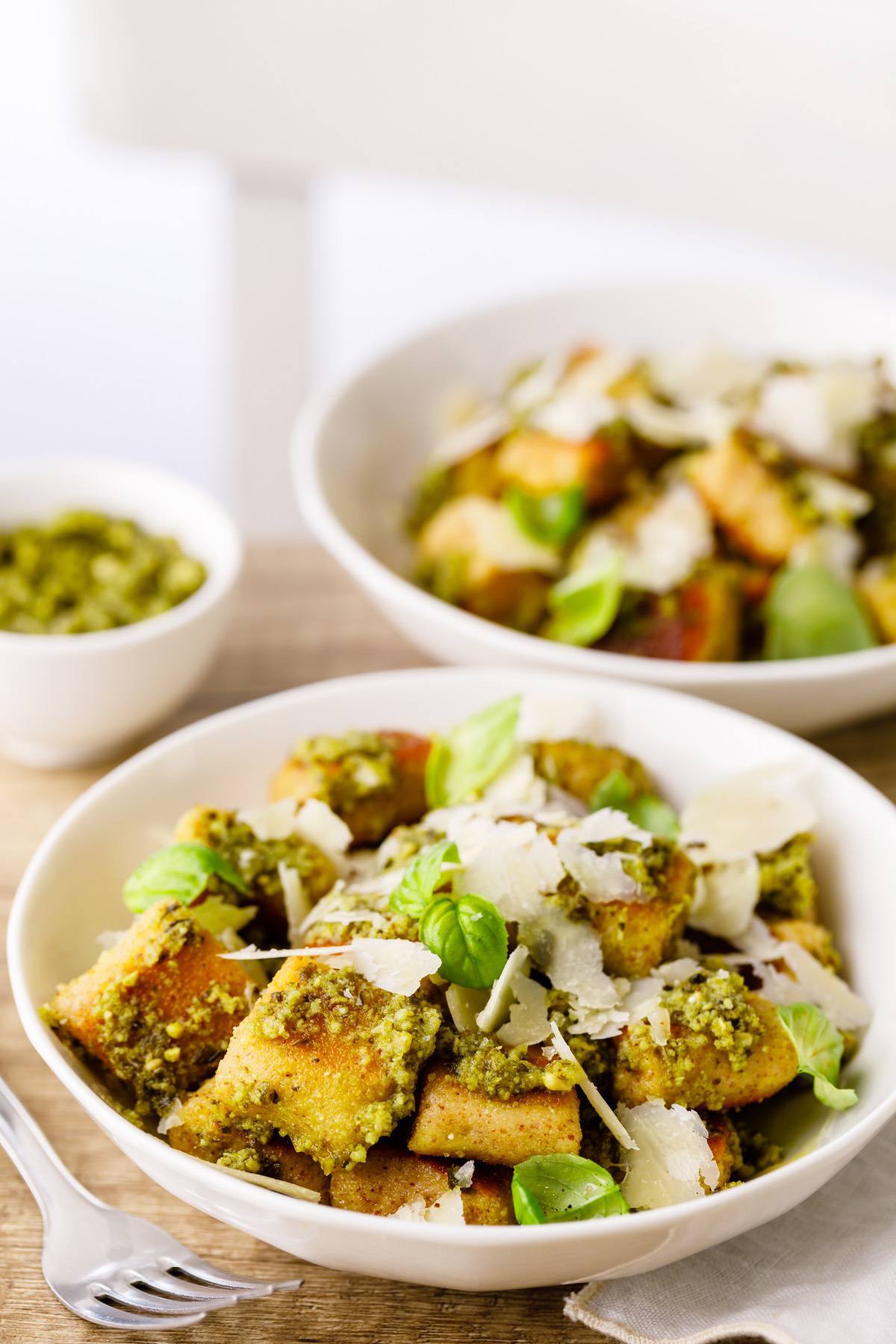 What Exactly is Gnocchi Anyway?
Gnocchi is a type of pasta dish that consists of small dough dumplings that are usually made with a mix of regular wheat flour, semolina, cheese, egg, potato, breadcrumbs, or other similar ingredients.
It's usually seasoned in some way. The most common additions include herbs, veggies, cocoa, or even prunes.
Out of all the more traditional varieties of gnocchi out there, perhaps the most common is a classic potato gnocchi, made with wheat flour, eggs, and cooked mashed potatoes.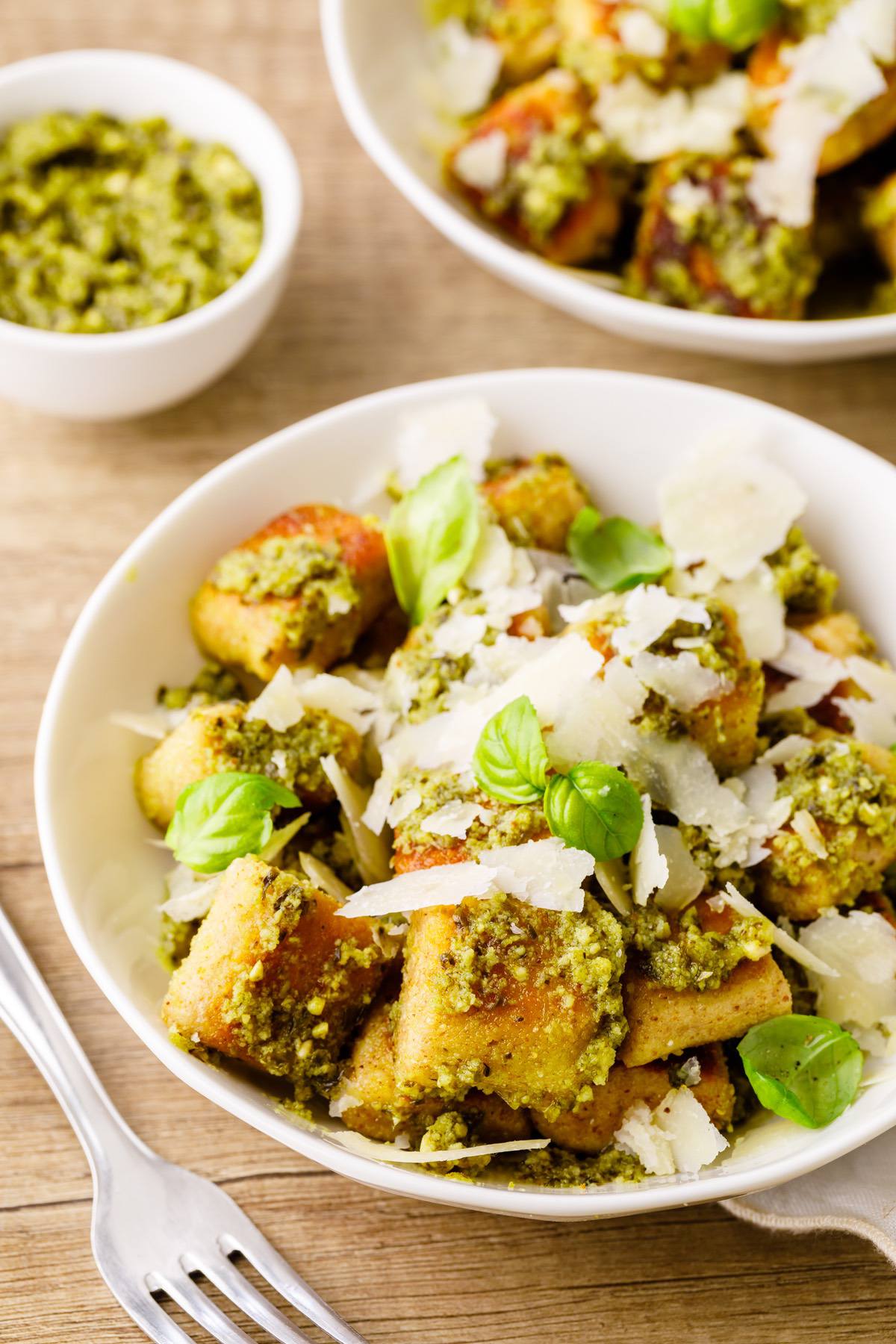 Can I Freeze Gnocchi?
If you have any leftover gnocchi, you can either keep it in the fridge or store it in your freezer.
Leftover gnocchi can be stored in an airtight container and kept in the fridge for 2-3 days, or you can simply keep it in the freezer for up to 2 weeks.
However, if you're planning on freezing the gnocchi, it's recommended that you freeze the dough instead of cooked gnocchi, especially if you've already added any toppings like pesto. The reason for this is that you'll maintain far more texture and consistency when you thaw out the dough as opposed to cooked gnocchi.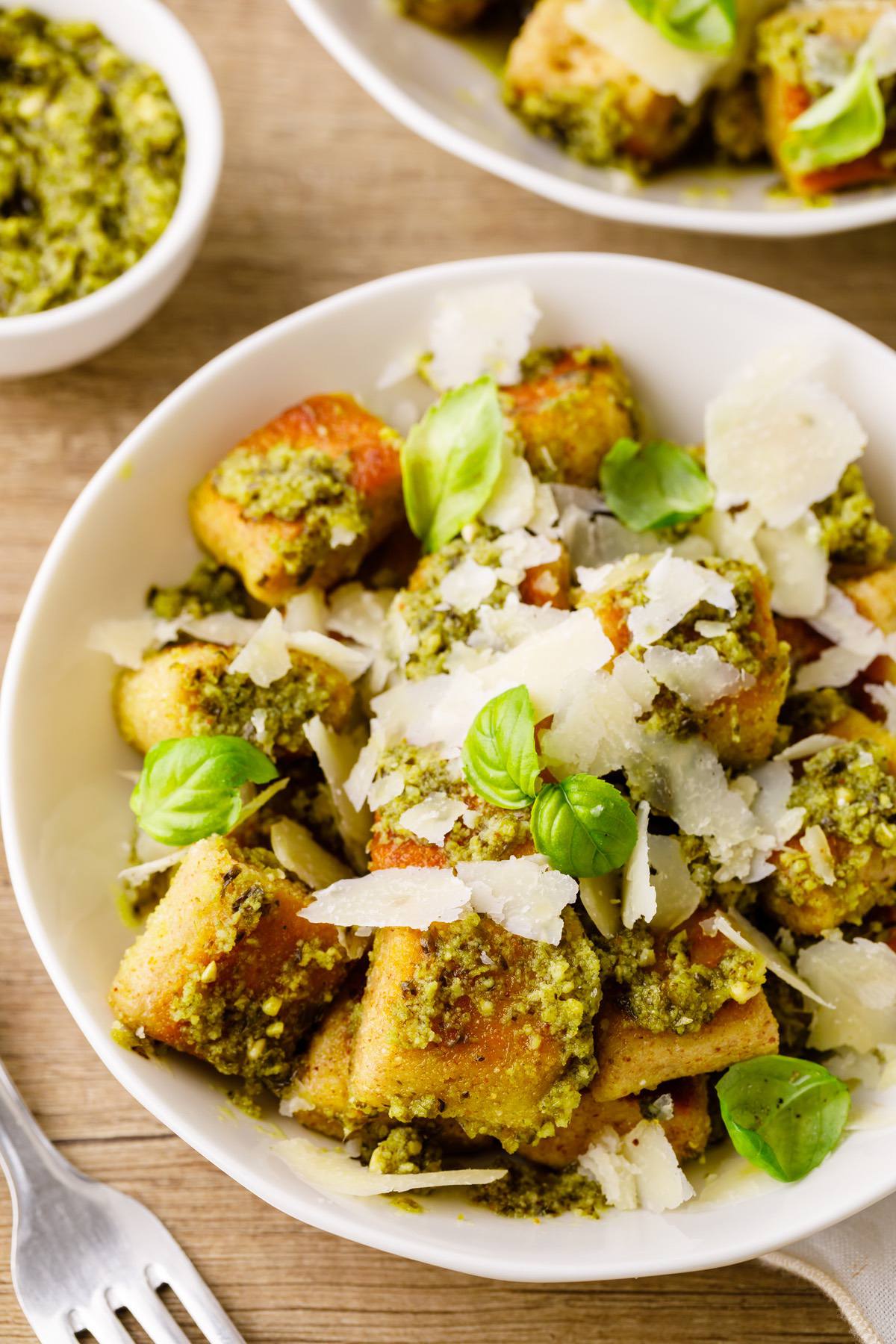 Are Gnocchi Low Carb?
Regular pasta-based dishes of gnocchi are definitely not one of the better low carb meal options out there.
Thankfully for low carb pasta lovers, this gnocchi recipe is indeed a fantastic low carb option. By using non wheat-based flours like almond flour and coconut flour, this recipe manages to keep the net carb count to the bare minimum.
More Good Keto Pasta Recipes:
Print
Print Recipe
Homemade Ricotta Keto Gnocchi with Pesto Sauce
Author:Bree
Prep Time:20 minutes
Cook Time:5 minutes
Total Time:25 minutes
Yield:41x
Scale
1 1/3 cup almond flour
2 tbsp coconut flour
2 tsp xanthan gum
½ cup ricotta cheese, well drained 
2/3 cup Parmesan cheese freshly grated plus extra for serving 
¼ tsp salt 
1 egg, lightly beaten
1/3 cup homemade or store-bought pesto sauce 
olive oil or butter for cooking    
Place the almond flour, Parmesan cheese, coconut flour, xanthan gum and salt in a food processor and pulse a few time to combine. 
Add the egg and ricotta and process until mixture comes together in a ball.
Wrap the dough in cling film and knead it for a 1-2 minutes or until it is smooth and elastic. 
Refrigerate for minimum one hour. 
Sprinkle the cutting board with coconut flour. 
Shape small portions of the dough into long "snakes". 
Cut the snakes into 1 inch pieces. 
Press each piece with a fork. 
Refrigerate the gnocchi for minimum 30 minutes before cooking or until ready to cook. 
Heat the olive oil or butter in a nonstick pan over low heat. 
Add the gnocchi and cook 1-2 minutes per side or until golden. 
Remove from the heat. 
Add pesto and toss to coat. 
Sprinkle with extra grated Parmesan and serve.
Print Recipe
Sours: https://ketopots.com/homemade-keto-gnocchi-with-pesto-sauce
How To Make Supremely Soft Almond Flour Gnocchi
How have we lived this long without keto-friendly pasta dumplings? HOW?
---
Just kidding! It's totally high-key and key-razy delicious.
But like all deliciously healthy recipes, there's a catch—it's not 100% effortless. I KNOW! I'm sorry. But gnocchi is "the pasta dumpling our lives have been missing and there's nothing we shouldn't do to eat it" which is why we are gathered here today.
I think that Mother Teresa said that but don't quote me. 
So to get us from dough ball to pasta nirvana, I found that the best method is like, four different methods. The good news? It's a lot like other gf/keto recipes and it's soooo worth it! Once you get the hang of it, you'll be batchin' up gnocchs all week long. 
That's a fun way of saying you're going to make this a lot. 
Let's do this. 🙌
This is going to take a few tricks, a few pots, and two glasses of wine. Minimum. 
✅ Step 1: Fix your flour
Unless you buy superfine culinary grade almond flour, I can guarantee you it's going to have pieces in it. Even if you can't see them! Trust in me, I go through 2lbs of the stuff a week.
By sifting the flour with a fine mesh strainer, you can get all of the superfine pieces, then you can put the grainy bits in a coffee grinder or (good) food processor for a few seconds to really pulverize it.
✅ Step 2: Don't Over-roll the Dough
We love playing with dough. It's not our fault. We were conditioned at a young age (hi, silly putty). But we can't play with almond flour gnocchi dough too much or it forms tiny cracks that let moisture out and lend to it falling apart. Not ideal.
Work your dough with a bit of plastic cling wrap (see vid here) then form the dough into a ball and slice it into 4 manageable hunks. From there, you can flatten it into a skinny rectangle and slice off your gnocchi bits.
✅Step 3: Hot Tub Gnocchi Machine
Why boil almond flour dough? Won't it just fall apart? WHAT IS THE POINT?
Well, we boil the dough to cook those delicate egg and ricotta insides (gently) so the pan-frying step doesn't dry out your gnocchi, turning it into a pasta crouton. That's why. 
tbh, pasta croutons sound delicious…
The gnocchi won't fall apart. I know because I've made three batches already this week. Just make sure you boil about 3-4 at a time, dunking them gently in the water and leaving them alone.
Once they float (1 min ish) then scoop them out onto a paper towel-lined plate until you're ready to fry them.
✅Step 4: Pan Fry & Get Sauced
Toss the boiled gnocchi into a pan with a touch of oil and let it brown gently on both sides. Work in batches so you can make sure they all get evenly browned.
Add the sauce or serve it with the sauce on the side. That's your call. I love to remove it from the heat, then pour in an obscene amount of pesto.
Plate it. Parmesan it. DONE.
Sauce these baby pasta dumplings however you want. Just know that they are going to absorb some oil so light-handed pouring is best! 
Pin it 📌
Heads UP! This post contains affiliate links. As an Amazon affiliate, I earn from qualifying purchases.
Supremely Soft Almond Flour Gnocchi
Whip up a batch of soft almond flour gnocchi with ZERO cauliflower and kiss the carbs goodbye!
Instructions
Sift 1 cup of almond flour into a large mixing bowl. Grind the flour that remains in a coffee grinder or food processor and add to the sifted mixture.*
Whisk the ricotta, parmesan, egg, and water until combined.
Add the almond flour, coconut flour, xanthan gum, and salt to the egg mixture and stir to form a stiff dough.
Cover the dough with plastic wrap and gently knead it a few times. Slice the dough ball into four sections and form each one into a long rectangle. Slice into 1-inch squares.
Bring a small pot of water to boil and add the gnocchi, a few at a time, with a slotted spoon. Be gentle! After a minute they should start to float. Remove them and place on a plate.
To finish- heat a small amount of oil in a large pan and fry the gnocchi just until brown on each side.
Dress with your favorite sauce and serve!
Notes
*If you don't have a way to grind the leftover almond flour (post sifting) you can just sift another two to three tablespoons into the bowl. Reserve the grittier flour for recipes like cookies!
Nutrition Information
Yield About 5Serving Size 7 pieces
Amount Per ServingCalories 250Total Fat 22gCarbohydrates 8gFiber 4gProtein 10g
Did you make this recipe?
I'd love to see how it turned out! Share your pics on Instagram with #gorgeouseats and don't forget to tag me! @Inspectorgoreous
More From Inspector Gorgeous
Filed Under: Entrees, Gluten Free BreadTagged With: gluten free gnocchi, gluten free pasta, gnocchi, homemade gnocchi, keto gnocchi, low carb gnocchi
Sours: https://www.inspectorgorgeous.com/super-soft-almond-flour-gnocchi/
Gnocchi keto ricotta
Ricotta Gnocchi (low-carb)
Introduction
Quick and easy Ricotta Gnocchi
Almond flour helps keep the carb count lower Quick and easy Ricotta Gnocchi
Almond flour helps keep the carb count lower
Ingredients
1 cup ricotta cheese (part skim)
1 egg yolk (medium or large)
1/4-1/2 teaspoon fine sea salt
1/3 cup grated Parmesan and/or Percorino cheese
1/2-2/3 cup almond flour, plus more for the board
Finely chopped herbs (basil, parsley, oregano, etc.)
Tips
The more flour you add, the denser the gnocchi will be, and you are aiming for light, fluffy pillows!
Directions
1. Drain the ricotta in a mesh strainer for up to an hour

2. Put a large pot of salted water on to boil

3. Combine the cheese in a large bowl with egg yolk, salt, herbs and grated cheese, mixing well to combine. Add some of the flour and stir just until combined; it should still be quite sticky.

4. Flour the board heavily. Scoop a large spoonful of dough onto the board and flour the top heavily. Flour your hands and roll the dough into a log about the width of one finger. Dip a sharp knife into flour, and cut into pieces the size of the last joint of your thumb (about 3/4").

5. Transfer to a parchment-lined, flour-dusted baking sheet. Repeat until all the gnocchi are formed. Work quickly so they don't get soggy and stick.

6. Turn the heat down under the pot until the water bubbles gently. Add the gnocchi and stir once so they don't stick to the bottom. Cook until the float to the surface, 2-4 minutes. Remove with a skimmer or spider and serve at once with a light tomato sauce, browned butter with sage, or any kind of pesto.

Serving Size: Makes enough gnocchi for two


Sours: https://recipes.sparkpeople.com/recipe-detail.asp?recipe=2585757
Gennaro makes Ricotta Ravioli
Jump to Recipe Print Recipe
If you're missing gnocchi and pasta to have with your favorite Italian sauce, this recipe for an easy Keto Gnocchi will have you rejoicing! Not only is it keto friendly with only 5 grams of carbs per serving, it's really good!
I LOVE potato gnocchi and have been missing it since going off carbs. I'll admit that I was skeptical that a gnocchi substitute could be made that was worth its salt, but I really wanted to try.
I've had ricotta gnocchi many times before, and while they also have wheat flour in them, I didn't think it was out of the question to use almond flour instead. I've made really good almond flour biscuits and gravy where both parts used almond flour as a substitute and they worked out great.
If it was possible at all, this would be a huge breakthrough for my diet, because it could be used with any sauce and would really expand my menu options.
So I set out to try some of the keto gnocchi recipes currently available. I started out with two different approaches. Both had their merits, but also their weaknesses. I tried a combo of the two to try to capture the best parts of each and it turned out pretty great.
For some reason, most of the things I make with alternative flours turn out best when I use a combination of almond flour and coconut flour, like these great Pumpkin Spice Muffins. The two together, usually with a bit of xanthan gum mixed in, gives the best texture – not too stiff, not too mealy. This recipe is no different. It's best with a mixture of both.
I use almond flour from Wholesome Yum. It can be ordered directly through this link. It's the perfect consistency for almond flour and is specially designed for keto cooking. It's blanched finely ground almond flour has the best texture for keto baking.
Ingredients in Keto Gnocchi
The mixture of the two flours, xanthan gum and ricotta make this recipe the winner that it is. Here is the complete ingredient list.
Almond flour
Coconut flour
Xanthan gum
Salt
Ricotta cheese
Parmesan cheese
Egg
Butter
How to Make Keto Ricotta Gnocchi
As you can tell from that headline, the ricotta option worked out the best in my experimental batches. I tried making a fathead dough version, with mozzarella cheese and cream cheese, and while it was good, it didn't have the same pillowy soft texture these had.
Step 1: Mix the dough
In a mixing bowl, combine the almond flour, coconut flour, xanthan gum, and salt. Stir well. If you're wondering if you have to use the xanthan gum, you do.
If you don't add the xanthan gum, there will be not stickiness that keeps the dough together. You can substitute it with gelatine, if necessary.
Add the ricotta, Parmesan cheese, and egg to the dry ingredients. Stir until a dough forms. For me, this was the perfect mixture. It was a bit sticky but it wasn't too dry or too wet. It was very much like a regular potato gnocchi dough would be.
Add water only if the dough is too stiff or dry. It should be quite pliable.
Wet your hands. This will keep the dough from sticking to your fingers. Form the dough into a ball, then knead it 2-3 times just to bring it together. Wrap it in plastic wrap and refrigerate for 15-30 minutes.
Step 2: Roll & Cut
When you're ready to make the gnocchi, remove the dough from the refrigerator and discard the plastic wrap. Cut the ball into two pieces.
On a cutting board, roll one ball at a time into a long log. You can do this by forming a log shape, then put it down on the board and roll it toward you with your fingers extended. Push outward slightly to elongate the log.
When the log gets to about 1 inch in diameter, cut it into 1" pieces.
If you want to add the fork marks, which can help the sauce stick to the gnocchi, push down on each piece with the back of a fork.
Step 3: Cook or Freeze
At this point, you can either cook the gnocchi right away, or you can freeze them for later.
The best way to freeze gnocchi is to flash freeze them individually, then move them to a container or plastic bag where you can store them for up to 3 months.
To flash freeze, add the gnocchi pieces, set apart, on a flat plate or tray that will fit in your freezer. Freeze for about 15 minutes. Then remove and the pieces will no longer stick together, so you can put them in a bag together to freeze.
How to Cook Gnocchi
It's not necessary to boil these gnocchi. While it's possible to boil them with out them falling apart in the water, I don't think it leads to the best texture. Frying them in a skillet is the optimal way.
Heat a skillet over medium high heat. Add butter. When melted, add the gnocchi to the pan. Fry until lightly fried on one side, then flip and fry on the other side, about 3 minutes per side.
If you over fry them, they can get crunchy or hard on the outside, which is also not idea, so just give them a light sizzle.
If you want to add sage and walnuts to the final dish, add them to the pan at the same time as the gnocchi.
If you'd rather serve the gnocchi with another sauce, like pesto or tomato sauce, prepare that sauce in another dish, and toss the gnocchi gently into the sauce when they're done frying.
How Many Carbs in Keto Gnocchi?
There are 5 net grams of carbs in one serving of keto gnocchi. The carbs come from the almond and coconut flours, as well as the xanthan gum.
The sauce we used is just browned butter, walnuts and sage, which will add an additional net carb for the walnuts. Other sauces you choose may include more carbs than what is in the gnocchi. If you need to cut down the carbs, I would recommend dividing it into 6 servings.
If you like this recipe, you'll want to check our our keto pizza dough. It's very similar, but uses fathead dough for it's recognizable pizza crust texture. Chewy, crispy and bread like this crust does not disappoint.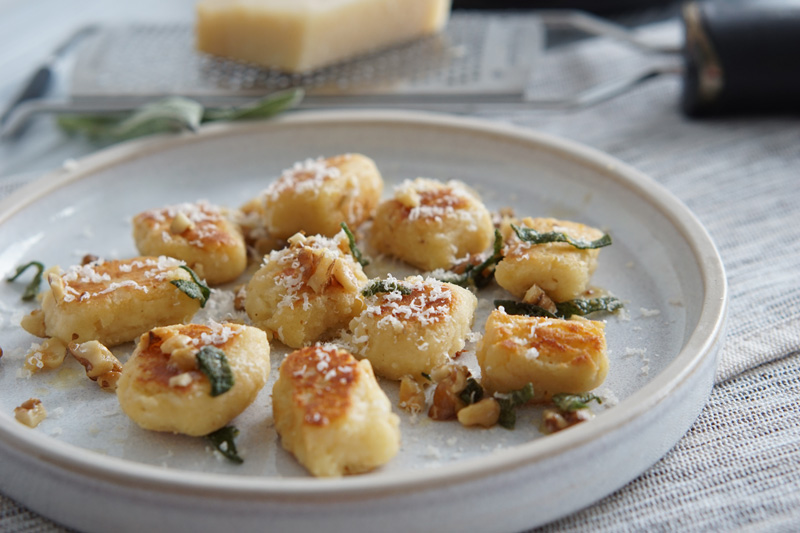 Can I Freeze Keto Gnocchi?
Yes. This is a perfect idea for a quick dinner. Once you have shaped and cut the gnocchi freeze it raw in and air tight container or freeze bag. They are best when they are cooked right before serving.
Do These Gnocchi Need To Be Boiled?
No. While you could boil them it isn't necessary. For the perfect texture these gnocchi are fried until lightly brown, about 3 minutes per side.
How Many Carbs Are In One Serving of Keto Gnocchi?
There are 5 net grams of carbs in one serving of keto gnocchi. The carbs come from the almond and coconut flours, as well as the xanthan gum.
FREE EASY KETO RECIPES COOKBOOK
Sign up and get a FREE keto cookbook plus weekly subscriber exclusives.
Thank you!
Please check your email and confirm your subscription to download your free cookbook.
More Recipes to Try
Like this post? Be sure to save it on your Pinterest board for later! Click to follow our Pinterest boards so you can find all our recipes!
1 cup finely ground almond flour
2 tbsp coconut flour
1 1/2 tsp xanthan gum
1/8 tsp salt
1/2 cup ricotta cheese
2 tbsp grated Parmesan cheese
1 large egg
1 tbsp water only if necessary
2 tbsp butter for frying
Toppings or sauce of choice
In a mixing bowl, combine the almond flour, coconut flour, xanthan gum, and salt. Stir well. Add the ricotta, Parmesan, and egg. Stir until a dough forms. Add water only if the dough is too stiff.

Form the dough into a ball. Wet your hands. Knead the dough 2-3 times to bring it together. Wrap in plastic wrap and refrigerate for 15-30 minutes.

Remove from refrigerator and discard the plastic wrap. Cut the ball into 2. Roll one ball at a time into a long log. Cut into 1" pieces.

Heat a skillet over medium high heat. Add the butter. When melted, add the gnocchi to the pan. Fry until golden on one side, then flip and fry on the other side, about 4 minutes per side.

Serve with grated Parmesan cheese, toasted walnuts, and crispy sage, or dress with pesto or tomato sauce.
If the dough is stiff, add a small amount of water to loosen it up.
You can replace the xanthan gum with 3 teaspoons of unflavored gelatin, if necessary.
Calories: 309kcal | Carbohydrates: 10g | Protein: 12g | Fat: 26g | Saturated Fat: 8g | Cholesterol: 79mg | Sodium: 245mg | Potassium: 50mg | Fiber: 5g | Sugar: 1g | Vitamin A: 401IU | Calcium: 157mg | Iron: 1mg
The information shown is an estimate provided by an online nutrition calculator. It should not be considered a substitute for a professional nutritionist's advice.
Read More About a Low-Carb Lifestyle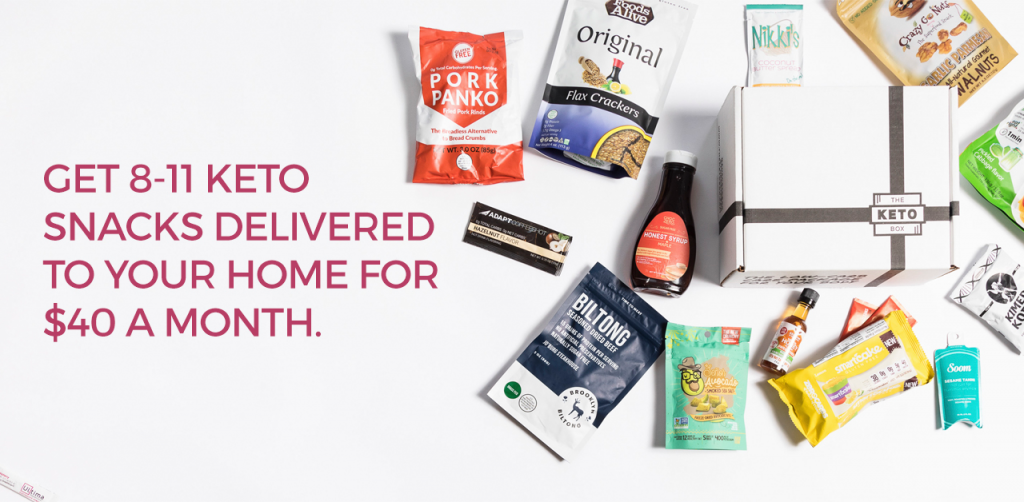 Like it? Pin it for later!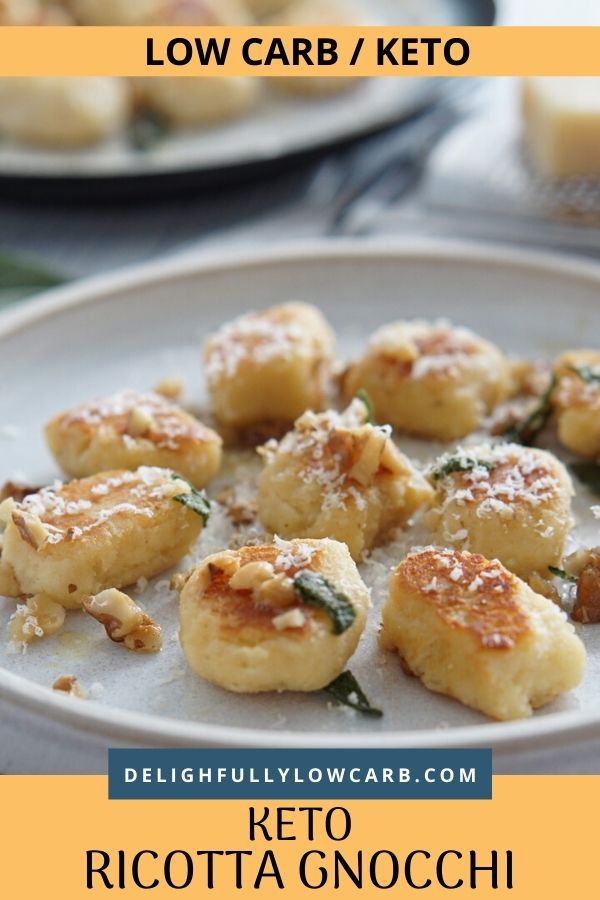 Laura
Laura is an avid home cook and recipe creator. She shares her favorite low-carb recipes here that are both easy to make and full of flavor, so you don't even miss the carbs.
Easy Keto Gnocchi Recipe
This entry was posted in Recipes and tagged Keto, Main Dish. Sours: https://delightfullylowcarb.com/easy-keto-gnocchi-recipe/
You will also like:
For those who have spent their lives enjoying wheat-based pasta, a Keto lifestyle is a challenge. Our Keto Ricotta Garlic Gnocchi will meet that challenge and win! Since we do not use wheat-flour or potato, our gnocchi are gluten-free, low-carb, and delicious. We make a pillowy, light, and tasty gnocchi – just like the original. It is a recipe that we can use for all of our Italian gnocchi dishes. Paired with a simple marinara, topped with grated parmesan, and garnished with a sweet basil leaf – you have perfection!
Joanie was born in Canada and until she came to the United States she had never tried a pasta called "Gnocchi." Perhaps many of our followers do not know about gnocchi. It is traditionally a potato, onion, and doughy ball made with egg, ricotta, and wheat-flour. Gnocchi are shaped like a little pillow and are boiled until they rise. They are used as the base for many Italian pasta recipes. It is usually topped with a marinara, a butter and sage sauce, and even a pesto sauce.
Ingredients
We use a blend of almond flour and coconut flour as the base for our Keto Gnocchi. We always use a blanched almond flour. It is finer, lighter in color, and is better for baking than un-blanched almond flour, since the skins are removed. Blending coconut flour allows our gnocchi to hold a bit more moisture, so they are not too dry to the taste. We like Anthony's products. Click the picture links below to purchase.
The Xanthan gum is an essential ingredient. It adds elasticity and also holds the gnocchi together. Again, Anthony's brand is a good choice. See the picture link below to purchase. For taste, we add garlic powder and for creaminess we use ricotta cheese. Both add that Italian flavor, as well. The flavor is enhanced with the nutty taste of grated parmesan in each bite.
Preparation Tips
To form a dough ball we add the wet ingredients to the dry. We use a fork to combine the ingredients for our Keto Ricotta Garlic Gnocchi. At first it will form into crumbles. We use our hands to knead it into a slightly sticky dough ball. We have tried using dough hooks on our stand mixer, but it seems to form softer gnocchi when we blend the dough with a fork.
Next, the dough balls should be rolled into a cigar-shaped tubes. The tube would be best if the diameter was about 1 inch. If your dough becomes too long to handle simply cut it into smaller cigar length tubes. The idea is to roll the dough into a cylindrical form so it will be easier to cut into gnocchi sizes. We find that keeping our hands slightly moist when rolling on our cutting board will help to keep the dough together. We then wrap the cigar-shaped dough into plastic wrap before refrigerating for 30 minutes.
Click any "Pin Recipe Button" to Save to Pinterest!
An Easy Way to Make Gnocchi Indentions
After cutting the refrigerated gnocchi and rolling into one inch ovals, press one side lightly with a fork. This will indent the top and slightly flatten the other side. You will have a perfectly shaped gnocchi. Separate the gnocchi and place on a parchment lined tray. Place them back in the freezer for 10 minutes to insure they hold together when cooked.
Finally, please "DO NOT BOIL." A lot of recipes call for boiling the gnocchi, and then waiting for them to rise in the water. That may work with wheat-based gnocchi, but our Keto version will just become soggy and fall apart. Fry them in garlic butter and olive oil with a little ground basil, sage, or Italian seasoning.
Follow us on Social Media – See the Latest Keto Products
FacebookPinterestTwitterInstagramAmazon
Keto Ricotta Garlic Gnocchi
Make a bigger batch and freeze the unused gnocchi for another meal. There are so many recipes using these Keto Ricotta Garlic Gnocchi! We have a delicious recipe that we will post soon. It is made with asparagus and shrimp. After freezing, thaw briefly, and fry before using. The perfect Tasty Low Carb pasta!
1 ⅓ cup Almond flour (blanched)
2 tablespoons Coconut flour
2 teaspoons Xanthan gum
1 teaspoon Garlic powder
½ cup Ricotta cheese
⅔ cup Parmesan cheese (grated)
¼ teaspoon Sea salt
1 Egg (beaten)
2 tablespoons Butter
2 tablespoons Olive oil (extra virgin)
4 cloves Garlic (sliced)
3 large Basil leaves (chopped)
US Customary – Metric
Prevent your screen from going dark
In a medium bowl, whisk the almond flour, coconut flour, Xanthan gum, and garlic powder until thoroughly combined.

In a second medium bowl mix the ricotta, parmesan, and egg. Add salt.

Combine the cheesy egg mixture with the dry ingredients and mix throughly with a fork. The crumbly mixture should then be formed into a sticky ball. If more liquid is needed add a teaspoon of water at a time. If too watery, add more almond flour.

Wrap the dough ball in saran wrap and roll into a long cigar shape. Place in the refrigerator for a half hour to rest.

Use a dough knife and cut into 1 inch square pieces. Use your hands to form into an oval, then press down lightly with a wet fork to make traditional gnocchi marks. Place the tray in the freezer for 10 minutes to rest.

Melt the butter and olive oil in a non-stick skillet and then add the garlic, and chopped basil, and fry for 1 minute over medium heat. When fragrant, drop the heat to medium-low and add the gnocchi. Make sure the cold gnocchi are not crowded (make in batches if needed) and fry for 3 minutes. Baste with the garlic butter. Move them around but do not flip – you want a crusty bottom.

Plate and serve 1/6 of the gnocchi with a topping of your choice. We love it with marinara sauce.
A perfect garnish is Marinara sauce with shaved parmesan and a basil leaf. For a delicious Marinara sauce try our Tomato Basil Marinara Sauce.
Calories: 315kcal | Carbohydrates: 8g | Protein: 13g | Fat: 26g | Saturated Fat: 9g | Cholesterol: 65mg | Sodium: 403mg | Potassium: 55mg | Fiber: 4g | Sugar: 1g | Calcium: 236mg | Net Carbs: 4g
Print Recipe Share on Facebook Pin Recipe Share by Email
Tasty Low Carb is a participant in Amazon's affiliate advertising program. Clicking on a product or Amazon ad will re-direct you to Amazon.com. For your purchases, we may receive a small consideration that will help us build and maintain our website.
Related
Sours: https://www.tasty-lowcarb.com/keto-ricotta-garlic-gnocchi/
1431
1432
1433
1434
1435