The Wayfair Scandal is More than Cabinets
Yesterday I went down a rabbit hole. You know, the same one half of social media is down…Wayfair and sex trafficking and overpriced cabinets. I recently read that Scott Erskine had died of Covid 19 and reading what he did really rocked me, reminding me of the crazy that is out there. I have boys not much younger than those boys were when they were kidnapped, bound, gagged, assaulted, tortured and murdered…I've been on edge about it this week. So when I heard child trafficking and kidnapped children – it got my attention easily, I'll admit it. I've been reading the news articles about Wayfair hoping some new information will come out, but alas they mostly say the same thing. Which is to say, that they completely gloss over some pretty weird stuff.
So by now you know about the $10,000 Cabinets listed for sale on Wayfair. There were several cabinets, and each were named the last names of various missing children. Wayfair was accused of using these as a means to conduct payments for sex trafficking. They have subsequently been taken down off the site.
It is true that large industrial cabinets actually could cost that much. But what about the names, that's just creepy and weird isn't it? According to Fox News, Wayfair's response was as follows…which addresses the pricing and acknowledges the need to re-name but entirely glossed over original naming pattern:
Recognizing that the photos and descriptions provided by the supplier did not adequately explain the high price point, we have temporarily removed the products from site to rename them and to provide a more in-depth description and photos that accurately depict the product to clarify the price point.

Frechette, Wayfair Spokesperson (quote according to Fox News aritcle linked above)
The basic conclusion is that it's just conspiracy theory. Snopes concluded "False" based on:
The claim that Wayfair is trafficking children is based almost entirely on one person's confusion over an expensive cabinet.

Dan Evon, Snopes Reporter
Ok so at this point, that's what is being reported by the masses but humor me and come with me down the rabbit hole for five minutes.
Wayfair Sex Trafficking Scandal Based on Multiple Products
While it all started on Reddit about a series of cabinets…in the last day, numerous products surfaced that follow the same pattern of missing child naming and 5 figure pricing. I came across this on Twitter. This is important because most news sources only reported the cabinets, which theoretically could cost that much…but below you'll see images with pillows. Pillows that are, like the cabinets, identical but named various names of missing kids and listed separately. You can go deeeeeep down the rabbit hole on more "weird" findings in images from Wayfair, but for now lets just stick to the product naming pattern of duplicate products, priced excessively. Now it is just weird, right?
Wayfair Sets Product Pricing
When I started writing this post, I assumed that Wayfair worked similarly to eBay and Amazon, where sellers manage their listings and set prices. But based on their "Sell On Wayfair" page – I found otherwise. It appears that Wayfair sets the pricing of the products on their site.
…we pay our partners the wholesale cost of their items, and we set the retail price.

Wayfair,How to Sell on Wayfair
Wayfair has yet to comment on their naming or their pricing. I don't know about sex trafficking, but something is going on here.
Update to this Post: Wayfair Owns WFX, Utility Trademark
I will note, it was pointed out that a number of the kids names that were on some of the products were children who had gone missing and but had already been found. It's true. However it doesn't negate the utter bizarreness of products across multiple categories being named kidnapped kids, missing or found, and priced 10x – 100x their standard retail value.
It was also pointed out that hundreds of thousands of kids go missing each year and that means a LOT of names. The pillows I personally looked up were all very unique names. It was not a case of the common first name coincidence, and does not explain the naming pattern.
this post contains affiliate links
The Dark Web
The dark web is real – most of us main stream folks don't run across it at all, hear about it much or even have a realistic idea of what it really entails. Frankly, I don't. I suspect it is far more vast and scarier than I can even imagine. Queue Yandex. Just a whole rabbit hole, and I really don't even know how it exactly related, but it's all over Twitter so I took a few minutes and explored it.
You Might Also Like:
Will Closing Schools Mean More Child Abuse?
Yandex and The Wayfair Sex Trafficking Theory
Twitter references Yandex, a russian search engine, above – I'd never even heard of it before (I may live under a rock, I check my ego at the door). I too found that Wayfair codes brought up pics of children.
Now, this type of weird overpricing of odd products isn't limited to just Wayfair. I have also seen it on Amazon and eBay. Let's look at eBay. Take this $30,000 pillow, for example.
Then enter the product code as the Tweets above indicate. And in the image search you'll get this:
I wondered what the images link to, you know. So I clicked through – one took me to a crypto currency transfer site (which supports some theories here), and the other one I clicked through linked to someone's blog. As a blogger, red flags are going off everywhere for me. Many of us blogging parents have long known our social media and blog images end up all over…we accept it…but staring this in the face gave me some major cause for pause.
So I found a random shelf on wayfair that didn't have wonky pricing, and was only a couple hundred bucks. Ran it in Yandex and got this:
I wondered if all the "codes" entered after SRC USA just lead to these types of images? I made up a number and got this:
I really don't have a conclusion on the Yandex thing. I get all the politics around Russia, and how some may find it related – but to be honest I need to read more about the possible connection myself. At a minimum, I'll note it's weird and a little unsettling, especially as a blogger.
Will a Kid Ship with Wayfair's $10,000 Cabinets?
Do I think a kidnapped kid will ship to my home in an armoire I purchase on Wayfair? Don't be insane. No. Do I think that someone can negotiate a deal with a sex trafficker on the dark web (or wherever that is done), and then "purchase" a legit item via a high traffic retailer as a clean and tidy way transferring money? Heck, yeah. It's normal [for some people] to pay a furniture company tens of thousands of dollars, even hundreds of thousands…furniture can legit be expensive so clearing fund transfers through open and clean retail channels would enable money to move around without triggering much interest from the IRS or AML (anti-money laundering) or whoever else is supposed to be on top of this.
In theory, this could work on eBay or Amazon. Now, the Wayfair site says they set pricing and collect payment, so the elephant in the room is – were there transactions in any of these listings?How long were they actually up?
I don't know what to think here…it's one thing when we can blame some random seller/front for doing this, but in this case it appears it is Wayfair corporate that is setting up product listings, prices and clearing the funds. Now if I'm wrong, please let me know…because I think this is a key fact in their level of responsibility.
So is there a Wayfair sex trafficking conspiracy? I honestly have no idea. But were there product listing patterns using missing kids' names with very oddly high values created by Wayfair? Yes. Is that weird? Obviously. Were there transactions in those items? We don't know. Was Wayfair hacked? We don't know. Has Wayfar addressed it explained it sufficiently? Not even close. But I'm standing by.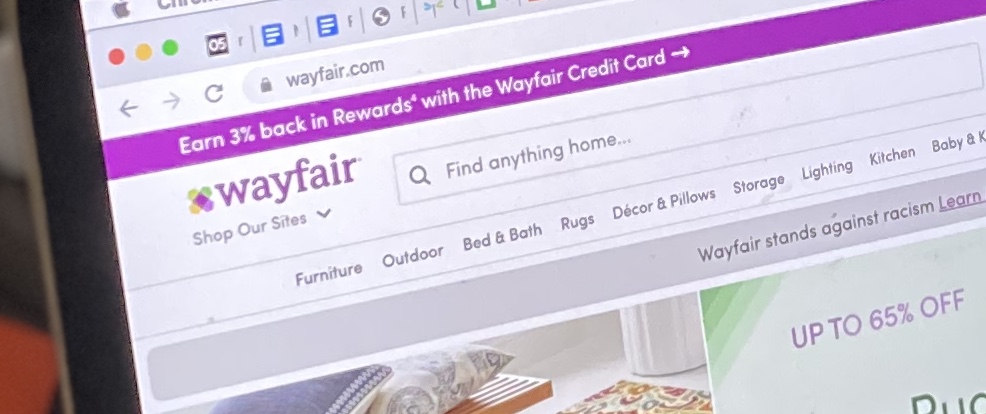 My bottom line takeaway: The names of the excessively priced pillows and cabinets remains a weird, unexplained, unaddressed issue and is worth continuing to monitor. We need to know if there were actual transactions in those products. Minimally, Wayfair owes the families of the kidnapped children a public apology and explanation of how this happened. At this point, I don't think we can entirely shut down the theory that these product names and prices mean something more, though I don't think we can yet say exactly what. I require more information to draw formal conclusions.
I will say this, if there's one thing I know 100% for sure – it's that I'm going to be seeing some WEIRD ads for the next few months based on my recent searches and browsing, LOL!
Thoughts? Do you think the whole thing is insane and made-up? Do you think the naming was random or planted or what other ideas would explain it?? There are lots of possible outcomes here, would love to know what you're thinking! Please vote in the poll!
Update to this Post: Wayfair Owns WFX, Utility Trademark
Read Next: Will Closing Schools Mean More Child Abuse?
Read more about this topic:
Filed Under: Family & Lifestyle
Sours: https://www.beautifuldayblog.com/2020/07/11/the-wayfair-scandal-is-more-than-cabinets/
Let's be honest: Our kitchens have been our saving graces in 2020. We didn't expect to spend the bulk of our year hunkered down at home, but playing with our favorite appliances, mastering new recipes, and whipping up some banana bread (obvi) has made all this time inside a lot more bearable. So, if you want to start 2021 on the right foot, why not restock your cabinets with even more kitchen appliances? (By now, you're probably getting a little sick of your go-to cooking rotation, I assume.)
In honor of the end of 2020 (!!!), Wayfair is taking up to 60% off a bunch of home essentials. While the retailer is known for regularly slashing the prices of furniture and home decor, this specific sale also has some pretty epic kitchen deals. Don't believe us? Take a look at our favorite ones below. From air fryers to wine fridges, and everything in between, these deals are simply irresistible.
12 Qt Compact Air Fryer
DASH
SHOP AT WAYFAIR.COM
$49.99 (29% off)
If you're looking for an easy, guilt-free way to enjoy chicken fingers and sweet potato fries, Dash's Air Fryer offers the same crispy results, but cuts down on oil used.
26-Piece Pasta Maker Attachment Set for Stand Mixer
KitchenAid
SHOP AT WAYFAIR.COM
$129.99 (28% off)
Want to breathe a second life into your KitchenAid Stand Mixer? Get your carb-loading on with this pasta maker attachment.
3SmartPower Duet 500 Watt Blender/Food Processor
Cuisinart
SHOP AT WAYFAIR.COM
$89.95 (45% Off)
Just because you have limited cabinet space doesn't mean you have to miss out of this sale. Cuisinart's blender doubles as a food processor, making it perfect for small-space dwellers.
4Kitchen Professional Citrus Juicer
$129 AT WAYFAIR.COM
$59.99 (20% off)
If you want to eat a little healthier in the new year, pick up this professional-grade juicer.
512 Bottle Single Zone Freestanding Wine Refrigerator
Ivation
SHOP AT WAYFAIR.COM
$169.99 (6% off)
Take your virtual happy hour to the next level with Ivation's wine refrigerator, which can hold up to a dozen bottles. Cheers!
6Classic 14 Piece Block Set
KitchenAid
SHOP AT WAYFAIR.COM
$87.22 (13% off)
Now that you're a certified home chef, you stock up on all the accoutrements the pros have. Slice, dice, and julienne your ingredients to your heart's desire with this 14-piece knife set.
7Griddler Grill & Panini Press
Cuisinart
SHOP AT WAYFAIR.COM
$59.95 (46% off)
Whether you want to grill a veggie burger or make an ooey gooey panini, this multi-purpose press will become the unsung hero of your kitchen.
8 Vertuo Coffee & Espresso Machine with Aeroccino Milk Frother by DeLonghi
$276 AT WAYFAIR.COM
$215.99 (14% off)
Behind every productive work-from-home day is a large cup of coffee. Nespresso is the gold standard of easy-to-use espresso machines, and you can currently score over $30 off this compact style.
9 5-Qt. Stay or Go Programmable Stay or Go Slow Cooker
Hamilton Beach
SHOP AT WAYFAIR.COM
$47.99 (20% off)
Since winter is synonymous with savory stews and chilis, you'll get a lot of mileage out of Hamilton Beach's slow cooker.
102 Slice Extra Wide Slot Toaster
Black + Decker
SHOP AT WAYFAIR.COM
$25.99 (13% off)
Breakfast is the most important meal of the day, so you're bound to get a lot of mileage out of this affordable toaster.
Kelsey MulveyKelsey Mulvey is a freelance lifestyle journalist, who covers shopping and deals for Marie Claire, Women's Health, and Men's Health, among others.
This content is created and maintained by a third party, and imported onto this page to help users provide their email addresses. You may be able to find more information about this and similar content at piano.io
Sours: https://www.delish.com/kitchen-tools/g35046598/wayfairs-end-of-year-kitchen-sales/
Blog
Wayfair unveiled the Top Five Renovation Trends Transforming Today's Kitchens and Baths.
With more than 10 million products across every style and price point, Wayfair analyzed thousands of search trends to shed light on how consumers are embracing new styles and designs as they renovate their kitchens and bathrooms. The latest trends include:
1. Farmhouse Frenzy: More popular than ever, homeowners are increasingly seeking rustic styles that embody a farmhouse look, as shoppers opt for items such as apron sinks and freestanding vanities with natural finishes. Searches for "farmhouse" fixtures have quadrupled in the last year with sales of farmhouse sinks alone nearly doubling year over year.
2. Set in Stone: Concrete kitchen sinks are increasingly popular with searches for concrete furniture and decor overall up 50 percent year over year. Concrete sinks are unique, durable and versatile, as they come in various sizes, styles and tones, making it a true statement piece in the kitchen.
3. Black is the New Chrome: While chrome and silver continue to be popular options, consumers are also gravitating toward chic black and black matte finishes for faucets and sinks with searches for these products tripling year over year across thousands of options.
4. Many Shades of Gold: Gold-toned faucets and fixtures are growing in popularity as shoppers look to add a touch of glamour to their space. In addition, shoppers are increasingly exploring rose gold finishes, which complement both classic and contemporary styles.
5. Neat and Tidy: Floating vanities have doubled in popularity in the last year as shoppers seek space-saving options with products that not only offer a clean, modern look, but have more efficient storage capacity to keep clutter out of sight.
Sours: https://metcabinet.com/2019/02/26/wayfair-top-5-kitchen-beth-renovation-trends/
Bold colors are having a moment under the bright yellow sun right about now. Wayfair's spring renovation trends for 2021 has named "bold and bright" colors as one of the hottest crazes of the moment — and we're totally on board.
The eye-catching displays of color are making waves all over the home, from the kitchen to home offices, and in light of an incredibly dreary and dark year amid the ongoing coronavirus pandemic, we hope this interior decorating trend gives people a little daily dose of positivity throughout their living spaces.
"White or neutral kitchens and bathrooms have been the trend for years, and it's become the standard for builders and designers, too. From a design perspective, neutrals create a calming space but can feel lackluster without other visual interest, textures, patterns, or some color," Lindsey Zborowski, Design Manager for Wayfair Professional, shared with Southern Living.
"What we're seeing this spring is the reemergence of bold color in thoughtful and specific ways. Having largely spent the last year in our homes, bringing in some happier hues and color pop moments can make a space brighter and add visual interest without overwhelming the room," she continued.
For bigger pops of color, Zborowski recommends navy or sage kitchen cabinets and pairing that with a light or neutral countertop and a tight-patterned backsplash. "In the bathroom, consider painting a bright wall color (a sunny yellow or a deep emerald) or using a periwinkle penny tile in the shower, paired with matte-finished vanity and light marble floor tile," she further suggested.
"Other ways to introduce color is through major appliances, which with brands like SMEG it's easy to find form and function with on-trend finishes," she said, noting that she's a huge fan of this olive green range, which can be paired with matte black or grey cabinetry and neutral floor tiles and countertops to create a beautiful, balanced look in the kitchen. And don't forget the option to use bold kitchen paint colors to add visual intrigue and a sense of cheeriness to your space, too.
"Another way to balance out a bold appliance, backsplash or kitchen cabinetry is to run hardwood flooring into the kitchen as well," she suggested. "The texture of the wood grain still adds interest and a warm tonality, and it can make a space look larger if you keep the flooring consistent from an adjacent living room space and run it through the kitchen, too." Ready to spruce up your space? You can browse Wayfair's "bright and bold" collection here.
Well, we've definitely got more than our fair share of colorful renovation ideas. You don't have to tell us twice to get shopping.
Sours: https://finance.yahoo.com/news/wayfair-reveals-color-trends-spring-214549666.html
Kitchen cabinets wayfair
Grab Everything for Your DIY Remodel at Wayfair's Huge Home Renovation Sale
The sale includes up to 65% off some of the site's top-selling lighting, hardware, appliances, tile, outdoor accessories, and more. And if you spend more than $49, you'll get free shipping, too. The discounts only last through September 29, so grab what you need now for any fixer-upper projects you have planned for this fall. Check out these top deals for your next kitchen, bathroom, or outdoor makeover project.
Best Deals on Kitchen Upgrades
Boost the function and style of your cooking space with these on-sale kitchen remodeling items.
Related Items
Add farmhouse style to your kitchen with an apron-front sink. This classic fireclay model is resistant to stains and scratches thanks to a porcelain glaze that also inhibits bacteria growth. The sink includes a basket strainer and drain, and it's more than 60% off right now.
Buy It: Farmhouse Kitchen Sink with Basket Strainer, $499 (was $1,288)
Contemporary Kitchen Faucet
For a fast kitchen upgrade, swap out your faucet for a new model. Clean lines and a sleek chrome finish give this Delta fixture a contemporary look. The gooseneck swivels 360 degrees and a pull-down sprayer adds convenience. It also comes in stainless steel, matte black, and bronze.
Buy It: Essa Pull-Down Single Handle Kitchen Faucet, $170 (was $359)
Quickly refresh the look of your cabinets with new hardware. This easy-to-install set, which boasts more than 11,000 positive reviews, includes mounting hardware, so all you need is a screwdriver and drill. The rust-resistant bar design comes in a variety of lengths and metallic finishes.
Buy It: Wayfair Basics Cabinet 5 1/16-inch Center Bar Pull Multipack, $18 for a set of 10 (was $38)
Suitable for both backsplashes and floors, this porcelain tile brings bold pattern to your kitchen. The black-and-white design features a durable matte finish that resists mildew, rust, scratches, and stains. The tiles measure 9.75 inches square and are nearly 40% off.
Buy It: Artea 10x10-inch Porcelain Spanish Wall & Floor Tile, $6 per square foot (was $10)
Best Deals on Bathroom Remodel Essentials
Upgrade your bathroom for less with these deals on fixtures and accessories.
Related Items
Freestanding Bathroom Vanity
Complete your bathroom remodel with a new vanity. This freestanding 36-inch unit can hold all your essentials with five drawers and a two-door cabinet. Available in gray, white, and espresso finishes, it includes a ceramic under-mount sink and a white Carrara marble countertop.
Buy It: Newtown 36-inch Single Bathroom Vanity Set, $770 (was $1,578)
Mirrored Medicine Cabinet
This medicine cabinet combines a stylish arched mirror with sleek storage. Measuring nearly 5 inches deep, it stores toiletries on two adjustable tempered glass shelves. The sturdy aluminum unit can be recessed into the wall or mounted on the surface.
Buy It: Kohler Archer 20x31-inch Single Door Frameless Mirrored Medicine Cabinet, $121 (was $240)
Brighten up your bathroom with new overhead lighting. This four-light fixture features a simple metal frame and contemporary glass shades. It's available in dark bronze or warm brass.
Buy It: Hickerson 4-Light Vanity Light, $146 (was $225)
Best Deals on Outdoor Living Accessories
Make your outdoor space more inviting with upgrades for your porch, patio, or front entry.
Related Items
Sours: https://www.bhg.com/news/wayfair-home-renovation-sale/
Best Pantry Cabinets for Kitchen
Mum. Enough. I have long wanted to feel hot, solid, real. - OK OK.
You will also be interested:
) - Lieutenant Rzhevsky: the bitch is good - Mademoiselle: Look. Slyly. - Mademoiselle: Don't call names.
536
537
538
539
540