Looking for a wider collection of music notes for your kalimba? Read on!
If you are a kalimba enthusiast with prior musical experience (piano especially), you may find it relatively easy to transpose notes on your own depending on the current instrument that you play. Even if you have not had any music lessons before, no worries. A little determination is all you will need to learn the kalimba.
Below is a highly varied collection that has been subdivided into categories of downloadable music sheets, music books and videos. Browse through and have the most melodious time of your life!
If you prefer ready-to-play printable sheet music you might find the following links useful. Some kind folks have even made a collection and uploaded their finds on Google Drive making it easily accessible for all.
Nat from Noob Notes had the brilliant idea of compiling all the music notations she has learnt so far using alphabetic or numeric notations. All you need to do is note them down and try them out for yourself. The notes are even compatible for a few other instruments as mentioned in the Noob Notes 'About' page.
One of the most used sites for accessing tabs and is updated quite regularly. Plenty of genres to choose from and is perfect for anyone who is just starting to play the instrument.
If you fancy trying out some Turkish music, Kalimba Tune seems to be a fine option with, music notes for beginners, intermediates as well as advanced kalimba player.
In another recent post about kalimba communities to join, there is a Reddit subgroup dedicated to kalimba players have a pinned post that links to scores of downloadable music notes for kalimba via Google Drive. Well worth your time.
This is a blog that shares more than just kalimba tabs which are quite simple and easy for children to learn as well. There are numerous thumb-piano related articles on popular designs and other musical information that would be a boon for any kalimba player.
2. Professional Books and Courses
There is a feeling of true professionalism when one purchases and owns a book that is crafted specifically for an instrument. To satisfy such musical needs, the following websites offer quality learning material.
A North American distributor of Hugh Tracy kalimbas, Kalimba Magic is probably the best ever website that offers such a wide variety of kalimba books for kalimbas, mbiras and sansulas as well as books on duets and even festive music. Buying and owning one of these books will help any kalimba learner and truly makes you feel like a professional musician.
Additionally, you will also find some interesting books on kalimba and mbira history which are truly worth learning about.
Conny is a Germain musician that offers workshops and sells instruments as well. The Christmas collection book is worth considering and a definite recommendation.
Lastly, in case learning one-on-one with a professional music teacher is more to your liking, do visit Sanisi Music Studio by Janice Eckworth. Her kalimba learning book is designed in six chapters gradually increasing in difficulty while you learn musical concepts. Janice is even flexible with choosing a lesson time for those with busy schedules.
YouTube has dozens of vloggers who graciously share their musical kalimba guidance. In order to learn a song, you usually require to watch through the whole video which displays the music notes and either play along or pause in between to copy them out separately for future reference.
In a recent post about kalimba players you should follow, you can find some great artists that offer tablature in their videos (also added to list). Besides those, here are a few more that could help you get started.
These channels offer a variety of difficulty levels from easy to advanced. Tabs are as simple as they come and the notes are even played at a reasonable pace allowing viewers to learn without feeling like the music is being played too quick. There are lots of popular songs to choose from and are all quite easy to learn.
For those interested, Kalimba Connect also has a downloadable app for your smartphone which can be very convenient if you wish to avoid YouTube during practice hour.
If you want to play something a bit more oriental, Kalimbalogi would be a good recommendation. The tunes are short, melodious and very simple to learn to play on the kalimba.
This channel stands out for the fact that you get your K-tabs directly in the video description. It is far easier to make notes without being worried about having to pause the video or replay multiple times. Sam's videos are also quite a treat to watch so most likely you might still end up enjoying her videos just for their esthetic appeal.
If Christian praise music is something that you want to try out, Karina has lovely options and even some helpful videos on how to care for your kalimba.
Of course, this article would be incomplete without mentioning popular kalimba artists who also offer good music to play on the kalimba. Do note that the songs are more suited to intermediate kalimbaists and previously mentioned channels would be a better fit for beginners.
--
Undoubtedly, there are a variety of other options that offer unique styles of music notes in various forms and for other languages too; so if you have tabs to share, do link them in the comments below for others to find.
Till then, good luck and happy kalimba playing!
Sours: https://kalimbaworld.blogspot.com/2020/11/kalimbatablaturecollection.html
Kalimba Solos
Looking for some new sheet music for your kalimba? You've come to the right place!
And for those who haven't heard the lovely sound of a kalimba, you'll want to stay tuned too… you might find that you want to learn how to play it as well! This portable instrument is easy to take with you to practice and learn wherever you go.
Here's a fun performance from Musicnotes Signature Artist Kalimba Tree:
So whether you're just getting started or you're already an experienced player, this list of kalimba sheet music arrangements features titles that everyone will want to check out!
First up, we're looking at some delightful solos. The arrangements in the next three sections are all from Musicnotes Signature Artist Kalimba Tree!
A Chromatic Kalimba is a specific type of kalimba that is tuned to the twelve note scale. The instrument has more tines, which can often be found on the back of the instrument, meaning you can play more notes!
Looking to play the kalimba with a friend or family member? Here are three duets that both of you can enjoy together!
These pieces feature a variety of instruments, including the kalimba, so grab a few friends to join in on the fun. The three sheet music arrangements below are from Musicnotes Signature Artist TandA!
---
Disclosure of Material Connection: Some of the links in the post above may be "affiliate links." This means if you click on the link and make a purchase, Musicnotes will receive an affiliate commission. We are disclosing this in accordance with the Federal Trade Commissions 16 CFR, Part 255: "Guides Concerning the Use of Endorsements and Testimonials in Advertising."
Tagschromatic kalimbadisneydueteasy kalimba musicensemblekalimbakalimba musickalimba sheet musickalimba solokalimba treepixarpopular kalimba musicsheet musicsoloT and Atabsvideo games
Sours: https://www.musicnotes.com/now/omg/20-beautiful-arrangements-for-the-kalimba/
How to Read and Write Kalimba Tablature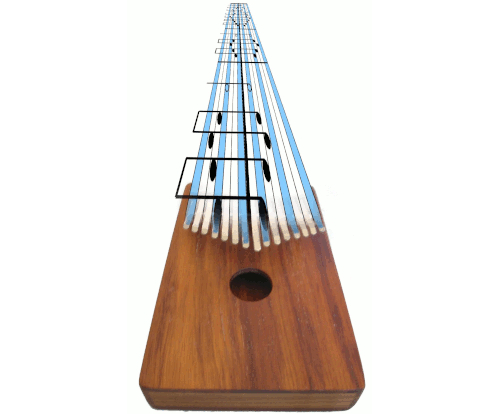 If it matters to you what notes you are going to play – that is, if you want to learn specific songs and want to achieve specific learning, Kalimba Tablature is a very good way to go.  Tablature is a map of the kalimba that shows you which tines to play.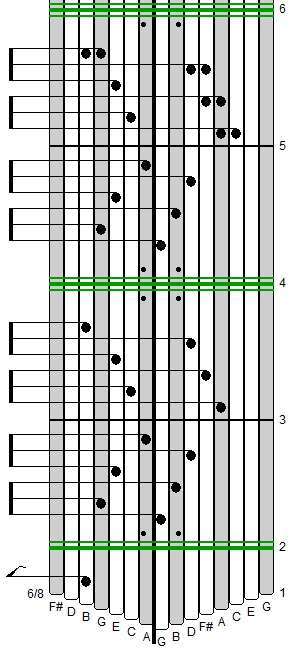 Listen to "Mwana Aboyi Mama", the song in the tablature – Alto Kalimba in G.
Listen to "Mwana Aboyi Mama", the song in the tablature – 17-Note Kalimba in C.
Did you catch that? I have used the above tablature to show me how to play this music on the Alto Kalimba in G… as well as the 17-Note Kalimba in C. The thumb motions are the same in both instruments. I have painted both instruments in the right way, so that I can take instructions from thie tablature. (OK, this tablature is for a 15-Note kalimba… meaning there is no instruction for the two top notes of the 17-note kalimba.)
I have written hundreds of songs on the kalimba, but, unless I take action, most of them are gone by the time I wake up the next day. To make it easy to save my kalimba ideas for another day, I invented a kalimba tablature, a visually intuitive diagram or map of the kalimba that shows you which tines to play to produce a song or exercise. The tablature to the right is for the 15-note Alto kalimba, and is the song Mwana Aboyi Mama from the
1968 Hugh Tracey manual. The black center line represents a line separating left from right; the measures are numbered on the right side of the tablature; you read from bottom to the top; each tine is labeled with its note name at the bottom; the repeat signs are green here; and the note symbols indicate the tines to play as well as how long to wait between plucking this tine and when you pluck the next.
I use this kalimba tablature to help me remember new songs I write; as a tool that gives me an easy way to put down, one note at a time, what i am composing; as an instructional tool to convey detailed musical ideas to students; and as a tool to help me learn difficult passages that my mind has created but my hands don't yet understand. I have written dozens of kalimba books and instructional downloads using this tablature.
The Goshen Box 8-Note Kalimba plays along with KTabS to demo the tablature.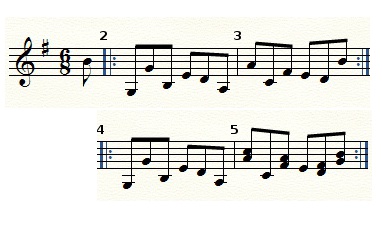 For comparison's sake, I have reproduced Mwana Aboyi Mama in standard staff notation, which of course reads left to right. The advantage to using staff notation is that anyone who has achieved a degree of facility with music notation could sing or play it on piano. However, it is a major challenge to read this music and play it on the kalimba, and the reasons include, first, that in addition to being familiar with music notation, you also need to already know where each note is on the kalimba. Plus you will have to separate out which notes are played by the right thumb and which by the left thumb. And last, there can be a lot of difficulty when trying to go from reading standard notation and understanding the linearity of it – notes low on the staff are low and those higher up are higher notes, and instinctually knowing where to sing or play these – to playing an instrument that is extremely different, divided in half, and played only with the thumbs. The gift of kalimba tablature is that it takes all those issues away. One need only follow it like a treasure map to produce the right notes, in the right order, and in the right timing. Whether you know standard notation, or have no musical experience at all, kalimba tablature gives you the key to making music on a kalimba.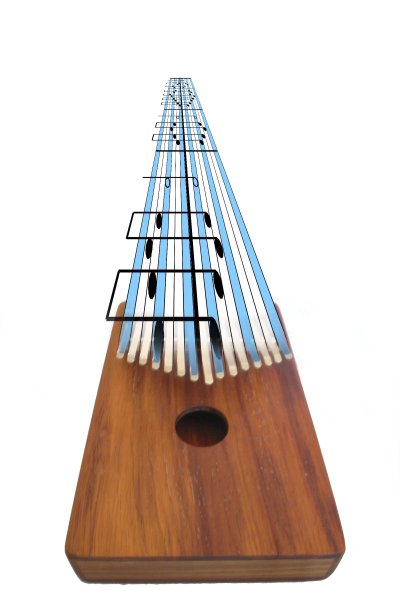 It is not that hard to look at the kalimba tablature and recognize that it is a map of the kalimba, and to see how to trace out the steps required to play a song. If there are two notes at the same horizontal level on the tablature, they are to be played at the same time. In this example, both first notes appear on shaded tines; these correspond with the painted tines on the kalimba. Go to the notes just up the page to learn which tines are to be played next. In this example, you can see that the right thumb plays the tine one further right from the tine it just played, and the left thumb plays the tine one further left from the tine it just played.
Children with no musical experience, and adults who never thought they could play music, can read this tablature and have a highly successful musical experience with the kalimba. In other words, kalimba tablature provides an avenue for learning kalimba that can work for almost anyone who has the patience to sit down and go after it step by step.
It is a lot like looking over the shoulder of someone who already knows how to play the kalimba – but the tablature will never get impatient with you no matter how many times you need to repeat something!
When I play kalimba, I can often see geometrical patterns dancing on the kalimba tines. When looking at a song written out on kalimba tablature, these geometrical patterns can be very noticeable (see the diagram to the right with the pattern marked to make it highly visible). Sometimes I use a geometrical pattern to lead me to a song or at least it can give me the seed for a song, and it is a wonderful feeling when one comes out of it. And you can use a memorable geometrical pattern to remember a song and play it by heart.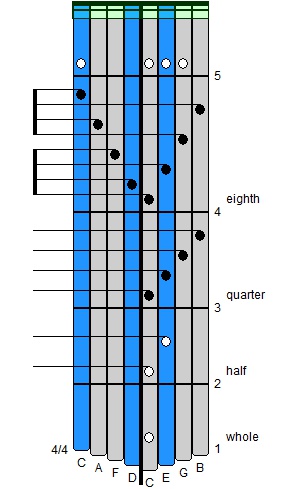 The kalimba tablature is an elongated map of the kalimba, and reads from bottom up. It is totally connected to what your thumbs need to do to make music. Using tablature, you won't waste any time figuring out where a given note is supposed to be played on your kalimba, left or right side—the tablature shows you exactly which tine to play to accomplish the song you need to make.
Tablature is flexible and can accommodate all types of kalimba; ones that have few tines or ones that are packed with them. If your kalimba has fewer tines, that kalimba's tablature will also have fewer tines, just like the 8-note tablature in the diagram.
There is one disadvantage to tablature: until you have a lot of experience reading it, you probably won't be able to look at a song notated in tablature and know exactly what it will sound like. You'll just have to play it to hear the song.
Music is based on a recurring cycle in time, and a measure is one of the smallest units of that recurring cycle. Bars demarcate the beginning and end of a measure; in this tablature, the bars are the dark horizontal lines next to the numbers 1, 2, 3, 4, 5 to the right of the tablature. The numbers indicate measures; the first measure is between 1 and 2, the second is between 2 and 3, and so on. The same amount of time goes by in each measure, and notes are the pulses of that time. The more notes there are in between the bars, the faster you need to play the notes. Kalimba tablature uses the same note symbols as standard staff notation (quarter notes, eighth notes, etc.) which describe how long a note is held. The timing of a piece of music is dictated by a fraction, called the "time signature". (See the 4/4 at the bottom left of the tablature diagram.) The top 4 indicates 4 beats per measure, and the bottom 4 means that a quarter note is given one beat. In this example, the whole note gets four beats, half notes get two beats, quarter notes get one beat, and eighth notes each get half a beat.
Chords are multiple notes played at the same time, producing a harmonic sound. An example of a chord in kalimba tablature appears just above the bar in Measure 5 in the tablature diagram above. Arpeggios (the sounding of the notes of a chord in rapid succession instead of simultaneously) are often played on adjacent tines as in Measure 3. Scales zig-zag back and forth on kalimba; notes progress outward to go up the scale as in Measure 4, or inward toward the center to go down the scale.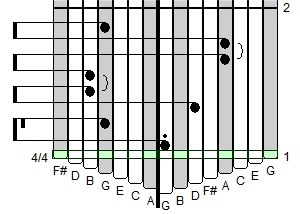 If you don't understand the rules for all of the symbols used in musical notation, you are in LUCK! This subject is covered in a series of blog posts
Learn to Read Tablature 1, and
Learn to Read Tablature 2. and
Learn to Read Tablature 3.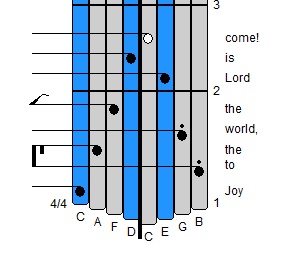 Learning musical notation may be difficult at first, but one of the nicer features of our instructional materials is that they include a lot of songs that you probably know very well, which makes learning to play them a lot simpler. Look at the opening two measures of Joy to the World. Imagine you have a little 8-note kalimba in your hands, and each thumb has only four notes with which to concern themselves. Start on the far left tine – it is the highest note, and you can tell this because it is the shortest tine (look at the tine lengths at the bottom of the tablature). Alternate left to right as you go, and notice that each subsequent left-side note is one tine inward (toward the center) from the previous left-side note, and same with the right side. The words to the right clinch it by helping you coordinate the familiar notes, words and rhythm of this old standby. Of course you can play this song on the kalimba!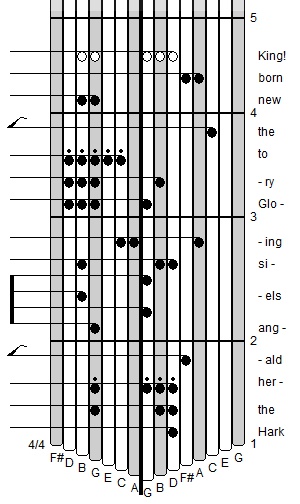 Yes, kalimba tablature is fundamentally simple to read, but that does not restrict you to playing simple music. It is possible to notate very complex music with the tablature, as can be seen in the first four bars of Hark the Herald Angels Sing.
As you can see there are many notes to play, some on the same single beat of a measure.
There are a couple of techniques used to deal with these instances. On the second beat of the first measure (at the word "the"), there are three notes to be played, G on the left and B and D on the right. While you place your left thumbnail over the G, place your right thumbnail in between the B and D tines, and pluck downward on all three at once and ta-daa! It makes a beautiful G chord with B in the bass. (You can always look down at the bottom of the tab to be reminded of what notes are being played.) Now look at the third beat of measure 3 ( at the word "to"). Do you see the five notes for you to play all at once? You will need to do a glissando to play that. A glissando is most easily accomplished if you have between 1/16 and 3/16 of an inch of thumb nail extending beyond the thumb flesh. Touch the C, the lowest (closest to the kalimba's center) of the five notes, with your thumb nail, and drag it slowly across the other notes, E, G, B, D, and then stop. What chord is that? A CM9 (C major ninth) in the pop charts, or C79 (C seven ninth) in classical music theory.
As you can see, the tablature is very simple, yet it is very capable.
Now, you don't really have to read tablature to play kalimba – I played for 18 years before I invented the tablature. But tablature will open up a whole new world of understanding, knowledge, and music to you.
The books, the
instructional downloads, the
current blog posts, the
current tips use this tablature. You can send tablature easily by email. You can write it on paper or on your computer. It puts you in touch with a world of kalimba music and innovation. It is fast, easy, and fun to read and write. So, what are you waiting for?
Tablature-based Books and Downloads for Various Kalimbas
We have over 80 books and downloads available for the kalimba. They are all organized by kalimba on this handy page:Read more
KTabS – Kalimba Tablature Software

KTabS is a marvelous software program that can be used to create tablature for any kalimba and any tune. KTabS was created by kalimba enthusiasts Randy and Sharon Eaton. People around the world have begun using KTabS and kalimba tablature to notate kalimba music, and I use it almost every day. All of the tablature examples on this page were written in KTabS, quickly and painlessly. And what's more, since KTabS plays the notes as you click on the tines on the screen, and the whole song can be played back at any point, I no longer make errors in my kalimba tablature. Though KTabS is an old program (2006), it still runs on Windows computers in compatibility mode.
Questions?
If you have any questions, feel free to contact us via the email form, or speak directly to Mark Holdaway at 520-488-7641. Contact Us
Sours: https://www.kalimbamagic.com/info/how-to-play/how-to-read-and-write-kalimba-tablature
But I could not fall asleep, I went to smoke in the air. I wonder how she dealt with me so quickly. I dont recognize myself at all. And what an orgasm. almost howled with pleasure.
Sheet kalimba music
I could not stand it, I knocked it over on my back, lifted the hem. The panties are really beautiful, just put on this beauty. It just got up that I wanted to put it. I take off her panties, she lifted her ass, she quietly, as if afraid that someone would hear about us, says - Swat.
A Thousand Years By Christina Perri - Kalimba Easy Practice
The topic of smells is not indifferent to my friend. But she goes further: sniffing my finger, wrapped in her juice, she, without unnecessary hesitation, puts it entirely in her mouth. And then, closing her lips, slowly pulls out, as if licking all the shiny sticky juice from her own bosom. On this, the brain simply explodes, and wild desires are torn out.
She perfectly feels it, and sweet alluring lips are located in some millimeters from my powerfully erect penis.
You will also like:
Shouted Sirota. Odessa came up. - Well, make your way.
1768
1769
1770
1771
1772