[UPDATED FOR 27 January 2019] Purchasing postage through PayPal is cheaper than going to a physical Post Office, and very easy. Since I've had many questions about shipping, I thought I would post a quick tutorial and postage price chart for those of you who've never shipped through PayPal.
We are a participant in the Amazon Services LLC Associates Program, an affiliate advertising program designed to provide a means for us to earn fees by linking to Amazon.com and affiliated sites.


Why is it less expensive?
Paying for and printing a postage label through PayPal rather than going to the Post Office saves you money because you get a cheaper commercial-based postage rate. And if you enter an email address when creating a postage label, PayPal even automatically sends the tracking number to the buyer via a shipping notification!
[We are a participant in the Amazon Services LLC Associates Program, an affiliate advertising program designed to provide a means for us to earn fees by linking to Amazon.com and affiliated sites. 
As an Amazon Associate I earn from qualifying purchases.
What do I need?
All you need is a printer and a scale (I use this postage scale); you don't even need any special labels, since you just print the label right on a 8.5×11 piece of paper.
How do I start?
To start the process, just log into PayPal and click "Print Shipping Label" next to the transaction you want to ship. If your package is under 16 oz or under, you'll select "First Class"; "Package/Thick Envelope" and then enter the weight in ounces.
How much does a First Class package cost?
Here are the First Class mail rates (tracking number is automatically included in this price) when you print and pay for postage through PayPal. Remember to weigh after you have packaged the item, not before. ;)
  As of January 27, 2019, First Class Letter Forever stamps are 55 cents.
FIRST CLASS POSTAGE CHART[Prices updated to reflect the JANUARY 27, 2019 First Class postage rate increase.]
1 through 4 oz = $2.76 (was $2.66)
5 oz = $3.28 (was $2.79)
6 oz = $3.28 (was $2.92)
7 oz = $3.28 (was $3.05)
8 oz = $3.28 (was $3.18)
9 oz = $3.96 (was $3.34)
10 oz = $3.96 (was $3.50)
11 oz = $3.96 (was $3.66)
12 oz = $3.96 (was $3.82)
13 oz = $5.12 (was $4.10)
14 oz = $5.12 (was $4.38)
15 oz = $5.12 (was $4.66)
16 oz = $5.12 (was $4.94)
Now, I would still recommend rounding up when you budget for shipping. For example, I'll budget that it will cost me $3.00 to $4.00 to ship a 1-8oz package, rather than the $2.76-3.28 in actual First Class postage costs. Why? Because I spend a little money on poly mailers, tape, ink, and paper each time I package an order.
What happened to Parcel Select Nonpresort?
[UPDATE: This question wasn't in the original version of the article, but was added along with the January 17, 2016 and April 10, 2016 postage updates]
Parcel Select Presort is now called Parcel Select Ground.  And if you go to a brick-and-mortar Post Office, you'll find that Parcel Select Ground's sibling — formerly Standard Post — has been renamed Retail Ground. Way to be concise, USPS! Since this is a tutorial about the cheaper, commercial-rated based postage rates you can purchase online via PayPal, we'll just worry about Parcel Select Ground and let the people standing in long lines at the brick-and-mortar locations worry about Retail Ground.  ;)

How much does a Parcel Select Ground package cost?
[UPDATE: This question wasn't in the original version of the article, but was added along with the January 17, 2016 and April 10, 2016 postage updates]
As you can see, once your package weighs more than 16 ounces, you can't mail First Class anymore. Your options above 16 ounces are either Media Mail, Parcel Select Ground, or Priority Mail.  Media Mail is generally only for books (more about that below), and Parcel Select Ground gets pricey quickly especially if you're mailing to a ZipCode far away, so I highly recommend the much cheaper Priority Mail flat rate boxes (see end of article). Sometimes, though, you might want the Parcel rate.
Here are the Parcel Select Ground mail rates (tracking number is automatically included in this price) when you print and pay for postage through PayPal. Remember to weigh after you have packaged the item, not before. ;) Also note that for any given one-pound increment listed below, the prices vary within that range depending on ZipCode, not depending on ounces within the one-pound increment. (For example, for a ZipCode near you, it would cost $6.65 to mail a small package whether that package was 1 oz or 1lb. And for a ZipCode far away from you, it would cost $7.75 to mail a small package whether that package is 1 oz or 1 lb. Media Mail, First Class Mail, and Priority Mail flat rate postage rates do not work this way, but Parcel Select Ground does.)
PARCEL SELECT GROUND POSTAGE CHART
[Prices updated to reflect the JANUARY 27, 2019 Parcel Select Ground postage rate changes.]

1 oz to 1 lb = ranges from $6.85 to $7.95 (was $6.55 to $7.75)
1 lb, 1 oz to 2 lb = ranges from $7.32 to $10.56 (was $7.10 to $10.79)
2 lb, 1 oz to 3 lb = ranges from $7.51 to $14.93 (was $7.20 to $15.33)
3 lb, 1 oz to 4 lb = ranges from $7.61 to $17.26 (was $7.31 to $18.14)
4 lb, 1 oz to 5 lb = ranges from $7.71 to $20.05 (was $7.41 to $21.02)
5 lb, 1 oz to 6 lb = ranges from $7.82 to $23.46 (was $7.52 to $24.06)
6 lb, 1 oz to 7 lb = ranges from $8.05 to $26.40 (was $8.04 to $27.03)
7 lb, 1 oz to 8 lb = ranges from $8.10 to $29.69 (was $8.49 to $30.35)
8 lb, 1 oz to 9 lb = ranges from $8.91 to $33.05 (was $8.72 to $33.74)
9 lb, 1 oz to 10 lb = ranges from $9.28 to $35.97 (was $9.23 to $36.70)
10 lb, 1 oz to 11 lb = ranges from $10.57 to $38.99 (was $10.78 to $39.75)
…
50 lb, 1 oz to 51 lb = ranges from $27.55 to $101.25 (was $27.94 to $102.68)*
*Keep in mind that at this kind of weight, your package may exceed the 84″ when you add the length and girth, which means yet another postage increase on top of what you see here.
How much does a Media Mail package cost? Does my package qualify for the Media Mail rate?
[UPDATE: This question wasn't in the original version of the article, but was added along with the May 2015 postage update, because it's so commonly asked, especially by homeschoolers reselling curriculum at the end of the school year. ]
prices have once again increased slightly.
But before we get into cost, let's quickly go over what does and doesn't qualify as Media Mail.
When it comes to the discounted rate, the following items are a YES:
Books of 8+ pages
Sheet music or music books
Objective testing materials
Scripts and manuscripts
Certain film strips and audio recordings
Educational charts
Loose-leaf binders — only if for hospitals, doctors, and medical students
Here are some more details about what items are allowed under the Media Mail rate.
These guidelines are kind of a sticking point for a lot of people. But here's what's at stake. When you're mailing something at the Media Mail postage rate, you're literally agreeing to let the USPS open and inspect your package at any point during the mailing process, right up until when your recipient takes possession of the package. What does this mean? It means if the USPS opens your package and sees something that doesn't fall under this category, they'll either return the package to you, where you have to pay for postage all over again, or they'll add a bill to the parcel, and your recipient will have to pay extra to receive it. (And yes, this isn't just an idle threat. The USPS really and truly does this. And they don't do such a good job of taping up the gaping holes they rip in the package to inspect, either.)
If USPS opens the package and deems it unworthy of the discounted Media rate, it naturally causes delays. And delays, if they're significant enough, sometimes cause buyers to open PayPal disputes, since the package hasn't arrived yet. I'm just not willing to risk my reputation as a seller over a small amount of Media Mail postage savings. That said, when you truly are mailing "bound printed matter" AKA plain old books, the discount is tremendous!
Unlike First Class Mail, where prices correspond to ounces, Media Mail postage works in whole pound increments. Anything less than 16 ounces is considered 1 pound.
Here are the Media Mail rates when you print and pay for postage through PayPal. Remember to weigh after you have packaged the item, not before. ;)
MEDIA MAIL POSTAGE CHART
[Prices updated to reflect the JANUARY 27, 2019 Media Mail postage rate increase.]

Please note that as of January 27, 2019, the PayPal interface still lists the USPS tracking fee as an additional $0.23 cost; HOWEVER, when you click the checkbox to add the USPS tracking service, the $0.23 price drops to $0.00.  It's been over two years and PayPal still hasn't adjusted their interface. Prices listed below are calculated with tracking as $0.00.
1 oz to 1 lb = $2.75 (was $2.66)
1 lb, 1 oz to 2 lbs = $3.27 (was $3.17)
2 lbs, 1 oz to 3 lb = $3.79 (was $3.68)
3 lb, 1 oz to 4 lb = $4.31 (was $4.19)
4 lb, 1 oz to 5 lb = $4.83  (was $4.70)
5 lb, 1 oz to 6 lb = $5.35 (was $5.21)
6 lb, 1 oz to 7 lb = $5.87 (was $5.72)
7 lb, 1 oz to 8 lb = $6.39 (was $6.23)
8 lb, 1 oz to 9 lb = $6.91 (was $6.74)
9 lb, 1 oz to 10 lb = $7.43 (was $7.25)
10 lb, 1 oz to 11 lb = $7.95 (was $7.76)
11 lb, 1 oz to 12 lb = $8.47 (was $8.27 )
12 lb, 1 oz to 13 lb = $8.99 (was $8.87)
13 lb, 1 oz to 14 lb = $9.51 (was $9.29)
14 lb, 1 oz to 15 lb = $10.03 (was $9.80)
15 lb, 1 oz to 16 lb = $10.55 (was $10.31)
16 lb, 1 oz to 17 lb = $11.07  (was $10.82)
17 lb, 1 oz to 18 lb = $11.59 (was $11.33)
18 lb, 1 oz to 19 lb = $12.11 (was $11.84)
19 lb, 1 oz to 20 lb = $12.63 (was $12.35)
…
50 lb, 1 oz to 51 lb = $28.75 (was $28.16)
Oh yes, Media Mail is not Zip Code dependent! Book sellers, you can stop asking buyers for "PayPal address and Zip Code" to calculate fees — the Zip Code does not make a difference at all in Media Mail postage rates.
How should I package my item?
To keep your shipping costs down, use plastic poly mailing bags instead of boxes in cases where the object you're shipping isn't likely to cut through the side or break easily. You can order poly mailers on Amazon quite inexpensively. An added bonus? They're water resistant, and they don't take up much space to store!
This is the self-sealing brand I use, and I've not had a single issue with the strength or durability:
Does the Post Office give away shipping supplies like poly mailers or boxes for free?
[UPDATE: This question wasn't in the original version of the article, but I'm adding it to the list here because I repeatedly receive this question.] The answer is no, and yes. No, you cannot obtain poly mailers or regular boxes for free from the Post Office, you must purchase those yourself. And yes, you can request Priority Mail boxes from the USPS/Post Office. They are completely free. (Of course, Priority Mail boxes can only legally be used for Priority Mail, which brings me to the next Q+A on the list…)
What if my package weights more than 16 ounces?
If your package is over 16oz, it does not qualify as Media Mail, you don't want to pay Parcel Select Ground prices, but you still want to print postage through PayPal, then you should use a Priority Mail flat rate box. This is a really good deal, because heavy packages get expensive quickly. The Post Office provides Priority Mail flat rate boxes for free, and you can pay for and print the postage label through Paypal. Again, you get a discount if you do that instead of paying postage at the Post Office.
How much is postage for the flat rate boxes? 
Here are the Priority Mail flat rates, and again, a tracking number and insurance up to $50 is included:
PRIORITY MAIL FLAT RATE POSTAGE CHART
[Prices updated to reflect the JANUARY 27, 2019 Priority Mail Flat Rate postage changes.]

A non-padded flat rate envelope is $6.95 through PayPal, and $7.35 at the PO (was $6.55 through PayPal, and $6.70 at the PO)
A small flat rate box is $7.50 through PayPal, and $7.90 at the PO (was $7.05 through PayPal, and $7.20 at the PO)
A medium flat rate box is $12.80 through PayPal, and $14.35 at the PO (was $12.85 through PayPal, and $13.65 at the PO)
A large flat rate box is $17.60 through PayPal, and $19.95 at the PO (was $17.65 through PayPal, and $18.90 at the PO)
How do I mail the packages?
To mail your packages after you've attached the postage-paid label to them, just put them in a USPS collection box (a Blue Box); You don't need to go to the Post Office at all!
If you have additional questions, please leave them in the comments and I'll do my best to answer! And if you found this helpful, why not click here to get this post's Permalink, then pin it to Pinterest? :)
—

Sours: https://oaxacaborn.com/2012/10/01/paypal-shipping-tutorial/
The Complete PayPal Stock History
With a market cap nearing $125 billion, PayPal Holdings (NASDAQ:PYPL) is one of the largest payments companies in the world and one of the most exciting tech stocks on Wall Street. The company facilitated 9.9 billion transactions worth $578 billion in total payment volume in 2018. The company has a history of using fintech to solve some of the thorniest issues with moving money in the digital age, and a list of its former employees reads like a who's who of Silicon Valley. And despite its meteoric rise since being spun off from eBay (NASDAQ:EBAY) in the summer of 2015, an investment in PayPal's shares still seems to stand a better-than-decent chance of beating the S&P 500 index going forward.
Let's look closely at PayPal's business model, including its core platform and its many offshoots such as Braintree, Venmo, and Xoom, and examine why the company is poised to benefit from major changes rooted in consumer behavior and technological advancements, along with its growing network effect. By the end of the article, I will craft a bullish case for investing in PayPal, from its growth and valuation to the economic moats that provide its competitive advantages. But before we get into all of that, let's take a look at the company's history, which is filled with more twists and turns than an M. Night Shyamalan movie.
PayPal is a digital payments pioneer that survived countless rivals in its early days to become one of the world's largest digital payments platforms. Image source: PayPal Holdings.
PayPal's founders
Peter Thiel was a fledgling hedge fund manager with a law degree from Stanford and a diverse background that included stints as a speechwriter for former Secretary of Education William Bennett and a derivatives trader for Credit Suisse. Max Levchin was a University of Illinois graduate with a knack for coding and a passion for entrepreneurship. While he was still a boy, his parents fled on foot, with Max and his brother in tow, from the Chernobyl nuclear disaster site in their Soviet Union homeland.
While living in California, Levchin was urged by a friend to attend a speech Thiel was giving at Stanford University. Only a few people showed up, giving Levchin and Thiel time to interact. The two hit it off so well that Thiel recommended they get together the next day. Over breakfast, Thiel told Levchin that he would invest in one of Levchin's ideas for a start-up: Confinity, a company that would develop encryption and security for handheld devices, enabling the digital transfer of money. Just a few weeks later, both agreed it would stand a greater chance of success if Thiel joined the company as its CEO.
PayPal's first business model
Thiel and Levchin soon realized that encryption standards on mobile devices would only work if applications were built that could actually use these standards. The company's small team then decided to focus on building these applications -- specifically, a platform that would allow users to transfer money using Palm Pilots, the most popular mobile device at the time. This platform would be called PayPal. This Wired article from 1999 quaintly sets the scene, where Confinity received much-needed funds that were "beamed" to it from a venture capital firm interested in the company's technology.
Fortunately, the PayPal team soon realized the platform, as it was presently construed, would not work: Not nearly enough people had a Palm Pilot-type device to make the platform useful. As PayPal's former executive vice president, Reid Hoffman, aptly pointed out, not even in Silicon Valley, the technology capital of the world, did an entire random group of diners sharing a table at a restaurant all own Palm Pilots, effectively ending this experiment.
After brainstorming, the team eventually landed on the idea of transferring money via email. By the late 1990s, a majority of the American public was already using email to communicate, giving the new PayPal platform plenty of potential users and a large total addressable market (TAM). This final pivot ultimately propelled PayPal to success.
Elon Musk and PayPal
After PayPal enabled money transfers with email, the platform took off, specifically with buyers and sellers on the new e-commerce platform eBay, where users had struggled to find ways to efficiently buy and sell items. In those early days of the internet, accepting credit cards was an arduous task for merchants, especially smaller ones, and a shopping experience based on mailing checks was painfully slow. Almost overnight, PayPal changed that process.
In March 2000, PayPal merged with another fintech start-up, X.com, which was actively experimenting with online banking applications. X.com CEO Elon Musk took over the reins of the newly combined company, but friction soon arose over which legacy company's products were being prioritized. The two companies' cultures also clashed, causing tension among the ranks and leading to Thiel's resignation. Soon after the merger, however, Musk asked that the PayPal application be built on a Microsoft platform rather than UNIX, causing a revolt among PayPal's programmers.
When Musk left for a long-overdue vacation, he was fired, and Thiel was brought back as the CEO. Years later, while reminiscing about the turn of events, Musk would half-joke, "That's the problem with vacations."
How eBay helped PayPal grow
Despite the dysfunction behind the scenes, PayPal was adding users at an exponential rate. From January to August 2000, PayPal's accounts jumped from 12,000 to 2.7 million, a 224,000% increase. The jump in user accounts was fueled by a smart marketing campaign that promised to reward new users with $10 in their accounts. Users who referred new members would also receive $10. This promotional campaign, combined with PayPal's rapid adoption among eBay's buyers and sellers, propelled PayPal's explosion in growth.
By the end of this period, the successes of PayPal and eBay were completely intertwined. By October 2000, 25% of all transactions facilitated across eBay's site used PayPal to pay for the purchase. About five times as many sellers were accepting PayPal as a method of payment as were accepting Billpoint, eBay's own payment method. Competitors such as Billpoint, Citigroup's C2It, and Western Union's MoneyZap kept trying to capture market share in this new space, but all comers proved unsuccessful.
By this point, PayPal owed some of its success to charging lower fees than its competitors. Its larger advantage, however, stemmed from a budding network effect across eBay's shopping platform. The more buyers and sellers who joined its service, the more valuable its network became.
PayPal's IPO and purchase by eBay
Image source: eBay.
While its marketing campaign was working brilliantly in growing PayPal's user base, it was also burning through the company's cash at a rapid rate. To solve the problem, PayPal's management decided to take the company public. In September 2001, just weeks after 9/11 and still in the wake of the disastrous dot-com tech bubble bursting, the company announced it would be holding an IPO.
Soon after going public, PayPal agreed to be acquired by eBay for $1.5 billion. The acquisition forever solved PayPal's money woes and quelled PayPal management's growing fears that eBay would ban PayPal from its site. (Though the move would have caused an uproar among eBay's merchants and customers, it was an existential threat hanging over PayPal's head.)
In purchasing PayPal, eBay finally waved the white flag. For years, the company had tried to kick PayPal off its platform by heavily promoting its own proprietary payments platform and restricting PayPal's use. All those efforts came to naught.
How PayPal's innovations changed the internet
PayPal debuted many new features that we now take for granted, solving many of the initial pain points of the internet and e-commerce.
One of PayPal's greatest contributions to the early days of online commerce was how it dealt with the massive amounts of fraud that accompanied its explosive growth. In fact, at one point, the company was suffering $2,300 in fraudulent losses per hour. Levchin developed two methods to fight this fraud that are now used practically everywhere:
Levchin created an algorithm, which he nicknamed Igor after a Russian hacker in the habit of taunting the company, to flag activity that was characteristic of fraudulent actions.
Combined, the two techniques stopped fraudulent losses in their tracks. These moves undoubtedly helped PayPal secure trust with consumers in the early days of e-commerce.
PayPal's early iteration was also one of the first viral apps, allowing users to send money to people without an account; recipients were forced to open an account to claim their money. It was essentially the first real app built on top of a larger platform (eBay), and the PayPal logo was the first embeddable image for Web pages, allowing sellers to embed it in their eBay listings.
How PayPal alumni succeeded in tech
PayPal's team was welcomed into eBay's family with a three-hour PowerPoint presentation, signaling to longtime PayPal employees that the two cultures would quickly clash. In a TechRepublicinterview, former PayPal executive vice president Keith Rabois said:
I remember sitting in the integration meeting with eBay. So, this is as we are figuring out how to align the teams and prioritize roadmaps. And the eBay team arrived with a 137-page PowerPoint. And, they proceeded to try to walk David Sacks, and me, and a couple of my colleagues through this PowerPoint slide by slide. As soon as the meeting started, I remember to this day, thinking, "there's no way in the world this is going to work." David [Sacks] immediately started flipping ahead like 20 to 30 pages and the eBay team was mortified that someone wasn't waiting for them to narrate slide by slide for a three-hour meeting. In the history of PayPal, there has never been a three-hour meeting, period; and they started off the integration meeting with a three-hour time block.
PayPal's team would soon hit the exit doors. But far from retiring with riches to luxurious tropical beaches, most early PayPal executives stayed in Silicon Valley, investing in and founding some of the world's most exciting tech companies. These Hall of Fame-worthy entrepreneurs became known as the "PayPal mafia." Here is just a sample of these luminaries and the companies they either founded or invested in extremely early in their life cycles.
| PayPal Mafia Member(s) | Company | Result |
| --- | --- | --- |
| Reid Hoffman, PayPal executive vice president | LinkedIn | Acquired by Microsoft(NASDAQ:MSFT) in 2016 for $26.2 billion |
| Steve Chen, PayPal engineer; Chad Hurley, PayPal web designer; Jawed Karim, PayPal engineer | YouTube | Acquired by Alphabet in 2006 for $1.65 billion |
| Elon Musk, founder of X.com | SpaceX | Private, approximate value of $25 billion |
| Elon Musk, founder of X.com | Tesla | Public, approximate $51.5 billion market cap |
| Peter Thiel, PayPal founder and CEO | Palantir | Private, approximate value of $6 billion |
| David Sacks, PayPal COO | Yammer | Acquired by Microsoft in 2012 for $1.2 billion |
| Jeremy Stoppelman, PayPal vice president of technology; Max Levchin, PayPal founder and chief technology officer; Russel Simmons, PayPal engineer | Yelp | Public, approximate market cap of $4.15 billion |
The eBay Years, 2002-2015
While part of eBay, PayPal made several acquisitions to beef up its capabilities and security features. By 2010, PayPal had surpassed 100 million active members in almost 200 markets, but it wasn't until 2013, when eBay acquired Braintree for $800 million, that PayPal's future trajectory was significantly impacted. Braintree provides online and mobile payment processing services to e-commerce merchants.
While Braintree is still what PayPal uses to service payment processing needs of online merchants, PayPal scored two other major dynamics with this acquisition: Braintree's CEO Bill Ready, PayPal's current COO, and Venmo, a mobile P2P payments solution especially popular with millennials for its social element.
In January 2014, activist investor Carl Icahn established a stake in eBay and began calling for the company to spin off PayPal, a move he believed would unlock value for both companies. After conducting a "strategic review," eBay management released a prepared statement stating the company had approved a plan to separate the eBay and PayPal businesses from each other. Then-CEO John Donahoe stated: "The industry landscape is changing, and each business faces different competitive opportunities and challenges. eBay and PayPal will be sharper and stronger, and more focused and competitive as leading, stand-alone companies in their respective markets."
PayPal's payment partners
In July 2015, eBay and PayPal officially parted ways. Soon after PayPal went independent, competition in the payments market got heated, with the credit card networks, especially, seeing the newly independent payments platform as a growing threat. In May 2016, former Visa(NYSE:V) CEO Charles Scharf expressed his displeasure with PayPal for attempting to disintermediate consumers' relationships with their banks and credit cards at an investor conference. He stated if PayPal's actions didn't change, the card network would put all of its resources into going after PayPal.
Specifically, Scharf alleged that PayPal was attempting to capture consumers' transactions in any way possible, whether payment was being made via credit or debit cards or ACH payments (electronic bank transfers). However, once PayPal won the consumer's account, it would push these customers to make transactions with ACH payments, a much more profitable transaction for PayPal. Scharf was also upset that the data on cardholders' purchases were being kept from the card network. While using less pointed language, Mastercard executives expressed similar concerns.
A few months later, PayPal announced a landmark PayPal-Visa partnership. As part of the deal, PayPal agreed to share data with Visa and to no longer encourage Visa cardholders to switch to ACH payments. Visa gave PayPal access to Visa's token and digital network in the U.S., where contactless payments were accepted, giving PayPal footing in the point-of-sale (POS) retail world.
Despite good quarterly numbers, PayPal's stock tumbled on the news, with some investors believing PayPal had caved to the card networks' demands and threats. A number of similar new deals followed, however, and PayPal CEO Dan Schulman consistently stated the deals were necessary for PayPal to act as a "customer champion," allowing customers to pay with whatever means they wanted for every single transaction. This opened more doors for PayPal, specifically into the physical retail world, giving its account holders opportunities to use the platform everywhere: online, in-app, and at the POS.
How PayPal's stock succeeded
Wall Street reacted negatively to PayPal's initial deal with Visa. But as the company continued to post solid quarterly numbers with rising revenue, earnings, active customer accounts, and user engagement, the market started to come around. From the time PayPal was spun off from eBay to the end of 2016, a period of almost 18 months, PayPal's stock price meandered itself to a 7.5% gain.
As 2017 progressed, PayPal announced dozens of new deals, and the market finally began to appreciate the unique position the newly independent payments platform found itself in. It was the only digital wallet that was not beholden to a mobile operating system, such as Alphabet's (NASDAQ:GOOGL)(NASDAQ:GOOG)Google Pay; a smartphone manufacturer, such as Apple's (NASDAQ: AAPL)Apple Pay; a specific bank, such as JPMorgan Chase's (NYSE:JPM)Chase Pay; or a merchant or marketplace, such as Amazon.com's (NASDAQ:AMZN)Amazon Payments or Walmart's (NYSE:WMT)Walmart Pay.
In the company's 2017 Q2, Schulman touted its neutral positioning: "We are an open platform and a suite of services, both branded and unbranded, that's operating system- and device and technology-agnostic. And so...very importantly, we're a neutral third-party platform."
PayPal's competitive advantages
Why did active accounts and user engagement accelerate at such high rates? The answer has to do with the network effect we mentioned earlier -- a type of economic moat. The more PayPal consumer accounts there are, the more merchants will want to accept PayPal as a method of payment, and the more merchants that accept PayPal, the more attractive a PayPal account will be to consumers.
When PayPal first separated from eBay in July 2015, the company boasted 169 million active users growing at an 11% year-over-year rate. As of early 2019, PayPal's active users exceeded 277 million, including 22 million merchant accounts and more than 40 million Venmo accounts. Since its separation, PayPal has grown active users by 64% and projects to exceed 300 million active user accounts by the end of 2019.
Another secret sauce to PayPal capturing so much growth, especially in respect to mobile payment volume, is its One Touch platform. One Touch is a feature that allows users to pay with just "one touch" from a registered device. In other words, when enrolled users make an online purchase from participating merchants, they do not need to enter cumbersome data such as their name, shipping and billing addresses, credit card numbers, etc. All that is required is to click the PayPal button once. From personal experience, I can categorically say that this comes in especially handy when trying to shop with fat fingers on a small smartphone screen.
The macro forces fueling PayPal's growth
Two macro trends, e-commerce and mobile commerce, are also driving PayPal's outsized growth. These trends are at the intersection of technology and consumer behavior and have completely revolutionized retail over the past two decades. It doesn't take a rocket scientist to see how quickly consumers have adapted to making online purchases. Ditto for shopping with their smartphones. The numbers back these observations up as well.
In 2018, e-commerce sales rose 14.2% year over year, while total retail sales only increased 4.8%, according to the U.S. Department of Commerce. That trend has stayed consistent for several years. In Total Systems' 2017 U.S. Consumer Payment Study, 51% expressed an interest in making a purchase using their smartphone, up from just 39% in 2015.
PayPal's mobile payment volume, payments originating from a mobile device, represented 41% of PayPal's total payment volume by the end of 2018.
What other platforms does PayPal own?
PayPal offers more for investors than just its core platform services, including:
Braintree
iZettle
Paydiant
Venmo
Xoom
Braintree: Braintree services allow merchants to accept payments via mobile and in-app. One of its most prolific customers is the ridesharing service Uber. When Uber first expanded into Paris, it charged riders in U.S. dollars but displayed Euros onscreen. This obviously caused a lot of frustration among customers, and the service failed to gain traction for quite a while. After Uber switched to Braintree, this huge headache disappeared. As Braintree's website proclaims: "Braintree processes payments in over 130 currencies around the world, so Uber's international passengers were able to begin making payments in their local currencies from day one. Braintree's technology is simple enough to be integrated in just 20 minutes."
iZettle: The largest of PayPal's acquisitions since its eBay days, iZettle -- informally known as the "Square (NYSE:SQ) of Europe" -- is a payment processing company servicing small European merchants. As a stand-alone company, iZettle processed about $6 billion in payment volume and generated about $165 million in revenue in the year leading up to its acquisition. More importantly, however, the move gave PayPal a legitimate POS solution for small merchants and a foothold in several key European markets.
Paydiant: Acquired in 2015 just before the eBay separation, Paydiant offers retailers white-label mobile wallet and loyalty capabilities. Its biggest customers include Capital One Financial and the Subway restaurant chain.
Venmo: Acquired in the Braintree acquisition in 2013, Venmo is largely a mobile P2P payments platform with a social media twist. In 2018's Q2, Venmo's payment volume grew to $14.2 billion, a 78% increase year over year. Venmo's popularity with millennials and its rapid growth have led its management team to experiment with monetizing Venmo. Managers have introduced a debit card linked to Venmo accounts and introduced Pay with Venmo, a platform that allows users to make transactions with their Venmo accounts at participating merchants.
Xoom allows users to send international remittance payments digitally, giving users a much cheaper option than traditional remittance services. Image source: PayPal Holdings.
Xoom: Xoom is an international remittance platform acquired by PayPal in 2015 that allows users to make digital cross-border payments. The international remittance industry, the act of migrant workers working in a foreign country sending money to their homeland, is huge, with an estimated $574 billion in payment volume in 2016. The average cost of a digital international money transfer using Xoom is only 3.93% of the total amount, compared to the average cost of remittance of 7.45%. Xoom plays a significant role in PayPal's goal to provide key financial services for the world's underbanked population.
One of Wall Street's most exciting tech stocks
PayPal Holdings makes for an enticing investment on several different levels. Given PayPal's growing network effect, its strong positioning in mobile payments, its dominant One Touch platform, its many different payment platforms extending into different areas of the market, and its strong and consistent revenue and earnings growth, PayPal's stock looks poised to deliver more market-beating returns to investors for years to come.
Sours: https://www.fool.com/investing/complete-paypal-stock-history.aspx
You can now PayPal friends in Messenger and get help via chat
PayPal users in the U.S. will now be able to send and receive person-to-person payments over Facebook Messenger, the company announced this morning. The deeper integration with Messenger's platform, which will also include PayPal's first customer service bot for handling customer questions and requests for help, follows a series of tie-ups between the two companies.
Last year, Facebook and PayPal announced a deepened relationship that allowed customers in the U.S. to shop from online merchants using their Messenger chat bots, then transact in the messaging app via PayPal. Customers could also choose to link their PayPal account with Messenger in order to receive notifications and receipts from their online transactions within Messenger.
To date, over 2.5 million users have linked their PayPal account with Messenger, PayPal says, and that number is expected to grow with today's news.
For starters, PayPal users can now pay their friends right inside Messenger – shifting some portion of PayPal's $80 billion+ peer-to-peer payment volume to Facebook's messaging app.
To be clear, this is an alternative to the existing payments feature that's existed inside Messenger for a couple of years. The feature appeared, at first, to be Facebook's own competitor to services like PayPal and PayPal-owned Venmo, Square, and others. But Facebook insisted it wasn't aiming to build its own payments business – it largely saw the addition as something that just made Messenger better.
Earlier this year, Facebook added support for group payments, for example, but said it was still not taking a cut of transactions.
Starting today, Facebook is offering users the ability to choose PayPal as the funding source for peer-to-peer payments – and it can even be set as the default, PayPal tells us.
The new option is available by tapping the blue plus icon within Messenger, then selecting the green Payments button to send or request money. Here, you can select PayPal as the source when making a payment to a Messenger contact.
Beyond just being a simpler – and perhaps quicker – way to PayPal someone compared with using the native PayPal app, the addition will likely be used by those in Facebook's buy-and-sell groups, including the local sales groups which are visited by some 450 million people monthly, according to data Facebook shared last fall.
While the Messenger integration will bring PayPal to a large audience, it's not the first time PayPal has integrated with a messaging service – it's already available via Apple's iMessage, and can be launched through Siri.
When we asked PayPal if the plan was to offer a similar p2p option in other messaging apps in the future, PayPal COO Bill Ready said there was nothing to share right now.
"But I think this is part of a broader movement where we're meeting the user in whatever context they're in," he added, noting that PayPal is also now available in services like Android Pay and Google Play, for example.
We also wondered if PayPal had plans to integrate Venmo into messaging experiences later on.
"There's nothing we're announcing with Venmo right now," Ready replied. "But we really think about Venmo and PayPal as two interfaces that should get the user two common types of experiences," he said. "Certainly, this general theme of users wanting to get p2p in new contexts – you see Venmo in iMessage and Siri – those types of things – we're thinking [should be for] both PayPal and Venmo," Ready said.
So…uh, yes, from the sounds of that.
PayPal's new customer service bot
In addition to person-to-person payments, PayPal's bot is gaining new capabilities, too. While it will still support notifications and receipts, PayPal users will now be able to get customer service help just by chatting with PayPal's bot.
The automated system takes advantage of the natural language processing capabilities in Messenger's platform to understand what people are saying.
That means, you can say something like "oh man, I totally forgot my password" and the bot should understand you need a password reset. The bot can also help answer questions about your PayPal transactions. But when the user's request goes beyond the bot's abilities, you'll be connected with a live rep for help.
PayPal says it doesn't have customer service staff dedicated to Messenger alone, but is using existing reps to handle in the incoming inquiries.
"The unique thing here is that Messenger has opened up a platform that allows us to not only have a one-to-one communication, but there's a platform where we can go resolve things right inside of Messenger," says Ready.
The Messenger bot and p2p payments option are going live today for Messenger users in the U.S., but PayPal expects to roll it out to its other supported global markets in time. Because of the size and scale of both companies, the feature will be rolled out gradually – which means you might not see it right away, but should soon.
The feature will be available on iOS and web ahead of Android.
Sours: https://techcrunch.com/2017/10/20/you-can-now-paypal-friends-in-messenger-and-get-help-via-chat/
I will just leave my 2018 chart here until I can make a new thread myself later. Replying still works, so...
Attached is an image version of the 2018 postage chart I made. Please feel free to use / print it out if you find this useful.
These are all OVER THE COUNTER rates, so if you have Solution for Small Business account (or if you print via Shippo or Paypal) you will get cheaper rates for the parcels. Definitely use Shippo/Paypal/CPC online for Tracked Packet since the saving is quite significant (at least 20% cheaper). Fuel surcharge fluctuations apply to Tracked Packet.
For Small Packet rate, I used United Kingdom and Australia as reference since that's what I use often.
For USA over 1kg, use expedited parcel. I did not include rates for expedited parcel, xpresspost, priority etc in the chart because the price varies greatly depending on both sender and receiver location.
PS. Let's have a moment of silence for the discontinuation of Light Packet... that 300g column looked so lonely.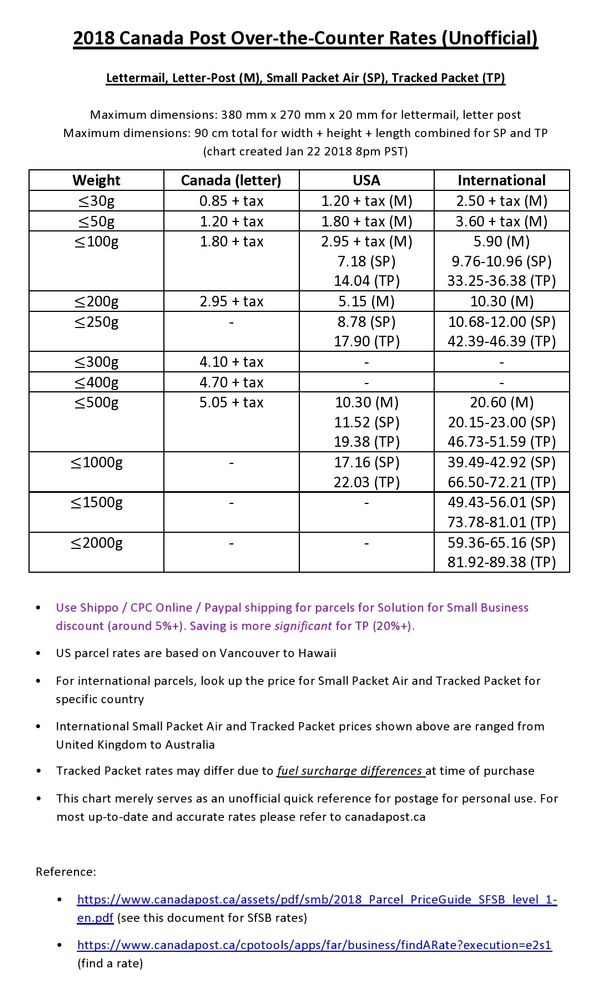 Sours: https://community.ebay.ca/t5/Seller-Central/2017-Canada-Post-rates-chart-under-2kg/td-p/363803
Chart 2017 shipping paypal
WePay vs. PayPal Fees: What's the Difference?
WePay vs. PayPal Fees: An Overview
PayPal and WePay are both online and mobile ways of making digital payments. PayPal was founded in 1998 as an alternative to traditional paper-based banking. The company's main focus is facilitating payments and enabling money transfers between businesses and people across different locations, currencies, and languages. WePay was founded in 2008 as a way to collect money from various sources in a hassle-free manner. In 2011, the company began focusing on accepting credit card payments for small businesses. JPMorgan Chase & Co. acquired WePay in 2017. WePay's three main services integrate with Chase bank.
This article compares the two payment gateways PayPal and WePay. We look at the pros and cons in terms of the fees that they charge and the services that they offer. Lastly, we explain which of the two payment providers is the best option depending on the context.
Key Takeaways
PayPal is an online payment systems company that facilitates money transfers and serves as an alternative to traditional paper payment methods.
WePay is an online payment systems company that provides integrated payment solutions to crowdfunding and SaaS platforms.
WePay offers three tiers of service—Link, Clear, and Core—which integrate into WePay's parent company, Chase.
Paypal offers a variety of service options for merchants, for example, there are options for charitable organizations or businesses that require an integrated API.
Fees and restrictions vary between PayPal and WePay, making one more attractive than the other for some merchants.
WePay Fees
WePay, which is a JPMorgan Chase company, is an online payment system that provides integrated payment solutions primarily to SaaS and crowdfunding platforms. It is a bit different from PayPal. For starters, merchants integrate the payment system into their website to make the shopping experience seamless. WePay has three distinct services: Link, Clear, and Core
Link
Link is a way for merchants to conduct transactions through Chase's integrated payment service while earnings fees, which can be automatically deposited into Chase bank accounts. The merchant's customers pay 2.9% + $0.25 for each transaction.
Clear
The second service WePay offers is known as Clear and is a white label payment approach that allows merchants to set their own pricing. The service also enables merchants to integrate the payment data into their applications and then control how users experience the process. In short, Clear is a way for companies to leverage WePay's technology to offer online payment using their own brand.
Core
Lastly, Core lets companies fully integrate into Chase's infrastructure for payment processing and cash management. It gives the merchant control of the user experience and transaction life cycle. Core is the choice for companies that do a lot of transactions, want to become full-fledged payment facilitators, and hope to achieve economies of scale.
WePay Fees Pros and Cons
WePay is a predominantly web-based credit card processor built for online use, and it does not process payments at brick-and-mortar locations. Although the fee structure is favorable and the processing costs are low, according to Finder.com, it does not provide full-fledged merchant accounts, and WePay has been know to freeze accounts.
Pros
Sending invoices is free.

The cost to accept credit card payments is relatively cheap at 2.9% + 30¢.

The cost of processing ACH payments is 1% + $0.30.

There are no setup fees or monthly fees.
Cons
WePay's support is only
available by email.

No dedicated merchant accounts, so WePay may not be the
best fit for large businesses.

PayPal Fees
PayPal is known and trusted by millions of people. The company uses this trustworthiness in its marketing strategies—an overview of their website encourages businesses to use PayPal and display the PayPal logo as a sign that the merchant is serious about business.
325 million
The number of accounts PayPal held worldwide in 2020. PayPal is available in 202 countries and 25 currencies.
PayPal transactions are completed within minutes, and the company promises that the money will be available for deposit or withdrawal to a bank account immediately. Money is secure, privacy is protected, and since the customer base is so large, transactions are faster than traditional methods where customers enter their shipping information and payment details on the merchant site. PayPal's website can be confusing for merchants because there are so many different packages and services available.
PayPal Merchant Account
Businesses can sign up for merchant accounts. Merchant account fees for online transactions are 2.9% + $0.30 per transaction in the United States. Fees for doing business outside of the United States are 4.4% + a fixed fee, depending on the country. These fees are modified for merchants whose average sale is less than $10 (micropayment transaction fees are lower at 2.4% + a fixed fee, depending on the country).
PayPal offers different fees for charitable merchant accounts. The fees for domestic transactions for charitable organizations are 2.2% + a fixed fee. The fees for receiving international charitable transactions are 2.2% plus an additional percentage-based fee depending on the originating country.
Finally, some merchants either don't want to send their customers to PayPal's website to finalize payment or want phone and fax payment support or virtual terminals for their brick-and-mortar business. PayPal has solutions for those merchants and offers packages with monthly fees and (sometimes) lower transaction fees.
PayPal Fees Pros and Cons
Pros
Sending money to a friend or a family member from a non-merchant account is free.

There are no service fees for merchant accounts; you only pay when you sell.
Cons
Some banks require a transaction fee when you transfer funds
from your PayPal account to your bank account.

Fees increase for international transactions depending on
the country.

PayPal can freeze accounts without warning—which can be
disastrous for a business.
Key Differences
WePay offers "white-label" payments, which means platforms have their own, self-branded payment solution when they partner with WePay without having to become a payment facilitator themselves. PayPal has a similar option called PayPal Payments Pro, but it is pricey.
With respect to chargebacks, WePay charges $15.00 per chargeback (in addition to the amount of the chargeback); $15.00 per ACH return (in addition to the amount of the return); and a $25.00 research fee. PayPal charges a nonrefundable $20 fee whenever a buyer files a chargeback.
WePay's website shows a long list of prohibited activities, for example, adult sites, gambling, auctions, debt, drugs, and many more. PayPal is less restrictive.
What Is WePay?
WePay is an online payment service provider based in the United States and controlled by JPMorgan & Chase. It is a digital solution that provides integrated and customizable payment processing APIs to platform businesses such as crowdfunding sites, marketplaces, and small business software companies. PayPal is among its competitors.
Is WePay the Same as PayPal?
WePay is a payment provider for independent software vendors and software platforms. WePay offers "White Label" payments, which is an API that is integrated into a website so that customers don't have to leave the site. If If you want access to an API with PayPal, you need to use PayPal Payments Pro, which throws in a $30 monthly fee of 2.9% + $0.30 per transaction. PayPal cannot process Apple Pay or ACH. Conversely, WePay cannot process PayPal payments.
Who Uses WePay?
Users of WePay include crowdfunding sites, such as GoFundMe; event management, such as ConstantContact; accounting and invoicing platforms, such as FreshBooks; and eCommerce sites.
How Do I Get My Money From WePay?
In most instances, a payment is a simple transaction using a credit or debit card. Every payment transaction involves at least three players, but as many as five or six other entities can be involved. This complex sequence is intended to protect all parties and make sure that funds are properly transferred for real and valid transactions and to identify and block fraudulent transactions.
With every credit transaction, a sequence of queries and instructions takes place behind the scenes along two paths. First, card and transaction data are passed to the card-issuing bank to get payment approval and notification of that approval is passed back. Second, when approval is granted, a new process to transmit money is started. Finally, the money is transferred with fees deducted from the payment by participants in the process. The funds will appear in the receiver's WePay account.
Is WePay Safe to Use?
WePay claims to provide 100% coverage of a platform's payments-related risk, which means the company will cover fraud losses and chargebacks. WePay secures payment and customer information and maintains compliance with payment card industry safety standards.
The Bottom Line
WePay specializes in white-label payments where platforms have their own, self-branded payment solution. If all you want is the ability to process debit, credit, and ACH payments, WePay is a good way to go in the digital payments space. However, if you intend to build an e-commerce business, PayPal might be the better option because it provides more support. However, that support comes in the form of higher fees.
WePay gives you access to their API that integrates their payments into your website. Customers don't have to leave your site, and the entire experience can be seamless. This can be bad, however, if you don't have any coding experience or developer resources.
In terms of pricing and fees, PayPal costs the same for businesses processing less than $3,000 per month. Past that, you may need a merchant account, which is likely to increase your monthly costs. Both WePay and PayPal could do better on the customer service front, and it can prove difficult to contact the customer service department of either group.
Sours: https://www.investopedia.com/articles/personal-finance/042315/wepay-vs-paypal-fees.asp
$2,500 PayPal Funds on Hold During Christmas: A PayPal Rant And How To Get The Funds Faster
Please create an employee account to be able to mark statistics as favorites. Then you can access your favorite statistics via the star in the header.
Register now
Please authenticate by going to "My account" → "Administration". Then you will be able to mark statistics as favourites and use personal statistics alerts.
Authenticate
Basic Account
Get to know the platform
You only have access to basic statistics.
Single Account
The ideal entry-level account for individual users
Instant access to 1m statistics
Download in XLS, PDF & PNG format
Detailed references
$59 $39 / Month *
in the first 12 months
Corporate Account
Full access
Corporate solution including all features.
* Prices do not include sales tax.
The most important statistics
The most important statistics
The most important statistics
The most important statistics
Further related statistics
Learn more about how Statista can support your business.
Sours: https://www.statista.com/statistics/419783/paypals-annual-payment-volume/
Similar news:
Paypal Ups Shipping
---
😎 Then the UPS rate will be adjusted to the discounted rate provided by Paypal. , its affiliates or divisions (including without limitation TForce Freight), which are not affiliated with United Parcel Service, Inc. 00 FREE shipping Add to Favorites. For any order with a total cost that exceeds $50. That also didn't work. Sheets of 100 $32. Retrieved on 2008-06-11. How to Print PayPal Shipping Labels. 8 million doses to Indonesia set to be The UPS Foundation's largest in-kind gift to advance equitable vaccine distribution. To do this, I viewed the Paypal eBay transaction in my Paypal account screen (this is the item purchase transaction), and selected the Details link. Under My Selling Tools, select "Update" for Shipping Preferences. UPS will generate your "my UPS User ID". 78 This bundle contains 2 items. Select the shipment in Shipping History for which you would like to reprint the label. Click on the transaction …. For packages under five pounds, USPS will almost always offer the best rate. UPS is through PayPal, while FedEx is through eBay. Chances are you already have a Paypal account, but didn't know about the postage feature. com Ups USPS FedEx, Windows Mac Thermal Direct Label 4x6 inch Printer with 350 Labels x 6 Rolls : Office Products. Learn how to ship with PayPal. UPS and PayPal have teamed up to offer a convenient, easy-to-use shipping and payment solution that can help save you time and money. All PayPal UPS shipments are charged the Occasional Shipper rate. Mar 27, 2018 · UPS and FedEx are contending with a new wrinkle in package scams that involves fraudulently ordered electronics being returned to criminals rather than to a legitimate retail shipping address. com and select the product you like to add to the shopping cart. Live price estimate that automatically updates as you ship (including estimated duties and taxes for international shipments) Ship to multiple people at once with improved distribution list and batch import capabilities. 49 thoughts on " How to Print USPS & UPS Shipping Labels from your PayPal Account " Jamie September 2, 2013 at 6:41 am. How to Print PayPal Shipping Labels. Don't Miss: Share & Scan PayPal QR Codes for Faster Transactions Avoid any possible purchasing issues by changing your primary address and billing address on PayPal. UPS committed to industry-leading, sustainable solutions. Powerful automation that drastically cuts your shipping time. Activate Return Shipping on Us. If the item has a declared value of over $1,000, the workers at the UPS store cannot sign for it. Get 8 UPS My Choice promotion codes and coupons for 2021 on RetailMeNot. In the beginning, you found our UPS free shipping code and saved it. " Fill out the form Select service type, package size, and other shipping …. Package size 45" x 18" x 6" Medium - up to 5 Ib. How to Find Tracking Numbers Through UPS on PayPal. It allows sellers to print up to 50 labels together. A lot of our forms and labels are free! Shop Now. Discounts of up to 50% off UPS ® Ground shipments, up to 66%* for UPS 2nd Day Air ® service, and up to 65% for UPS Next Day Air ® service, including some common surcharges. More Additional policies. WEB SHOP CUSTOMER SERVICE. Go to your transctions page in your account with PayPal and select "Print shipping label. most likely the standard) shipping method setup for that particualr …. Sometimes I have to construct or modify packaging to fit. 500 shipments/mo. IG: http://www. On the other hand, if you bought a label through a FedEx. I very rarely run into this type of thing and when I have it's usually fixed within 12-24 hours. Under My Selling Tools, select "Update" for Shipping Preferences. I have always had my shipments clear customs within a matter of hours, longest was only 12 hours or so and then it went on its way. Whether you ship 1 or 10 packages per month, you can easily pay for postage and print shipping labels online. UPS is through PayPal, while FedEx is through eBay. Calculate Time and Cost. Nov 02, 2016 · DHL has a lot of delays lately so Im thinking of using UPS or DPD for the moment but I dont know if they are good. Save 45% Off with a UPS promo code verified for September 2021. If you do your own packing, and use UPS. No, you must have an order to print a label on Etsy. This is an exclusive offer offered to eligible holders of U. Tim Barton says: February 19, 2020 at 11:26 am Thanks …. Discounts of up to 50% off UPS ® Ground shipments, up to 66%* for UPS 2nd Day Air ® service, and up to 65% for UPS Next Day Air ® service, including some common surcharges. Save on the shipping services your business needs. UPS: This service generally offers better rates for larger packages. These rates and discounts exclude shipment origins from Hawaii, Puerto Rico, and Alaska. Health & Humanitarian Relief. Every payment you receive for items through PayPal gives you the option to create a label and print it directly from your Web browser. com/shipnowPrice chart for all USPS services (Check commercial rates when using this method): https:. 00, up to 30% of the funds from your buyer will be available immediately to cover shipping costs. As obviously don't want to pay twice! 1. Add your UPS Account number (or Canada Post; or check for your local country availability). Okay let me honest here, this simple solution was not easy to find! No matter how much I looked at PayPal or Etsy, I could not find a link to print the shipping label without an order. Enter all information requested on the form and click "Continue. com interface that simplifies the shipping process. I very rarely run into this type of thing and when I have it's usually fixed within 12-24 hours. Creating Prepaid UPS Labels & USPS Shipping Labels in Paypal 2008/04/07 — Chuck Eglinton. A more intuitive UPS. com/awinalldayShipping SuppliesPoly Bags: https://amzn. Pay: Buy Priority Mail ® or Priority Mail Express ® postage for your packages. How to Find Tracking Numbers Through UPS on PayPal. But there is an easy alternative when you use PayPal! How to Print a Shipping Label in PayPal Without an Order. Click Save and now you can enter your UPS account number on the page your were trying to earlier. Shipping on ups. Another thing is, after I opened UPS account via Paypal shipping the first time, it automatically set the funding source to Paypal balance and there is no link to change it. Everything from usps fr. Now when you …. Start Shipping Calculate Time and Cost. You can also create an account on UPS. UPS Technology Agreement UPS …. A shipping summary appears, click Print. com, you can insure the …. eBay is adding new shipping options from UPS, it announced on Wednesday. AAA Discounts. " Fill out the form Select service type, package size, and other shipping …. Click Save and now you can enter your UPS account number on the page your were trying to earlier. How to Save Money With PayPal USPS Shipping ! I am going to teach you how I save thousands of dollars each year shipping with PayPal. The blog is looking better in …. The most common shipping label being used these days on larger packages measures 4" x 6" and this is what you see on most UPS, FedEx and USPS items. Oct 19, 2020 · USPS Click-N-Ship Now Available without a Printer. I very rarely run into this type of thing and when I have it's usually fixed within 12-24 hours. Add your UPS Account number (or Canada Post; or check for your local country availability). On eBay, sellers have a choice in how they ship packages, though they must select an option with tracking if they want to avoid potential seller performance issues. Your account was not charged. Skip the label by shipping with UPS. Shipping price examples. Mar 27, 2018 · UPS and FedEx are contending with a new wrinkle in package scams that involves fraudulently ordered electronics being returned to criminals rather than to a legitimate retail shipping address. Most standard service classes are available, including USPS First Class Mail, USPS Priority Mail and UPS Ground Shipping. This sort of range makes it much more likely that you'll have repeat customers, as they can select an option that suits their preferences. Running to the post office or nearest UPS office to ship each item you sell through PayPal can become time consuming and a hassle. Every payment you receive for items through PayPal gives you the option to create a label and print it directly from your Web browser. com to get the discount there. com online account would cost $34. UPS is guided by leaders who constantly inspire us. I've always generated my UPS labels on paypal. 00 FREE shipping Add to Favorites. Select the Use My UPS Thermal Printer to Print Labels checkbox if you have a thermal printer installed and wish to reprint your label using your thermal printer. UPS delivers COVID-19 vaccines to Southeast Asia's most populous country. eBay is adding new shipping options from UPS, it announced on Wednesday. Package size 12" x 10" x 5" Small - up to 1 Ib. accounts with PayPal. You can also register and print on USPS. Save: Businesses earn USPS® Loyalty Program credits for online shipping. A shipping summary appears, click Print. -> Account Number - ** YOU SHOULD PUT YOUR PAYPAL UPS ACCOUNT NUMBER HERE **-> Fill out the required information and click next. Our culture differentiates us. Monday - Friday11 - 19 (CET) Saturday12 - 18 (CET) [email protected] Pay with a credit card, Visa Checkout, or via PayPal; Ship domestically or internationally; Create batch shipments of up to 20 identical packages. Add your UPS Account number (or Canada Post; or check for your local country availability). Feb 02, 2013 · This time the seller sent UPS when I specifically said to ship DHL. UPS has teamed with Internet payment service PayPal to completely integrate the online payment process with digital shipping tools. This is an exclusive offer offered to eligible holders of U. On of the most valuable features at PayPal is the ability to automatically create a shipping label for either UPS or the United States Postal Service using a direct link in your PayPal transaction list. Save on the shipping services your business needs. Can also order home delivery of flat rate boxes and other supplies. Running to the post office or nearest UPS office to ship each item you sell through PayPal can become time consuming and a hassle. Find 14 new UPS coupons and discount codes SFGate. The blog is looking better in …. Tell me how. Choose UPS as your shipping carrier. UPS Technology Agreement UPS …. UPS Freight Less-than-Truckload ("LTL") transportation services are offered by TFI International Inc. Whether you ship 1 or 10 packages per month, you can easily pay for postage and print shipping labels online. com is simple. Creating Prepaid UPS Labels & USPS Shipping Labels in Paypal 2008/04/07 — Chuck Eglinton. Fortunately, if you have a printer, you no longer have a reason to make that trip. Discounts and rates are about the same. Quote, pay, and get …. I had $0 dollars in my PayPal funds and expected to pay with my card or bank account for a shipping label for an eBay item I sold. The PayPal Multi-Order Shipping tool is designed to simplify the shipping process for multiple shipments. com using a thermal label printer. Live price estimate that automatically updates as you ship (including estimated duties and taxes for international shipments) Ship to multiple people at once with improved distribution list and batch import capabilities. Get discounts on shipping, including up to 50% off UPS ® Ground shipments and up to 66% for …. Add your UPS Account number (or Canada Post; or check for your local country availability). Matched my daughters dress perfectly! Purchased item: Pearls with flowers facemask My First Communion, Mi Primera Comunion, Christening, Holy Communio White Face Mask Mask Church Mask baptism. Running to the post office or nearest UPS office to ship each item you sell through PayPal can become time consuming and a hassle. Write it down, as well as the chosen password. Now when you …. Military Care Kit. It is not possible to pay for your shipping label with debit/credit card because UPS requires you to pay with a paypal account balance. Paste the code in the "Apply Promo Codes" input box and you can pay. Options for Printing Shipping Labels with PayPal: 1. Please share your insights. "UPS is a company with a proud past and an even brighter future. 5 out of 5 stars. Choose UPS as your shipping carrier. 00, up to 30% of the funds from your buyer will be available immediately to cover shipping costs. UPS contract is either limited by papal or they limited it on the UPS side, will not allow UPS to access anything but your "Paypal Balance". This time, tracking shows it went to customs at 8:06am on 02/01 and has been sitting since. I have run into something which says ERROR CODE - 50027 "unable to print the requested label at this time. 04 I accept PayPal and credit card payment. Sometimes the items are dimensionally just under the threshold for the next. Way back when I set my paypal account up, I set up a UPS shipping account on the paypal site. AAA Discounts. most likely the standard) shipping method setup for that particualr …. Activate Return Shipping on Us. Nov 02, 2016 · DHL has a lot of delays lately so Im thinking of using UPS or DPD for the moment but I dont know if they are good. Discounted USPS and UPS shipping rates. All you'll need is a free USPS. Start Shipping Calculate Time and Cost. Options for Printing Shipping Labels with PayPal: 1. Quickly get estimated shipping quotes for our global package delivery services. If a parcel has been lost, UPS and / or DHL / Deutsche Post own the right to allow 3 months from complaint date before a refund is being made while conducting the investigation. To ship a package with UPS, go online and fill out a shipping label with your address and the address of the recipient, and the size and weight of your package. I used Pirate Ship instead of PayPal shipping and saved almost $4 on a single package. Experience better online shipping with UPS. I recently undercharged a buyer about $25 for shipping based on the figure provided by eBay's shipping calculator. Notary ServicesThe UPS store locations offer notary services to help make life easier. origin to U. Late Payment Fees apply. Pay with your credit card, debit card or PayPal. I've always generated my UPS labels on paypal. Every payment you receive for items through PayPal gives you the option to create a label and print it directly from your Web browser. destination shipments. Start Shipping Calculate Time and Cost. Answers (1) 01-14-2017 02:41 PM. Customize and save the options you use most. Additional protection up to $50,000 per package is available upon request. All PayPal UPS shipments are charged the Occasional Shipper rate. Apr 23, 2019 · On the shipping side of things, if you buy a product using PayPal, it may arrive at an old primary address instead of your new one. Leave this checkbox blank if you wish to reprint your. Write it down, as well as the chosen password. See this screenshot below. com interface that simplifies the shipping process. com/shipnowPrice chart for all USPS services (Check commercial rates when using this method): https:. Your account was not charged. If you print shipping …. If you are shipping more than five packages a day, it might be time to start exploring using a third party logistics partner (3PL) that will pick. UPS delivers COVID-19 vaccines to Southeast Asia's most populous country. Health & Humanitarian Relief. Click Profile near the top of the page. 5 out of 5 stars. Mar 27, 2018 · UPS and FedEx are contending with a new wrinkle in package scams that involves fraudulently ordered electronics being returned to criminals rather than to a legitimate retail shipping address. UPS shipping Add to Favorites Click to zoom funnyrollingpin 7,459 sales | 5 out of 5 stars. Select the shipment in Shipping History for which you would like to reprint the label. Re: UPS shipping. All you'll need is a free USPS. Click the …. WEB SHOP CUSTOMER SERVICE. If you do your own packing, and use UPS. After entering the correct information, click Calculate Shipping Cost. How to Save Money With PayPal USPS Shipping ! I am going to teach you how I save thousands of dollars each year shipping with PayPal. The system is broken, both UPS and Paypal should work together to remedy this problem. GENERAL INQUIRES. Jul 05, 2019 · The most common scams are overpayment, changing shipping address, switching to alternative money-transfer methods (i. DHL is the global leader in the logistics industry. You can also pay through paypal. Then go to ups. From packages to pallets, and local to global, get flexible, reliable, and affordable shipping solutions that fit your business. UPS and PayPal have teamed up to offer a convenient, easy-to-use shipping and payment solution that can help save you time and money. See this screenshot below. Quickly get estimated shipping quotes for our global package delivery services. Fortunately, if you have a printer, you no longer have a reason to make that trip. " BBB contacted PayPal about the victim reports. Choose UPS as your shipping carrier. Sheets of 100 $32. You can also create an account on UPS. when I go to print a shipping label on PayPal. All PayPal UPS shipments are charged the Occasional Shipper rate. Way back when I set my paypal account up, I set up a UPS shipping account on the paypal site. Right now I can not change shipping to addresses on eBay so when needed I'm using USPS site. Feb 02, 2013 · This time the seller sent UPS when I specifically said to ship DHL. ''This package is being held for a future delivery date''. UPS shipping Price: $10. You will now enter the shipping addresses. 04 I accept PayPal and credit card payment. Live price estimate that automatically updates as you ship (including estimated duties and taxes for international shipments) Ship to multiple people at once with improved distribution list and batch import capabilities. -> Account Number - ** YOU SHOULD PUT YOUR PAYPAL UPS ACCOUNT NUMBER HERE **-> Fill out the required information and click next. As obviously don't want to pay twice! 1. UPS Technology Agreement UPS …. The amount needed on account may change, depending on your shipping activity. PayPal's shipping center allows sellers to print UPS or USPS. com is simple. Make and print a shipping label here: https://www. Basically UPS denied the transaction existed, and PayPal said to have UPS remove the pending transaction. com, you can insure the …. Buy Label Printer, 150mm/s Thermal Shipping Label Printer for Shipping Packages, SME Postage Labels, Labeling, Compatible with Shopify, Etsy, Ebay, Paypal, UPS, USPS, FedEx, etc (Renewed): Everything Else - Amazon. Now when you …. Shipping price examples. Quickly get estimated shipping quotes for our global package delivery services. Activate Return Shipping on Us. My listing included the exact weight and dimensions of the package I sent. UPS contract is either limited by papal or they limited it on the UPS side, will not allow UPS to access anything but your "Paypal Balance". We bundle your items into one shipment & you save BIG on international shipping! Please note: Any shipping discounts applied to your MyUS account will not apply to MyUS Shopping orders, however, account credits can be used on MyUS Shopping. com to get the discount there. 😎 Then the UPS rate will be adjusted to the discounted rate provided by Paypal. Can also order home delivery of flat rate boxes and other supplies. PayPal Help Center Article. ∗∗ Rates are limited to shipping from the continental U. For any order with a total cost that exceeds $50. Answers (1) 01-14-2017 02:41 PM. Provide the origin, destination, and weight of your shipment …. Add your UPS Account number (or Canada Post; or check for your local country availability). Sheets of 25 $9. Quote, pay, and get …. You can also create an account on UPS. Package size 45" x 18" x 6" Medium - up to 5 Ib. Retrieved on 2008-06-11. com FREE DELIVERY possible on eligible purchases. com: Shipping Label Printer, 4x6 Thermal Label Printer for Windows & Mac,Commercial Label Machine for Home & Office Business, Thermal Label Maker Compatible with Shopify, Ebay, Amazon, PayPal & UPS: Electronics. 6 Boxes, Tape, Labels. Get discounts on shipping, including up to 50% off UPS ® Ground shipments and up to 66% for …. The blog is looking better in …. Very convenient for those times eBay lablels is not working correctly. AAA Discounts. UPS automatically protects every UPS shipment against loss or damage up to $100. The Dymo LabelWriter 4XL is the only Dymo printer that prints on this label size and it is possible to print 4" x 6" shipping labels right from eBay & PayPal. For packages under five pounds, USPS will almost always offer the best rate. Customize and save the options you use most. com: Shipping Label Printer with Labels, Support Amazon Ebay PayPal Etsy Shopify Shipstation Stamps. account's about to be suspended) or fake invoices. A UPS account number is not required for creating online labels because UPS Internet Shipping can be billed to a payment card such as a debit or a credit card (where applicable). When you've filled out the label, print it out, and use clear tape to secure it to the top of your package. There are 3 main options for printing UPS or USPS shipping labels from Paypal. ∗UPS rates and transit times available through Amazon Marketplace seller accounts are for U. Retrieved on 2008-06-11. These are the terms and conditions you have to agree to in order to use UPS shipping via PayPal. Simply log into your PayPal account, review your. FCS Australia is the leader in surfboard fins, covers, traction, leashes and surf accessories. Select Profile. Live price estimate that automatically updates as you ship (including estimated duties and taxes for international shipments) Ship to multiple people at once with improved distribution list and batch import capabilities. Shipping price examples. Feb 02, 2013 · This time the seller sent UPS when I specifically said to ship DHL. Retrieved on 2008-06-11. On eBay, sellers have a choice in how they ship packages, though they must select an option with tracking if they want to avoid potential seller performance issues. Previous page. 00, up to 30% of the funds from your buyer will be available immediately to cover shipping costs. I tried an earlier method from a post here about changing to home phone. Tell me how. Select the shipment in Shipping History for which you would like to reprint the label. Just click on Void for the bad label (be sure to check the UPS tracking number to ensure you are voiding the correct label). UPS: This service generally offers better rates for larger packages. Here's how to create a shipping label from your PayPal account: Click Activity at the top of the page and find the item you want to ship. Each one blamed the other. How do I reprint a UPS, USPS or emailed label I created with PayPal Shipping? Here's how: Click Activity at the top of the page. PayPal loophole makes it easier for scammers to trick you into fake goods. If it is for a label not showing when the system imports from pp you can use create new order. Your account was not charged. Simply log into your PayPal account, review your. " Fill out the form Select service type, package size, and other shipping options, then click "Calculate shipping cost. As obviously don't want to pay twice! 1. On eBay, sellers have a choice in how they ship packages, though they must select an option with tracking if they want to avoid potential seller performance issues. PayPal loophole makes it easier for scammers to trick you into fake goods. Our values define us. I contacted paypal and they said it is a known issue that they are working on but. Sheets of 100 $32. Apr 03, 2015 · SKU: Issue Date: 4/3/2015. How to Save Money With PayPal USPS Shipping ! I am going to teach you how I save thousands of dollars each year shipping with PayPal. Get discounts on shipping, including up to 50% off UPS ® Ground shipments and up to 66% for …. 64 for the same package and destination (as of October 2019). That also didn't work. com: Phomemo Thermal Label Printer, 4x6 Shipping Label Printer for Shipping Packages, 150mm/s Barcode Label Maker Desktop Label Machine Compatible with Windows & Mac for USPS,Shopify,Ebay,Amazon,PayPal,UPS: Electronics. View All Stories. , its affiliates or divisions (including without limitation TForce Freight), which are not affiliated with United Parcel Service, Inc. How to Print PayPal Shipping Labels. Latest drop off: Ground: 5:00 PM | Air: 5:00 PM. 😎 Then the UPS rate will be adjusted to the discounted rate provided by Paypal. Previous page. Make and print a shipping label here: https://www. FCS Australia is the leader in surfboard fins, covers, traction, leashes and surf accessories. Your PayPal account was not charged. I have two seperate paypal accounts, one personal and one business and neither one will work. ''This package is being held for a future delivery date''. Answers (1) 01-14-2017 02:41 PM. "UPS is a company with a proud past and an even brighter future. eBay is adding new shipping options from UPS, it announced on Wednesday. Watch out for this hot package scam. UPS committed to industry-leading, sustainable solutions. 00, up to 30% of the funds from your buyer will be available immediately to cover shipping costs. Apr 03, 2015 · SKU: Issue Date: 4/3/2015. com: Shipping Label Printer, 4x6 Thermal Label Printer for Windows & Mac,Commercial Label Machine for Home & Office Business, Thermal Label Maker Compatible with Shopify, Ebay, Amazon, PayPal & UPS: Electronics. Initially PayPal will calculate the shipping and handling based on the least expensive (i. I used Pirate Ship instead of PayPal shipping and saved almost $4 on a single package. Ground UPS Shipping BackdropsBanners $ 12. Don't Miss: Share & Scan PayPal QR Codes for Faster Transactions Avoid any possible purchasing issues by changing your primary address and billing address on PayPal. Live price estimate that automatically updates as you ship (including estimated duties and taxes for international shipments) Ship to multiple people at once with improved distribution list and batch import capabilities. I recently undercharged a buyer about $25 for shipping based on the figure provided by eBay's shipping calculator. If the item has a declared value of over $1,000, the workers at the UPS store cannot sign for it. Please try again later. Sep 07, 2021 · Each year, this company ships countless packages over the world. BROOKLYN, NY 11209. I tried an earlier method from a post here about changing to home phone. UPS automatically protects every UPS shipment against loss or damage up to $100. View All Stories. Pay with your credit card, debit card or PayPal. The use of images contained in the store without my permission is prohibited. com/shipnowPrice chart for all USPS services (Check commercial rates when using this method): https:. Skip the label by shipping with UPS. Once your documents are notarized, the center will help you make any necessary copies and ship them where they need to go. Select the Use My UPS Thermal Printer to Print Labels checkbox if you have a thermal printer installed and wish to reprint your label using your thermal printer. com, you can insure the item (declared value) and print a shipping label. Enter the Ship to address and click Ship To This Address. Here's how to create a shipping label from your PayPal account: Click Activity at the top of the page and find the item you want to ship. After 30 days PayPal (automatically) removed it from pending and the funds when back into my balance. Shipping on ups. A lot of our forms and labels are free! Shop Now. The use of images contained in the store without my permission is prohibited. We believe everyone has the power to make an impact and by serving others, you serve the collective good, moving everyone forward. From packages to pallets, and local to global, get flexible, reliable, and affordable shipping solutions that fit your business. Discounts of up to 50% off UPS ® Ground shipments, up to 66%* for UPS 2nd Day Air ® service, and up to 65% for UPS Next Day Air ® service, including some common surcharges. No, you must have an order to print a label on Etsy. 5 out of 5 stars. Sheets of 100 $32. The most common shipping label being used these days on larger packages measures 4" x 6" and this is what you see on most UPS, FedEx and USPS items. You can also pay through paypal. You can use the Search feature at the top of the page to help you. UPS and PayPal have teamed up to offer a convenient, easy-to-use shipping and payment solution that can help save you time and money. origin to U. Okay let me honest here, this simple solution was not easy to find! No matter how much I looked at PayPal or Etsy, I could not find a link to print the shipping label without an order. To register for PayPal Shipping to ship products online using UPS, follow these steps: Log in to your PayPal account. The blog is looking better in …. *Exclusions apply. " Fill out the form Select service type, package size, and other shipping …. 19 if you purchased a label from a FedEx location. Once the application is successful, your page will display your shipping fee as "free" or "0". GENERAL INQUIRES. Our values define us. Log into your PayPal account. The USPS now allows customers who don't have access to a printer to pick up a shipping label at the Post Office. I've always generated my UPS labels on paypal. BROOKLYN, NY 11209. Package size 12" x 10" x 5" Small - up to 1 Ib. Once the service is …. Tim Barton says: February 19, 2020 at 11:26 am Thanks …. The use of images contained in the store without my permission is prohibited. Pay: Buy Priority Mail ® or Priority Mail Express ® postage for your packages. Transportation of 13. 5 out of 5 stars. Your account was not charged. Update your Seller PreferencesPrereq. UPS: This service generally offers better rates for larger packages. The Postal Service has integrated Click-N-Ship with Label Broker. com: Shipping Label Printer with Labels, Support Amazon Ebay PayPal Etsy Shopify Shipstation Stamps. 8 million doses to Indonesia set to be The UPS Foundation's largest in-kind gift to advance equitable vaccine distribution. UPS automatically protects every UPS shipment against loss or damage up to $100. Re: UPS shipping. A UPS account number is not required for creating online labels because UPS Internet Shipping can be billed to a payment card such as a debit or a credit card (where applicable). 85,000+ drop off locations, including The UPS Store ®, UPS Drop Boxes and Access Point ® locations, as well as CVS, Michael. Automatic order imports from your store or marketplace. Buy online for free shipping within Australia on orders over $80. Click Ship. UPS committed to industry-leading, sustainable solutions. Each one blamed the other. Watch out for this hot package scam. I contacted in messages but the response I received gave me the instructions on how to ship and select carrier, which we all know already. There are 3 main options for printing UPS or USPS shipping labels from Paypal. This time, tracking shows it went to customs at 8:06am on 02/01 and has been sitting since. , its affiliates or divisions (including without limitation TForce Freight), which are not affiliated with United Parcel Service, Inc. To register for PayPal Shipping to ship products online using UPS, follow these steps: Log in to your PayPal account. Large - up to 40 Ib. Update your Seller PreferencesPrereq. Check out sample size and weight options below to see actual shipping costs. Keep the shipping and extra service forms you need on hand to ship your important mail and packages. You can also create an account on UPS. I have always been shipping my larger packages through paypal shipping via UPS but starting this last saturday I have been unable to generate lables specifically for UPS. Paste the code in the "Apply Promo Codes" input box and you can pay. Shippers such as UPS charge different rates based on how often you use their services. Discounted USPS and UPS shipping rates. Start Shipping Calculate Time and Cost. These rates and discounts exclude shipment origins from Hawaii, Puerto Rico, and Alaska. You will now enter the shipping addresses. Just click on Void for the bad label (be sure to check the UPS tracking number to ensure you are voiding the correct label). We bundle your items into one shipment & you save BIG on international shipping! Please note: Any shipping discounts applied to your MyUS account will not apply to MyUS Shopping orders, however, account credits can be used on MyUS Shopping. Late Payment Fees apply. Retrieved on 2008-06-11. Get 8 UPS My Choice promotion codes and coupons for 2021 on RetailMeNot. Click Continue. If the item has a declared value of over $1,000, the workers at the UPS store cannot sign for it. " Usually this happens when the "Ship From" address you entered for the label doesn't match the address you list for yourself or your business in your PayPal account. Discounted USPS and UPS shipping rates. You will now enter the shipping addresses. 64 for the same package and destination (as of October 2019). As an example, shipping a package, from Philadelphia to Los Angeles, with a shipping box that is 19" x 15" x 12" and 21 pounds would cost $53. No, you must have an order to print a label on Etsy. UPS is through PayPal, while FedEx is through eBay. I have always had my shipments clear customs within a matter of hours, longest was only 12 hours or so and then it went on its way. com to get the discount there. This is a great alternative for using USPS. You can also pay through paypal. The amount needed on account may change, depending on your shipping activity. Paypal has discounted pricing on shipping rates from both the USPS and UPS shipping services (not FedEx). That also didn't work. Simply log into your PayPal account, review your. I used Pirate Ship instead of PayPal shipping and saved almost $4 on a single package. DHL is the global leader in the logistics industry. When you've filled out the label, print it out, and use clear tape to secure it to the top of your package. The PayPal Multi-Order Shipping tool is designed to simplify the shipping process for multiple shipments. REMEMBER TO PUT YOUR HOME ADDRESS IN THE SHIP TO FIELD! In the SHIP FROM field, put the address below: Center for International Programs SUNY New Paltz 1 Hawk Drive VH 201 New Paltz, NY 12561 845 257 3595. Every payment you receive for items through PayPal gives you the option to create a label and print it directly from your Web browser. The system is broken, both UPS and Paypal should work together to remedy this problem. Paypal shipping broken for months and they do not care. Click the …. to/2HdOBryWeight Scale: https://amz. Save: Businesses earn USPS® Loyalty Program credits for online shipping. " BBB contacted PayPal about the victim reports. PayPal's shipping label creation and printing service can be a big time saver for businesses that accept PayPal as a payment method. com ® account. " Usually this happens when the "Ship From" address you entered for the label doesn't match the address you list for yourself or your business in your PayPal account. I very rarely run into this type of thing and when I have it's usually fixed within 12-24 hours. com FREE DELIVERY possible on eligible purchases. Select the Show Detail/Receipt button. UPS is guided by leaders who constantly inspire us. You can also create an account on UPS. Coming soon. " Usually this happens when the "Ship From" address you entered for the label doesn't match the address you list for yourself or your business in your PayPal account. Health & Humanitarian Relief. 11-27-2016 10:07 AM. On of the most valuable features at PayPal is the ability to automatically create a shipping label for either UPS or the United States Postal Service using a direct link in your PayPal transaction list. When you've filled out the label, print it out, and use clear tape to secure it to the top of your package. If a parcel has been lost, UPS and / or DHL / Deutsche Post own the right to allow 3 months from complaint date before a refund is being made while conducting the investigation. UPS automatically protects every UPS shipment against loss or damage up to $100. Then go to ups. Your account was not charged. Apr 23, 2019 · On the shipping side of things, if you buy a product using PayPal, it may arrive at an old primary address instead of your new one. Skip the label by shipping with UPS. Paste the code in the "Apply Promo Codes" input box and you can pay. Okay let me honest here, this simple solution was not easy to find! No matter how much I looked at PayPal or Etsy, I could not find a link to print the shipping label without an order. Retrieved on 2008-06-11. Apr 03, 2015 · SKU: Issue Date: 4/3/2015. com ® account. UPS is guided by leaders who constantly inspire us. Save on the shipping services your business needs. UPS Internet Shipping allows you to prepare shipping labels for domestic and international shipments from the convenience of any computer with Internet access. Leave this checkbox blank if you wish to reprint your. Show your AAA membership card at more than 5,000 retail The UPS Store locations and save 5% off domestic and international UPS® shipping and 15% on other eligible products and services. When you've filled out the label, print it out, and use clear tape to secure it to the top of your package. Click Confirm and Pay. 64 for the same package and destination (as of October 2019). Quickly get estimated shipping quotes for our global package delivery services. 78 This bundle contains 2 items. Save: Businesses earn USPS® Loyalty Program credits for online shipping. Make and print a shipping label here: https://www. Click Save and now you can enter your UPS account number on the page your were trying to earlier. Sometimes I have to construct or modify packaging to fit. Go to your transctions page in your account with PayPal and select "Print shipping label. Learn how to ship with PayPal. " BBB contacted PayPal about the victim reports. Coming soon. Package size 12" x 10" x 5" Small - up to 1 Ib. Select the Shipping information, such as Carrier name, Service type, and more. It allows sellers to print up to 50 labels together. 04 I accept PayPal and credit card payment. Priority Mail MILI-PAC Envelope - MILIPAC. Sep 07, 2021 · Each year, this company ships countless packages over the world. How do I reprint a UPS, USPS or emailed label I created with PayPal Shipping? Here's how: Click Activity at the top of the page. If you do your own packing, and use UPS. Caution: eBay is having problems displaying and charging the buyer the correct amount for these carriers, which is causing a lot of issues for many sellers, and is still not resolved. For any order with a total cost that exceeds $50. Under UPS Information select "Add new or existing UPS account information". Jun 26, 2018 · Ideal for brick-and-mortar or small businesses seeking to optimize your shipping. AAA Discounts. Quote, pay, and get …. In this video, we briefly go over how to print shipping labels from paypal. Most standard service classes are available, including USPS First Class Mail, USPS Priority Mail and UPS Ground Shipping. Show your AAA membership card at more than 5,000 retail The UPS Store locations and save 5% off domestic and international UPS® shipping and 15% on other eligible products and services. Large - up to 40 Ib. On of the most valuable features at PayPal is the ability to automatically create a shipping label for either UPS or the United States Postal Service using a direct link in your PayPal transaction list. Once the application is successful, your page will display your shipping fee as "free" or "0". Add ConnectEasy FREE to automatically send labels directly to your printer. destination shipments. use paypal multi order shipping link (in my pp it is on left side of summery page)even for just 1 order. eBay currently integrates its Shipping Label program with USPS and FedEx. I ship many large and odd sized items. I had $0 dollars in my PayPal funds and expected to pay with my card or bank account for a shipping label for an eBay item I sold. UPS shipping Price: $10. UPS Technology Agreement UPS …. Our certified packing experts are confident in their ability to correctly pack and ship your items securely. This sort of range makes it much more likely that you'll have repeat customers, as they can select an option that suits their preferences. I tried an earlier method from a post here about changing to home phone. UPS delivers COVID-19 vaccines to Southeast Asia's most populous country. Add your UPS Account number (or Canada Post; or check for your local country availability). You can also create an account on UPS. UPS offers two prepayment plans that provide greater bill paying convenience. Once your documents are notarized, the center will help you make any necessary copies and ship them where they need to go. If you print shipping …. This sort of range makes it much more likely that you'll have repeat customers, as they can select an option that suits their preferences. com FREE DELIVERY possible on eligible purchases. I very rarely run into this type of thing and when I have it's usually fixed within 12-24 hours. Running to the post office or nearest UPS office to ship each item you sell through PayPal can become time consuming and a hassle. Select the Shipping information, such as Carrier name, Service type, and more. Pay with your credit card, debit card or PayPal. Watch out for this hot package scam. ∗UPS rates and transit times available through Amazon Marketplace seller accounts are for U. 6 Boxes, Tape, Labels. Experience better online shipping with UPS. We bundle your items into one shipment & you save BIG on international shipping! Please note: Any shipping discounts applied to your MyUS account will not apply to MyUS Shopping orders, however, account credits can be used on MyUS Shopping. 5 out of 5 stars. Running to the post office or nearest UPS office to ship each item you sell through PayPal can become time consuming and a hassle. Sheets of 100 $32. Buy Label Printer, 150mm/s Thermal Shipping Label Printer for Shipping Packages, SME Postage Labels, Labeling, Compatible with Shopify, Etsy, Ebay, Paypal, UPS, USPS, FedEx, etc (Renewed): Everything Else - Amazon. How do I register for PayPal shipping with UPS? Follow these steps to register: Click Activity at the top of the page and click your transaction. UPS shipping. " Fill out the form Select service type, package size, and other shipping …. Live price estimate that automatically updates as you ship (including estimated duties and taxes for international shipments) Ship to multiple people at once with improved distribution list and batch import capabilities. com and select the product you like to add to the shopping cart. Save: Businesses earn USPS® Loyalty Program credits for online shipping. September 2, 2020. Another thing is, after I opened UPS account via Paypal shipping the first time, it automatically set the funding source to Paypal balance and there is no link to change it. On eBay, sellers have a choice in how they ship packages, though they must select an option with tracking if they want to avoid potential seller performance issues. ∗UPS rates and transit times available through Amazon Marketplace seller accounts are for U. Re: UPS shipping. Sometimes the items are dimensionally just under the threshold for the next.

Sours: http://thaimassage-zellingen.de/paypal-ups-shipping.html
343
344
345
346
347