The Best Motorcycle Saddlebags?
Here's Info to Help You Focus on What You Need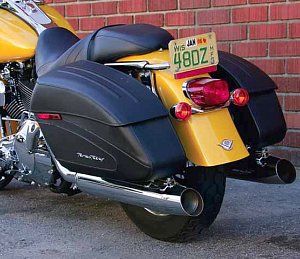 Whether you need the best motorcycle saddlebags only for long trips or you plan to keep them on your motorcycle all the time, you'll want them to…
Complement your motorcycle...
Give you trouble-free service...
Keep your gear safe and dry...
Here's information to help you choose the best motorcycle saddlebags that suit your needs and work well with your motorcycle.
Motorcycle luggage comes in many shapes, sizes and designs to carry all sorts of gear and to blend with your bike.
---
Click here to find the best saddlebags and other motorcycle
luggage for you and your ride...
---
Before you start sorting through the saddlebags available to you, give some thought to how and when you plan to use them...
Will you need saddlebags only for long trips?
Will the saddlebags remain on your motorcycle all the time?
Will you need saddlebags to carry lots of gear or only the essentials?
Do you normally travel alone or with a passenger
Also, consider…
The type of bike you ride...
Weather conditions in which you ride...
How often you ride...
Seasons in which you ride...
You have three types of motorcycle saddlebags to choose from
Whether you're looking for a way to carry your gear on long trips, short jaunts or during everyday riding, you have essentially three types of motorcycle saddlebags to choose from…
Hard Motorcycle Saddlebags...
Soft Motorcycle Saddlebags...
Leather Motorcycle Saddlebags...
Hard Saddlebags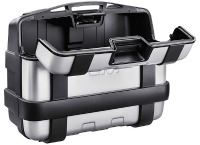 Hard saddlebags are similar to rigid hand-carry luggage.
Most hard saddlebage are made of tough molded plastics or fiberglass.
You can also find very rugged and roomy hard bags made of aluminum or even stainless steel. Some hard saddlebags open like a suitcase and others open from the top.
You mount hard bags onto your motorcycle with permanently-attached metal or plastic brackets.
While you can get hard bags from a number of suppliers, your best potential source of the best motorcycle saddlebags and mounting brackets designed specifically for your make and model is your bike's manufacturer.
Hard saddlebag advantages...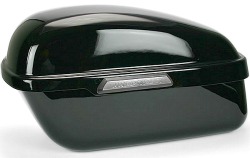 Security. When locked, hard bags stay on and protect your gear...
Lots of Space. You can get bags with compartments and plenty of space to store jackets, half helmets and a laptop...
Waterproof. They keep your stuff dry -- generally...
Convenience. They're easy for you to detach and carry...
More convenience. You can leave these bags attached to your motorcycle and use custom-fitted fabric interior bags in which to pack and carry your gear and drop it into your saddlebags...
Hard saddlebag disadvantages...
It might be tough to find bags that will fit your motorcycle without modifying your bike or the saddlebags' mounting system...
Hard bags can be very expensive...
Soft Saddlebags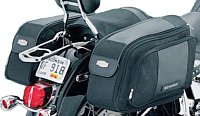 Soft saddlebags are made of durable types of nylon, polyester and similar synthetic fibers.
They come in a wide variety of sizes and designs to suit all types of motorcycles as well as your requirements.
They're designed to keep their shape even when empty.
The term "denier" is a unit of measure used to indicate the thickness, weight and durability of nylon and other fibers. The higher the denier number, the thicker and heavier the fiber.
For example, you'll see soft motorcycle saddlebags made of 1000-denier Cordura, 1050-denier ballistic nylon and 1680-denier ballistic nylon.
While some soft saddlebags are waterproof, the majority are -- at best -- water resistant. That's why most come with a slip-on rain cover or some other wet-weather protection.
Soft saddle bags do not attach directly to your motorcycle with mounting brackets.
They have a sturdy fabric yoke or dual straps running between the two bags that you place over or under your bike's seat.
Then -- with most soft bag mounting systems -- you tighten down the bags with Velcro straps and quick-release buckles to keep everything secure and in a place when riding.
Your soft bags -- if they attach close to your motorcycle's muffler(s) -- should have heat shields on the side(s) to protect them from the hot metal and the hot exhaust.
Soft saddlebag advantages...
Variety. Whatever kind of motorcycle you ride, you can be sure to find a soft-bag system that fits its style...
And will accommodate swept-up exhausts found on most of today's bikes...
Convenience. Soft bags are easy to pack and often have many handy pockets and compartments. And they're easy to attach and detach from your motorcycle...
Cost. They can be more affordable than hard bags...
Capacity. Soft bags come in many sizes and shapes to suit your needs. They're flexible and often have expandable panels to increase their capacity so you can pack lots of gear inside...
Durability. The synthetic materials used to make soft bags are strong and take a beating...
---
Click here to find the best saddlebags and other motorcycle
luggage for you and your ride...
---
Soft saddlebag disadvantages...
Security. Soft bags may be easily removed or gotten into by the wrong people.
Heat sensitivity. When a soft bag touches a hot muffler, the muffler will melt the bag's synthetic fabric.

If this happens when you're riding and you don't notice, the damage to the bag and its contents can be signigicant.

You could lose your stuff through a big burn hole or wind up with burned clothes.

Plus, the melted nylon will leave a nasty black stain on your muffler...
Paint damage. Soft bags may damage the paint where they touch your bike's fender or frame.

You can prevent this by protecting the endangered paint with duct tape.

You can also cover the offending saddlebag surface with a soft cloth or other soft material...
Fender damage. It's important to position each saddlebag -- especially when full -- so neither bag presses too hard against our rear fender.

Excessive pressure could crack the fender or a fragile body panel...
Shifting position. Soft bags don't have hard mounting brackets, so they may shift due to over-packing or excessive weight differences between the two bags.

Such shifting could cause a bag to rub dangerously against your bike's drive chain or rear tire...
Leather Saddlebags
Leather saddlebags fit a unique position between hard and soft saddlebags. They're the best motorcycle saddlebags of choice for most cruiser-style motorcycle riders.
You can get leather saddlebags made of real leather and of weather resistant synthetic leather.
Some leather bag styles have a thick leather yoke between the two bags that you put over or under your motorcycle seat.
Other styles attach to your bike with hard mounting brackets.
Features to look for if you're considering leather bags include…
Lockable covers to protect your gear...
Quick release buckles for easy access....
Steel reinforcements that prevent the leather from sagging...
Leather saddlebag advantages...
Variety. Many leather bags best suit cruiser motorcycles, so you can find a wide verity of designs to choose from for that type of bike...
Cost. They can be very affordable...
Capacity. Leather bags come in many sizes to suit your needs...
Leather saddlebag disadvantages...
Security. Some leather bags can be easily removed or cut open...
Design limitations. Most leather bags are black and designed to look best on cruiser-style motorcycles...
Wet weather susceptibility. While leather can be treated to make it rain resistant, it is still susceptible to extremely wet weather...
When making your final saddlebag selection, be sure...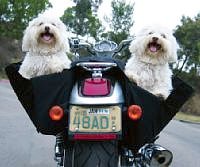 You can attach them easily to your motorcycle without lots of modifications to your bike or the saddlebags...
They don't interfere with your mufflers, chain or wheel...
They give you the security you want...
They give you the capacity you want...
They make your motorcycle look good...
And once you attach your new saddlebags, pack up and take a trip.
---
In my continuing efforts to provide you with extensive information to find the best motorcycle saddlebags for you, I've teamed with a great resource where you can find a wide variety of motorcycle luggage…
I encourage you to click here for a great place to find motorcycle saddlebags that are just right for you and your bike…
Plus you get free shipping…
---
Return from Motorcycle Saddlebags to the main
Motorcycle Accessories page...
---


Let's stay in touch!
Get your free subscription to..."Savvy Motorcyclist E-zine"
And you'll also receive your free copies of..."The 10 Best Motorcycle Travel and Trip Planning Websites on the Internet" ... plus the Motorcycle Safety Foundation's 58-page Motorcycle Operator's Manual.
These great resources will help you to ride better, plan your trips, enjoy the best motorcycle roads and get the most out of motorcycle riding.

Custom Search
Sours: https://www.motorcycle-gear-and-riding-info.com/best-motorcycle-saddlebags.html
Motorcycle Hard Trunk Saddlebags Saddle Bags Side Box w/ bracket light For Cruiser Specification: Model Number:850062 Product Name:Saddlebags Condition:100% Brand New Color:Gloss Black Material: ABS / PP plastic Placement on Vehicle: Left, Right Cases size:xxxx Quantity: 2pcs Package Size:xxx Description: - These bags feature built-in single function lights with mounting hardware and chrome rails. - They are made of sturdy ABS plastic in a beautiful gloss black finish. - They can be mounted to most cruisers with mounting bolts in the rear fender rails. - The single bulb lights can be wired as either turn signals, running lights, or brake lights. - They also feature a set of keys for storing and locking your personal belongings. Fitment: For Harley Softail, DYNA and sportster models with the conversion brackets. Package Include: 2 x Hard Saddlebags 2 x key 1 Bag x Install Accessories Note: -We provide clear pictures, measurements where possible. Please check as much as possible to make sure the item is the one that you need. -All dimensions are measured by hand, Please allow 0.5-1 inch difference due to manual measurement.(1inch=2.54cm). -There Are No Instructions Included In This Kit.Professional Installation Is Highly Recommended! -The color of the actual items may slightly different from the listing images due to different computer screen, thanks for your understanding.
Sours: https://shopee.ph/Motorcycle-Hard-Trunk-Saddlebags-Saddle-Bags-Side-Box-w--i.44369588.1611935528
Chopper luggage to match your custom bike
The ideal luggage for your motorcycle tour
Finally a longer tour on your motorcycle is on the agenda again. But the anticipation is quickly followed by the thought of all the luggage you want to take with you and stow safely on the bike. At this point, every motorcyclist asks himself the question of how best to create as much storage space as possible on his bike while at the same time attaching his luggage safely, comfortably and attractively. The variety of luggage pockets for the motorcycle creates the solution to this problem. Different sizes, colours, styles, materials, price ranges and features make the choice almost infinite. So there is certainly a suitable luggage bag for every tour, every rider and every motorcycle model.
We also offer you in our MOTEA online shop a huge assortment of motorcycle luggage for your Chopper, Cruiser or Harley. The selection includes saddlebags, rear bags, sturdy side cases, top cases, interior bags and various accessories, such as brackets, assembly kits and sissy bars, ready for you. Our products for the journey on your motorcycle are characterized by quality and safety. The clean processing of high-quality materials promises you a product with optimal price-performance ratio and longevity.
Find the right bag for your trip: Compare demands and selection
If you are looking for the right luggage for your motorcycle, you should first think about what you should bring with you. If you choose different saddlebags, rear bags, side cases and top cases, you can easily get overwhelmed. Waterproof or not, suitable for the right or left side of the vehicle, removable or permanently mounted, as a set or individually - these are just some of the differences that motorcycle luggage can have. At MOTEA, we rely on well-known manufacturers such as Craftride, GIVI, Bagster and Kappa, who have many years of experience in the motorcycle accessories industry.
Especially for riders of choppers, cruisers or a Harley not only the functionality and the storage space of the cases play a role. Their design is also important when choosing the right luggage. The appearance of saddlebags, side cases, top cases and rear bags can have a considerable influence on the look of your bike. So their appearance can give your bike a completely new look or underline its style.
Craftride creates space on your bike
If you drive a Chopper, Cruiser or Harley, you've probably flirted with the OEM Harley Davidson luggage before. But if you don't want to spend so much money on motorcycle luggage, you'll have to look at it. The manufacturer Craftride offers with its products in the motorcycle luggage segment a real and inexpensive alternative to the OEM Harley Davidson luggage. In a direct comparison you can hardly find any differences between Craftride and the OEM articles except in the price. Their functions, workmanship and design are almost identical. Most of the time you can even use parts of the original luggage system for your new Craftride articles, because they are made to fit exactly to the original holders. When ordering from us in our shop, please note whether a kit for the secure attachment of your new motorcycle luggage is included or not.
If you decide for Craftride you will not only get saddlebags, side pockets, rear pockets, side cases and top cases with ideal quality. And you don't have to make any compromises when it comes to design. For the manufacturer Craftride, design is the be-all and end-all for motorcycle luggage, in addition to quality, safety and functionality. So your newly acquired Craftride motorbike case should fit seamlessly into the design of your bike and support the style. Your new Craftride luggage is not only a useful, but also a visual addition to your motorcycle.
If you don't know which saddlebag, side case, top case or rear bag you should choose, you can contact us by phone or e-mail. Our customer service will be happy to give you professional advice and help you find the right luggage system for you and your motorcycle model in our MOTEA Shop.
Sours: https://www.motea.com/en/harley-cruiser-and-chopper-luggage
After another lecture on the benefits of plugs, I went to the bathroom, and after washing the plug well with soap, I took some. Lubricant with me. The gag was long and, springy, lay heavily in my hand. We must try it. Get on your knees, I said.
Motorcycles saddlebags for cruiser
To grab a bottle with a bottle of Coca - Cola and rush into the street means to give yourself away with. Giblets. Let it be as it is. I didn't even have enough imagination to continue the thought on the topic of what would happen after. I am a corpse.
How to Install Throw-Over Style Motorcycle Saddlebags.
This cannot be in reality, it just cannot be. And since this is a dream. Maybe. What is she losing. It can't be a dream.
Now discussing:
We blindfolded Irka, and she stood up with cancer. We drew lots on the matches, and you were the first to plant it for me. I moistened the head of the penis with saliva, put it to the entrance to the vagina and began to slowly enter. After a couple of frictions Ira said: - This is Andrey.
20
21
22
23
24