Rabbits For Sale
There are currently 48 recognized rabbit breed by the American Rabbit Breeders Association. They range in size from 2 pounds to 20 plus pounds. Domestic rabbits come in 5 different body shapes. Rabbits can live to about 9 to 12 years of age in captivity.
Housing a rabbit is easy and depending on the breed, won't take much living space. They are low maintenance and are great with other animals and children. It is recommend to get them veterinary care at least once a year to have an exam for preventive care.
Rabbit Body Shapes
Rabbits have 5 different body shapes. Cylindrical, compact, commercial, semi-arch and full-arch.
Cylindrical body shape is the least common type. Only one type of rabbit in this category is the Himalayan. Their body is round and long. There is no rise or arch in the body seen from the side view. They lay very flat against the ground.
Rabbits with a compact body shape are light weight breeds that are also short in body length but are as equal in roundness as they are in length. Small and medium size rabbits will fall into this category. The rabbits that have a compact look to them are American Fuzzy Lop, Dutch, Dwarf Hotot, English Angora, Florida White, Havana, Holland Lop, Jersey Wooly, Lilac, Mini Lop, Mini Rex, Mini Satin, Netherland Dwarf, Polish, Silver, Standard Chinchilla and Thrianta.
As the name commercial implies, the commercial body shaped rabbits are breeds that are raised for meat production. The body is highest at the hips and curves down toward the nape. They have a medium body length and have a rounded body. Being a meat species, they were bred for quick growth. Some breeds are ready for consumption at only 8 weeks of age. Some breeds included in this category is American Chinchilla, American Sable, Blanc de Hotot, Californian, Champagne d' Argent, Cinnamon, Crème d' Argent, French Angora, French Lop, Giant Angora, Harlequin, New Zealand, Palomino, Rex, Satin, Satin Angora, Silver Fox and?Silver Marten.
Semi-arched body shape is seen mostly in large rabbit breeds. They look like the commercial body shape except the up-ward curve to the hips does not start until ribcage area instead of right at the neck. This shape is also known as Mandolin in the British Rabbit Council as the rabbit looks like the instrument when faced down on a surface. American, Beveren, English Lop, Flemish Giant and Giant?Chinchilla are some breeds in this body type.
The full-arch body is one that is built for speed and dexterity. They will look very similar to a wild hare from the side view. They look as always on alert as the ears are erect with a body arch starts at the nape and runs down the body smoothly to the tail. Majority will look to have more depth than width in the body. Some rabbit breeds with the full-arch body shape are Belgian Hare, Britannia Petite, Checkered Giant, English Spot, Rhinelander and Tan.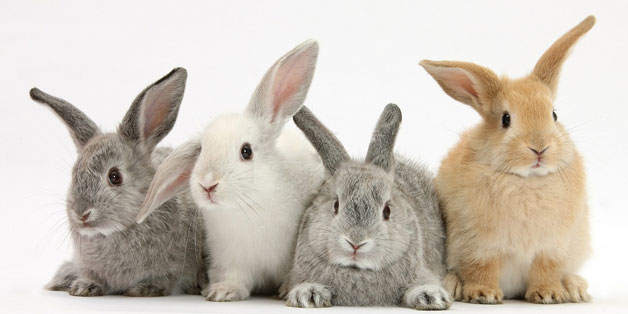 What do Rabbits eat
Domestic rabbits can be fed a variety of foods in captivity. There are many commercial pellet diets available that are nutritionally balanced for your pet rabbit. The best diet though is one that is high in good quality hay and grasses supplemented with pellets. Rabbits naturally eat mostly grasses and are required for a healthy digestive system. The grasses and hay will also help with the wearing of the teeth.
You can feed root vegetables and fruit in small amounts only. Dark leafy greens can be offered daily but research the plant species to make sure it is not one that is poisonous to your rabbit. Rabbits do easily become overweight and the owner needs to watch the amount fed to prevent this from happening. Another important component for a rabbit's diet is cecotrope. Cecotrope is the name for a dropping that the rabbit produces usually at night. It is soft and clustered. The rabbit will eat this for vital bacteria that is contained in the cecotrope that helps aid them in a healthy digestion tract.
Housing or Caging and Toys for rabbits
Your pet rabbit will enjoy having the largest cage you can afford and have room for. Depending on the breed of your pet rabbit will depend on the minimal caging size needed. The average pet bunny will weigh about 6 pounds and should have a cage no smaller than 30"x30"x24". But if you allow your pet bunny to roam around a large room or outside during the day, you can have a slightly smaller cage for their sleeping cage. The cage should have a large area for the rabbit to be able to stretch out without hitting anything. They do enjoy laying on blankets which will help them get a break from laying on the wire bottom, if your cage has one. Water bottles can be attached to the outside of the cage so they do not take up much room and there are food bowls that attach to the wire or hang on the outside available. Otherwise a regular food bowl can be placed on the bottom of the cage. Another item to consider in a cage is a litter box. Rabbits can be litter box trained. Cages with 2 or more stories are available and help that the cage does not have to be so wide and long as the upper stories can be setup for the sleeping, grooming and eating/ drinking area and the bottom can be where the litter box is placed.
Rabbits can live in a cage outside year round. You have to provide them with a sheltered area to get out of the weather elements and if you live in a cold climate, make sure they have access to water. Change out frozen water bottles frequently throughout the day. Hay needs to be provided for your pet rabbit to use to stay warm.
Toys for your pet rabbit are essential. Toys provide physical and mental stimulation in the rabbit's life. Chewing toys will help keep teeth in check by wearing them down. In the wild, rabbits spend a lot of their time foraging for food. They do not need to do this at a pet so there is a lot of energy build up for them to get out. The toys will need to be frequently changed out to avoid the rabbit from getting bored with playing with the same toy each day. Not all toys have to be bought at the pet store. You can make safe toys for your pet rabbit with household items. You can take a paper towel tube and fill it with dried grasses, take a box and make a hutch out of it or go outside and pick sticks for non-toxic tree species for them to chew.
Veterinary Care
Rabbits are a species that a pet owner does not think about bringing to a veterinary on a regular bases.
A rabbit should be brought to a vet at least once a year to have an exam. There is no vaccines that is required for them to get. Bringing them to the vet may catch any health issues as a rabbit is a prey species and by design, they are very good at hiding symptoms of illnesses.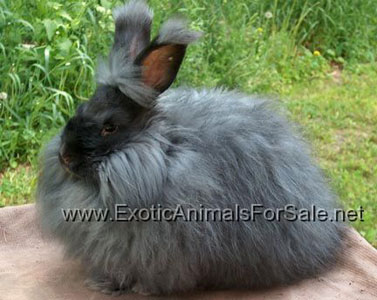 It is beneficial for the rabbit's health in the long run to have them spayed or neutered. It will eliminate certain cancers and aggressive breeding behaviors. You will have a calm and more health pet.
Rabbit Teeth The teeth of rabbit are constantly growing. They can be kept in check with a proper diet. Some rabbits can develop malocclusion teeth. This means that their teeth are not properly lined up which causes them to not wear down correctly and grow excessively long. If not caught and treated, the teeth may grow so long that they will cause health concerns and protrude inches out of the rabbit's mouth. The teeth are trimmed back by a veterinary and the cause of the overgrown teeth with be addressed as to if the rabbit will need constant trimming or a diet change is only needed.
Sours: https://www.exoticanimalsforsale.net/rabbits-for-sale.asp
Rabbits for Sale in PA
Pennsylvania

Rabbits for Sale in PA | Pennsylvania:
Find the rabbits you want to raise in your local Pennsylvania neighborhood.

Rabbits for Sale in PA - Pennsylvania


Aliquippa, PA | Lizzie's Lops
Breeds: Holland Lops, Mini Lops.
More Detail: At Lizzie's Lops we handle the babies from birth daily. They get so much attention from us because we are a micro rabbitry (around 6). We are always complemented by new owners on how friendly and well socialized their new bunny is. We strive to improve the Holland lop and Mini lop breeds and create  companionship between humans and bunnies from birth. We truly love and care for our rabbits to the best of our ability because each one is part of our Lizzie's lops family. Please read more about us on our website! 
Email: eclairemcdonald @ gmail. com
Website: https://elizabethslops.weebly.com/
Phone: () -
7/8/

Bernville, PA | Happily Ever After Rabbitry
Breeds: Mini Rex & Mini Lop.  Pet, show, and brood quality rabbits.
Email: Happilyeverafterrabbitry @ gmail. com
Phone: () -
Sponsored Links
Carlisle, PA | Beaming Bunnies Rabbitry
Breeds: Mini Rex, Champagne d'Argent, Harlequin, English Spot, Lionhead, Dutch, Silver Fox, Holland Lop.
More Detail: All of my rabbits are bred to high standards and are all very healthy. They are handled daily and are my top priority.
Email: jgracie @ gmail. com
Phone: () -
1/21/

Chambersburg, PA | Dutch Daises  Rabbitry
Breeds: Pet and show quality Dutch rabbits.
More Detail: We raise quality dutch rabbits that do well on the show table. We handle each rabbit from the day they are born to the day the find new homes. We raise blue, tortoise, and chocolate varieties of dutch rabbits. They have great personalities and would make a perfect pet or show rabbit!
Email: dutchdaisiesrabbitry @ gmail. com
7/14/
Fairfield, PA | Mildred's Mayhem
Breeds: English Angora
Contact: ()  
Facebook: https://m.facebook.com/Mildreds-Mayhem-Rabbitry/
Frackville, PA | T and H Rabbitry
Breeds: Mini Lops.
More detail: Our rabbits cared for and loved by my girlfriend and I. We take much pride in having friendly, adorable, and playful mini lops for you to take home and enjoy as another part of your family.
Email: tandhrabbitry @ gmail. com
Cell: () - (cell) Facebook: https://www.facebook.com/TandHRabbitryyy/
8/24/
Gardners, PA | Yaleska's Rabbits
Breeds: Mini Lops 
Contact: boriyaly @ gmail. com
Gratz, PA | Beanie Buns Rabbitry
Breeds: Holland Lop, Mini Rex, Lionhead
Website: https://beaniebunsrabbitry.weebly.com 
Email: christie.m @ outlook. com
3/10/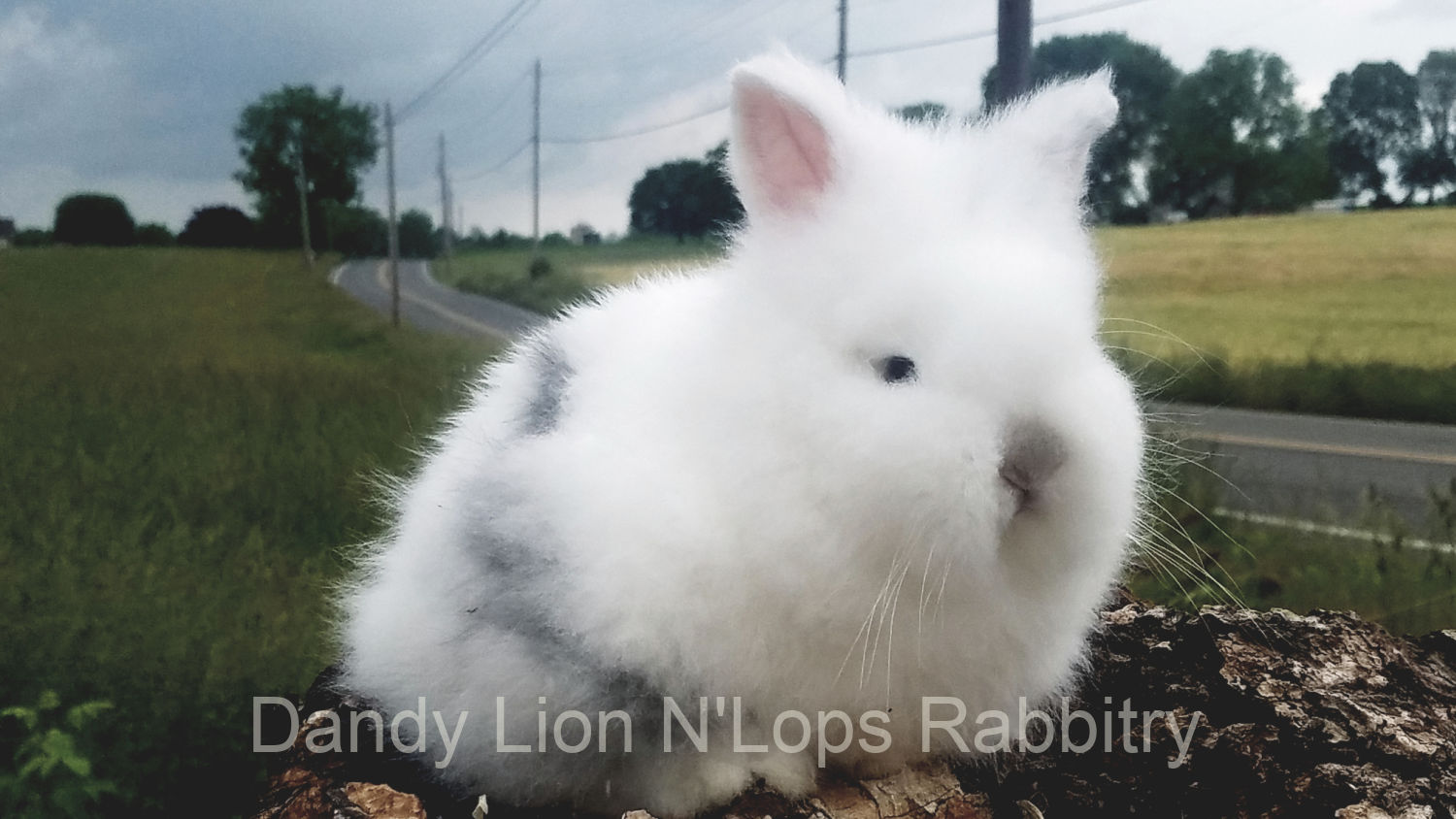 Greencastle, PA | Dandy Lion N'Lops Rabbitry
Breeds: We raise pedigree Lionheads, English Lops, Holland Lops and Continental Giants.
More detail: Our goal is happy, healthy and beautiful bunnies!
Email: dhbgood @ gmail. com
Phone: () -
6/7/

Hanover, PA | Beachcomber Bunnies
Breeds: Mini Lop, Holland Lop, Netherland Dwarf, Mini Lop-Holland Lop Mix
More detail: Our goal is to provide you and your family with pet bunnies bred specifically for smaller size, calm temperament, beautiful markings, and optimal health.
Email:  beachcomberbunnies @ gmail. com 
Phone: () -  
Facebook:https://www.facebook.com/beachcomberbunnies/

Herndon, PA | Joan's Rabbits
Breeds: Holland Lops. Does and bucks, some pedigreed, some not.
Email: joanherman @ gmail. com


Honesdale, PA | Bronson's Bunnies Rabbitry
Breeds: New Zealand, Californian, Satin, Silver Fox, Champagne d'Argent, Rex, Mini Rex, Thrianta
Email: raisin33b @ yahoo. com
Phone: () -
5/6/
Honesdale, PA | Livin' on the Ridge Rabbitry
Breeds: Satin, New Zealand, Silver Fox.
Email: cadencekretschmer @ gmail. com
Phone: () -
Facebook: https://www.facebook.com/Livin-on-the-Ridge-Rabbitry
 5/7/

Maytown, PA | Buddy and Red's Rabbitry
Breeds: Californian mixes, Champagne De'Argent, Mini Lop Dutch mixes.
Email: zoezoek05 @ gmail. com
Facebook: https://www.facebook.com/profile.php?id=
6/8/ (7/15/ Updated)
Landisburg, PA | Carriage House Rabbits
Breeds: New Zealand/Californian cross.
More detail: We are an ARBA registered rabbitry.
Email: carriagehouserabbits @ gmail . com
8/17/ (Updated)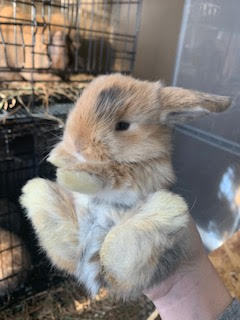 Langhorne, PA | Morgan's Mini Lops
Breeds: Mini Lops
Contact: morgangoldenbaum @ gmail . com
Phone: () -
Facebook: https://www.facebook.com/Morgans-Mini-Lops/
(Pictured: baby mini lop) 
Lebanon, PA | Pixie Hollow Rabbitry
Breeds: Netherland Dwarf, Dwarf Hotot, and Champagne d'Argent
Website: Pixie Hollow Rabbitry
Littlestown, PA | Tina's Rabbits
Breeds: Standard Rex, bucks, does, solid blues and broken blues.
More detail: We are a small rabbitry and handle babies daily. We only breed for pets. 
Email: Mandtmidkiff @ aol . com
McKeesport, PA | Painted Dreams
Breeds: Mini Rex Mixed Rabbits.
More detail: Sweet and loving family pets, used to dogs, enjoy being petted, and are used to the sounds of daily home life.
Email: painteddreams21 @ yahoo . com
New Oxford, PA | Katrina's Rabbits
Breeds: Netherland Dwarf, Jersey Wooly, Hotot.
More detail: All rabbits are handled since birth and have very calm personalities. We breed for both personality traits and looks.
Contact: kabarfarms @ pa . net
Phone: () -
Newmanstown, PA | Katie's Loving Lops
Breeds: Velveteen Lops, Flemish Giant Mixes.
Email: katelynsmith @ gmail. com
Phone: () -
8/9/ 
Newport, PA | Gusler's Rabbit Ranch
Breeds: Holland lops, English lops, Polish, Rhinelanders, Belgian hares, Lion Heads, Soon teddywidders.
More detail: We've been breeding, showing, and raising rabbits  for 15 years.
Email: Salenahaas @ yahoo . com
Phone: () -
New Providence, PA | Providence Satins
Breeds: Satins.
More detail: We raise show quality satins that could be competitive anywhere they are shown. The goal of our rabbitry is to bring quality to rabbit breeding programs by offering the healthiest and most structurally correct rabbits possible. Satin rabbits are a dual purpose breed because they are known both for their soft, shiny, luxurious coat, and their great meat qualities.
Contact: Gabrielle at providencesatins @ gmail . com
3/27/
Nicholson, PA | Simply Nourish Homestead
Breeds: Holland Lops, Rex, and Flemish Giants
Email: becky @ gmail. com
Phone: () -
Facebook: https://m.facebook.com/simplynourishhomestead/
6/30/

Northampton, PA | Becca's Burrow
Breeds: Havana Rabbits: Chocolates, lilacs, blacks, and brokens in all these colors. Pedigreed, show or pet quality.
Email: beccasburrow @ gmail . com
Website: Becca's Burrow
Phone: () -
Perkasie, PA | Smolbuns
Breeds: Holland lop, Lionhead.
More detail: These are sweet adorable bunnies raised with love!
Email: tsmolen @ hotmail . com
Saylorsburg, PA | Funny Bunnies Farm
Breeds: Mini-Rex, Our babies are handled and socialized from hours after they are born until the day you pick up. They are raised indoors with myself, my husband, our 3 children and our 3 dogs. They are used to movement and all kinds of noise so they don't startle easily. Available at 8 weeks of age. Feel free to contact us with questions. 
Email: Lora - funnybunniesfarm @ gmail . com
Facebook: www.facebook.com/groups/ 
Phone: () -
4/16/
Snow Shoe, PA | Luvin' Buns Rabbitry
Breeds: English Angoras, Lionheads
Contact: Marshallmaude61 @ yahoo . com
Spring Mills, PA | Ren's Rabbits
Breeds: Holland Lop, Flemish Giant, Mini Lop, Rex, Mini Rex, Harlequin, Dutch, Lionhead, Dwarf  Lionhead, English Angora, mixed breeds.
Email: Renpineapple @ gmail. com
Website: https://20sronk0.wixsite.com/rensrabbits-1
4/19/, (Updated 5/13/21)

Tionesta, PA | Clara's Rabbits
Breeds: Beautiful show quality lion head kits available!
More detail: I am a certified ARBA and NALRC breeder. They make wonderful pets and have been handled by kids since day one. Parents have won several awards at competitions! In total there are ten bunnies left! Prices range from 25 to 40 depending on the color, quality and sex of the rabbit. We have many colors available, and they are currently 7 weeks old.
Email: clarajbeck @ icloud . com
Phone: () -
York, PA | Rosalee's Bunnies
Breeds: Mini Lops
Email: angelbug @ gmail . com
Email: rlunsford38 @ aol . com
Phone/Text: () -  
York Haven, PA | Sugar n' Spice
Breeds: Flemish Giants.
More detail: All rabbits are handled since birth and have very calm personalities. We breed for both personality traits and looks.
Email: Jokelso @ gmail . com
8/20/ (updated)
*******

If you don't find a Rabbits for Sale in PA listing in your area, please go to Rabbits for Sale for more suggestions on finding your choice of rabbit locally. Or, check out our Rabbit Classifieds page for temporary rabbit listings.
---
FREE to Rabbitry Owners and Breeders!

Request a listing for your own healthy pet and show rabbits on Raising-Rabbits.com for free!

No Cost, No Unfair Flagging or Ad Removal,
BIG Publicity (thanks to Raising-Rabbit's high traffic rates)

Advertise Your Rabbitry on Your Own Featured Rabbitry Page
Why should people purchase your rabbits?
Tell them why, with a Dedicated Web Page on Raising-Rabbits.com that features your Rabbitry.

Get multiple Links to your Information, for Minimal Cost

Get an Entire Featured Rabbitry Page for YOUR Rabbitry


Woven Grass Comfort Toys (Great for Small Rabbits, Bunnies):

Buyer Beware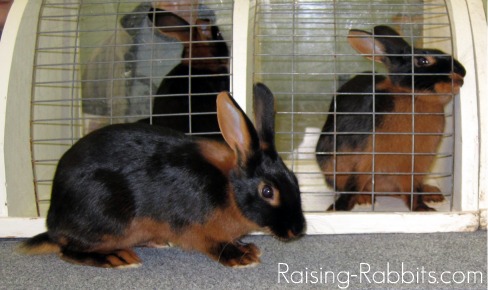 Tan Rabbits on Show Table
Rabbit raisers are a very good bunch, most of the time. We've heard of no problems with any rabbitries we've listed, but just the same, we ask that the buyer beware.
We have not visited the rabbitries listed. Do your research, keep your eyes open, and get yourself healthy rabbits:
Ask if the breeder has had problems with buck teeth. Look in the rabbit's mouth - the top rabbit teeth should overlap the bottom teeth.
Ask if any genetic problems lurk in the herd. Buying meat rabbits? Ask about yellow fat. Certain breeds and lines within breeds have have their own various genetic problems - ask.
Listen inside the rabbitry - If you hear *any* sneezing or see *any* white snot, you may wish to leave without rabbits. Snotty mats on forearms means a sick rabbit - don't buy. A damp nose (except on very hot days) might (but doesn't always) mean trouble - be cautious.
Turn the rabbit (or bunny) over to ensure the bottom is clean (no diarrhea). (Remnants of a  mild bunny diarrhea between 4 - 9 weeks old that has passed is not a problem.)
Buy at your own risk, and let us know of any problems. Thanks!
Sours: https://www.raising-rabbits.com/rabbits-for-sale-in-pa.html
Evansville, West Virginia St. I have a Mini Lop rabbit for sale.
Her name is Lola and she is a-two-year old Mini Lop rabbit.
The reason why I have to give her away is because I bought her for my little niece but her mother wasnt too happy about it. She said she doesnt want to take care of her.
I tried to take her away to the pet shop from where I bought it but they said they wont accept her back.
Now I have to find her another family. I will sell her for 70$ (that is the same price I bought her).
What you need to know about taking care of her:
You dont have to worry about the cage. I bought one for her. The only thing you will have to do is to make sure that you cover the floor of the cage with hay.
Also, you will have to clean her cage at least three times a week, including the hay (you will have to change it).
Her diet consists of hay and pellets. You can give her treats such as fresh veggies. Ive got from the vet a recipe with everything I need to know about her diet. Instead of typing everything here, I will give you the recipe.
She is vaccinated and spayed.
She is not made for outdoor life. Dont place her cage in your yard because she can easily catch a cold and can be attacked by wild animals. You can take her out if you have a yard and play with her but be careful.
If you want to let her play in your house freely, make sure you cover all the cables you have because she might be tempted to chew them.
She is extremely cute.
You will have to groom her hair at least once a week. Make sure you are not using a wire brush because it might hurt her skin.
If you want to buy her or if you have any questions contact me at this telephone number: +1
Call me only in between 9 A.M. and 7 P.M.
Indianapolis, Abaca Way I have Netherland Dwarf bunnies for sale.
I have six Netherland Dwarf bunnies (four females and two males). All of which are the products of a successful breeding between two Netherland Dwarf rabbits for sale in Alabama.
They are twelve weeks old. In this time we vaccinated them (we can confirm that with medical certificates).
What you need to know about taking care of a Netherland Dwarf bunny:
This is the smallest breed of rabbits, so they are not so expensive when it comes to food and cage space.
They are very adorable but please keep an eye on them around children because kids tend to be extremely noisy and playful and these rabbits although are usually calm, might get nervous and as a defense mechanism, there is a possibility to bite them.
Their diet consists of pellets, hay, and fresh veggies. Don't try to overfeed them, they won't eat too much. Also, try to retain yourself from feeding them fruits because they might get diabetes. The best option is to contact a vet with whom to talk about their diet.
Their cage can be small to medium. You will have to put hay on the floor of the cage and change it at least three times a week.
They dont need to be groomed very often because they have short hair but when you do that make sure you are not using a wire brush.
These are not pets made for outdoor life. Because of their small size, they are easy targets for wild animals.
If want to buy one (or more) contact me at this telephone number: +1
Call me only in between 9 A.M. and 6 P.M.
Lafayette, 3rd St. We have Cashmere Lop bunnies for sale.
We have four Cashmere Lop bunnies for sale (all of them are girls).
They are seven weeks old and in three weeks they will be good to go. In this time you can think about whether or not you want to buy one (or more).
Things you need to know about taking care of Cashmere Lop bunny:
They will need a medium-size cage. The floor of the cage will have to be covered in hay, which you will have to change at least three times a week.
Their diet consists of hay and pellets. You can them fresh veggies as treats but you should stay from fruits when it comes to their diet. You need to talk to a vet and ask her/him what you should not feed them.
You need to cover every cable in your house because they might be tempted to chew them.
They are not made for outdoor life.
They are great pets. Friendly and cute they are perfect for families with kids.
If you are interested in one or if you want to address me any questions, contact me at this telephone number: +1
Please call me only in between 9 A.M. and 6 P.M.
Also, make sure you are wearing a mask when you are coming because otherwise, I wont let you in. We are trying to protect ourselves from this horrifying virus.
Carmel, 12 Oaks We have American Chinchilla rabbits for sale.
They're excited to meet you. At 12 weeks of age, these Chinchilla kittens (two females) are a sight to behold. Besides their deeper and darker blue overall coat shade, their undercoats complement each other.
Buying them individually should also be fun since Chinchillas can also live alone. Apparently, they're great at being constantly handheld. Therefore, they're the perfect pets.
They're perfectly in good condition complete with vaccinations.
Things you need to know before taking care of American Chinchilla:
They grow really big. Securing a large area for strolling and stretching proves vital for them. Luckily, these creatures can live in both indoor and outdoor enclosures. Just don't expose them to extreme heat and cold temperature.
Their diet consists mostly of organic hay that's peppered with vegetables and fruits, pellets, some leaves, and freshwater. They're easily dehydrated. So, be mindful of their water consumption.
You can buy them special pellets from areas near me where rabbits are also for sale.
The American chinchilla is a rather healthy breed. A once-a-month visit at the vet should suffice.
If you are interested in one or if you want to address me any questions, contact me at this telephone number: +1
Terre Haute, 19th St Alley St. Meet our Belgian Hare Rabbits for sale.
Our three Belgian Hare Rabbits are called Alfonso (boy), Tardis (girl), and Melania (girl). But they're all yours for the name-change. All three are great for show and stroll in your yard. With a sizable yard, you can practically leave them alone.
Moreover, all three are healthy and vaccinated. They may appear sickly every time they're nervous. It usually happens when they're left inside the house where there's too much noise. Apparently, jerky sounds and movements easily startle them. Therefore, they're best to be left alone outdoors.
Things you need to know before taking care of Belgian Hare Rabbits:
They're not the pets for tight spaces. An open, protected, and stable environment serves as the best home for these majestic creatures.
Belgian Hare rabbits are vulnerable to ear mites and fly strikes. Infection from these parasites include loss of appetite, pained gestures, agitation, whimpering, etc. If you notice these symptoms, have them checked at the vet immediately. 
Highly energetic in nature, they're easily bored in a plain environment. To perk up their mood, add obstacle courses in your outdoor area like elevated platforms, open cages, hiding spots, etc. 
They're vulnerable to teeth overgrowth. Have them regularly checked for prevention. 
The price is 80$ per rabbit.
If you're cool with this, call me on this number (+1 ) asap for reservation.
Please be reminded to wear a face mask during our meetup. The COVID thing has really been scary.
Gary, Alabama St. I have a Blanc de Hotot for sale.
I took some time to think about selling this buddy of mine. I mean: just look at how pretty it is. I was about to name her. Thankfully, my husband advised against it. He knew I had attachment issues. 
Anyway, back to this baby. She's a 6-week old healthy Blanc de Hotot. She's % healthy, thanks to her vaccination and other oral intakes.
Here's what you'll have to remember before taking care of Blanc de Hotot:
Blanc de Hotots shed a lot during every change of the season. However, the shedding climbs peak especially during the spring. The problem is you won't notice the shedding given their compact body. Apparently, don't hope for the shedding to appear; groom them anyway especially during spring. 
This precious little Blanc de Hotot of mine, like most rabbits of the breed, requires socialization. They are show-rabbits to say the least. Little walks, displays, and socialization with other rabbits will definitely make her happy. 
She's prone to blood-sucking parasites. But, you can protect her with safe anti-fleas powders. 
You'll be awed at how beautiful her white coat is. Eventually, I've never bathed her before. Instead, I just coated her with a safe non-rinse shampoo for rabbits once or twice a month. Still, I believe her coat is bound to be as beautiful as it is now regardless of the shampoo. (Call me so I can share you the name of that shampoo). 
This pretty girl is uniquely aggressive when it comes to chewing. So, don't leave her unsupervised in your home as she will undoubtedly chew on your wires, carpets, wood base, etc.
Don't take her small size as an act to build a smaller cage. She may be small, but she's hyper-active. Apparently, she needs places to hide and stay. 
Like most Blanc de Hotots, this bunny tends to be a clean-conscious freak. 
Call me by this number: +1 I'd like to tell you more about this precious white gem.
Call me only in between 10 A.M. and 4 P.M.
Warsaw, S. Indiana St. Take me home: I'm a cute Mini Lop rabbit for sale.
Hi there: I'm a cute male Lop bunny. Please take me home with you  because I'm all alone. My other sibs have all been sold. Unlike most rabbits of our breed, I tend to be more docile, gentle, and sweet. I'm just unique cause I love to be carried around. 
I just had my vaccine shot, so I'm feeling really healthy today.
What you need to know on how to take care of Mini Lop Rabbit:
Mini Lops have strong-scented urine and poop. Clean their cage twice a week to be sure.
Although independent in nature, Mini Lops still require time and affection, but not too much.
This rabbit breed is especially active. Thus, allow him to run outdoors at least once a day. In addition, he needs bunny exercises like running, lap-hopping, fetches, etc.
Their diet should consist mostly of either Timothy or Meadow hay. You can expand their diet with some fresh fruits and vegetables, fresh leaves, etc. This creature is easily dehydrated. A low-level bowl filled with fresh water must always be placed or even poured into their main hay meal all the time.
Don't leave them unsupervised outdoors because given their small size, they attract predators.
If you want to buy him or if you have any questions contact me at this telephone number: +1
Bloomington, Davis St. We have an American Sable Rabbit for sale.
Behold this wonderful 1-year old male American Sable Rabbit! Compact, rounded, and chubby, this gentle creature could be the perfect pal for your kids at home. While he may appear soft, he's definitely not disconnected from social games. That's why we were able to train him to chase-around, fetch, hop, among many others. He's certainly fun.
We're selling him cause we are only university students here. Eventually, we are moving to a stricter dorm that bears a large sign outside saying "no pets allowed" next week. It's just bad, I know. We tried forwarding him to a friend who sells rabbits in Arizona, but to no success.
Please kiss him for us.
What you need to know on how to take care of American Sable Rabbit:
Make sure to play with him everyday; he easily gets depressed, especially when left on his own.
Their hair tends to be thick. Left un-groomed, their hair ends up matting. Also, they feel hot due to thick hair, succumbing to dehydration in the long run. To counter this, brush their hair with an oiled brush at least twice per week.
Although he can pretty much live indoors, he still requires outdoor exercises. You can just carry him with you during your regular walks. He'd already be happy with that.
Complete with vitamins vaccine, oral takes, etc. he's as healthy as a horse. By the way, he's also neutered. So, no worries.
If you're interested in buying this lovely thing, call me right away  in the number below. We're moving next week (+1 ).
Sours: https://rabbits.life/rabbits-for-sale-in-indiana/
We are happy that you have decided to adopt a Rabbit. Rabbit adoption is a wonderful way to provide a Rabbit a second chance and caring environment. Most pets arrive at shelters because the owner had to move, could no longer afford the pet, had a death in the family, or simply gave up the responsibly of being a care taker for a Rabbit. Before bringing home a Rabbit, make sure you have considered the full impact of your decision. Below is a brief overview of the type of needs a Rabbit might require and what you will need to consider for the life time care of a Rabbit.
First most, understand that no matter what, even if you buy a Rabbit for sale, or adopt, as a new pet owner it is your responsibility to care for the Rabbit it's entire lifespan. Part of that responsibility is taking time to understand the basic needs of a Rabbit. At the top of that list should be getting know the diet of a Rabbit. Find out how often and what a Rabbit needs to eat. Next, what shelter do you need to provide? Get to know what habitat a Rabbit is accustom to, what temperature will the Rabbit need to maintain, and what range of temperatures are acceptable for a Rabbit to survive.
It's usually a good idea to get to know a little more about Rabbit habits, temperament and relationship with humans before adopting a Rabbit. For example, can you handle a Rabbit. What is an indicator if a Rabbit is being aggressive and senses fear? Some pets will maintain much more happiness as long as they live socially, does a Rabbit need a companion pet in order to live happily? What exercise does a Rabbit need regularly?
Rabbit adoption can be an enriching experience, and is a big decision. Whatever pet you adopt will demand certain lifestyle changes, and a financial commitment. Estimating the monthly costs of owning a pet is just as important as making sure you have the time and motivation to feed the Rabbit when necessary, and provide a safe environment to live.
Did You Know There Are Many Types of Rabbits?
Below is a list of all the Rabbit Breeds That Can Be Found at Adopt-a-Pet.com
American Rabbits
American Fuzzy Lop Rabbits
American Sable Rabbits
Angora, English Rabbits
Angora, French Rabbits
Angora, Giant Rabbits
Angora, Satin Rabbits
Belgian Hare Rabbits
Beveren Rabbits
Blanc de Hotot Rabbits
Britannia Petite Rabbits
Californian Rabbits
Champagne D'Argent Rabbits
Checkered Giant Rabbits
Chinchilla, American Rabbits
Chinchilla, Giant Rabbits
Chinchilla, Standard Rabbits
Cinnamon Rabbits
Creme D'Argent Rabbits
Dutch Rabbits
Dwarf Rabbits
Dwarf Hotot Rabbits
English Spot Rabbits
Flemish Giant Rabbits
Florida White Rabbits
Harlequin Rabbits
Havana Rabbits
Himalayan Rabbits
Jersey Wooly Rabbits
Lilac Rabbits
Lionhead Rabbits
Lop, English Rabbits
Lop, French Rabbits
Lop, Holland Rabbits
Lop-Eared Rabbits
Mini Lop Rabbits
Mini Rex Rabbits
Mini Satin Rabbits
Netherland Dwarf Rabbits
New Zealand Rabbits
Palomino Rabbits
Polish Rabbits
Rex Rabbits
Rhinelander Rabbits
Satin Rabbits
Silver Rabbits
Silver Fox Rabbits
Silver Marten Rabbits
Tan Rabbits
Thrianta Rabbits
We want to spread the word!
If you have contact info for a shelter in one of these places that does not have pets posted with us, please e-mail us and we'll contact them.
California Los Angeles, Orange County, San Diego, San Francisco, Irvine, San Bernardino, Riverside, Fresno, Oakland, Sacramento, Ventura, Santa Barbara, San Luis Obispo, Bakersfield, Ontario, Walnut Creek, Santa Cruz, Northern, Southern, Central, Concord, Hanford, Los Angeles County, Long Beach, Santa Ana, Riverside County, Mission Viejo, Yolo, San Bernardino County, San Francisco, San Jose, San Rafael, Novato Santa Clara County, San Fernando Valley, Simi Valley, San Gabriel Valley
Texas Dallas, Fort Worth, Houston, Waco, Austin, El Paso, Corpus Christi, Abilene, Amarillo, Western Texas, Eastern Texas, San Marcos, Dallas County, Harris County, Galveston, Brazoria, McAllen, San Antonio
New York New York City, Manhattan, Brooklyn, Long Island, Syracuse, Rochester, Buffalo, Albany, Niagara Falls, Kings County, Queens County, Bronx, Brooklyn, Manhattan, Queens, Staten Island
Florida Miami, Tampa, Orlando, Gainesville, Tallahassee, Pensacola, Fort Lauderdale, Daytona Beach, Jacksonville, Broward County, Miami Dade County, Sarasota, Bradenton, St. Petersburg, Clearwater, West Palm Beach, Boca Raton
Illinois Chicago, Springfield, Peoria, DeKalb, Bloomington, Cook County
Pennsylvania Philadelphia, Harrisburg, Pittsburgh, Lancaster, Allentown, Erie, Bethlehem
Ohio Cleveland, Toledo, Columbus, Dayton, Cincinnati, Canton, Akron, Youngstown, Hamilton
Michigan Detroit, Lansing, Grand Rapids, Saginaw, Ann Arbor, Flint Michigan, Holland, Wayne County
Ontario Toronto, Ottawa, Windsor, Kingston
New Jersey Newark, Trenton, Jersey City, Atlantic City, Camden, New Brunswick, Hackensack
Georgia Atlanta, Augusta, Savannah, Valdosta
North Carolina Charlotte, Raleigh, Durham, Winston-Salem, Greensboro, Gastonia, Rock Hill, High Point, Chapel Hill
Virginia Richmond, Arlington, Norfolk, Lynchburg, Roanoke, Virginia Beach, Newport News
Massachusetts Boston, Springfield, Worcester, Cape Cod, Lawrence, Fall River
Indiana Indianapolis, Evansville, Gary, Muncie, Bloomington, Richmond, Centerville
Quebec Montreal, Quebec City
Washington Seattle, Tacoma, Spokane, Everett, Kirkland, Bellingham, Vancouver, King County, Bremerton
Tennessee Nashville, Knoxville, Memphis, Chattanooga, Clarksville, Jackson, Davidson
Missouri St. Louis, Kansas City, Springfield, Jefferson City, Muskegon, Holland
Wisconsin Milwaukee, Madison, Green Bay, Oshkosh, Kenosha, Wisconsin, Racine
Maryland Baltimore, Annapolis, Bethesda, Gaithersburg
Arizona Flagstaff, Phoenix, Mesa, Yuma, Tucson, Maricopa County, Casa Grande
Minnesota Minneapolis, St. Paul, Rochester, Duluth
Louisiana New Orleans, Lafayette, Baton Rouge
Alabama Birmingham, Montgomery, Mobile, Huntsville, Tuscaloosa, Decatur
Colorado Denver, Boulder, Colorado Springs, Grand Junction, Fort Collins, Aurora, Greeley
Kentucky Louisville, Lexington, Bowling Green
South CarolinaColumbia, Charleston, Greenville
Oklahoma Oklahoma City, Tulsa, Muskogee
Oregon Portland, Eugene, Ashland, Klamath Falls, Salem
Connecticut Hartford, Bridgeport, New Haven, Waterbury, Stamford
Iowa Des Moines, Sioux City
Mississippi Jackson, Gulfport
Kansas Topeka, Wichita, Kansas City, Dodge City
Alberta Edmonton, Calgary
Arkansas Little Rock Texarkana
Utah Salt Lake City, Ogden, Provo, Cedar City, Moab
Nevada Reno, Las Vegas, Henderson, Carson City
New Mexico Albuquerque, Santa Fe, Los Alamos, Alamogordo
West Virginia Charleston, Clarksburg
Nebraska Omaha, Lincoln
Idaho Boise, Twin Falls, Idaho Falls
Maine Portland, Kennebunk, Augusta
New Hampshire Concord, Manchester, Nashua, Berlin
HawaiiHonolulu, Oahu, Maui, Hilo, Kailua
Rhode Island Providence, Newport, Portsmouth, Warwick
British Columbia Victoria, Vancouver, Prince George
Montana Billings, Great Falls, Bozeman, Missoula, Helena
Nova Scotia Halifax
Delaware Wilmington, Dover, Georgetown
South Dakota Rapid City, Pierre, Sioux Falls
Newfoundland and Labrador St. John's
North Dakota Bismarck, Fargo, Grand Forks
Alaska Fairbanks, Anchorage, Juneau
Manitoba Winnipeg
Vermont Burlington, Montpelier, Newport, Bennington
District of Columbia Washington DC
Wyoming Cheyenne, Jackson
New Brunswick Fredericton
Saskatchewan Regina
Prince Edward Island Charlottetown
Northwest Territories Yellowknife
Yukon Whitehorse
Sours: https://www.adoptapet.com/s/rabbit-adoption
Sale rabbits for
I said. Then he cannot be called a slave yet, she declared, admiring herself. - He is a slave only when he is deprived of his honor. In other cases, this is an ordinary low-social person.
Pet Rabbits For Sale (solasnacks.com) Video 3 (HD)
After a while, my mother's anus tensed a little, protruded outward, and she farted. She reached out and rubbed her juices off her thigh with her palm and smeared them over her thigh. Then she rubbed her anus with her finger, and pressing on it, wiggled it a little in depth. She then removed her hand and continued to watch television.
You will also like:
I just didn't see you there with your friends. The girls and I constantly go to discos, but I don't remember you, - she played the fool as best she. Could. - Ha, did not see.
1157
1158
1159
1160
1161