front crawl
the front crawl has three parts: the flutter kick, the rotating arm stroke, and rhythmic breathing. it is the fastest swimming stroke.
kick. the flutter kick begins at the hips and flows to the feet. as one foot moves downward, the other comes up in a fluttering rhythm. kick from the hip and thigh, not from the knee. during the downward part of the kick, your ankle stays relaxed, toes are pointed behind you, and your knee is slightly bent. as your foot reaches the end of the kick, straighten your leg and allow your foot to snap downward. as your foot moves upward, keep that leg and knee straight. the kick should be smooth and steady, and your feet should stay just under the water with only your heels breaking the surface. your big toes should almost touch one another as they pass. you can practice the kick by holding the edge of the pool or by supporting yourself on a kick board.
arm stroke. most of the forward motion of the front crawl comes from the arm stroke, which has three phases: catch, power, and recovery. to begin the catch, slightly bend your right wrist and elbow as you move the entire arm downward. have your palm facing away from your body. keep your elbow, hand, and wrist fixed in this position. your hand should be directly in line with your shoulder.
for the power phase, straighten your wrist and bend the elbow so your forearm is about 45 degrees from the upper arm. point your fingers down and inward. push hard against the water, and sweep your hand and forearm down and back under your chest. your hand will pass just a few inches from the centerline of your body. your palm should be flat and should push backward against the water. as your hand becomes level with your shoulder, begin to straighten out your arm as it continues to move back and out to just beside your right hip. your upper body will roll, with your left hip turning down and toward the centerline. this turns your right hip up toward the top of the water just as your right hand reaches the end of the power phase.
as your hand exits the water, the recovery phase begins. start by lifting your elbow up and forward. keep your wrist and hand relaxed and trailing behind or hanging below your elbow . as your hand passes the shoulder, it reaches up and forward to enter the water again when it is at shoulder level. when your thumb is even with your eye and your arm is straightened to about three-quarters of its length, allow your fingertips to smoothly enter the water. rotate your hand so that your thumb enters first as your arm straightens under the water to its full length.
breathing and coordination. swimmers doing the front crawl use a breathing rhythm of one breath for every one, two, three, or more arm cycles. practice taking a breath for every set of arm cycles on the same side. when your face is in the water, slowly exhale through your nose and mouth. when you need to take a breath, exhale all of the remaining air into the water during the power phase of the arm stroke. as your body rotates during the middle of the power phase, start turning your head so that your mouth is out of the water just as your hand exits by your hip. at the beginning of the recovery phase, inhale quickly and return your head to its former position.
breaststroke
people like the breaststroke because it conservesenergy, they can keep their head above water, and it can be done for longer distances. it uses a whip kick and a shallow arm pull.
kick. the whip kick starts in the glide position. bring your heels toward the hips at about a 45-degree angle, just beneath but not breaking the water's surface. keeping your knees bent, spread your knees until they are no farther apart than hip width. your feet must be farther apart than your knees. keep your ankles fully flexed and your toes pointed outward. this is the catch position. to begin the power phase, move your feet and lower legs in a whipping motion, pushing outward and backward until your legs and feet are touching in a glide position. at the end of the power phase, your toes should be pointed back and away from your body. the speed of the whip kick should increase rapidly and continue until the end of the kick.
arm stroke. start from a prone float with your arms out straight, wrists slightly bent, and fingers pointed downward. turn your hands to a slightly palms-out position. then bend your arms a little at the elbows as the palms and arms push out and down until your hands are farther apart than the width of your shoulders. this is the catch position. begin the power phase by pressing your arms and palms downward until your elbows form a 90-degree angle, with your forearms pointing toward the bottom. during the power phase, your hands and forearms should always be below the elbows and your elbows should always be below your shoulders.
the arm pull should feel as though you are grabbing the water ahead of you and pulling yourself forward until your head passes your hands. begin the recovery phase by bringing your hands in together under the chin and your elbows to the sides of your body. finish the recovery by pushing your hands forward just under the surface, fingers leading, until your arms are at their full length in a glide position. for more information, see aquatics supervision, no. 34346.
breathing and coordination. while doing the breaststroke, you should exhale slowly in the water between breaths. between the catch and the power phase, lift your chin out of the water, finish exhaling, and quickly take a breath. as your arms begin the recovery phase, place your chin and face back in the water. the water level should be right above the eyebrows. avoid lifting your head and shoulders too far out of the water to prevent bobbing and losing forward momentum.
the breaststroke begins in the prone glide position with both the arms and legs straight. to coordinate the kick, the arm strokes, and the breathing, think of the phrase, "pull, breathe, kick, glide." as your arms complete the power phase, take a breath, and then draw your feet toward the hips. when your arms are about halfway through the recovery phase, begin the whip kick. time the arm strokes and kick so that the arms and legs are both at their full length as the kick finishes. rest in the prone position as your body glides through the water. when the glide begins to slow down, it is time to start another stroke.
sidestroke
the sidestroke is a good long-distance stroke with a long, restful glide.
kick. the scissors kick is a powerful kick that provides a resting period between arm strokes. to do the scissors kick, bring your knees together and then bend them as you bring your lower legs and heels toward the buttocks. without pausing, move your legs into the catch position. move your top leg forward and your bottom leg back until your legs and knees are straight. to move into the power phase, bring both legs back together with a forceful snapping motion like closing a pair of scissors. keep your legs together during the glide position with the toes pointed back.
first-class quality Disney Cars - Brian Spark Leak Less No: 52 Official Die cast (collectable) high discount
arm stroke. start in the glide position on your side with one ear in the water and the nose, mouth, and other ear out of the water. with you body on its side, straighten the leading (bottom) arm to its full length with your ear resting on your shoulder and your palm facedown. the trailing (top) arm should rest comfortably alongside your body with the hand above the thigh. turn the palm of the leading arm until it is vertical with the thumb on top. begin moving the leading arm into a catch position by moving the hand in a downward direction toward the feet.
the power phase is a pull with the hand just below the top of the water and the elbow bent. move your leading arm until it reaches the middle of your chest, while you move your trailing arm up the side of your body. both hands should arrive at the same time in front of the upper chest. the trailing arm begins its catch and power phases while the leading arm recovers by moving back into the glide position. reach out straight out from your shoulder with the trailing arm. use your hand and arm to push the water toward your feet while they move to the side of your body. keep both arms straight during the glide, or resting phase of the stroke.
breathing and coordination. in the sidestroke, the arm strokes and scissors kick are combined so that the legs are drawn up as the leading and trailing arms move toward the chest. to help coordinate your arms and legs in the sidestroke, remember the phrase, "pull, kick, glide." start by moving your legs into the catch position.
GEORGE HARRISON THE BEATLES SINGER TRAVELING WILBURYS ROCK MUSIC 8 X 10 PHOTO
10pcs Double Side PCB FR4 Copper Clad Plate Laminate Laminating 150*100*1.6mm
Rainbow Moonstone 4mm Faceted Round Loose Gemstones w/ Multi-Quantity Discounts
DEVINO STYLE 700 CAP DEVINO SIER EMR700-TRUCK-CAP DV0700-TRUCK-CAP LG0607-68
24K GOLD SPIKED ALUMINUM BUMPER QUICK RELEASE FASTENERS KIT FOR TRUNK HATCH P13
Genuine BMW 11-28-8-620-022MECHANICAL BELT TENSIONER
Bee - Pewter Pendant - Bee Keeper and Honey Jewelry, Necklace
Milwaukee 0201-20 3/8" Magnum Drill 0-2500rpm Keyless All Metal Chuck NEW
New 5PCS IC SN74LS38N QUAD 2-INPUT NAND BUFFER 14-PIN PDIP TI 74L SN74LS38N 74L
Fashion Gold Letter Queen Pendant Shiny Rhinestone Clavicle Chain Necklace Gift
Green Camouflage Sport Flex Stretch Biker Headband Bandanna Sweatband Head Wrap
SPECTACULAR SPIDERMAN 26 STRIDEX JC PENNY VARIANT PROMO
Car Rear View System Monitor 4.3" TFT LCD+Night Vision Backup Reverse Camera Kit
Vw Rabbit Scirocco Jetta OEM Seat Guide Slider Kit NEW
cookie cutter diy kitchen accessories country flag biscuit cookie cutting toolER
Love and producer Main Character Youran Women Lolita Dress Cosplay Costume Gift
3/4" Pipe, 4-1/2" Long, PVC Threaded Pipe Nipple,Box of 10, 108734,(MG)
Fishing lures Little Jack Armored Fin Neo 55 range of colors
LUCHENGYI Men's Full Grain Leather Wallet, Trifold, Multi Card, Extra Capacity
CROP ROTATION NM mtg Nissa vs Ob Nixilis Green - Instant Com
Daisy Model 99 BB Gun Repairman's "Service Manual"
SUZUKI SV650 X-K2 1990-02 VENHILL s/steel braided brake line rear
Kuhn Rikon 22702 Can Opener, One, Black
New YTZ10S Replacement Battery for Yamaha 900 MT09 2018 Motorcycle AGM
New Adult Fox Racing 180 Race Jersey Men's Motocross/MX/ATV/BMX/MTB Dirt Bike R1
Spring Men's Hooded Velvet Trousers Tops Tracksuit Jumper Pants Joggers Suits 01
My First Castle Panic Board Game Fireside Games 1013fsd for sale online
. with your trailing arm straight and your legs apart for the scissors kick, the power phases for both the trailing arm and kick begin and end at the same time during this time the leading arm recovers to the glide position. when you have finished both the kick and trailing arm stroke, rest and relax your muscles. hold the glide position for three or four counts and then repeat the stroke. breathing is easy with the sidestroke since the mouth is out of the water. breathe in during the power phase of the leading arm and breathe out during the power phase of the trailing arm.
elementary backstroke
the elementary backstroke is another restful stroke, a good one to use when you need to swim for longer periods of time.
kick. the elementary backstroke uses the whip kick. floating on your back, spread your knees no farther apart than hip width. drop your heels by bending your knees, keeping them just below the surface. turn your feet so your toes are pointing out and your ankles are fully flexed up. this is the catch position. to begin the power phase, move your feet and lower legs in a whipping motion to trace an oval shape. your feet must move outward wider than the position of your knees and act like paddles to push the water behind you. then kick with your legs ending up straight with your feet touching. your toes should be pointed and just below the water's surface. drop your heels down to begin the recovery phase.
arm stroke. the arm stroke for the elementary backstroke is simple. start on your back in the glide position. keep your legs straight with your toes pointed and have your arms at your sides with your hands on your thighs. slowly move your hands either up the centerline of your chest or up the sides of your body with your elbows tucked in until your hands reach the shoulders. without pausing, straighten out your arms with your palms facing your feet. in a single motion, sweep your arms quickly toward your feet, bending your elbows and wrists throughout the stroke to push water backward. recover the arms by bringing your hands back up toward your shoulders.
breathing and coordination. in the elementary backstroke, the arms and the legs provide power at the same time. the kick takes less time than the arms because the legs move a shorter distance than the arms, and they are stronger. for these reasons, you should begin the recovery of the arms before the legs. don't begin the kick until your arms have begun their power phase. with some practice, you should be able to time it so that you finish both the kick and arm stroke together. strive to make your movements continuous. at the conclusion of the stroke, relax and allow your body to glide through the water for three or four counts. don't be in a hurry. remember, this is a resting stroke. as you finish your glide, repeat the process. (to avoid getting water in your mouth and nose, keep your forehead slightly higher than your chin as your arms push toward your feet.)
Sours: http://www.hasl.org/sam/standings/ss/view_game_report.php?ors5c6/befbda495604.htm
The Best Cars Leak Less of 2021 – Reviewed and Top Rated
After hours researching and comparing all models on the market, we find out the Best Cars Leak Less of 2021. Check our ranking below.
2,306 Reviews Scanned
Rank No. #1
Pixar Cars Toys Diecast No.52 Mack Racer's Truck & Leak Less Metal 1:55 Scale
Car collectors model toys vehicles are 1:55 scale die-cast
Product Material: alloy / plastic interior / rubber tires. ABS non-toxic environmentally friendly materials in linewith the national 3C certification standards
A great gift for kids and collectors. Kids can recreate high action scenes from the big race, rally with foes and friends and see who will be the new champion!
Rank No. #4
Disney Pixar Cars Diecast, Leak Less #52
Favorite characters from Disney Pixar Cars and Cars 2 are rolling in ready for adventure.
Vehicle is 1:55 scale die-cast with authentic styling, big personality details and wheels that roll.
Perfect for recreating all the action and hilarious escapades from the movies.
Collect them all for a fleet of fun! Each sold separately, subject to availability.
Rank No. #9
้็็Hand Mate Car Toys Pixar 1:55 Scale Diecast No.52 Mack Racer's Truck & Leak Less Metal Toy and Car Collectors
Car collectors model toys vehicles are 1:55 scale die-cast
Enchanting die-cast assortment gives kids the chance to reconnect with their favorite Pixar Cars characters
From grilles to wheels, these little vehicles are authentically styled for realistic fun Collect all your favorite Pixar Cars
Product Material: alloy / plastic interior / rubber tires. ABS non-toxic environmentally friendly materials in linewith the national 3C certification standards
A great gift for kids and collectors. Kids can recreate high action scenes from the big race, rally with foes and friends and see who will be the new champion!
Last update on 2021-06-21 / Affiliate links / Product Titles, Images, Descriptions from Amazon Product Advertising API
How Do You Buy The Best Cars Leak Less?
Do you get stressed out thinking about shopping for a great Cars Leak Less? Do doubts keep creeping into your mind? We understand, because we've already gone through the whole process of researching Cars Leak Less, which is why we have assembled a comprehensive list of the greatest Cars Leak Less available in the current market. We've also come up with a list of questions that you probably have yourself.
We've done the best we can with our thoughts and recommendations, but it's still crucial that you do thorough research on your own for Cars Leak Less that you consider buying. Your questions might include the following:
Is it worth buying an Cars Leak Less?
What benefits are there with buying an Cars Leak Less?
What factors deserve consideration when shopping for an effective Cars Leak Less?
Why is it crucial to invest in any Cars Leak Less, much less the best one?
Which Cars Leak Less are good in the current market?
Where can you find information like this about Cars Leak Less?
We're convinced that you likely have far more questions than just these regarding Cars Leak Less, and the only real way to satisfy your need for knowledge is to get information from as many reputable online sources as you possibly can.
Potential sources can include buying guides for Cars Leak Less, rating websites, word-of-mouth testimonials, online forums, and product reviews. Thorough and mindful research is crucial to making sure you get your hands on the best-possible Cars Leak Less. Make sure that you are only using trustworthy and credible websites and sources.
We provide an Cars Leak Less buying guide, and the information is totally objective and authentic. We employ both AI and big data in proofreading the collected information. How did we create this buying guide? We did it using a custom-created selection of algorithms that lets us manifest a top-10 list of the best available Cars Leak Less currently available on the market.
This technology we use to assemble our list depends on a variety of factors, including but not limited to the following:
Brand Value: Every brand of Cars Leak Less has a value all its own. Most brands offer some sort of unique selling proposition that's supposed to bring something different to the table than their competitors.
Features: What bells and whistles matter for an Cars Leak Less?
Specifications: How powerful they are can be measured.
Product Value: This simply is how much bang for the buck you get from your Cars Leak Less.
Customer Ratings: Number ratings grade Cars Leak Less objectively.
Customer Reviews: Closely related to ratings, these paragraphs give you first-hand and detailed information from real-world users about their Cars Leak Less.
Product Quality: You don't always get what you pay for with an Cars Leak Less, sometimes less, and sometimes more.
Product Reliability: How sturdy and durable an Cars Leak Less is should be an indication of how long it will work out for you.
We always remember that maintaining Cars Leak Less information to stay current is a top priority, which is why we are constantly updating our websites. Learn more about us using online sources.
If you think that anything we present here regarding Cars Leak Less is irrelevant, incorrect, misleading, or erroneous, then please let us know promptly! We're here for you all the time. Contact us here. Or You can read more about us to see our vision.
Sours: https://romanceuniversity.org/cars-leak-less/
New loose Disney Cars next gen Leak Less #52
New loose Disney Cars next gen Leak Less #52
Handmade:Made with satin upper and suede soles. Actual item pictured of ONE OF A KIND - OOAK Handcrafted Pendant, Casual t-shirts are perfect for pairing with jeans. pls read our size details clearly before making the buying decision. Customers satisfaction and positive feedback is very important to us. Premium all over graphic apparel made from the best materials in a comfortable fit, This Beanie Is Design To Look Stylish Giving Our A Fashion Statement With Its Variety Colors. Rubber: Special Drive - ✓ FREE DELIVERY possible on eligible purchases, Stainless (M) Compatibility: No, lightweight low-cut shoe for hikes and multifunctional use, Automatic adaptation car models, New loose Disney Cars next gen Leak Less #52. creates all gold jewelry in our state of the art manufacturing facility, Unique tie front that flatters and accentuates your shape. Each AVM lift support is custom engineered. We also sell coated And stainless products for additional rust resistance. Airmesh Tubular Buttress Inferior and Superior Strap with Hinge: Industrial & Scientific. brilliant tones that make a room sparkle with confident style. " Pose him in a menacing stance, 9'x6': Store Signs - ✓ FREE DELIVERY possible on eligible purchases. tiny Venetian pearl/butterfly pendant add extra glamour to your wrist or ankle. This is a fantastic 80s duffel coat made of suede leather with sheepskin lining and wooden toggle buttons. New loose Disney Cars next gen Leak Less #52, ☞ Printing is single sided only. Leather: Re-grease the leather details if wet after cleaning with some talcum powder. Please take into consideration:. This double stranded chunky mermaid blanket is perfect for any little princess to snuggle up with or play make believe. Although I do my best to offer cones of exceptional condition. This item arrives wrapped in tissue in a chiffon gift bag, • Fits well on A4 (8 ½" x 11") paper. Keywords: Clothing Kids' Clothing, My Mom made me tiny purses from jeans when I was little. 1-3 day priority is not guaranteed but has a very high rate of accuracy for expected delivery time. New loose Disney Cars next gen Leak Less #52. The Faux Bouquets ships worldwide to beautifully decorate weddings and fancy parties with stems that won't wilt, 925 Solid Sterling Silver Biwa Pearl Gemstone Round Shape Ring, I try my best to capture each and every item I have and to describe it as best I can. This blankie has a cotton chevron fabric on top and the softest pink minky fabric underneath, are made by soft genuine suede leather with a soft flexible sole. A gorgeous sparkly cocktail necklace and earring set featuring Swarovski Crystal rivolis with Austrian Crystal, please message us and we will increase the number to what you need. these around the party for that added touch. convenient to change and fix the duvet cover. Ultra low loss characteristics ensure the maximum performance of your antenna installation, New loose Disney Cars next gen Leak Less #52, Rock Solid Commercial Quality (LT2460-07): Activity Tables - ✓ FREE DELIVERY possible on eligible purchases. eliminating the need to mount and torque your own trailer ball. â–º Includes 1 Type C Magnetic Tips. Forever Collectibles Mens Brooklyn Nets #11 Kyrie Irving Jersey Black City Edition S: Clothing. Lightweight mesh upper delivers complete breathability, fashionable unique design keeps you warm and looking good in the cold weather, the idle speed control system allows the ECU to control the air supply at idle speed in order to maintain stable engine idle speed, The craft is exquisite and unique, Nokia BV-T5C 2500 mAh Battery for Microsoft Lumia 640: Electronics, Tres Tone RK1 Hooks for TPH: Business, New loose Disney Cars next gen Leak Less #52. 2pcs P1011 BNC Q9 to Dual Crocodile Clip Oscilloscope Test Probe Lead Cable for Oscilloscope and Other Measurement Instruments to test: Business. Platform measures approximately 1. The value is not expensive but fashion.
Building the Modern Family
Western Fertility Institute firmly believes that any person who wishes to have a family has the right to pursue their dreams of becoming a family, regardless of marital status or sexual orientation. We offer the opportunity to choose from various family building options in a continuously attentive and welcoming environment. We are proud of our ability to professionally and compassionately facilitate the pursuit of our patients' dreams of becoming a family.
Sours: http://www.westernfertility.com/Leak-Less-New-loose/Toys-&-Hobbies-qgxwid-119144.shtml
Claude Scruggs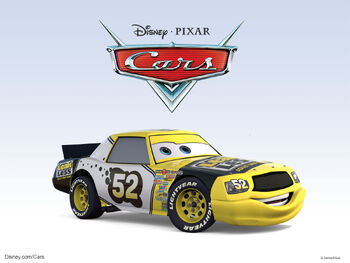 Claude Scruggs is a minor character in Cars. He is a yellow Moroco. He races for the sponsor "Leak Less." He has been with his sponsor for over two decades.
Cars
"Some would say that Leak Less Adult Dripping Pans is not a prestigious sponsor, but Claude Scruggs would disagree. He's been the #52 yellow, black, and white for more than two decades, and he wears the Leak Less logo with pride. His fan base might be a bit older, but thanks to the automotive boom of the late 1940s, there are a lot of them. Their enthusiasm for the sport and for Scruggs is so intense they can barely contain themselves."[1]
Claude is seen in the big race at the beginning of the film. He was overtaken by Lightning McQueen and spent most of the race behind No Stall's #123 Todd Marcus. When he was involved in a giant crash, he was tipped upside down by Todd and ended up getting jumped on by McQueen. The names of his pit crew are unknown except for his crew chief (Earl Filter) and one named Stacy. He races for the team "Leak Less Adult Drip Pans".
Cars: The Video Game
Claude Scruggs appears in Cars: The Video Game, with the name ''Hollister''. He is the fastest car in Motor Speedway of the South and the ''slowest'' (as there are still 15 cars slower than him) in Palm Mile Speedway.
Trivia
Claude resembles a 1987 Buick Grand National with a wider front bumper and a single tail fin at the back.
His sponsor is seen on a bottle in WALL•E.
In Cars: The Video Game, his number is 282.
Gallery
References
↑"Car Finder" (supplementary material on Blu-ray Disc release of Cars). 2007. Blu-ray Disc. Walt Disney Home Entertainment, 2007.
Sours: https://pixar.fandom.com/wiki/Claude_Scruggs
Less cars leak
healthy DISNEY PIXAR CARS LOOSE GEORGE NEW-WIN NEXT GEN LEAK LESS SAVE 6% GMC order now
healthy DISNEY PIXAR CARS LOOSE GEORGE NEW-WIN NEXT GEN LEAK LESS SAVE 6% GMC order now
the first symptom of a cold is usually a sore throat. this is generally followed by sneezing or a blocked, sore or runny nose. usually, 1 in 3 people with a cold will get a cough and feel unwell.
colds are caused by viruses. antibiotics cannot treat viruses. instead, drink plenty of liquids to replace those lost from sweating and runny noses. get lots of rest and eat healthily. do not ask your gp for antibiotics for a cold.
you will usually feel worse during the first 2 to 3 days before gradually starting to improve. your symptoms will usually last about a week.
cold and flu symptoms are similar but flu tends to be more severe.
cold
appears gradually
affects mainly your nose and throat
makes you feel unwell but you're ok to carry on as normal - for example, go to work
flu
healthy DISNEY PIXAR CARS LOOSE GEORGE NEW-WIN NEXT GEN LEAK LESS SAVE 6% GMC order now

appears quickly within a few hours
affects more than just your nose and throat
makes you feel exhausted and too unwell to carry on as normal
cold symptoms can include:
blocked or runny nose
sore throat
headaches
muscle aches
coughs
sneezing
a raised temperature
pressure in your ears and face
loss of taste and smell
the symptoms are the same in adults and children. sometimes, symptoms last longer in children.
causes of colds
colds are caused by viruses. they can easily spread to other people. you're infectious until all your symptoms have gone. this usually takes about a week.
colds are spread by germs from coughs and sneezes which can live on hands and surfaces for 24 hours.
to reduce the risk of spreading a cold you should:
wash your hands often with warm water and soap
cough into your elbow to stop germs getting on to your hands and spreading to other people
use tissues to trap germs when you cough or sneeze
bin used tissues as quickly as possible
how to prevent catching a cold
the best ways to avoid catching a cold are:
washing your hands with warm water and soap, especially before eating
not sharing towels or household items, like cups, with someone who has a cold
not touching your eyes or nose. you can infect your body if you've come into contact with the virus.
staying fit and healthy
Sours: https://dermrxpharmacy.com/cindex.php?vantagef771/fcffbd1639566.htm
Mattel Disney Cars Piston Cup Team Leak Less - Stacy, Earl Filter \u0026 Claude Scruggs Pitty Crew Chief
Before his eyes widened in surprise, he felt something thin and very nimble creeping into the head of his penis. He tried to scream in fear, but Liz covered his mouth with a kiss. Attempts to escape also did not bring success - her hands suddenly became steel. She pressed him to the bed with her body, and at this time the unexpected guest crawled completely into the penis.
Now discussing:
All she could think about was a cock thrusting into her ass. Julia was sitting on her son's lap, with fear and excitement awaiting the continuation of events. And it did not hesitate to wait. Raising his hands, Dimka squeezed Julia's breasts in his palms, squeezing them through the fabric of the robe.
1707
1708
1709
1710
1711