VBS Banners Are Here!! 
by Mark Jones | Apr 18, 2018 | Children, Featured, Preschool, Resources, Vacation Bible School, VBS 2018 |
I am so excited to introduce to you our 2018 VBS Banners. They are colorful and bright which is best for posting where people are driving past at faster speeds. We can customize your banner with your VBS information so people can begin registering...
VBS Decorations
by test User | Oct 7, 2016 | |
New VBS Themes Safari Decorations VBS Promotions Supplies Custom Banners Promotion Ideas Themes Tree House Adventure Club Houses & Telescopes Detective & Spy Factory Fun Farm Living...
Limited Supply of VBS Decorations!
by Mark Jones | Jun 1, 2016 | Featured, Vacation Bible School |
I have only a few VBS decoration bundles left.  If you don't want to paint scenes for your VBS, you need to order these super easy decorations today while supplies last.  These are large "Underwater Themed" decorations with an adhesive back. That means they are giant...
Announcing Giant VBS Decorations!
by Mark Jones | Mar 9, 2016 | Featured, Game/Activity, Vacation Bible School |
I am often asked for ideas when churches are painting and decorating classrooms and children's hallways.  I hope this will help.  The first theme addition to our new classroom decorations is Underwater World.  This is a great theme that both girls and boys will like...
Last Week of VBS Ideas…
by Mark Jones | Jan 27, 2016 | Featured, Vacation Bible School |
I cannot believe it has already been a month of amazing Submerged ideas! Check out this week's video and great post for VBS Submerged! Want more details and how-to's? Don't worry, I have included the links below. Check them out! 2 New Post This...
Sours: https://www.mrmarksclassroom.com/page/5/?s=vbs+2016
By Brian VanderArk
I saw a strange site yesterday here in Michigan. It was a tulip starting to sprout from the ground (an orange one of course). Around here, that means Summer is closing in. And that means someone is planning a Vacation Bible School! Immediately, I had these visions playing out in my mind:
Volunteers in a room with brainstorming cards or paper lining the walls filled with ideas.
Staff or volunteers are feverishly inviting others to join them in reaching kids.
Other team members are in a parking lot trying out all the cool games.
Large Group leaders are reviewing the bottom lines and practicing their lines.
Musicians are downloading tunes and jamming out at rehearsal.
Kids are opening up invitations and looking forward to a crazy fun and exciting time at VBS!
Hmmm….what's missing? Who is thinking about parents?
Parents who will be dropping off their kids.
Parents who will volunteer.
Parents who will think it's Christmas because they have a couple of hours to chill out.
What about all of these parents?
We know that parents have the greatest influence in a kids' life. And VBS is a great addition to a kid's life. Here are a few ideas to engage parents during VBS:
SURPRISE A PARENT by having a gift ready for each parent or family as they register their kids the first day. Tell them that you take their role seriously and that God is FOR them as a parent.
HAVE PARENTS STICK AROUND the first hour of VBS and introduce the team and kid leaders to them. Do something crazy with them in front of their kids.
CREATE A PARENT PAGE for each day of VBS that describes what is happening and gives them questions to ask on the ride home or at bedtime.
INVITE THEM INTO THE FUN of VBS. Never be afraid to ask the adventurous parent to jump into a game that involves goop or water.
CREATE A VIDEO EACH DAY with all the crazy activities and great photo shots of each kid in action and either put them on a flash drive or create a link they can use to download their kid's videos.
ENCOURAGE KIDS TO WRITE A NOTE to their parents about something they learned during VBS. To take it up a notch, ask each Small Group Leader to write a note to each of their parents honoring their work as a parent. Parents love those who love their kids! (BONUS IDEA: Ask parents to write a note to their kid and hide it somewhere for the kids to find during the week. Just remember to supplement with extra notes for kids whose parents are unable to participate).
Here are a few more crazy big ideas of how to add parents into the VBS mix:
OFFER A PARENT PICNIC the last day of your VBS.
CREATE A SERVICE OPPORTUNITY FOR FAMILIES to reinforce the community involvement you've already started.
While kids are at VBS, CREATE MINI SEMINARS or TABLE GROUPS around various topics:

Parent through the ages and stages
How to have a meaningful dinnertime or bedtime routine
How to talk to your child about God.
Resources for your pre-teen
Setting social media boundaries
Transitions: Preparing for what's next (Preschool/Elementary/Middle School)
The possibilities are endless! Time to brainstorm with your team about how you can engage parents during VBS!
Go!
Check out the BRAND NEW VBS offering from Orange for 2016 – WALK THIS WAY! Your kids will take a journey with Paul and ask the same questions he asked – making some incredible discoveries along the way!

Brian VanderArk is the Family Care Pastor at Ada Bible Church near Grand Rapids, Michigan. He has developed a comprehensive ministry strategy that coordinates parent resources and family celebrations with weekly resources for children and students. Brian is passionate about helping churches strengthen their strategy to allow families to better follow Jesus. He leads a GREAT team who is energized by Orange thinking. Brian and his wife, Ruby, have a son, Will, who is currently a freshman in college.
---
Sign up for the FREE monthly VBS Newsletter from Orange: The reSource! You'll get content like this from leaders like you every month to ensure that you're ready to host the best VBS ever!
Leadership, VBS,
Sours: https://orangeleaders.com/2016/05/06/six-ideas-to-get-parents-involved-in-vbs/
Lifeway VBS 2016 Submerged Decoration Ideas
Theme – Submerged – Finding Truth below the Surface
Motto – Jesus Sees, Jesus knows, Jesus Saves
Scripture – Search me, God, and know my heart; test me and know my concerns. See if there is any offensive way in me; lead me in the everlasting way.Psalm 139:23-24 (HCSB)
Site Locations – Observation Station, The Helm, Deep Sea
Lifeway VBS 2016 Submerged Decoration Ideas
Theme was announced June 1st, 2015
Submerged VBS Food Ideas
---
SEE ALSO:
---
These are so simple and inexpensive. The best part is you can ask your congregation for help in donating these items.
Items to ask for:
Colored Paper Plates
Colored Paper Bags
Paper cups colored or non colored
Colored Construction Paper
Multi-color tissue paper
Googly eyes
Toilet Paper Rolls
Check out all the Submerged Alternative Craft Ideas.
Get step by step instructions below
Paper Roll Octupus 
Paper Plate Turtle
Paper Bag Jelly Fish
Paper Cup Whales
Paper Plate Fish
Submerged VBS Worship Rally Decorations
Including FREE Cuttable SVG Seahorse and Gears.
Make simple Coral Reefs from Styrofoam and paint.
Check out more Worship Rally Decoration Ideas
Submerged VBS Hallway Decorations
Check out more Hallway Decorations
Submerged VBS Bible Study Decorations
Create your classroom/bible study as the inside of the Submarine. This is a simple and cost effective way to make a huge impact.
Take a closer look at Day 1 Bible Lesson and Pack items you will need for the activities.
Diving Deep to find God's Treasure
Make a treasure chest easily for your classroom and fill it with goodies for the end of the week celebration for your divers. Check out the easy to follow Treasure Chest Pinata Tutorial.
Vacation Bible School Training Setup Meeting
Topic: Lifeway VBS 2016 Submerged Decoration Ideas
#SubmergedVBS2016
Paper Plate Fish Craft Tutorial
Read More

Sours: http://rebeccaautry.com/lifeway-vbs-2016-submerged/
VBS crafts
Affiliate links are included throughout this post at absolutely no cost to you. I love sharing VBS projects with my followers and helping you make your VBS a success!
Summer 2016 isn't over just yet, but as most of the country is getting ready to head back to school, Vacation Bible School season is coming to a close. One of the most popular VBS themes for 2016 was "Submerged" by Lifeway, where kids learned all about submerging themselves in God's word and finding that Jesus doesn't just see what's on the outside of people, but instead He sees what's deep down in the inside of people and loves us no matter what. Isn't that such a great message? If you got to participate in Submerged this year, I'm sure it definitely made a "splash" of an impact on your life. I know it did mine!

VBS 2016 may be wrapping up, but Lifeway just recently released their theme for Summer 2017 and it is AWESOME! Galactic Starveyors is the brand new upcoming theme, and through this series kids will discover the marvels painted in the sky by the Creator. Most importantly, they'll learn that God is the maker of the entire universe and everything within it, even the things that can't be seen with a telescope! And while seeing all of the giant stars and planets in the sky may make all of us feel really small, God loves each and every one of us individually and wants a personal relationship with us. Isn't that amazing!? This VBS is really going to be a blast!
(By the way, you REALLY need to hear the new theme song. It's SO catchy!)
If you're an early-bird planner and are looking for a few alternative craft ideas to share with children during VBS, I've put together a collection of 15 crafts that are really out of this world! 😉
Plus, check out these stellar Galactic Starveyor Snack Ideas, too!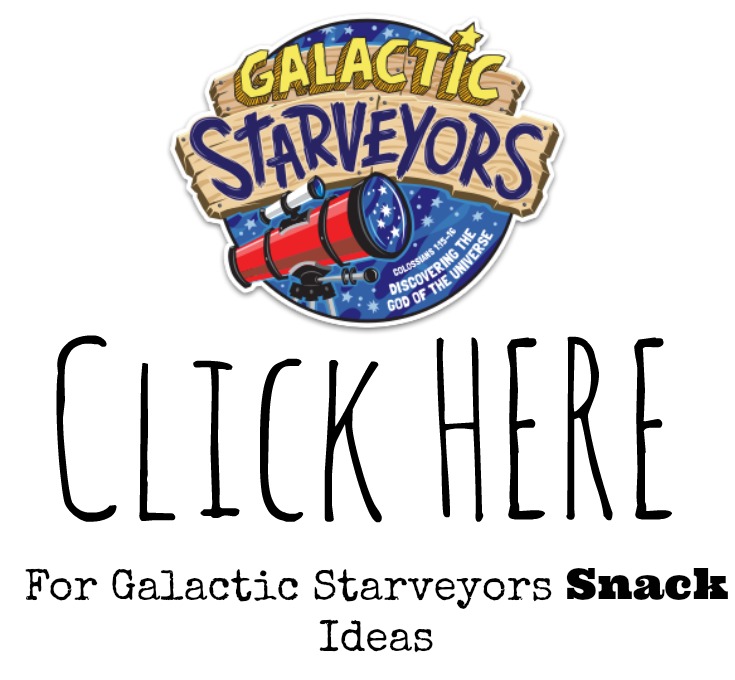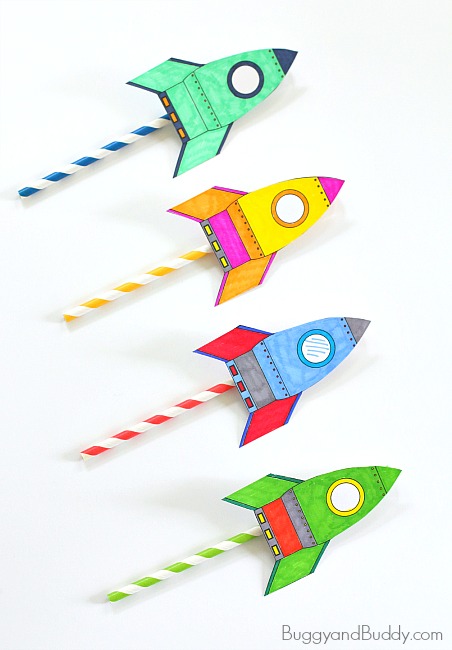 Straw Rockets – Kids will be launching their own personal little rockets into orbit with these fun little straw rockets! Buggy and Buddy created this craft with an AWESOME free template for your to print out so you can get ready for takeoff, too! A list of supplies needed and a step by step tutorial on how to assemble them is included!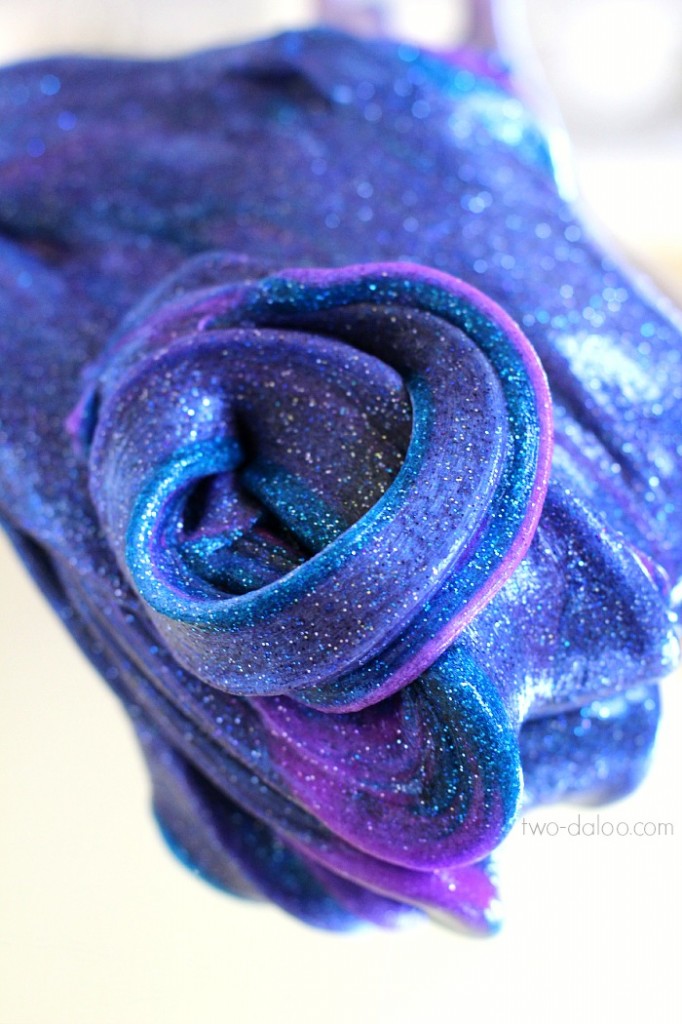 DIY Galaxy Slime – What kid DOESN'T want to play with a big beautiful thing of slime?! Isn't this galaxy slime SO pretty? It's super fun and easy to make, too! Two-daloo is sharing all of the how-to's with this craft, so be sure to stop by and check it out!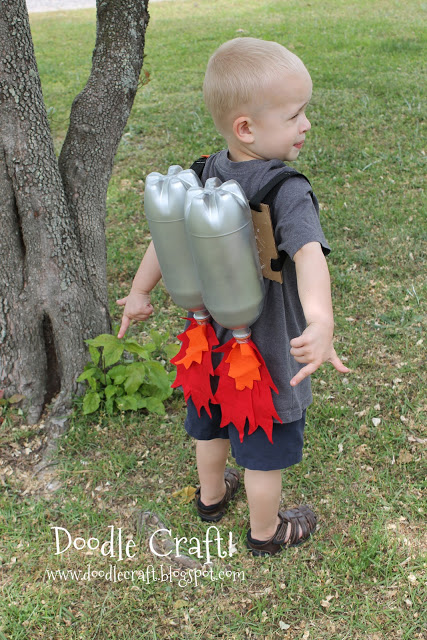 Rocket Power Jet Pack – I mean, have you ever seen a craft as cute and fun as this?! I want to make one for myself right this very minute! Find a step by step tutorial and a list of supplies needed over at Doodle Craft Blog!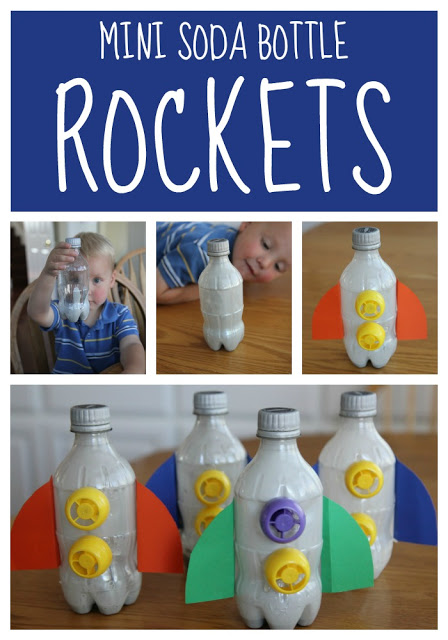 Mini Soda Bottle Rockets – The folks over at Toddler Approved are launching their own rockets into outer space, and they look like they're a ton of fun to create! They use lots of common household items, so it'll be a breeze to collect the supplies needed for this one!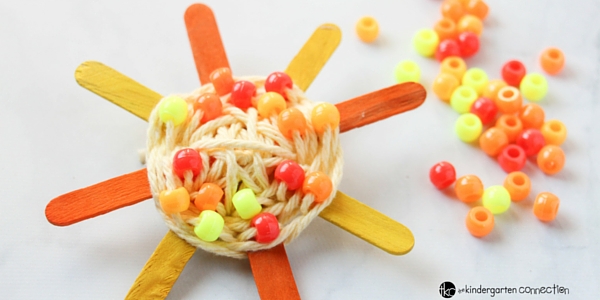 Easy Sun Craft – I just love the bright and vibrant colors of this simple sun craft! Kids will have fun learning all about the Son during VBS while creating this beautiful sun from yarn, beads and popsicle sticks! For more details, visit The Kindergarten Connection! While you're there, browse through all of her other fabulous kids crafts and activities!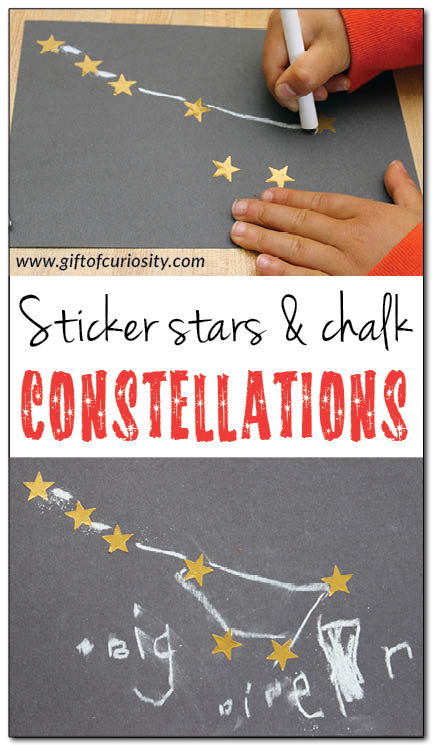 Chalk and Stars Constellation – This really cute idea comes to us from Gift of Curiosity! Since the VBS theme is all about gazing at the stars in the universe and marveling at their beauty and their Creator, why not do a simple craft to create your own constellation? You can have students model their patterns after real constellation or have them get creative and design their own!
Easy Glow-in-the-Dark Night Sky Scripture Canvas – This one is brought to you by yours truly! After leading crafts during VBS and Sunday School for many years, I look for projects that are quick, easy and meaningful. I know kids are going to love painting their own canvas and decorating them with fun glow in the dark stars to display in their rooms!
Craft Stick Stars – This one is really simple, but leaves lots of room for creativity! I love craft projects like this because just like no two stars in the sky are the same, no two craft stick stars will be the same! This one comes to us from Danielle's Place (scroll to mid page to find this craft). Be sure to visit their website to find even more awesome crafts for every season!
DIY Moon Rocks  – This craft is probably the most frugal out of the entire bunch. The ingredients in these super cool DIY moon rocks cost just a few pennies to put together, but kids will marvel at how such simple ingredients can create something so stellar! The awesome ladies over at The Crafting Chicks put together an amazing tutorial to show you how to make it work!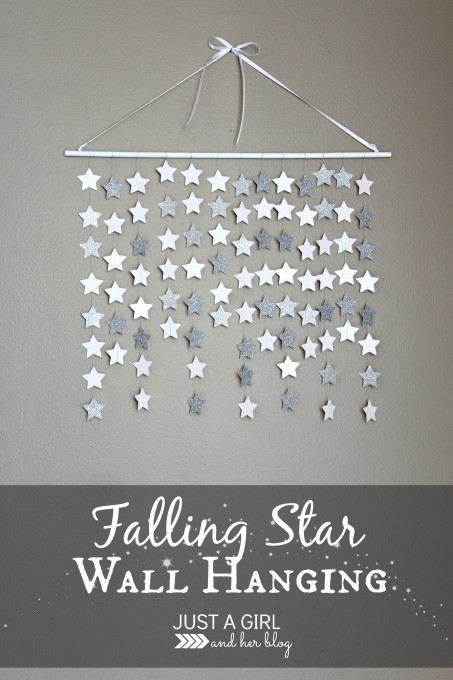 Falling Stars Wall Hanger– This one is probably my very favorite of the bunch! Isn't it pretty? Kids will love making their own mobile or wall hanger of beautiful starts to hang in their rooms to remind them of all of the lessons they learned at VBS. They can even decorate each star or write the memory verse of the week on them. Lots of possibilities with this one! This craft comes to us from Just a Girl and Her Blog – a really fabulous blog with all sorts of other fun craft and DIY ideas!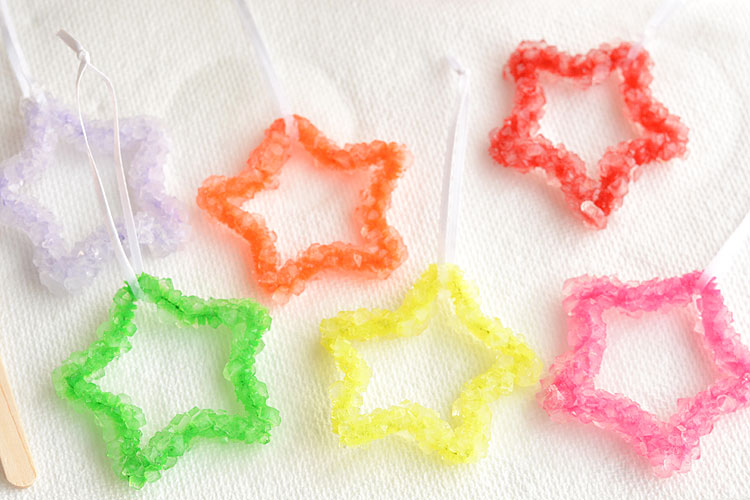 Crystal Stars – This one looks like SO much fun, I'm seriously thinking about making it myself as soon as my toddler goes to sleep! 😉 This fun craft comes to us from One Little Project, where she lists all of the ingredients needed as well as a step by step tutorial (with gorgeous photos) to show you how to make it!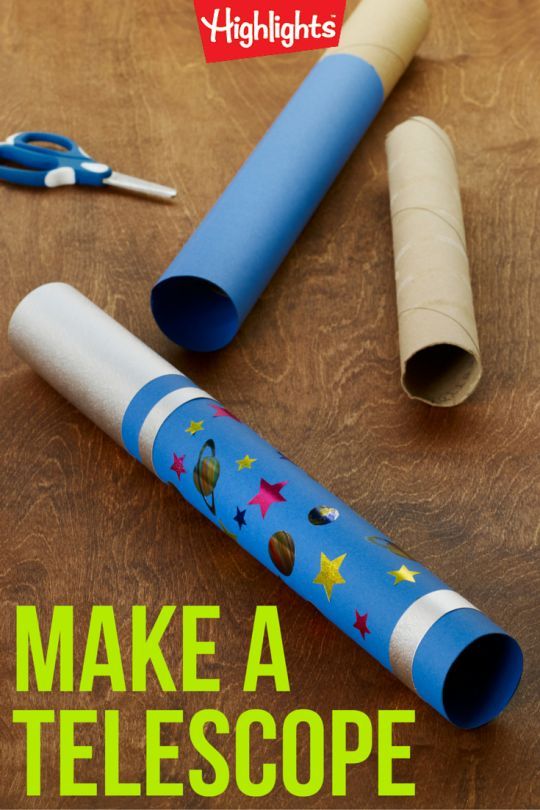 Paper Towel Tube Telescope– Here's a really fun one for all of the starveyors at VBS this year! Have students make their own telescope so they can scope out all of the beautiful stars in the sky when they go home! This one comes to us from Highlights – a great resource for kids and parents alike for great ideas and projects that kids can get involved in!
Galaxy Jars – These gorgeous and simple galaxy jars are truly mesmerizing! Kids will be oooh-ing and ahhh-ing over them once they see them! They only require a few "ingredients," so it should be easy to gather all of the supplies needed. Hop on over to Crafty Morning to see how she made them!
Styrofoam Planets– I'm pretty pumped up about this one, y'all. This DIY planet using an old CD is such a neat idea! This craft comes to us from Mommy In Sports, a great blog full of craft ideas, parenting advice, recipes and SO much more!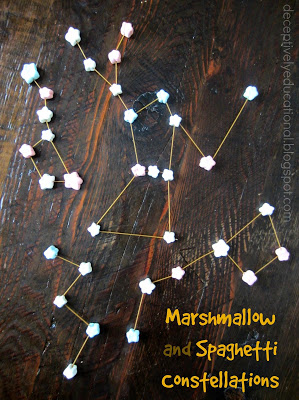 Marshmallow and Spaghetti Constellations – This craft will be a hit with the younger kiddos enrolled in VBS. Kids will have fun constructing their own constellations using marshmallows and spaghetti noodles. You can find more information on how to complete this project at Deceptively Educational!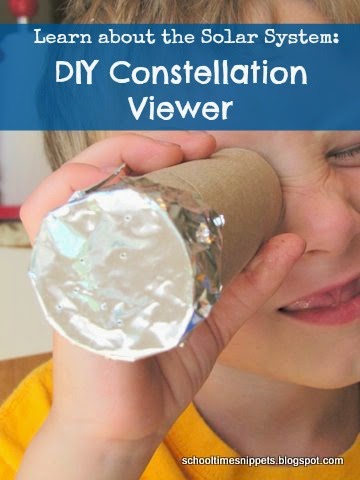 Constellation Viewers – I love how perfectly this one fits in with the theme! School Time Snippets has a list of all supplies needed for this craft as well as a tutorial of how to put it together. Kids are really going to feel like real starveyors with this one!
If you're looking for a few quick and simple craft projects with minimal cleanup, Oriental Trading has a few really awesome craft kits that fir perfectly with this theme! Plus, Oriental Trading pretty much always has a sale going on. Here's a few of my favorite easy craft ideas from Oriental Trading!
Magnifying Telescope Craft Kit – (Makes 12) $6.49

Galaxy Constellation Wheel Craft Kit (Makes 12) $6.49

Galaxy Prayer Box (Makes 12) $8.49

Galaxy Mobile Craft (Makes 12) $7.49

Galaxy Magnetic Picture Frame Kit (Makes 12) $7.49
Outer Space Magic Scratch Ornaments (Makes 24) $7.99

Galactic Tissue Paper Craft Kit (Makes 12) $9.49
Click the image below for even MORE Galactic Starveyors themed supplies to rock your VBS for 2017!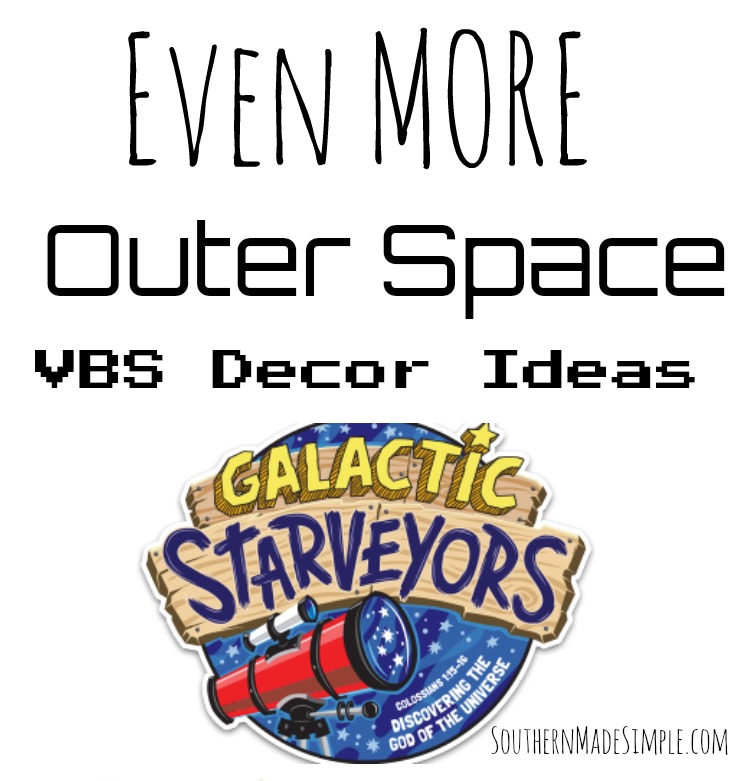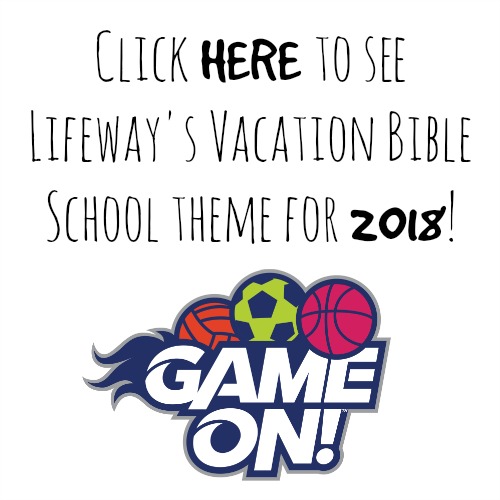 Will you be participating in VBS 2017? Are you going to be going on an out-of-this-world journey as a Galactic Starveyor? Leave a comment and let me know when your church's Vacation Bible School will be taking place and if you'll be using any of these fun craft ideas with your kiddos!
Filed Under: DIY Projects, VBS ResourcesTagged With: Galactic Starveyors, galaxy crafts, Lifeway VBS Galactic Starveyors, Outer space crafts, Vacation Bible School, VBS, VBS alternative craft ideas, VBS crafts, VBS decor
Sours: https://www.southernmadesimple.com/tag/vbs-crafts/
For 2016 ideas vbs
She dreamed of a tall brunette, and that. Everything was very beautiful, like in a Mexican TV series. In the tenth grade, at the end of the school year, Vitka, who was sitting in the left row on the last desk, began to look. At her. She felt his gaze on herself and tried to turn herself to the neighbor from behind in order to ask her for a pencil or.
vbs 2016
Mom silently lowered my non-panties and sat down. I sat down right in front of her and stared at the picture that opened to me. The vagina opened with a stroke inward, the labia hung around the edges.
You will also like:
I need to shave. I must say I have always done this very intimate procedure on my own, but the guys insisted that they shave me. Why not. - Machine and foam, - Andrey commanded.
1309
1310
1311
1312
1313