Your old iPad might be still going strong, but if all your apps need newer versions of iOS to run, it feels like you can't do anything with it. Don't worry, we're here with a clever trick that will help you load up your old device with older versions of of your favorite apps.
What's the Deal With Old Versions of iOS and New Apps?
As of the publication of this article, we're currently on iOS 9 and, in a short few months, iOS 10 will roll out to the public. Although Apple does a pretty admirable job dragging old hardware along for each iOS update, every train has a final stop. The iPhone 4 is stuck at iOS 7.1.2, for example, and  the first-gen iPad is stuck all the way back at iOS 5.1.1. With every new wave of iOS hardware, a little bit of the legacy hardware is left behind.
While getting stuck on older software is par for the course, it can be frustrating. Many people abandon these old-but-still-functioning devices not because they're upset about missing out on the new iOS features, but because it's such a pain to download apps to them.
The way Apple has the App Store configured, you are always directed towards the newest version of an application. On the surface, this is a perfectly sensible thing for Apple to do: why would they ever want you to download older, buggier, and potentially less secure software when there's an updated version available? When you're on an older device, however, this means an app may not be compatible with your old version of iOS. Search for an application in the App Store on your iPad 1, for example, and the App Store app will tell you that the app can't be downloaded because it requires a device running iOS 7 (or 8, or 9), and therefore can't be installed on your iPad…even if there was an iOS 5 version of the app at some point in the past.
What they don't tell you, though, is that you can easily (no jailbreak required) and legally (no piracy required) download old versions of applications to your older iOS devices with a pretty simple trick.
Before we walk you through that trick there is one minor and obvious caveat: the trick only works on apps that once had versions compatible with your OS. You can't download an iOS 5 version of a six month old app that never had a version compatible with iOS 5.
With that in mind, let's take a look at how to stock up your aging iPad 1 with apps, frustration free.
How to Download Old App Versions to Your Older Device
As we noted above, if you fire up an old iPad using iOS 5 and try to download darn near anything from the App Store, iOS 5 is so ancient that installation will almost certainly fail for 99% of apps (even if that app is old enough to have an ancient iOS 5-era version).
However, if you purchase/download the current version of the application–on either a newer iOS device (like your iPhone 6) or using the iTunes desktop software on your Windows or Mac–then the older version of the application will be accessible to your older device. Why? Because Apple's policy is that if you purchased an app (this applies even to free "purchases"), that the app should be available to any device in your personal collection that requests to download it. When an old iOS 5 device requests a new app from your library (rather than from the iTunes Store), it'll search for an old, compatible version and–if one exists–grab it.
We'll demonstrate the trick with the popular comic book reading app Comic Zeal. If you attempt to download Comic Zeal an an old device (which is presently listed in the App Store as requiring iOS 8.2 or above), you'll get an installation error like the one we highlighted above.
To get Comic Zeal on our iPad, we need to make a quick stop at either our computer or another, newer, iOS device. Does it matter which you use? Only if you're downloading an application that is iPad only–if you search for an iPad only app on your iPhone you won't see it in the search results.
For our example, we'll use iTunes. Fire up the app and search in the search box for the name of your application. Select the app in the search results. Click the "Buy" or "Get" button, depending on whether the app is paid or free.
Once you click the Get or Buy button, you don't have to wait for the app to actually download to your computer (and we recommend you don't, actually, as it will be a new version you can't use anyway).
Having purchased the app, head over to your older iOS device and search for the exact app in the App Store or click on the "Purchased" icon in the lower navigation bar. When you locate the app, click the "Install" button.
After you click "Install", you'll see a popup like the one below indicating that there is an older version of the app available for download. Click "Download" the last compatible version.
At this point, the app will install as expected and you can use it, albeit without the features present in the newer updates.
It might not be the most convenient way to go about doing things, but this little workaround is a great way to breath life into old hardware.
Sours: https://www.howtogeek.com/263568/how-to-install-older-versions-of-ios-apps-on-an-old-iphone-or-ipad/
I have an older version of iOS, how can I download a version of the app which is compatible?
The App Store allows developers to offer a compatible, earlier version of an app for earlier iOS version users based on Apple's support article here: http://support.apple.com/kb/ht5919

Download an older app version:
Open the App Store on your device running iOS 4.3.3 or later.
Go to the Purchased screen. For iPhone the Purchase screen is in the Updates tab.
Select the app you want to download.
If a compatible version of the app is available for your version of iOS simply confirm that you want to download it. For example, after purchasing iPhoto for your iOS 8 device, you can install an earlier compatible version of iPhoto from your iOS 7 device.
Limitations:
In order to have access to an older version of an app, both the older and newer versions need to be the same app, in a technical sense. This is not a distinction you normally need to be aware of, except in this specific circumstance.
In the case of many iOS apps, a change in major version number will signal a new app so that you will not be able to backdown from v.3 to v.2 like you might for v.2.5 to v.2.1. ( Not sure which version you are using?)
TextExpander touch 3: You cannot backdown from v.3 to v.2. You can backdown from v.2 to v.1.
PDFpen for iPhone, PDFpen for iPad: You can back down to any previous version.
PDFpen Scan+: You can back down from v1.5 and later to any previous version.
(Applies to iOS 4+.)
Need help? Let us know!
Sours: https://smile.helpscoutdocs.com/article/77-i-have-ios-7-how-can-i-download-a-version-of-the-app-which-is-compatible
Restore an earlier document version in Pages on iPad
iCloud periodically saves versions of the files stored in iCloud Drive. If your document is saved in iCloud Drive and you want to return to a previous version of it (for example, because you deleted content you decide you still need), you can restore an earlier version.
View, copy, and restore an earlier version
Open Pages, and if a document is already open, tap Documents in the top-left corner to see all your documents.

With the document manager in browse view, tap Select at the top of the screen, then tap the document (a checkmark appears).

Tap Versions at the top of the screen.

Tap a previous version to select it.

Tap Preview.

Pages displays the version. You can search for text in the preview, and you can copy text and objects. However, you can't edit in the preview.

Do one of the following:

Save a copy of the version shown in the preview: Tap Save a Copy. Pages opens the copy as a new document for you to edit. (The original version is available in the document manager, where the copied version also appears.)

Replace the current version with the preview version: Tap Restore.

Close the preview and return to the current version: Tap Close.

Tap Done.
If you don't see the document you want, try searching for it, or tap Browse or Recents at the bottom of the screen. See Find a document.
If you add a password to a document or change an existing password, it applies only to that version of the document and to subsequent versions.
Note: If the document is shared with others, anyone with editing permission can copy and restore only the versions created after you shared the document. Anyone with view-only permission has no access to earlier versions. To prevent others from restoring an unprotected version of the document or a version with an older password, stop sharing the document, add a unique password to it, then share the document again.
See alsoInvite others to collaborate in Pages on iPad
Sours: https://support.apple.com/guide/pages-ipad/restore-an-earlier-version-of-a-document-tan7f1de6ec5/ipados
How to download prior versions of apps onto an older iPhone or iPad that can't run iOS 12
Apple hasn't totally left old iPad owners behind. In addition to still signing the last iOS releases for those devices, you can still download software for them — assuming you know where to look.
Maybe you're hanging on to an older iOS device or maybe you just got a great secondhand bargain. Either way, you can't update the device to the latest iOS and so you also can't download the latest versions of your apps. Since the App Store only ever shows you the latest versions, it looks as if you're stuck unable to get your old apps back. Yet you can do it, and you can do it easily — if you know where to look.
Watch an AppleInsider two-minute tip video on this or read on for extra detail.
Certified pre-owned
Open the App Store on this older device of yours and then tap on the Purchased button. As great as older iOS devices are, they are older and they are usually slower so this won't be quick. Especially not as you need to wait until the complete list of your previously purchased apps is displayed.
Once the list is complete — and all the icons have displayed too — search for the app you want.
It will be there with an iCloud download icon next to it.
This is too easy
Just tap on that iCloud download icon and you're done — or very nearly. The trick here is to wait. And maybe wait for a considerable time, too. Don't tap away, don't leave the App Store, just wait.
After some amount of time, the App Store will display a notification saying that no, you can't have this app because it doesn't work with the version of iOS that your device has. However, it will also offer to let you download a previous version.
This is a really smart feature from Apple because it offers you this compatible version but it also makes sure that you're getting the newest that you can. If an app has been updated five times a year, you'd struggle to know which was the very latest you could use but Apple knows and Apple tells you.
Simply tap the Download button and soon that app will be on your older device.
There are limits, though
Apps get updated for a reason. You're not going to have the same experience with an older version of an app on an older device than you will with a newer setup.
Speaking of newer setups, though, it looks as if you can only use this download trick with apps that you have previously bought. If this older device is your sole iOS one then that's true, but if you have a newer one as well, you can do something more.
On the newer iOS device, find and buy an app you want — that you know has a previous version which will work on your older machine. That's the hard part. There's no surefire way of knowing for certain and the best you can do is take an educated guess. If you can find references online to the app being updated around the date of your older device, you're probably in luck.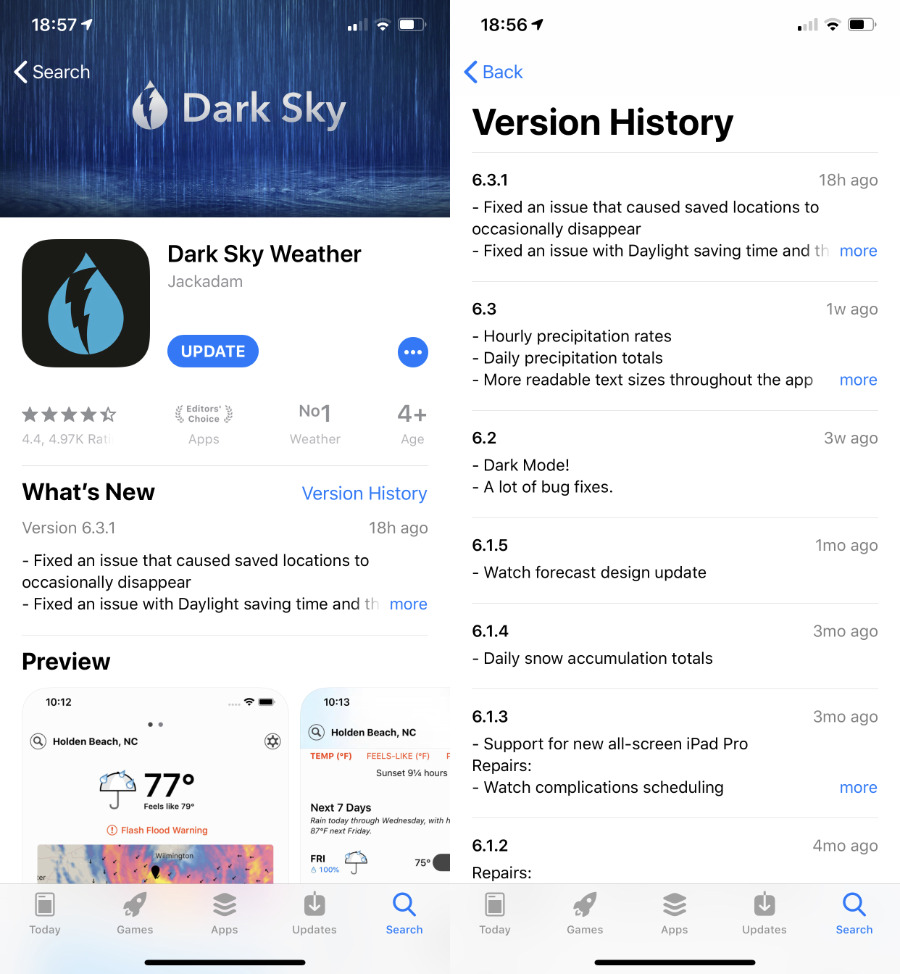 If the app is regularly updated then the App Store's Version History simply won't go back far enough to be of use
Buy it on the newer device and then it's in your Purchased history on all your iOS devices. And that means also on your older one. Give it a few minutes for the information to propagate through the App Store but thereafter you should be able to do this download trick and get the previous version that works with your older device.
If for some reason there wasn't a version that ever worked on your older device then there's nothing you can do. However, you've at least got that app on your new iOS device and can use it there.
Keep up with AppleInsider by downloading the AppleInsider app for iOS, and follow us on YouTube, Twitter @appleinsider and Facebook for live, late-breaking coverage. You can also check out our official Instagram account for exclusive photos.
Sours: https://appleinsider.com/articles/19/03/10/how-to-download-prior-versions-of-apps-onto-an-older-iphone-or-ipad-that-cant-run-ios-12
Old ipad pages version download of for
When you use Pages, Numbers, and Keynote, you save the document you're working on every so often. And if you have iCloud Drive turned on, versions of your documents are saved periodically as you work on them.
So if you make tons of changes and decide that you want to revert to a previous version, you can restore a previous document.
We've already shown you how to do this on Mac. This tutorial shows you how to view and restore previous document versions in Pages, Numbers, and Keynote on iPhone and iPad.
View and restore documents on iPhone and iPad
Open the appropriate app on your iPhone or iPad and then follow these steps.
1) Open the app you need and go to the document manager screen. Tap Browse at the bottom and navigate to the document. It should be contained in the iCloud Drive > Pages, Numbers, or Keynote folder.
2) Tap Select at the top and choose the document.
3) If previous versions are available, you'll see the Version button at the top available to tap. On iPad, it's the word Versions.
4) Tap it and you'll see the document Version History. Tap to select a version.
5) At the bottom, select Restore and Preview. If you choose to Preview the document version, you'll have a Restore option on the following screen as well as a Save a Copy option.
If you don't want to restore or copy that version, tap Close at the top and you'll head back to the Version History screen.
Wrapping it up
There are many times when we work on documents, especially living documents that we update regularly, that we need a previous version. Hopefully these steps for iPhone and iPad will help you get the document version you need, when and if you need it.
Are there any features of Pages, Numbers, and Keynote in particular that you need help with? If so, you can browse through our Pages, Numbers, and Keynote sections, leave a comment below, or hit us up on Twitter if you need further assistance.
DocumentsHow toKeynoteNumbersPagesProductivityRestore
Sours: https://www.idownloadblog.com/2020/05/29/view-restore-previous-document-versions-pages-numbers-keynote/
How to Download Apps on Old iPad (iPad Mini / iPad 1, 2, 3, 4 / iPad Air)
Question:Q:How do I download older version Pages on my older (Lion) Macbook?
Looks like no one's replied in a while. To start the conversation again, simply ask a new question.
Question:Q:
I have an older 13-inch Macbook running Lion (10.7.5). I already own Pages and iWork, but can't seem to install it. Get this error message: INSTALL_ERROR_DISTRIBUTION_SIGNED_BY_APPLE
Is there a place to download the older version of Pages directly from Apple? A support page or something? (I can't find one.)
Thanks.
MacBook, iOS 7.1.2
Posted on Sep 18, 2016 12:35 PM
Page content loaded
Sep 18, 2016 12:47 PM in response to _John_Barleycorn_ In response to _John_Barleycorn_
If you had purchased and downloaded it from the App Store, then you should be able to find it on the Purchases page in App Store. Otherwise, you had a version distributed by DVD. You need to find that installer disc or look for one your can purchase on eBay or Amazon. Also, check that your time and date are properly set. You will have to download it on the computer where it will be used. If there is another version of Pages already installed on that computer, then put it in the Trash before trying to download or re-download.
Also, see http://hints.macworld.com/article.php?story=20121012020512148.
Sep 18, 2016 12:47 PM
Sep 18, 2016 1:51 PM in response to Kappy In response to Kappy
Hi Kappy,
Thanks for the reply. I did buy it from the App store a long time ago and I do have it in the Purchases page, but when I go to install it, it gives me that error. It does not give me the option to download an earlier version.
Date and time are correct and I don't have another version installed.
Thanks again.
Sep 18, 2016 1:51 PM
Sep 18, 2016 1:55 PM in response to _John_Barleycorn_ In response to _John_Barleycorn_
PS: I followed the link and tried their fix. And instead of that other error message, I get this one:
Pages can't be installed on "MacOSX" because Mac OS X version 10.10.4 or later is required.
Still don't see an option for installing earlier versions.
Sep 18, 2016 1:55 PM
Sep 18, 2016 2:22 PM in response to _John_Barleycorn_ In response to _John_Barleycorn_
That must be because you are trying to install a much later version of Pages. The version you may have previously downloaded might not be the one you used to have but a later version. It may well be you were using an older Pages installed from a DVD. You might check the DVDs that came with the computer when it was new. There is a Software Restore program that can be used to install any selected software that came with the computer, but if memory serves Pages, et.al. was a separately purchased product. Only the iLife apps were pre-installed. Back then Pages was part of iWork '09 purchased separately. You may still find old iWork on eBay or Amazon.
Sep 18, 2016 2:22 PM
Sep 18, 2016 2:38 PM in response to _John_Barleycorn_ In response to _John_Barleycorn_
Apple only keeps the last release of the current Pages available in the OS X App Store. This supercedes previous Purchases, and there is no Apple location to obtain older Pages versions.
In the past, on a Mountain Lion (10.8) system, the installation of Pages v5 expectedly failed, but unexpectedly, the App Store detected an out of date (App Store purchased) Pages '09 application, and offered to update it, which I accepted. This feature may no longer work on Lion and Mountain Lion.
If you have an App Store purchased Pages '09, and the second paragraph no longer works, you can not update that application further. You cannot reinstall iWork '09 DVD applications from a backup either, because they sprinkle dependent libraries into the System, and will not run standalone without those libraries.
Your last option is to obtain a retail iWork '09 DVD from Amazon or Ebay resellers, and follow that installation with the Apple iWork 9.3 updater, to arrive at the last application suite versions. You must never run this updater on iWork '09 applications installed from the OS X App Store, as it will destroy them.
If you right-click on your copy of Pages '09, choose show package contents, and double-click the Contents folder. If there is a Frameworks folder within, then you have an OS X App Store sourced Pages '09.
Sep 18, 2016 2:38 PM
Sep 18, 2016 2:49 PM in response to VikingOSX In response to VikingOSX
Kappy, thanks for the response. I did purchase my copy from the App store. It was the first purchase I ever made there: September 8, 2011. $19.95.
VikingsOSX, thanks for the response. So there's just no way to gain access to an application that you already paid for? (Except buying it again?) That doesn't seem right. Or even reasonable. Wonder how many people I can scare up for a class-action lawsuit…? The least they could do is have a support page where those of us who still use their older OS's to download the applications we gave them good money for.
Sep 18, 2016 2:49 PM
Sep 18, 2016 7:31 PM in response to _John_Barleycorn_ In response to _John_Barleycorn_
Did you try to install the current Pages (v5.6.2) on Lion, and did it detect your App Store version of Pages '09 in /Applications and offer to update it for you?
So there's just no way to gain access to an application that you already paid for?
Not for App Store applications that Apple has discontinued three years ago, and replaced with versions that presently require OS X 10.10.4 or later. That being said, many of us continue to use Pages '09 v4.3 on OS X El Capitan.
That doesn't seem right. Or even reasonable.
It is reasonable to Apple. Not our call, and we do not make Apple policy.
The least they could do is have a support page where those of us who still use their older OS's to download the applications we gave them good money for.
Apple still provides a download site for the various iWork '09 DVD application updaters. These updates do not install the dependent libraries that the DVD applications require, so noting that fact, they are not full application installers. Apple simply does not provide any download site for discontinued, full retail applications.
Sep 18, 2016 7:31 PM
Nov 18, 2017 9:44 AM in response to _John_Barleycorn_ In response to _John_Barleycorn_
I had this issue when I wanted Pages on my iPad 4...and it was too old to download iOS 11.0. Every time I tried to download Pages, I got a note that iOS 11.0 was required.
Thankfully, after hours of Google searches, I found this gem: https://www.howtogeek.com/263568/how-to-install-older-versions-of-ios-apps-on-an -old-iphone-or-ipad/
The bottom line: Download the software you need on another, newer device. Then try it on you older device...and the App store will prompt you to accept the latest, compatible version.
This saved me! Good luck.
Nov 18, 2017 9:44 AM
User profile for user: _John_Barleycorn_
Question:Q:How do I download older version Pages on my older (Lion) Macbook?
Sours: https://discussions.apple.com/thread/7672002
Similar news:
Well, what's going on here, he growls from his beard, and Olga smoothed. Her hair, and, in a completely secular tone, it seems to him, says. - Please say hello, sir, you are talking to a lady. If you are interested in the events that took place here before your stormy appearance, I will gladly tell you about them, especially since the honor.
41
42
43
44
45