Ah, the ubiquitous GIF. What would the internet be without those classic reaction memes of cats playing the keyboard, Michael Jackson eating popcorn and babies making suspicious faces? These little moments of compressed bitmap glory pop up everywhere, from texts bemoaning the start of another work week to your friend's lame Twitter joke. But where does the endless supply of GIFs come from?
Tyler Menzel '06 knows. It's pretty much his job.
The USC School of Cinematic Arts alum is editor-in-chief at GIPHY, the online platform that enables users to find GIF masterpieces and share their own. He joined the internet startup in 2013 as its fourth employee.
"There were a solid couple of years where people thought I worked at a 'gift' company," Menzel says. "I guess they thought I was curating selections of flavored popcorn tins and sausage samplers."
The 37-year-old can laugh now. GIPHY has grown dramatically and its app brings a near-infinite supply of GIFs to smartphones around the world. But why take a risk and dedicate his professional career to curating a library of Simpsons snippets and clips of dancing puppies? Menzel spoke with USC Trojan Family recently to explain his undying joy for short, silent, endlessly looping online videos.
OK, Tyler Menzel. Let's get some important questions out of the way. Hard G as in gargoyle or soft G as in giraffe?
For myself, it's a hard G, though I'm not draconian about other people's pronunciation. In fact, it's fun to be in a dialogue with someone who has chosen the "soft G" life. There's a conscious tension in the conversation as both people wait for the other person to back down. I'd never correct anyone, though — who cares? Just don't call our company "JIFFY."
All caps (GIF) or lowercase (gif)?
All caps, baby! I like the strength and dignity of an all-caps GIF!
Your reaction when someone uses one of those other GIF sites instead of GIPHY:
(Video/GIPHY)
Where did you grow up?
Coral Springs, Florida. Proudly. I have an undying love for both the place and the people there. It's a beautiful, strange, deeply frustrating place. One of my first "I'm an adult now" purchases was this painting by the artist Luke Pelletier, which I feel is an accurate celebration of the Florida spirit. There's a recklessness that permeates into Floridians — sometimes it results in creativity, sometimes it results in destruction. A lot of times, it's a healthy mix of the two.
Your reaction when someone mistakes you, yet again, for flutist and composer Tyler Menzel:
(Video/GIPHY)
Do you remember the first GIF you saw?
Not specifically, but it had to have been on a GeoCities or Angelfire website. It's easy to be nostalgic about those wild, GIF-covered websites now, especially since the internet in 2020 is so hellbent on sleek efficiency. GIPHY was (and still is) inspired by the aesthetic chaos that was the early internet. I had an Angelfire fan site devoted to the Pokémon Slowbro. I wish it was still up.
What brought you to USC?
I devoured media when I was in high school. I watched every movie I could get my hands on — renting movies at Blockbuster and stalking the small shelf of letterboxed VHS tapes at the Suncoast in my local mall. So, when it came time to think about what I wanted to do with my "future," film school seemed like the only logical choice. I wasn't even sure I wanted to make movies, but I was obsessed with watching them — obsessed with thinking about them. The USC School of Cinematic Arts, with its storied history and alumni, was a dream school for me, and the fact that I was accepted is still bonkers. I remember I wrote a deeply earnest essay on the film Magnolia as part of my application. They let me in anyway, which was nice of them.
How did you end up at GIPHY?
I had just summoned up the courage to quit a job that was dependable but that I just didn't see any future in. I had no job — and, really, no prospects for a job. So, I found myself in that half-liberated, half-terrified place where you're willing to take some chances because you can only go up from here. One night, I was at a bar with some friends and one of them started telling me about this GIF search engine that their old coworker had just started. They were looking for someone to come in and help organize metadata in their library of GIFs. Basically, they needed someone who knew the name of every character from every movie and TV show ever. And my response was: Hey, that's what I majored in!
I had never worked for a startup before. My thought was: This is awesome. I get to hang out with these three smart weirdos while we do this fun project, and when this falls apart in 6 months, I'll find a new job. Cut to 7 years later, and I'm still hanging out with those weirdos — except the job I was doing back then has turned into a whole department.
Your reaction when you realize you've spent seven years of your life staring at GIFs all day:
(Video/GIPHY)
Speaking of that, what does being the editor-in-chief of GIPHY involve?
Even though GIPHY is substantially bigger than it was seven years ago, we still operate like we're a scrappy startup. So, what that means is it involves a little of everything.
One day could be spent talking with our partnership team about ways we could work with a cool new TV show partner that just joined our platform, then meeting with our search team on creative ways our content could be distributed, then giving a presentation to the entire company about a new data-driven process we're experimenting with to curate GIFs. It's a lot of fun to have one foot in the world of content and one foot in the world of product.
Your reaction when someone suggests not posing with your favorite beer for your official headshot:
(Video/GIPHY)
How did studying at the USC School of Cinematic Arts prepare you for a career in GIF oversight?
Without a doubt, the classes and professors at USC really imbued into me the belief that all media is worth thinking critically about. It could be Citizen Kane or it could be a slasher movie — we watched and discussed everything during my undergrad years. There's value and meaning in pop culture. There's value in so-called "low" culture. That type of thinking translated directly to the world of the internet: What could be more throwaway than some sparkly animated file that someone was using to decorate their Myspace page 15 years ago? But those types of images, and every GIF, Vine and TikTok video that was born out of those images, deserve critical thought.
Your reaction when you spot a fellow Trojan in the wilds of Brooklyn:
(Video/GIPHY)
Not to get all philosophical, but why GIFs? What makes them so ubiquitous, and are they worth more than just a quick laugh?
Hey, getting philosophical about GIFs is what we're all about, so this question rules.
GIFs are an incredibly efficient way of delivering emotion. In a matter of seconds, they're able to communicate a surprising amount of emotional information. GIFs that are technically categorized under the same situational umbrella can have subtle, or sometimes very significant, different intentions. A Nick Offerman laughing GIF is different from a Snoopy laughing GIF, which is different from a Data from Star Trek: The Next Generation laughing GIF. Now add any kind of emotional attachment you have to that character as an additional layer of subtext. Add the capability for remixing, repurposing and recontextualizing as an additional layer, too. Those layers culminate in a powerful, information-rich distribution system for sentiment.
And sometimes that sentiment can be a quick laugh!
What is your favorite GIF that you've made?
Years ago, I randomly made a GIF of this frog puppet from a British public service announcement I stumbled onto via YouTube. The source material is actually really grim — I think the puppet had just drank some kind of indeterminate household poison. But the image of this frog stumbling toward a phone and just saying "help" before collapsing is a keen summation of how I have often felt throughout this year. I see it being used by a lot of people online. If this GIF ends up being my legacy, I'm fine with that.
Your reaction when your future grandkids ask you to describe the year 2020:
(Video/GIPHY)
Alumni LifeAlumniEntertainmentInternet
Recommended stories
What makes an ad go viral on YouTube?
Unlike expensive TV time, YouTube is free and has over 1 billion users. But how do you grab them with an enticing ad? One USC Marshall professor has a few tips.
6 min readScience/Technology, Advertising, Business Strategy, Internet, Marketing, Social Media
Diverse Voices
Helping Women Gamers Reach the Next Level
The USC School of Cinematic Arts wants women to make their mark on the video game design industry.
4 min readArts, Science/Technology, Entertainment
Start Me Up
The Future of Virtual Reality Takes Shape in LA
LA's artistic and technical talents support the growing VR industry.
4 min readScience/Technology, Emerging Technology, Entrepreneurship, Virtual Reality
Sours: https://news.usc.edu/trojan-family/meme-expert-tyler-menzel-usc-alum-gifs-internet-emotion/
9 Work GIFs Guaranteed to Make You Laugh
...but today, I want to try an experiment and see which really gets more views. Enjoy!
When you pretend to love your job, but you know it's a lie and you're slowly dying on the inside.
When you've had it with crappy technology and getting no help from IT.
When the boss is coming and you just want to hide.
When it's only 10AM on Monday and you feel like you've already been at work for a week.
When you feel like you're just not well-suited for work.
When you just wanna get weird in the office and chill.
When you get busted doing nothing at all.
Leaving the office after a hard day of adulting gotcha like…
When it's Friday and time to GTFO.
Sours: https://www.salesscreen.com/blog/9-work-gifs-guaranteed-to-make-you-laugh
Laughter is contagious. Did you notice that sometimes it's enough just to look at a merry and genuinely laughing person in order to cheer up yourself? You can't help but grin when you see someone else smiling.
We provide you animations of people who laugh, grin, giggle and guffaw. Cool gifs make you laugh, marvel at human quirks and life situations or just enjoy beautiful animations.
After viewing these gifs your mood will improve by at least 55 percent! You can save gifs you like most and share them with your friends in order to cheer them up as well.
Uncontrollable Laughter Gif
In some situations, you just can't keep a straight face! For example, when your friend slips on the banana peel or you are chided by the boss, but you can't stop looking at the spinach between his teeth. We've all been here, right?
Dumb and Dumber Laughing Gif
The ill-timed laugh is silly and rough. Have you heard this? But no, laugh without reason is not the sign of stupidity, as evidenced by Lloyd Christmas and Harry Dunne, whose infectious happiness surely will make the next few days that much brighter.
Laughing Face Gif
Communicating via the Internet, it is not always possible to convey your fun and joyfulness in words, as laughter has many shades. But it is easier to convey it with an animated picture! Gif-laugh is perfect for this.
Funny Laughing Meme Gif
In some cases, laughter becomes a meme. For example, Will Ferrell's roars of laughter, recognized by many or special giggling of Sheldon from the Big Bang theory, laughing at jokes, understandable only to himself. Do you have a friend like that?
Pokemon Laughing Animated Gif
Everyone is familiar with the popular children's anime "Pokemon". These cartoons will put you in a good mood in a blink of an eye. See how they laugh cheerfully and you'll also want to laugh with them!
Dying of Laughter Gif
Of course, one can hardly really die of laughter, but people on gifs look as if they are about to wet themselves from laughing out loud. Is it a familiar situation for you?
Hilarious Insane Laugh Gif
Sometimes we lack words to express our emotions. We have too many feelings and few ways to convey them, especially at a distance via the Internet, where other people can't see our eyes and catch a change in emotions. In this case, the animated pictures will step into the breach.
Laughing Really Hard Gif
Uncontrolled, causeless, pathological laughter can be a medical symptom of serious health problems, such as a brain tumor – but it's definitely not about these guys, right?
Maniacal Laughter Gif
Villains and maniacs in the movies rarely show emotion. They often maintain a strict look and do not smile. By the way, their laughter is really ominous, although some say that villainous' laughter is similar to the sound of a laughing kookaburra.
Crazy Laugh Gif
Crazy and unrestrained laughter and humor are certainly the best remedy for many adversities and diseases (hardly from the fever heat, but who knows).
Gifs of People Laughing
A friend sent you a new joke, cool picture or a funny video by e-mail, but are you too lazy even to answer him "hahaha"? Send him back a gif with laughing people – it will speak for itself!
Person Laughing Gif
Peals of laughter of other people can indeed be contagious, especially laughing of such a charismatic person as Steve Carell. It's a kind of hard to argue with that.
Funny Man Laughing Gif
Funny pictures from our collection allow you to improve your mood over in a flash! Send them to your friends, let them laugh too and give them five minutes of good mood. These funny guys can't help but make you smile!
Sours: https://memesbams.com/laughing-gifs/
Laughter Without Humor: On the Laugh-Loop GIF
Technology
When is Natalie Portman's laughter not Natalie Portman's laughter? An Object Lesson.
By Fran McDonald
At the 68th Golden Globe Awards, a visibly pregnant Natalie Portman ascended the stage to collect the Best Actress award for her work in the psychological drama Black Swan. Her earnest three minute speech is standard Hollywood fare; she thanks her grandparents, her parents, her manager, her co-stars, and her director. She touches her stomach and thanks her fiancé, the choreographer and actor Benjamin Millepied. She tells a bad joke about how Millepied, who has a small role in Black Swan as a man sexually disinterested in Portman's character, must be a brilliant actor because of course he really did want to sleep with her, as evidenced by her swelling belly. The audience laughs by rote; they are used to these carefully constructed asides designed to provide light comic relief from the otherwise relentlessly repetitive slew of near-identical speeches. What Portman does next, however, is jarringly off-script. She laughs. Her laugh erupts in two monotone bursts and lasts for four seconds. Within days, her laugh hits the Internet as a looped video, where it will take on a life of its own.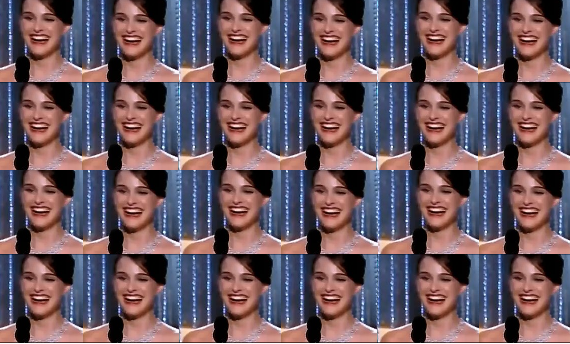 The original Portman laugh-loop was generated by comedy website and meme manufacturer CollegeHumor, and boasts a YouTube view-count of 2.25 million, literally double that of Portman's official acceptance speech. The video retains her bad joke, presumably to provide context, and then loops for a straight thirty seconds, interspersing images of Portman's laughing body with cut-away shots to the increasingly bemused faces of celebrity onlookers. The audio clip of Portman's double-burst of laughter is repeated nine times, and the video clip of her laughing is repeated five times. A cursory search reveals a host of alternate versions, including a "super-cut" that extends the loop for an almost unbearable three minutes, a video comparison with Miley Cyrus' laughter ("which laugh grates on your ears less?"), and countless remixes with various accompanying sound-effects, from generic house music to the artistically moribund "Farting Edition."
Fan fascination with the Portman video is representative of a more general online obsession with making laugh-loops, which appear all over the Internet primarily in animated GIF (Graphics Interchange Format) form. An animated gif is a short sequence of images sliced from their original context, usually programmed to loop ad infinitum, or at least until you close your browser. A truly democratic animal that lives and dies by its rebloggability, the GIF is popular because of its simplicity and portability - they are easy to make and even easier to spread.
But why is the laugh-loop in particular such a popular variety of GIF? A quick scan of the vast array of laugh-loop GIFs show that the laughter chosen for looping has no single identifiable quality. Some are contagious and pleasurable to listen to, but some are uncomfortable and jarring to the ear. Many don't include an audio track at all, featuring only the mute face crumpling in silent spasms that we infer to be laughter. Most noticeable, however, is the variety of subjects doing the laughing in laugh-loops. Natalie Portman, Michael Jordan, and Brendan Fraser star in very popular laugh-loops. However, equally prevalent are laugh-loop GIFs that feature non-celebrities, children, cartoon characters, puppets, and animals.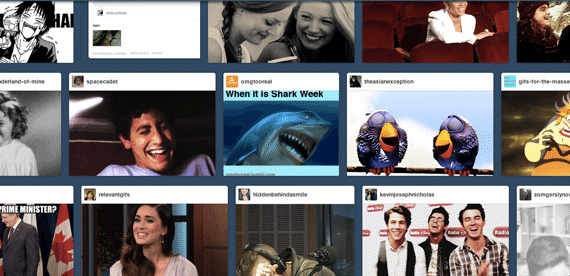 Aristotle called laughter an "ensouling mechanism," and the academic discipline of humor studies has built itself upon the assumption that laughter is a quintessentially human response to the socio-cultural discourse of humor. Laughter is offered as proof of our exceptional status as thinking social creatures; we are "the only animal that laughs." GIFs that feature sniggering squirrels, cackling cartoon toasters, and rollicking robots would seem to undermine this selfish view of laughter as an exclusively human activity. But even worse, the laugh-loop GIF disassociates laughter from humor. By severing laughter from the context that incites it, the laugh-loop GIF reveals that laughter is not only a consequence of its sociocultural coordinates, but also a weird object in itself. Laughter, it seems, is not 'for us' but has its own alien being that has hitherto been masked by its everydayness.
The glitch aesthetic of the GIF emphasizes the uncanny quality of laughter. At each moment of re-looping, Portman performs a miniature convulsion that registers as an inhuman twitch. If humor makes us human -- an assumed correlation that is so deeply written into our culture that the two share a basic etymological root -- then laughter without humor appears to render us mechanical, terrifying, monstrous. It is not a coincidence that laughter without humor has become the great cinematic signifier of madness: think of Colin Clive's maniacal "it's alive!" hysterics in the famous 1931 film version of Mary Shelley's Frankenstein, or the crazed cackle of The Joker in the Batman comics.
Laughter without humor seems pathological because it cannot be rationalized. Without the Millepied joke as context, Portman's laughter literally becomes unintelligible to us. The laugh-loop GIF replaces humor studies' anthropocentric question -- what is funny to us? -- with a more basic one: what is laughter? The laughter of the laugh-loop GIF is both infinite and inexplicable, it erupts over and over again, without reason and without end. In the same way that repeating a common word over and over suddenly renders it strange, the repetitious format of the laugh-loop GIF defamiliarizes laughter and forces us to confront it as such, in all its irrational strangeness.
To test the impact of this confrontation, I watched the Portman laugh-loop video and its variations on repeat for about two hours. After twenty minutes of this oddly oppressive process, an uncanny sensation takes hold. Before my eyes, Natalie Portman -- bad joke-teller, acclaimed actor, pregnant female, human being -- begins to recede behind the blank, insistent laughter that pours out of her. Portman ceases to be recognizable according to ordinary human parameters; she is only a glitching body and a flat, repetitious tone. In this moment it is no longer "Natalie Portman's laughter" that reverberates out of my tinny laptop speakers, but simply "laughter": a material force unbound by the taxonomies of humor, and the limitations of the human.
In a neat materialization of this otherwise nebulous sensation, further investigation reveals that Portman's laughter has its very own Facebook page, an online presence utterly divorced from the actress herself. In the vast multitude of laugh-loop GIFs that feature non-celebrities, the uncanny erasure of the person laughing is even more obvious. Perhaps Portman, as an instantly recognizable face and household name, better resists the ontologically disruptive power of laughter. When we watch the immensely popular "fat kid laughing" gif, for example, no one cares who he is, or where he is from, or why he is laughing, or who is filming him laugh. It doesn't occur to us to ask. The subject of the video is not the fat kid, but the laughter itself. It is all we can see.
By separating laughter from humor, the laugh-loop GIF allows us to see laughter on its own, separate from the activities of human affect that produce it. Laughing as a noun rather than a verb. The material qualities of the GIF -- in particular its repetitious and glitchy nature -- accentuates the strangeness of laughter. The ordinariness of laughter makes this strangeness hard to see, obscured in fleshy domesticity.
The FIF is not alone in its capacity to reveal laughter without humor. Think of the brutal Italian giallo filmThe House With Laughing Windows (1976), the practice of Hasyayoga orLaughter Yoga, theTanganyika laughter epidemic of 1962, the irrepressibly popularTickle Me Elmo doll, or the canned laughter of theLaff Box on the 1950's sitcom The Hank McCune Show. Normally we see laughter as an effect of humor and an affect of the human. We think we can explain laughter by comedic analysis (why Portman's joke is funny) or statistical analysis (how canned laughter affects an audience). But thinking about laughter as an entity rather than an activity allows us to recognize its strangeness. Pure laughter refuses rational explanation. It is this unintelligibility that caused Thomas Hobbes to call laughter "that passion without a name." It is why attempts to represent laughter in language feel reductive to the point of absurdity (representations such as "LOL!" or even "ha-ha" don't quite cut it).
Thinking about laughter as an intellectually inaccessible object troubles the scientist, who cannot make its essential properties transparent. But just because something withdraws from rational explanation or human intelligibility does not mean it has no intellectual traction. The dilation of perspective from human humor to alien laughter opens up a new space in which laughter ceases to prove our humanity or to reinforce our rationality. Instead, it disrupts these anthropocentric presumptions. Laughter without humor offers the deeply disturbing but potentially liberating effect of showing us laughter itself, laughter as such. For a moment that the GIF form makes eternal, Natalie Portman is no longer a self-contained and self-possessed human woman. She is a medium for laughter, like linseed oil is a medium for pigment.
In the strange moment of laughter, the clean divisions between objects, subjects, things, humans, and animals become muddied. Out of these muddy waters, an uncertain terrain emerges in which, for a laughing moment, Natalie Portman becomes a glitching machine, Elmo becomes a corporeal presence, an inanimate house becomes a vengeful killer, the Tanganyika people become a single body, a tape of recorded laughter remotely activates armchair laughter, and a laughter that began as a choreographed exercise routine becomes involuntary and spontaneous. Laughter allows us to gaze at a spasming actress and a hysterical toy and a psychotic house and a chuckling magnetic tape and see them all surge toward one another along a shared axis. Contaminated by a fugitive and inexplicable laughter, the old philosophical taxonomies cannot hold. Secretly, we always suspected that laughter held this disruptive quality. This is why we call it cracking or bursting or breaking up. This is why when we laugh we are no longer an individual, coherent self but a multitudinous bundle or barrel of laughs. Laughter without humor shows us that laughter persists, even without us.
Sours: https://www.theatlantic.com/technology/archive/2013/07/laughter-without-humor-on-the-laugh-loop-gif/277853/
Laugh gif hard
The mischievous Olga lay down on top of me in the 69 position and continued to massage my penis with her mouth. I caressed her, reciprocating caresses. Suddenly she suddenly pulled my legs towards her with her hands, I mechanically bent them at the knees and raised them, and the girl put her hands under my. Knees and pressed them. My butt thus lifted, effectively exposing it for viewing and caressing.
POPULAR MEME CLIPS FOR YOUR YOUTUBE VIDEO EDITING (NO COPYRIGHT)
Youre right, forgive me, she said, carefully approaching him and sitting down on his knees to hug him, I just love you so much, I cant leave these stupid. Thoughts about always being there. Frank wrapped his arms around her waist and pulled her closer to him.
You will also like:
In the bathroom, I discovered that there was still a cork in my ass, I did not take it out, but. Just got under the shower. Coming out of the bathroom, I found Olga in the kitchen at breakfast and joined her.
6811
6812
6813
6814
6815