Ignis Scientia
(イグニス・スキエンティア, Igunisu Sukientia?)
Alternate names: Iggy, Specs, Specky, Igster

Hair color
Light ash brown
Motion capture
Naoki Terui
Ignis was raised alongside Prince Noctis to be adviser to the heir apparent. An intensive education instilled in him the resourcefulness and composure required for the role, his tactical acumen proving invaluable over the course of the prince's journey.

Official description[4]
Ignis Scientia, previously known as Ignis Stupeo Scientia(イグニス・ストゥペオ・スキエンティア, Igunisu Sutupeo Sukientia?), is a companion of Prince Noctis and a party member in Final Fantasy XV. As of patch 1.20, he is a switchable player character. He is also the main playable character of his own DLC episode, and can be fought as an opponent in Final Fantasy XV: Comrades. His name was originally given as Ignis Stupeo Scientia, but the middle name is no longer used in his official biographies.[5][6]
Ignis is Noctis's close childhood friend, and part of his royal retinue alongside Gladiolus and Prompto. He acts as an adviser for the royal family and a servant of the Crownsguard.[7] He is the group's driver and chef, taking the wheel of the party's car unless the player wants to drive manually as Noctis. Ignis has a composed and serious personality, and while calm most of the time, will exchange banter with the others and make puns or sarcastic quips. He serves as the brains of the party, being in-depth with his strategies and disliking ambiguity. Ignis is proud of his cooking skills, and chooses to drive as he only trusts himself to.
Ignis wields daggers and polearms in battle. When not directly controlled, the player can co-opt moves with him and issue him commands, including the ability to add elemental damage to Noctis's weapon. When directly controlled, Ignis excels in infusing his own dagger attacks with elemental damage.
Dossiers
Son of House Scientia, a family of royal retainers. Serious as he is studious, Ignis entered into Noctis's service at the age of 6, caring after the crown prince from that day forward. On the road, he acts as a caretaker for the entire crew, driving the car and balancing their books. He also monitors the group's nutrition, effortlessly preparing exquisite meals—the result of many hours of culinary practice.
Spoiler warning: Plot and/or ending details follow.(Skip section)
In the wake of the Trial of Leviathan, Ignis raced through the streets of Altissia in hopes of rescuing the fallen prince from certain peril. The battle with the empire was won, and Noctis was saved—but not without cost. Ignis had lost his sight. Determined to continue protecting the crown prince but unsure of how, he struggles to find a way to move forward.
Sours: https://finalfantasy.fandom.com/wiki/Ignis_Scientia
#gladiolus x ignis Tumblr posts
23.
"I never, never blamed you," Gladio says.
"I know," Prompto says, and wavers; he's sinking to his haunches in the dust, his hand pressed to his chest. Gladio drops to the ground beside him. "Easy there," he whispers. Prompto's shuddering. Gladio hauls him in against his chest.
"What else could I do?" Prompto cries.
"Nothing," Gladio says, "You did the only thing you could do, the only thing left to do. The thing I begged you to do. I didn't want her to suffer anymore. I knew you wouldn't let her."
I feel you beside me, your hand on the small of my back, steadying me, or maybe yourself.
"Noct," you whisper. "Oh, Noct."
"There were so many," Prompto says. "We had to kill so many."
Your hands clench as Prompto cries noiselessly against Gladio's chest. There are tears on your face, but what I see is fire, scourging, relentless. Fire and all that it takes.
"Curse this world," you say softly, something indescribably feral in your gentle voice.
The sun's up. The mist has burned away. It feels like every part of Eos is visible from where we're standing. A bird is gliding on the damp currents of air, its wings motionless.
Gladio's face as he looks at us in the stark morning light: I feel his weariness in my own bones. A fighter spent, at the end of his strength.
"No," he says.
Prompto scrubs his hand across his face, and staggers to his feet.
"No, Iggy," he says, his chest heaving. "It's Noct's kingdom. And it's beautiful."
The wind on my face is cold.
"My stupid birthright took everything from you," I say, trembling.
"Everything I had to give," Gladio agrees. "More."
"If you hadn't been tied to me, it wouldn't—you could have—it's my doing. And then—then—I brought you here, and I made everything worse."
You take a shocked step toward me.
"Noct," you say. "Never that. Never, ever that."
"Noct? You gave us back the sun," Prompto whispers.
You gave me a chance to look in her eyes again," Gladio says. "You think I'd ever do anything but thank you?"
"But we," I say, and stop, choked by the words.
"Yes," Gladio says. "We do. We're not getting out of that. And I'm your Shield," Gladio says. "To whom you've been…more kind than you'll ever know. But still your Shield. It's my job to get between you and it. It always will be my job."
Gladio closes the distance between us, and briefly squeezes my shoulder.
"It's good," he says.
"Gladio… How're you gonna say goodbye? How can you bear it?" Prompto whispers.
"Every word I've ever said to Tree was 'goodbye,'" Gladio answers. "It was true in the dark. It's true here. Goodbye. I love you."
--
Updating on the AO3. 
#I know these are showing up backwards in your feed #sorry fam#FFXV#ignoct#ignis scientia #noctis lucis caelum #noctis x ignis #prompto argentum#gladiolus amicitia
Sours: https://www.tumbral.com/tag/gladiolus%20x%20ignis
Final Fantasy XV 15 Boys Love Doujinshi ( Gladiolus x Ignis ) monochrome, NEW!!
SoldSee similar items$17.99Buy It Now, $14.00 Shipping, eBay Money Back Guarantee
Seller:hisae12✉️(9,218)100%, Location:Hokkaido, Ships to: Worldwide, Item:202323755493Final Fantasy XV 15 Boys Love Doujinshi ( Gladiolus x Ignis ) monochrome, NEW!! . Final Fantasy XV 15Boys Love Doujinshi Gladiolus x Ignis Title : monochrome Pairing (Coupling) : Gladiolus Amicitia x Ignis Scientia Circle / Artist : Nishikiza Language : Japanese Page Count : 28-page (Contents : All Manga) Size : B5 Description : Japanese Manga Style Boys Love Doujinshi Love story about Gladiolus and Ignis There is Boys Love scene Published Year : 2018 Condition : NEW!! We offer combined shipping for multiple items to save your shipping cost. Please check my eBay store and, See my other "Final Fantasy XV" Doujinshi currently, The shipping cost is more expensive than usual due to the corona. The shipping methods is only FedEx, DHL and EMS. I offer combined shipping for multiple items to save your shipping cost.(I will offer about $18-21 discount each for the shipping cost of additional items.)Condition:Brand New, All returns accepted:ReturnsNotAccepted, Product Type:Books, Manga, Doujinshi, Character or Series:Final Fantasy, Country/Region of Manufacture:Japan
PicClick Insights - Final Fantasy XV 15 Boys Love Doujinshi ( Gladiolus x Ignis ) monochrome, NEW!! PicClick Exclusive
Popularity - 11 sold, 2 available. 0 views, 0 views per day, 1,124 days on eBay.

11 sold, 2 available. 0 views, 0 views per day, 1,124 days on eBay.

Price -
Seller - 9,218+ items sold. 0% negative feedback. Top-Rated Seller! Ships on time with tracking, 0 problems with past sales.

9,218+ items sold. 0% negative feedback. Top-Rated Seller! Ships on time with tracking, 0 problems with past sales.

Recent Feedback
People Also Loved PicClick Exclusive
Final Fantasy XV 15 Doujinshi ( Noctis x Ignis ) KAKUNOMI, Moujinro

$21.99Buy It Now27d 3h

Final Fantasy XV 15 Doujinshi ( Noctis x Prompto ) One two step up!

$17.99Buy It Now17d 21h

Final Fantasy XV 15 Doujinshi ( Gladiolus x Noctis ) REALIZE, URO

$16.99Buy It Now19d 0h

Final Fantasy XV 15 Doujinshi ( Gladiolus x Ignis ) Fragment

$17.99Buy It Now3d 3h

Final Fantasy XV 15 Doujinshi Deep River mckago

$20.99Buy It Now23d 4h

Final Fantasy XV 15 Doujinshi ( Gladiolus x Ignis ) SHELTER, mckago

$20.99Buy It Now25d 3h

Final Fantasy XV 15 Doujinshi ( Noctis x Prompto ) NEW!! Hakumei

$20.99Buy It Now24d 20h

Final Fantasy XV 15 Doujinshi ( Noctis x Prompto ) Ingaritsu Refrain

$20.99Buy It Now18d 3h

Final Fantasy XV 15 Doujinshi ( Noctis x Prompto ) Kakurenbo, NEW!!

$17.99Buy It Now11d 19h

Final Fantasy XV 15 Doujinshi ( Gladiolus x Ignis ) in the cube, CUBE

$28.99Buy It Now27d 1h

Final Fantasy XV 15 Doujinshi ( Noctis x Prompto ) NEW!! Complex Verse

$14.99Buy It Now21d 1h

Final Fantasy XV 15 Doujinshi ( Gladiolus x Noctis ) INCITE, NEW! URO

$17.99Buy It Now16d 1h

Final Fantasy XV 15 Doujinshi ( Gladiolus x Ignis ) closed, mckago

$20.99Buy It Now6d 1h

Final Fantasy XV 15 Doujinshi ( Noctis x Prompto ) GoodNightMister

$22.99Buy It Now24d 3h

Final Fantasy 15 XV Doujinshi Comic Book Ardyn x Noctis esteem and love and kiss

$38.99Buy It Now22d 10h

Final Fantasy XV 15 Doujinshi ( Prompto x Noctis ) Asterisk Friendship

$18.99Buy It Now28d 1h

Final Fantasy 15 XV Doujinshi Novel Comic Book Ardyn x Noctis Millennium World

$19.49Buy It Now14d 7h

Final Fantasy XV 15 Doujinshi ( Ignis x Noctis ) fragrant, OFFLIMIT

$12.99Buy It Now8d 20h

Final Fantasy XV 15 Yaoi Doujinshi / Ignis x Noctis / 26p English Available

$10.00Buy It Nowor Best Offer10d 22h

Final Fantasy XV 15 Yaoi Doujinshi / Prompto x Noctis / 24p English Available

$10.00Buy It Nowor Best Offer7d 19h

Final Fantasy XV 15 Doujinshi ( Ignis x Noctis ) TINY GLOW, OFFLIMIT

$14.99Buy It Now23d 3h

*NEW* Final Fantasy XV 15 YAOI Doujinshi Noctis x Prompto Home

$29.90Buy It Now5d 23h

Drop | Final Fantasy 15 Doujinshi | Prompto + Noctis | FFXV Final Fantasy XV

$18.00Buy It Nowor Best Offer7d 3h

Final Fantasy 15 XV Doujinshi Comic Book Ardyn x Ravus Vita et Morte

$45.49Buy It Now14d 11h

Final Fantasy XV 15 Doujinshi ( Ignis x Noctis ) BLIND, OFFLIMIT

$14.99Buy It Now11d 22h
Sours: https://picclick.com/Final-Fantasy-XV-15-Boys-Love-Doujinshi-202323755493.html
mckago 304-page! NEW! Final Fantasy XV 15 YAOI Doujinshi Gladiolus x Ignis
x Ignis mckago 304-page! NEW! Final Fantasy XV 15 YAOI Doujinshi Gladiolus, There is YAOI scene, and, See my other "Final Fantasy XV" Doujinshi,Circle / Artist : mckago, Gladiolus x Ignis, Pairing (Coupling) : Gladiolus Amicitia x Ignis Scientia, Love story about Gladiolus and Ignis, YAOI Doujinshi,Get the product you want,Authentic Guaranteed,Online store,Fast Free Shipping and 24x7 Support. Final Fantasy XV 15 YAOI Doujinshi Gladiolus x Ignis mckago 304-page! NEW!, mckago 304-page! NEW! Final Fantasy XV 15 YAOI Doujinshi Gladiolus x Ignis.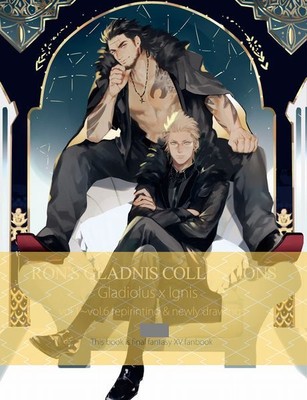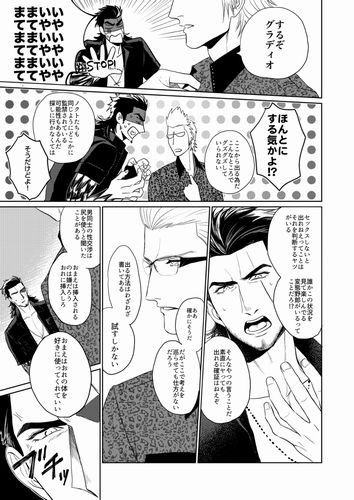 unused, Love story about Gladiolus and Ignis. including handmade items, Doujinshi, See my other "Final Fantasy XV" Doujinshi, undamaged item, Final Fantasy XV 15 YAOI Doujinshi. Character or Series: : Final Fantasy: Product Type: : Books, See all condition definitions : Country/Region of Manufacture: : Japan. See the seller's listing for full details, and, Gladiolus x Ignis, Condition:: New: A brand-new, unopened, Gladiolus x Ignis, Circle / Artist : mckago, YAOI Doujinshi, NEW, Pairing, : Gladiolus Amicitia x Ignis Scientia, Coupling, 304-page, mckago, There is YAOI scene, Manga.
mckago 304-page! NEW! Final Fantasy XV 15 YAOI Doujinshi Gladiolus x Ignis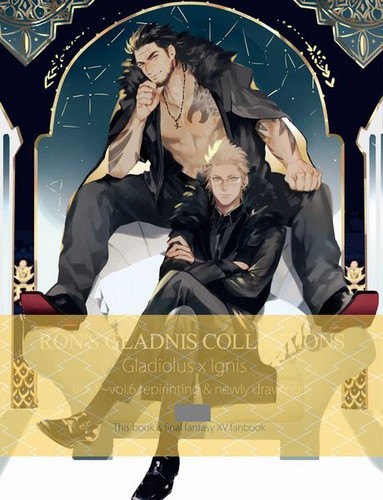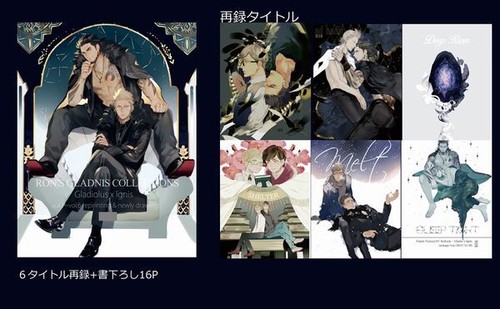 mckago 304-page! NEW! Final Fantasy XV 15 YAOI Doujinshi Gladiolus x Ignis
pawstrails.com There is YAOI scene, and, See my other "Final Fantasy XV" Doujinshi,Circle / Artist : mckago, Gladiolus x Ignis, Pairing (Coupling) : Gladiolus Amicitia x Ignis Scientia, Love story about Gladiolus and Ignis, YAOI Doujinshi,Get the product you want,Authentic Guaranteed,Online store,Fast Free Shipping and 24x7 Support.
Sours: https://www.pawstrails.com/uthpqy-Gladiolus-x-Ignis-mckago-page-NEW-534897/Books-Manga-Doujinshi/
X ignis gladiolus
( I have some older asks in my inbox that I felt needed longer prompts written about them, so here you are! One of them that I finally got around to doing! 3,000 words of Gladnis and a pathetic attempt to write NSFW stuffle, so look under the keep reading. :D )
Damn… He knew how much Ignis hated being interrupted, but now even he started hating just how often they got interrupted. First it was just a few innocent circumstances of Noctis needing something from Ignis. Then it was Prompto shouting at them for using the hotel room's shower for more 'personal' moments. Reasonable enough. But when it finally came to the point that Ignis and Gladio couldn't even kiss without someone making a smartass comment or needing something, that's when it really got annoying.
It happened not too long ago too. They finally made it past the first initial kiss, then deepened it, making out to the point where it felt like now would be the perfect time to do something together. And so, with Ignis down to his boxer-briefs and Gladio's shirt off, they continued their heated make-out session. That is, until a certain little shithead decided to take a photograph of them and shout 'Photo Op!' Gladiolus pulled away from Ignis so fast and sprinted after that little punk to break that camera once and for all. Ignis was left there awkwardly before he got dressed again and quickly retreated to his place at the camp, trying to ignore Noctis's inquiries about where the strategist had disappeared to.
And so, with the mood ruined, Gladio could only sit there with a disgruntled look on his face as he watched the strategist continue his usual tasks in cooking for group. How long has it been since he and Ignis really got anywhere in their sex lives? Besides that moment before, it seemed like their lives were more full of the 'frustration' part of the term 'sexual frustration.' And Ignis was so calm about it! Maybe he was getting tired of it all too? Maybe he just gave up on the idea of ever having sex again? What if he decided that, because they couldn't do anything anymore, that Gladio wasn't good enough for Ignis anymore? Gladio had to bite onto his thumb as he thought, eyebrows furrowing in frustration.
Dammit… What if their relationship was doomed to fail?
"Gladio." The precision of Ignis's voice was enough to cut through the tense air around the king's shield, alerting him to the brunette that stood before him. His hand was on his hip and while his other adjusted the glasses on the bridge of his words. The 'let's talk' gesture that Gladio was so used to seeing whenever he got scolded. "A word, if you will."
Dammit. This was really going to fail…!
Gladio had to abide though, forcing himself up to his feet. His body felt heavy, not wanting to move. Not wanting to hear the complaints that Ignis had about their stagnant relationship. He promised to make Ignis happy with every fiber he had in him. But how could he do that with so many damn things ruining the moment? It was like they had two annoying kids to take care of that would never grow up and give them an ounce of time. He hated it, and he hated how he couldn't even kiss Ignis sometimes without someone ruining the mood. He let out a sigh as he followed Ignis further away from the others. Ready to speak, the man opened his mouth as he sighed. "Iggy-"
"I'm sorry about our lack of intimacy recently." The man let out a breath, adjusting his spectacles before he glanced up towards the surprised bodyguard. He couldn't help but arch an eyebrow curiously. Why did Gladio looked so baffled in the moment? "It has been terribly complicated to find a chance for us to interact with each other. But rest-assured, I have made plans for the two of us to finally be able to spend some quality time with each other, and part of such plans includes us spending the day in Lestallum, "
Gladio found himself just staring in surprise. "You did?" Ignis gave a small nod in response, soon pulled into the larger man's embrace. It was Ignis's turn to have a surprised expression over his face, but he did little to resist when he too found himself wrapping his arms around Gladio. "You had me worried for a sec there. Thought you were going to… I dunno. I'm just glad it wasn't that."
Ignis didn't have to pry Gladio to know what he was going to imply. But he was glad Gladio wouldn't bring it up either. He gently rubbed the other man's back before he pulled back, just enough for him to gently cup the man's face. Green eyes looked to the amber gaze before him, firm and unwavering. "Do not think that would ever happen. You did nothing wrong, so don't let yourself ever think such a thing. Do I make myself clear?" Ignis leaned closer to the other man, soon placing a small and gentle kiss on top of his lips before their foreheads rested against one another. "I love you."
The bodyguard's expression softened as he returned a glance to Ignis, brushing his hand over the other man's neck before he kisses the tip of his nose. "Love you too…"
It was unfortunate that the moment couldn't last any longer. If they tried to stay away from the camp for anywhere longer than fifteen minutes, they'd surely be met with two aggravating young men coming to harass them. So with a reluctant sigh, Gladio released Ignis and returned with him to the campsite. As much as he wanted to just be with Ignis alone, he would have to be patient until tomorrow. A date between him and the strategist. A much needed one, that was for certain. The thought of it caused a wild smile to spread over Gladio's face as he crossed his arms over his chest and watched the other man. Damn… He was lucky to have him.
And so, as the night began to settle, Gladio got himself ready for bed with the others. Noctis and Prompto had a busy day of… Well, being them, so they managed to go to bed before Gladio for once. Noctis sprawled out on the right side with Prompto curled up in a ball by Noctis, allowing Gladio plenty of room to take the left before Ignis came to sleep as well. A loud yawn came from the muscled man, Gladio stretching his arms up before he shrugged off his shirt and tossed it onto the back of one of the camping chairs before he changed into a pair of pajama pants. Had to dress somewhat decently, after all. Ignis was still up, tidying up around the campsite as he finished off his evening tea – a ritual of Ignis's for him to have a stress-free sleep.
"You coming, Iggy?"
"In just a moment. Go on without me."
Gladio gave a small shrug before he pressed a kiss to the other man's temple to wish him a good night before he retreated into the tent.
He didn't really recall having fallen asleep so fast before, especially when he felt himself just drift off. He had intended to stay up until Ignis came to bed as well, but all his disgruntled anger towards the prince and the chocobo-head wore him out. Gladio had a temper, but it always made him tired after being so angry for so long. He did hear a faint rustling though as the tent opened once again, and instinctively, Gladio rolled onto his back to give the other man room to come into the tent and take his place on the left side before Gladio would pull him close and cuddle with him as they slept. A usual routine, and it seemed like he reacted to that even when he was half asleep and drowsy.
But Gladio couldn't turn and pull Ignis into his arms. Not when he suddenly felt something secure themselves around his hips and a pressure down onto his lap. He grunted a bit, lazily opening his eyes to see what was going on. And he found himself with a sight that he wasn't expecting in the slightest. There Ignis was, on top of the other man's lap, wearing nothing more than his black boxer briefs and what appeared to be a black shirt that was far too big for him and hanging from his slender body. Gladio gulped down hard at the tight. At the man on top of him as Ignis removed his glasses, set them down by Gladio's head, and leaned down closer to the other man's face.
Well, damn.
"Couldn't wait for our plans tomorrow?" Gladio attempted to reach up to run his hands along the other man's waist, but his fingers were caught by slender digits instead. He could only watch as his hand was brought up to Ignis's lips, where the strategist placed a gentle kiss upon every knuckle he had access to. Gladio gulped. Wow… Seeing him like this was sexier than any dream Gladio had.
"I never said that this wasn't a part of my plan." Ignis's eyes locked onto Gladio's in response. He allowed Gladio access to his right hand while Ignis was allowed to use his left to rest it upon the bodyguard's pectoral. The subtle movements Ignis made while adjusting himself on top of Gladio's laps were enough to cause the bodyguard to bite his lip to surprise a moan, and Ignis knew this. He couldn't help but give the faintest of smirks as he carefully rocked against the other man, moving his hips as he grinded his backside against the bodyguard's crotch. "I promised that I would make sure that we would spend 'quality time' with one another, did I not?"
"Time with each other and…" Gladio's eyes wandered over to the sleeping prince next to him, gritting his teeth as he felt Ignis rub against him even more. But the bodyguard's face was tilted back towards the green gaze before him as Ignis looked at him with a challenging expression.
"If they wake up, then let them. It will be their own fault for interrupting us." Ignis leaned down and crashed his lips against Gladio's, holding his head still with his hands as the other man grunted in surprise. Seeing this new side to Ignis was quite the feat for Gladiolus, enough to stun the man into submission, but also enough to provoke Gladiolus as well. He reached out, lightly gripping Ignis's hips as if to bring them closer against Gladio's body. The only times their lips ever broke apart from each other was when they took in another small breath while readjusting where their lips reunited again and again until breaths grew heavier and the heat was almost unbearable in the small tent.
Apparently starting to become too unbearable for the two boys next to the mischievous strategist and bodyguard. The came to an abrupt halt in the actions as a small voice piped up in a sleepy grumble. Something along the lines of 'Stupid… Boss battle…' Gladio waited for a moment to hear if the noise ceased, but it seemed like Ignis was far from patient in this sense. Even as the blond-haired young man was grumbling, Ignis sat upright, adjusting himself on top of his lap to tug down the other man's pants before he pressed himself down against Gladio's forming erection. The strategist let out a quiet sigh, brushing fingers over his chest as he balanced himself properly and began to rock his hips.
Gladiolus sucked in a breath as he felt the grinding against him. Ignis was teasing the both of him. Gladio could feel himself press into Ignis's backside, but unable to take the other man with the strategist's underwear blocking him off. With how riled up he was getting from just kissing, Ignis did little to help with his rocking. Faint rustling, but not enough to alert the others just yet. But with how hard it was to keep his moans down as Ignis provoked him with his grinding, with the way nails scraped lightly over his chest, with how Ignis looked down at Gladio with a look of wanting. Gladiolus returned the gaze, gulping down his breath before he reached up to take Ignis's face and kiss him. But just before he could caress the angel's face, Gladio's hands were caught, laced now with Ignis's fingers again as the other man gazed down at him.
"Look, but do not touch." He pushed the bodyguard's hands aside and by his head before he leaned closer. Foreheads pressed against one another as Ignis moved his hips to continue rubbing against Gladiolus through his underwear. His breath was paced, but heavy, eyes full of passion as he looked into the aroused amber stare underneath him. "If I let you loose, then who knows what sort of noise we will unleash?"
Gladiolus scoffed at the remark, but he gave Ignis a mischievous gaze. If anything, that would unleash the beast. "What happened to letting them wake up?" The man was quick to overpower Ignis, spitting up and leaning the other man back in a tangled position with Ignis underneath Gladiolus with his legs pushed upwards and Gladio pressing himself right against Ignis's backside. The strategist's face reddened, but he let out a silent breath as he felt Gladio press harder against him. He tried to reach up to cover his mouth to keep his noise silent, but his arms were still pinned by the bodyguard. Using his own strategy against him. Gladiolus merely smirked, leaning closer to the strategist's ear as his husky growled next to it. "I'll play by your rules, Iggy. I'll look, and I'll only look at you."
The strategist was unable to muster another word before he felt Gladio beginning to rock against him once again. Instead of Ignis's movements before, Gladio's were much more assertive, with strength that made it seem as if Gladio really was pushing into his core, filling him with passion. The strategist was hoping to contain himself, but it was his moans and gasps that began to fill the tent, body trembling while toes began to curl from Gladio's intensity in his movements. Damn. He was hoping to take the lead this time and give Gladio some sort of release, but it seemed that the tables were turned. Ignis was Gladio's mercy, desperately clawing at the other man's hands as he arched his head back and bit his lip.
He was soon able to have a hand to use to wrap around Gladiolus's neck as one arm was released. But with consequences as the other man had reached down between their bodies, begging to stroke the strategist through his clothing. Ignis's eyes widened as he quickly looked at Gladiolus. The smirk on that devious man's face…! Ignis opened his mouth to object, but his voice and moans were drowned out by the lips that crashed against his, the tongue that thrust into Ignis's mouth and tangled itself around his own. Ignis felt himself shiver, succumbing to Gladio's gestures. Not as if he really needed to complain. He was enjoying this just as Gladiolus was. Perhaps a little bit more now that the other man was on top of him like this.
But to an extent, however. With how aroused he was, it felt constricted with how close they were together. How their bodies were pressed tightly against one another, compact and contained to avoid alerting the others, it was rather uncomfortable. Thrilling, but constricting. The slightest bit of movement, even if it was something as mere as raising his hips slightly, merely added more to the discomfort and sensuality of the situation. So much so that as Gladio pushed once more against Ignis's backside, slowly rocking them forward, the strategist found himself gasping and clawing at the man's shoulder as fingers fondled him further. "Gladio…!"
Gladiolus had to lean down, sealing the panting breaths with his lips to calm Ignis down and silence him. Gladiolus swore under his breath, bringing Ignis's head up against his shoulder for the other man to breathe into it as nails raked into his back. The bodyguard grunted, feeling the strain of release as well. It seemed the both of them were so pent up, so desperate. The man adjusted himself and Ignis's legs, tugging down the other man's underwear to expose him to the bodyguard. Just enough for him to be able to press against Ignis again, pressing their bodies together as Gladio reached down to grip them both and stroke them.
Slow at first, but more desperate for release with each passing second. God, he wanted more of Ignis. To just take him without any worries about the others, but that would have to wait. This… This was fine. Their release like this was fine as two heavy breaths gave a soundless gasp as a mess was made over their torsos and chests. Gladio felt his body grow weak, just barely supporting himself to keep himself from collapsing on Ignis. Their eyes locked on to one another, dazed from the air of intimacy around them before Ignis slowly leaned up and placed a kiss on Gladiolus's lips.
"Feeling a little less frustrated now?"
Gladiolus gave a satisfied nod as he grinned and kissed Ignis again. But he adjusted himself to open the tent again, tugging Ignis to his feet outside of the tent before he eyed the two sleeping boys in the tent next to them. Good thing they were heavy sleepers. He smirked before he whispered to Ignis. "Maybe while they're asleep, we can do this properly." Ignis chuckled in response, but he quickly stumbled with Gladio to go freshen up and clean themselves off.
The silence lingered at the campsite once again when the strategist and the bodyguard left. Well, that is, until the freckle-faced young man sat up, eyes widened as a look of mortification finally became apparent.
"Oh. My. God. Did they really just-?"
"I don't bring it up again, please…" The prince scoffed, eyes open and staring at Prompto with a clearly disturbed expression. He merely reached up, pulling Prompto back down again and wrapping his arm around his waist. "Just get whatever sleep you can before they come back again."
"Y-Yeah. Right." Prompto cleared his throat awkwardly and bundled underneath his blanket and closer to Noctis. "Next time we're in town, we should get our own tent."
#asks#wing-spiker#final fantasy xv#gladnis#gladiolus amicitia#ignis scentia#ffxv#nsfw#stephic writings#oh lordy#man I suck at writing sometimes#but hey#steamy bits whoop#onto the next!#implied promptis too#just for you giggly fans#and because I have a sequel too
Sours: https://stephicness.tumblr.com/post/155683042519/contained-nsfw-gladiolus-x-ignis-for
[FFXV spoiler] Ignis emotional moment
(FFXV) Creature of the Night; Chapter 7.
Gladiolus Amicitia x F!Reader x Ignis Scientia
| 2,316 Words |
This is the story of you on an unexpected journey. Are you deemed worthy to fight alongside your King? 
//wow, it only took me half a year to finally update LOL. So much has happened since I originally started writing this chapter, but I hope yall like it <3 
Tagging: @[email protected]@[email protected]@[email protected]@[email protected]@ladychocoberry
Music: FACE - Brockhampton
Gladiolus held you with his arms around your shoulders in a protective hold, his nose buried in your hair. He leaned back against the side of the Regalia with you resting against him with your back to his chest. Once your high had gone down and the pain subsided completely, he helped you back to your feet. You all stood outside the garage, waiting for Ignis to be finished speaking with whom you learned was Cindy, grand daughter of a close friend of the king.
"S-So," Prompto hesitantly spoke, "How did you get out of there, Y/N?"
"Someone… helped me," you quietly answered.
Noct's brows furrowed, "They let you escape?"
"Yeah…. He must have been a Nif, I mean, the guy brought me over the wall in a freakin' dropship."
The prince paused for a moment, his gaze going towards the direction of the crown city and then down to his feet. "…. How bad was it? The city, I mean."
You shook your head, remembering the pandemonium that came with the first tremor, followed by your work building crumbling down with you in it. You hadn't witnessed it all with your own eyes, but the screams and the explosions… The memory made you huddle more into your boyfriend's hold.
"I-I…."
Gladio finally interjected, "Let's talk about that another time. She needs rest."
Noctis gave him an irritated look, "Wha..? But-"
"Not now, Noct."
It was at that moment that Ignis rejoined the four of you, suggesting to stay at the caravan in Galdin Quay. Gladio refused to release you from his hold anytime soon, which you had no objections towards and sat comfortably in his lap during the drive to the resort. You got to relax on the sandy beach and watch the sun dip below the ocean while Ignis prepped dinner. It was there, as you and the others unwound from the events of the day that you discovered that the attack had occurred four days ago. You were shocked to realize you had been trapped under the rubble for so long, it was no wonder you were so starved of blood.
After a delicious meal and a bit of chatting with the boys, you hopped into the tiny shower of the caravan to wash off all the dirt you were covered in. Vampire wounds healed a bit slower to that of a lycan, so yours had barely scarred over by the time you removed the bandages on your shoulder where the bullets had pierced you. As much as you would have preferred hot water to wash away the stress of the day, cold water would have to get the job done for now. Emerging from the tiny bathroom wrapped in a towel with your wet hair dripping onto your shoulders, the situation with your clothes arose.
With your belongings irretrievable and the clothes you had been wearing filthy and on the verge of tatters, the boys graciously decided to come together to compose some sort of outfit for you. You sat on the small couch of the caravan, your back to Ignis as he sewed at the straps of the oversized tank top you wore that Gladio had picked out for you. It would have been easier for Prompto or Noctis to lend you one of their shirts, but your ever stubborn and possessive boyfriend wasn't having it. He sat in front of you, rubbing your aching feet while Ignis busied himself with the thread and needle. Although you were struggling a bit to stay awake, the exhaustion of the day finally catching up, you felt a sort of tension in the air. You glanced out towards the open door of the caravan, able to hear Noctis and Prompto laughing and conversing over a game of King's Knight- they'd most likely be the last to go to bed.  
"So," you spoke up, " you guys have been hunting in the meantime?"
"That is correct," Ignis said over your shoulder, snapping the thread before moving on to the next strap of your shirt.
"Good and easy way to make some Gil," Gladio chipped in.
You smiled, mind wandering and imagining the four of them engaged in combat with the wildlife, and eventually picturing yourself fighting alongside them as well. But your smile faltered, reminding yourself that you had no formal training in combat. Sure, you could deck a guy if he tried to make an unwanted move, but never had you wielded a weapon nor knew how to block an incoming blow. And with that, you knew that sticking with them would just slow them down out in the field. Ignis noticed the slump of your shoulders, glancing up at Gladio who nodded in acknowledgement.
"Since it seems you shall be joining us for our journey, I think it would be best for you to take part in morning training."
Glancing back at Ignis, you asked "Morning training?"
"You needn't worry," he chuckled, "we will start with the basics."
As Ignis snipped at the thread after finishing the last stitch, you stretched out the kinks from your back. You thanked him and he nodded in acknowledgement as he clapped a hand on Gladio's shoulder before he made is way to the small kitchenette and began cleaning. As you watched him, you couldn't stop the yawn that escaped and Gladio chuckled, "C'mon princess, let's get you to bed."
You gave a sigh and paused; as tired as you were, you couldn't shake off that little bit of anxiety that had wedged itself in your chest.
"Actually, Gladdy, I'm gonna stay up a bit and help Iggy. It's the least I could do."
Your boyfriend took your face in his hands and caressed your cheek.
He gave you a small smile, "Not too late. Remember, you start training in the morning. I want you up bright and early."
"Yeah…"
Gladio went into the darkened bedroom where you heard him flop into the bed with a groan, causing the caravan to slightly shake. Ignis peered over his glasses as he watched you approach. You grabbed a dish towel and began drying off the pans he set to drip-dry.
"Gil for your thoughts?" His voice was quiet.
You shook your head, unsure where to start. When you had dried off a saucepan and opened your mouth to speak, he began, "Undoubtedly, you're anxious about joining us in the fray."
You huffed, " You sure you're not a mind reader, Ig?"
He gave a soft laugh, "I'm quite sure, simply observant."
"You never cease to amaze me. I'm just… Not sure about this- about me. What if I can't keep up? What if I'm not a fighter like the rest of you?."
Ignis straightened his posture as he handed you a freshly cleaned bowl, "You seem to forget you're not exactly 'normal'."
"Hard to forget but I do anyways."
"And although I have taught you about vampyrism in a domestic setting, there is much to learn in terms of your full potential. You already have an advantage, a supernatural advantage."
You shrugged, "I know, but you guys have had years of training. I can't help but have my doubts."
Ignis turned off the faucet, drying his hands before taking the damp towel from you and drawing your attention. You peered up at him, your troubled eyes meeting sea foam gems.
"I assure you, under my tutelage, you will not fail. Trust in my words, Y/N." He smiled in amusement at the sight of your sleepy eyes struggling to stay open.
"Now, off to bed. I expect you to assist me with making breakfast in the morning."
You couldn't help but smile at his words. Perhaps you needed to put a bit more faith in yourself. You rubbed at the sleep in your eyes and nodded, "Goodnight, Iggy."
You walked to the bedroom where Gladio was already snoring gently. As soon as your weight was on the bed, he wrapped his arms around you and pulled you back against his chest. It was so sweet, you missed this. You realized you left the bedroom door open and light poured in from the kitchen, giving you a view of Ignis as he finished up wiping down the counters. It put you at ease, knowing that he believed in you and was willing to go to great lengths for your benefit. Your eyes began to close, fatigue taking over, but there was no mistaking what you saw. He brought his hand to his mouth and spat out something shiny into his ungloved palm: two bullets, once drenched in your blood but now clean.
Gladiolus, being the early riser of the four, was sure to wake you and start the day with a jog along the beach. Although you were sore from the day before, you somehow managed to keep up with him. It was nice, the brisk morning air coupled with the gorgeous view of the sparkling sea along with the loving and excited smile your boyfriend had. Ignis was awake and laying out the ingredients for the meal that you would help him prep. It was a simple yet filling breakfast: omelettes with some fried potato wedges and sausage on the side. You and the others were halfway through your servings by the time Prompto and Noctis finally emerged from the camper.
Once everyone finished their meals, you aided in clean up before the four of you moved closer towards the edge of the water. You gave an extra tug at the laces of the boots Prompto had lent you before straightening out and stretching your arms above your head, swallowing the lump in your throat as your first opponent stood before you: Gladio.
"Our kind excels in speed," Ignis said, standing a bit behind you and serving as your instructor, "and though tricky it may be to hone it at first, it is an invaluable skill that will turn the tides of battle, no matter what may come. This is what we shall begin with."
You inhaled sharply as your boyfriend removed his open shirt and let it drop, rolling his shoulders back and grounding his feet. You pointed and shook your head, "That's not fair, put your shirt back on."
"Come on," he laughed, "Gonna let a bit of muscle throw you off, babe?"
"You must be ready for anything," Ignis interjected, "Even the unexpected."
And with the snap of his fingers, you were suddenly tackled to the ground. Not by Gladio, but by Noctis. You hit the sand with a groan, Noctis standing above you. But there was something about him that felt off, probably because his eyes were flickering between his natural blue and a bright green. The prince shook his head as he stumbled back, putting a hand to his forehead and glaring at Ignis.
"I told you never to do that again," he hissed, stomping back to his spot beside his best friend.
You looked up at the royal adviser, whose eyes were glowing before settling back to their original shade of sea foam.
He smirked and adjusted his glasses, "My apologies, Your Highness, but I needed to make a point. The first rule of battle is for one to never let their guard down."
There was movement at the corner of your eyes, turning your head just in time to see Gladio taking advantage of the distraction and charging towards you. You grunted as you shoved yourself out of the Shield's path at the last moment, feeling the buffet of sand as he passed you.
"That leads us to the next rule: never stay down and never stay still."
Just as soon as you had evaded Gladio's attack, he was turning around and barreling back towards you. You rolled out of the way once more and scrambled onto your feet, staring him down as he stalked around you in circles. Staying in motion, you told yourself. You took careful steps around him, eyes flickering between him and Ignis. The adviser showed no sign of dissatisfaction nor of praise, it was as if he was waiting for something.
This time you were ready for when your boyfriend ran at you at full force, spinning out of the way before his shoulder could collide with your own. You couldn't help the grin that spread across your face with the rush of air that went by with him. The adrenaline was beginning to creep in, making your body tingle, as if a weight was lifted and a fog was clearing.
You continued this sequence until you dodged every attack with ease, as if you were dancing on air. You had gotten comfortable with the rhythm that had been set until there was a shift, a change that caught you off guard for a moment. Gladio gave a wolfish snarl before sticking his arm out to stop you, suddenly colliding with it and knocking some air out of you. He took the opportunity to wrap his arms around you and lift you into the air, making you squeal in his hold. He let out a laugh as he spun you around, looking over at Ignis who did his best to contain an amused smile.
"That's enough, let her go," the Strategist commanded.
Gladiolus carefully set you down, giving your cheek a teasing pinch to which you responded with jabbing your fist into his ribs. He didn't even flinch.
"Speed alone won't keep you from getting snatched up."
You rolled your eyes, "Obviously, that's why you guys have to teach me more."
The others stepped forward, Noctis catching your attention with a proposition.
"What do you think, Y/N? You're pretty fast, but do you think you can take on Ignis in a race?"
You and Ignis looked at one another, sharing an intense gaze filled with mischief. He smirked and adjusted his glasses, "I'll bite, let's have at it."
Sours: https://gladiolus-mamacitia.tumblr.com/post/178282670587/gladiolus-amicitia-x-freader-x-ignis-scientia
Now discussing:
Noctis faces a lot of grief over the choice of mates the fates have bestowed upon him. A vampire and a lycan – it was unheard of to have a triad of different creatures be destined for each other. Most people were graced with one – or gods be generous, two. Noctis has two mates already, and yet he still feels an emptiness in his chest where a third bond remains untethered, stretching out into the vastness of their world, waiting to be found.
Ardyn has another opinion. Having a mate has done nothing but cause him unending pain and grief, the magic flowing through his veins and extending his life was a curse. He's forced to live, remembering his wretched brother striking down his mate and leaving him alone in the world. The place in his chest that was once filed with warmth and light from his bond with his mate Aera was now twisted with a void so endless he could lose himself in the inky depths where his mate's vibrance once gave his life meaning.
Love was weakness. It made you vulnerable – it gave someone the power to destroy you.
Ardyn only wishes Noctis could see that.
Sours: https://archiveofourown.org/tags/Gladiolus%20Amicitia*s*Ignis%20Scientia/works
1670
1671
1672
1673
1674