Automotive Window Tinting
Sal's House of Tint is family-owned and operated by Salvador and Michelle Hurtado. Like many of the locals, we came to San Marcos to attend Texas State University, fell in love with the community, and never left. We're passionate about sustainable living. In 2010, we decided to make a life out of teaching others how to save energy and shrink their carbon footprints with window film. Although we are based in San Marcos, we also service Austin, Cedar Park, Buda, Kyle, Wimberley, Driftwood, Luling, Lockhart, New Braunfels, Schertz, and San Antonio.
Meet Sal
Sal has been tinting for over twenty years. His consistent attention to detail and obsession with quality hasn't gone unnoticed. Sal was named the "World's Best Automotive Window Tinter" at the 2017 International Window Film Conference and Tint-Off, where he was also awarded the bronze medal in the architectural division. He was previously named one of the top ten tinters in the world by the International Window Film Association in 2012 and 2013. 

Sal holds a bachelor's degree in Sound Recording Technology from Texas State University, where he received the department's Award of Excellence. When he's not tinting, you can usually find him playing his guitar or making music at his studio, Hotmouth Records.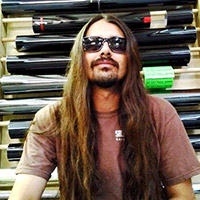 Meet Sal
Michelle may not tint, but she has a pretty good grasp on the "everything else" side of the business. She has worked in customer service within several trades industries since she was a teenager, and holds a Bachelor of Business Administration with a major in marketing. In 2014, she was named one of San Marcos's Shining Stars Under 40, an award given by the Chamber of Commerce for significant professional contributions and service within the community.

Michelle spends most of her free time kicking, punching, and jumping around with ancient weapons at Shaolin-Do Kung Fu and Tai Chi.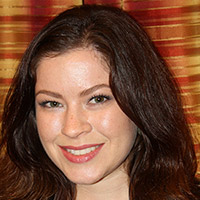 1995 Sal tinted his first window
2010 Opened Sal's House of Tint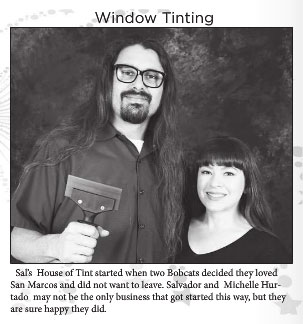 2012 Sal named 1 of top 10 tinters in the world!
IWFC Automotive Tint-Off Finalists AnnouncedCommunity Impact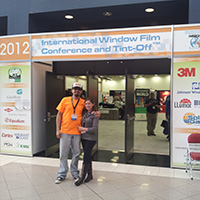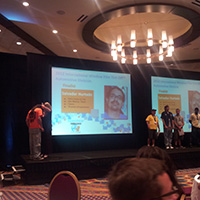 2013 Sal named 1 of top 10 tinters in the world (again)!
Finalists Announced for Tint-Off Competitions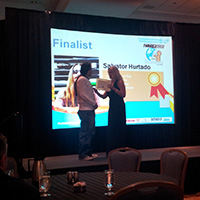 2014 Michelle received San Marcos Shining Stars Under 40 Award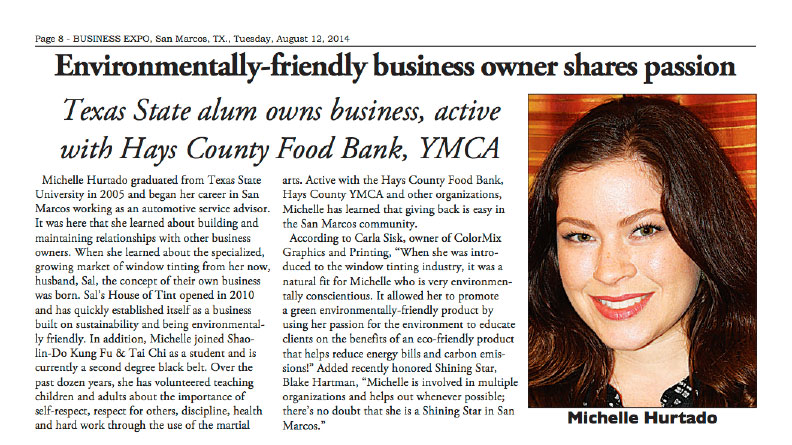 2015 Sal's House of Tint voted best window tinting service in Hays County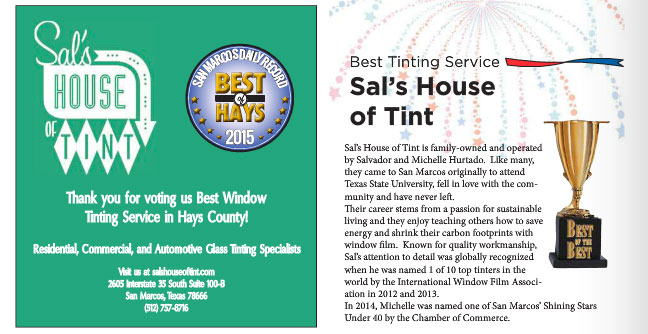 2016 Accredited by International Window Film Association for Solar Control Films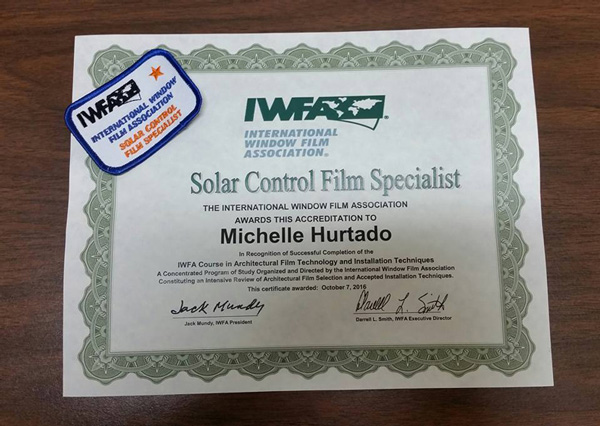 2016 Named Green Business of the Year by San Marcos Chamber of Commerce
2016 Sal's House of Tint voted best window tinting service in Hays county.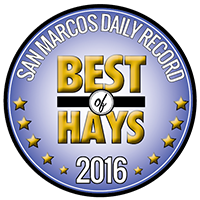 2017 Sal named World's Best Automotive Window Tinter at International Window Film Conference and Tint-off
2017 Sal is awarded bronze medal in architectural division at International Window Film Conference and Tint-off
Sours: https://www.salshouseoftint.com/about
About Us
Our History
Class One Window Tinting is an established professional business servicing Brisbane, Caboolture, Bribie Island, Sunshine Coast, Gold Coast and even Toowoomba. Our key service area is the Brisbane North region. Class One Window Tinting has secured much work from various companies who have put their trust in our ability to provide our service for their needs whether it be for vehicles, homes or offices. We have access to all suppliers of major brands, also offering and providing many years of extensive experience. Class One Window Tinting is confident in delivering your tinting needs for the right price.
Class One's operation commenced north of Brisbane near the CBD with a purpose built shed. As part of our service we offered a mobile tinting option for our clients. The idea of mobile tinting proved to be most popular at the time and soon became as our way of doing business. The concept certainly took off with the many benefits being realised by our clients and what we offer by Class One coming to you. We service all areas in South East Queensland and will consider all other areas. Change over time has seen Class One Window Tinting able to offer the mobile tinting solution as well as the in-store alternate once again.
Over the last 15 years the mobile service has been our core business, however with the demands on our time as we have become more popular in the marketplace and the never ending expansion of grid lock traffic particularly in peak hour travel times around Brisbane the mobile service on its own has become less viable.
We have opened up our new premises on the Redcliffe Peninsula in Clontarf in a bid to service more of our customer's in-store and provide a better environment more conducive for professional window tint installations. We still offer a mobile service though we predominantly service our fleet clientele as they typically provide us with more than one vehicle at a time.
Delivering a high quality tint job is what Class One prides itself on, these results are more easily achieved in the right environment hence we now offer our purpose built shed to our clients in addition to our mobile service. Class One Window Tinting still offers a reliable and professional mobile service to your home, office, or workplace as we know this often is the most convenient option for our clients. All our services in-store and on site are all available by appointment.
We guarantee our workmanship and products, if there is a problem Class One Window Tinting will replace it free of charge. Your piece of mind is assured. Class One Window Tinting staff have been trained by the world's best, Class One's quality and service are second to none. Our goal is not to let you down.
Proprietorship has been developed through the directorship of Percy Smith with his experience proving to be vast, and has included working for large tinting companies in Australia (Qld & Vic) as well as the United Kingdom. (London & Scotland).
If you would like to find out more about our service all you have to do is give us a call in business hours or email us via our contact details and we will be pleased to explain everything about our products and services that you are interested in. We do stock a variety of products in-store and a selection of products in our vehicles for the mobile service, so you can make a decision with film choice, with one of our technicians as they go through the samples personally with you on the day of your booking.
Sours: https://www.class-one.com.au/about-us/
Illinois is a state in the Midwestern United States. It is the 5th most populous and 25th most extensive state, and is often noted as a microcosm of the entire country. With Chicago in the northeast, small industrial cities and great agricultural productivity in central and northern Illinois, and natural resources like coal, timber, and petroleum in the south, Illinois has a diverse economic base and is a major transportation hub. The Port of Chicago connects the state to other global ports from the Great Lakes, via the Saint Lawrence Seaway, to the Atlantic Ocean; as well as the Great Lakes to the Mississippi River, via the Illinois River. For decades, O'Hare International Airport has been ranked as one of the world's busiest airports. Illinois has long had a reputation as a bellwether both in social and cultural terms and politics.
Cities in Illinois: Chicago, Aurora, Rockford, Joliet, Naperville, Springfield, Peoria, Elgin, Waukegan, Cicero, Champain, Bloomington, Decatur, Arlington Heights, Evanston, Schaumburg, Bolingbrook, Palatine, Skokie, Des Plaines, Orland Park, Tinley Park, Oak Lawn, Berwyn, Mount Prospect, Wheaton, Normal, Hoffman Estates, Oak Park, Downers Grove, Glenview, Belleville, Elmhurst, DeKalb, Moline, Lombard, Buffalo Grove, Urbana, Bartlett, Crystal Lake, Quincy, Streamwood, Carol Stream, Romeovile, Plainfield, Rock Island, Hanover Park, Carpentersville, Wheeling, Park Ridge, Calumet City, Addison, Glendale Heights, Pekin, Northbrook, Elk Grove Village, Danville, St. Charles, Woodridge, North Chicago
Counties in Illinois: Cook, DuPage, Lake, Will, Kane, McHenry, Winnebago, St. Clair, Madison, Champaign, Sangamon, Peoria, McLean, Rock Island, Tazewell, Kendall, LaSalle, Kankakee, Macon, DeKalb, Vermilion, Adams, Williamson, Jackson, Whiteside, Boone, Coles, Ogle, Knox, Henry, Grundy, Macoupin, Stephenson, Franklin, Marion, Livingston, Jefferson, Woodford, Clinton, Fulton, Lee, Morgan, Bureau, Christian, Effingham, Randolph, Monroe, McDonough, Logan, Montgomery, Iroquis, Saline, Jersey, Jo Daviess, Shelby, Perry, Fayette, Douglas, Crawford, Hancock, Edgar, Union, Bond, Warren, Lawrence, Wayne, Piatt, DeWitt, Mercer, Pike, Clark, Richland, Massac, Carroll, Moultrie, Washington, Mason, White, Ford, Greene, Clay, Cass, Menard, Marshall, Johnson, Wabash, Cumberland, Jasper, Hamilton, Alexander, Schuyler, Henderson, Brown, Edwards, Pulaski, Putnam, Stark, Gallatin, Scott, Calhoun, Pope, Hardin
Wikipedia
State website
Tint law references:
Illinois Vehicle Code Chapter 12, Article V - Glass, Windshields, and Mirrors
Medical exemption info:
Illinois Tinted Window Medical Certification form (.pdf file)
---
Sours: https://www.tinting-laws.com/illinois/
Oh, yeah, you think your ride looks mighty fine with those dark tinted windows.
But you could be in a heap of trouble if there's an accident, and that's just the half of it.
Never mind that California law makes it, um, clear that it's illegal to tint the windshield as well as front side windows. There is increasing case law that attorneys can clean out your bank account if someone is hurt and illegal tinted windows are involved.
With police patrols busier than ever with distracted driving, things like citing illegally dark tinted windows have gone by the wayside.

With police patrols busier than ever with distracted driving, things like citing illegally dark tinted windows have gone by the wayside.

With police patrols busier than ever with distracted driving, things like citing illegally dark tinted windows have gone by the wayside.
But the deeper you go into the murky world of vehicles and tinted windows, the more nuanced and confusing things become.
For example, did you know that you now can get a doctor's note declaring you need special tinting and cops have to let you off if you're pulled over?
That's right, Assembly Bill 1303 allows you to claim skin cancer danger and if your physician signs a document you can legally turn your vehicle into a man cave.
But here's an unexpected curveball: My survey of a host of states found that California has one of the most restrictive tinting laws in the nation.
Public safety
I am at a four-way intersection and I can't make out if the person in the car to my right sees I'm about to proceed. Heck, I can't even tell if there's a human on the other side of the tint.
The windows are so dark they might as well be a brick wall.
California Highway Patrol Officer Jose Barrios explains tinted windows endanger cyclists, pedestrians, drivers, police and — like most law enforcement personnel — applauds the state's tough tinting laws.
"During police pursuits," the Glendale officer explains, "we don't know if there's one person or two or more."
Jokingly, he adds, "It could be a clown car with 120 people coming out."
Barrios' point is that everything and anything could be inside a blacked out vehicle, including guns.
Understand, Barrios has seen tinted windows from both sides. When he was young, he was in a car with heavily tinted windows. He recalls not being able to make out what was going on outside.
Imagine, he offers, what the driver saw — and didn't see.
"There are a lot of safety factors involving tinted windows," Barrios allows. "If it's dark or raining, you can definitely take out a pedestrian or a cyclist."
The officer goes so far as to warn, "Stay away from cars with tinted windows."
Although there is great discretion among different states, California follows recommended federal guidelines for vehicle safety and specifies minimum light transmittance must be at least 70 percent.
"We go more towards safety," Barrios says, "rather than comfort."
Good luck with that.
Serious consequences
In truth, many Californians do whatever they want when it comes to their vehicles.
My informal survey of various parking lots in the Southland found that at least one out of 10 vehicles violate tinting codes. In some areas, violations were even higher.
This edited conversation on Reddit says it all:
Breezin: "I'd say over half the cars have illegal tint around here. I've been pulled over a couple times and they never said a word about the tint. If you don't want the hassle then don't tint your fronts. I roll the dice."
Da-Aaron: "Tint them as dark as you want. Get away with it as long as you can. If you get caught, get it fixed and get the fix-it ticket signed off. Repeat process."
Mushrooms: "It's exactly like the speed limit thing. You are taking a gamble. Whether the cop wants to pursue this issue with you depends on your alignment with the stars."
And then there are the hardcore disbelievers.
YamatoSoup: "This is by design (and) gives police a reason to pull over just about anyone they feel like."
But in reality, the thread is misleading and illegally tinted windows can have consequences that go beyond playing cat and mouse with law enforcement.
Fines for illegal tints, indeed, are typically just a $25 fix-it ticket. But there is leeway for a fine as high as $197.
Fines are minor, however, compared to what can happen if you're involved in a crash.
Barry Goldberg is an attorney in Woodland Hills and warns, "If you are in an auto accident that you believe was caused by the other driver's tinted windows, be sure to take pictures of the car before the evidence is removed or destroyed.
"Whether the windows were tinted could become an important part of the theory of liability that your experienced personal injury attorney uses to help you recover financial damages."
Plenty of loopholes
To be sure, navigating your way through the labyrinth of vehicle window tinting can be daunting.
Making things even more challenging is the fact that professionals who tint aren't prosecuted for putting up tints that violate state standards.
One solution could be to require window tints be reviewed during the DMV's state-mandated smog checks.
As Barrios says, "It's not illegal for them to tint the windows. It's illegal for the driver."
Although no state appears to allow windshield tinting, most — including California — are OK with a top tint strip and even in the Golden State you can go nuts tinting back side windows as well as the rear window.
For the back of the vehicle, the rule is that so long as you have side mirrors, "any darkness can be used."
But the cockpit is a different matter. No extra tinting on the front side windows and definitely no tinting on the windshield.
Greg Hill, a Torrance attorney, volunteers, "Our office has informally asked several police officers about this law and what constitutes a violation. The consensus response is that basically any after-market window tinting is illegal."
Yes and no.
There the doctor's note loophole and, strangely, tinting businesses aren't required to keep a record or even ask why someone wants heavy tinting.
West Coast Tint in San Bernardino, for example, boldly advertises reasons for more tint: It cuts hazardous glare, enhances appearance and increases safety and security.
A Riverside woman shares she was concerned about extra tinting, but only because she feared ruining her new Mercedes. She left Prestige Window and Tint in San Bernardino satisfied.
"The tint is amazing, the car looks awesome," she shares. "I got limo in the back, dark in the two front!"
Let's just hope she can see when it rains, especially at night.
Sours: https://www.ocregister.com/darkly-tinted-car-windows-may-look-cool-but-they-pose-a-danger-in-traffic-and-in-your-wallet
Window tinting pro chi
WHAT WOULD YOU LIKE TO DO?
Protect.
The best way to take care of a car is to protect it when it's new. Paint Protection Film will prevent stone chips and Ceramic Coatings will lock in a deep shine and protect the paint from environmental damage. Out interior protectants can preserve the leather, vinyl and fabrics from sun damage or spills.
Got a great looking vehicle? Want to make it better looking? Ceramic coating packages bring out the amazing, deep shine in your paint while our options for window tint and color-change vinyl can add anything from a custom touch to an entire transformation.
EXCLUSIVE PACKAGES AVAILABLE
Every car is beautiful in its own way, and differentiates itself from others when on the road.
The way you customize or protect it, shouldn't be any different.
Explore packages
Sours: https://www.chicagoautopros.com/
How to Tint a Side Window with MAX PRO Window Tint Film.
The girl's fingers caressed her. Another humiliation. But again so sweet. The woman desperately wanted to finish.
Now discussing:
Why then don't you step on the eggs. - Well, if it doesn't hurt you, then at least now - and he came up with one foot immediately on the penis and balls and pressed them a. Little.
1256
1257
1258
1259
1260