The journey from being an untrained rookie to being the undisputed master of anything is always one of the weirdest and most difficult paths out there. The Kalimba, or thumb piano, is one of those instruments that people pick up because it's easy to learn. However, you may be wondering how to play Kalimba.
Start using the Kalimba by practicing each note and repeating shorter songs until you can comfortably handle the instrument. Learning the Kalimba is one of the easiest instruments to learn and with only an hour or more of practice every day you will quickly master the instrument.
There are a few steps you will need to take before you can play the Kalimba with your eyes closed and your hands tied behind your back. You may be wondering how hard it is to actually learn the notes, what parts of your thumb to use, or even which Kalimba is best for first-time users to get. Getting into anything new and unknown can be a challenge for anyone, if you want to master the Kalimba starting outright is the most important step.
Here's how you can learn to play the Kalimba the easiest way possible.
What is the best Kalimba for beginners?
The best Kalimba for beginners is the simple 10 note kind that can be found in music stores around the world. These are always on the affordable side and will give you a good place to start from, letting you learn the notes without becoming confused as to what all the extra notes are used for.
When you go and purchase your Kalimba you need to check that each note has been engraved onto the tongs as well, this is to ensure you not only learn them, but will assist when you have to eventually tune the Kalimba.
Above the ease of learning the instrument, the 10 note Kalimba has the added advantage of being much less expensive. When you make mistakes, accidentally let the Kalimba slip from your grip, or even forget it outside for a bit too long, having a Kalimba that is not too expensive will save you a lot. It might sound weird but cheaper Kalimba's are much the preferred way of learning how to play.
How hard is it to learn?
Because a starter Kalimba only has 10 notes it is one of the easiest instruments in the world to learn. Once you have the basics down, the only thing that will be a challenge is repetition, however, getting the basics right is the first step. So you will need to know exactly what to do and how to do it in the beginning.
Which makes the ease of learning the Kalimba so much more important, getting the sound right and learning the notes are all easy. You can learn the Kalimba through YouTube videos, online tutorials, and sometimes just by playing on it randomly throughout the day.
The Kalimba is the easiest percussion instrument you can learn; just be sure you get one aimed at beginners and not a table sized one meant for masters of the art.
What part of your thumbs to use?
This is a question that everyone has in the beginning and there is a right answer, however in the beginning it is best to use the parts of your fingers that you feel the most comfortable using. Many music shops will even ask you to include the thumb tacks, little rubber pieces that you can clip onto your thumbs to play with more ease.
You can use the skin of your thumbs or the nails, depending on what you are comfortable with using. However, the right way of using the Kalimba is by using your nails to make the notes a lot clearer and the sound reach higher levels.
But many beginner players are not able to use their thumbs, they may be manicured, or just simple stress may have caused them to be bitten off. For these instances you use your skin, however, long use of the Kalimba in practice will hurt, causing your thumbs to become raw and hurt.
This is where the thumb tacks come into play, even the best Kalimba players will use them when practicing, while the sound they produce may not be as clear, they will save your fingers from becoming hurt over longer periods of time.
Basic songs to learn on the Kalimba
The same basic song you learn on almost nay percussion instrument, will work for playing on the Kalimba, these can be anything from just twinkle twinkle little star to things like Bella Ciao. However, these are more boring songs to learn, with more modern songs actually being just as easy to learn.
These are some basic modern songs that you can use to not only learn the Kalimba, but to impress your friends at your next gathering:
Harry Potter Theme
Girls Like You
Game Of Thrones Theme
My Heart Will Go On
On MY Way
Fly Me To The Moon
Coffin Dance
How much practice does it require to learn?
Like all good instruments you cannot simply learn the Kalimba with only five minutes of practice once a week. To master the notes, becomes proficient at playing the Kalimba, and remember everything you will have to spend hours each week playing and repeating the same songs over and over again.
The best way to start is setting out at least one hour every single day to practice, this will amount to seven hours of practice each week. As you fall in love with the instrument you can vary this, some days spending several hours just playing songs while on others you barely touch the instrument.
However, in the beginning, until you know each and every single note off by heart you should be playing the basic ten notes until you can read them off by heart. Maybe even hearing them when you close your eyes at night to play.
This is the only true way that you will be able to learn the Kalimba to such a level you can comfortably pull it out at parties to impress anyone who hears you play.
What are the notes on a Kalimba
There are many different Kalimbas which can differ in the number of notes included. For instance, you can buy a Kalimba with just 8 Notes, 10 notes, right up to the more common 17 tine Kalimba
Whilst you can often choose which key your Kalimba is in, which will determine the exact pitch of the tines, most starter Kalimbas will have the same 10 notes on them.
These are the basics that will let you learn how to play the songs with such ease you may not even be thinking about what you're doing.
The basic notes of the Kalimba are:
While these are the notes that the Kalimba have, each one will vary slightly on your Kalimba, with small adjustments required for your Kalimba to be used properly. Sometimes, the only difference in sound can be heard when you're playing a full song.
Conclusion
There are many things you can learn within a few days, and the Kalimba is one of the easiest and most fun instruments in the percussive instrument family. With only a few hours spent on it each week you can quickly master the instrument to become a Kalimba playing machine.
Sometimes all you want to do is sit back and relax while playing a tune you like, or maybe you want to impress your friends whenever they come and visit.
Sours: https://coolpercussion.com/how-to-get-started-playing-kalimba-really-well-thumb-piano/
Using the 6-Note Songbook on Any Kalimba
If you are having difficulty finding your way around a big kalimba, step back and simplify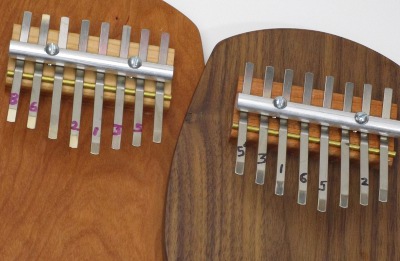 Left: numbers for "C tuning" songs.
Right: numbers for "5-tuning" songs.
If you would like to play specific songs on your kalimba but you don't know where to start, or if you feel you haven't really connected well with your kalimba, you might want to consider getting the 6-Note Pentatonic Song Book.
Here is a remarkable fact: if you have a big kalimba with lots of notes, you may very well be able to use the instructional material from a kalimba with fewer notes, but you need to know which tines map into the smaller kalimba's notes.
I was talking with a customer who really wanted the 8-Note kalimba and not the 6-note kalimba, but she really liked the songs in the 6-note book, which has several spirituals. I told her that she could play every song in the 6-note book on her 8-note kalimba, and we show you exactly how to do that here. But first, why would someone want to do that?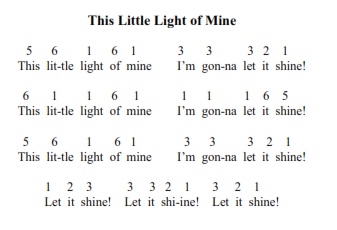 The songs in the 6-Note Pentatonic Book are written in a numbers-based tablature. They tend to be simple well-known tunes. Because they are written with numbers representing the degrees of the scale instead of geometric tablature, these songs can be played on any kalimba where you have those degrees of the scale.
Write the note numbers on the appropriate tines with a Sharpie marker. You can remove them with alcohol wipes.
If you don't know what I mean by numbers representing the "degrees of the scale", I mean "1, 2, 3" = "Do Re Mi", or "Doe a Deer". What is called the "C tuning" in the 6-Note Book is actually any tuning that has 1 as the lowest note and 8 as the highest note. By the way, 8 is the same note as 1, but one octave higher.
The second part of the 6-Note Book uses a "5 tuning", which has the 5th in the bass. Songs like "Amazing Grace" and "This Little Light of Mine" and "As I Went Down to the River to Pray" and "Swing Low, Sweet Chariot" have a one octave range, but start and end on the 5th. I think this tuning is more useful than the original tuning, which starts and ends on the 1 or root note.
On the 6-Note Kalimba, you need to retune one note to go from "C Tuning" to the "5 Tuning" in F, but on kalimbas with more notes, you don't have to do any retuning at all, but you do need to know which numbers to write on which tines.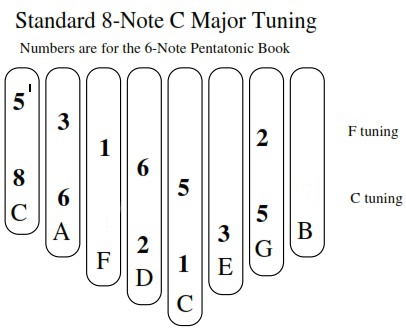 The chart above indicates the notes of the standard 8-Note kalimba tuning in C. Above the note names are the notes 1, 2, 3, 5, 6, 8 – note that 4 and 7 are missing. These six notes are the notes in the "C tuning" covered by the first part of the 6-Note Book. Higher up on the diagram, you see the notes 5, 6, 1, 2, 3, 5′ – these represent the "F tuning", which is a "5-based tuning", which you need to play songs from the second part of the book. (The 5′ notation indicates the 5 that is an octave above the low 5.)
By the way, when playing in the "5 tuning", you are in the key of F, which wants to have a Bb instead of a B natural. That note, the 4, is not required in the pentatonic scale, and as it is the wrong flavor of B for the F scale, try to avoid playing it by accident.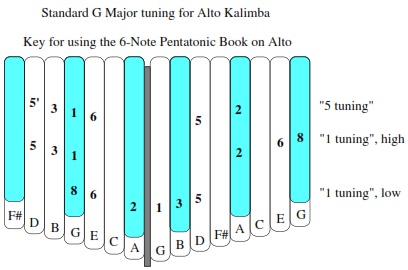 The Alto Kalimba with 15 notes has so many tines that you don't have to double up on keys (C and F) as we did with the 8-note kalimba. You can play both the "1 tuning" and the "5 tunings" in the key of G. However, at least to start with, I suggest you still label only the minimal 6 notes on your kalimba.
Another luxury of having 15 notes: you can choose between a lower "1 tuning" or a higher "1 tuning" (which reads the "C tuning" part of the 6-Note book – we don't call it a "C tuning" here because this kalimba is in G). That is, once you master the songs in the first part of the 6-Note Book on the lower octave of your Alto kalimba, you can wipe your tines clean, write the upper octave numbers, and learn the same songs again with higher notes. This is actually an important step in becoming more familiar with your Alto kalimba.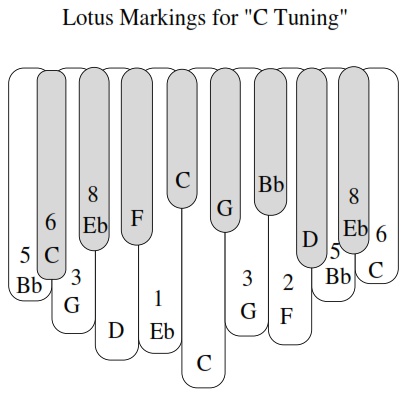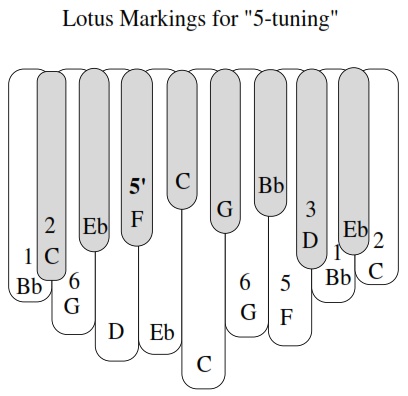 The Lotus Karimba is a strange instrument – it is easy to play great sounding music, but it is hard to make it play a specific song because the notes are laid out in such an odd pattern. If you are interested in making progress with this instrument and actually learning to play specific songs, marking the tines with the numbers as in the diagrams above, and getting the 6-Note Pentatonic Book is a good place to start.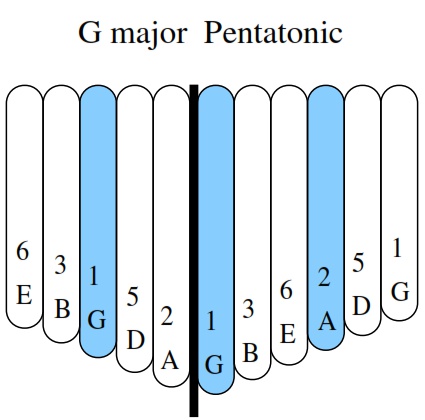 We give you one more example of how you can use the 6-Note Book with a different kalimba – the 11-Note Pentatonic Kalimba. The degrees of the scale are shown here. Just like the Alto kalimba, you can choose to learn the lower octave or the upper octave for the "1 tuning" songs. You can see where the "5-tuning" notes would go – start on the D = 5 on the left hand side, and go up (6, 1, 2, 3), ending on the high D = 5 on the right side of the instrument.
If the kalimba you are looking for is not here, you might look for it in the tuning library where most of the tunings are presented with the scale degree numbers. Standard and alternative tunings for over a dozen different kalimbas are listed there (totaling over a hundred separate tunings).
Sours: https://www.kalimbamagic.com/blog/item/using-6-note-songbook-on-all-kalimbas
While kalimba is not the hardest instrument you can learn, it can be difficult for beginners. But why would you learn by yourself when you can find simple tutorials and ktabs? 
The list here will help you along the way, and it covers popular and easy songs that are perfect for anyone looking to improve their playing skills. 
Under The Sea
You probably remember Little Mermaid and the song sung by Sebastian. But even if you don't, here is a great opportunity to remind yourself. 
Under the sea is easy to play, and you won't need to spend hours learning it. Since this song is perfect for beginners, you can start slow, and work your way up until you can play it on speed. 
My Heart Will Go On – Céline Dion
Titanic made an impact when it arrived in 1997, and you must have heard this one before. The song is catchy, and it's easy to play. Don't let it fool you, though. 
This version for kalimba has two instruments playing. While you can learn both, you can focus only on the one with ktabs. 
You Are My Sunshine
Another simple song you can try is "You are my sunshine." You won't need to practice this song much, and you probably already know how easy it is. 
This is why it's perfect for anyone who is just starting their kalimba journey and learning their place around tines. It is especially convenient if you have 17-key kalimba since this song will allow you to play it perfectly in just a few tries. 
Rolling In The Deep – Adele
Now this song is a bit more complex but it is still something you can learn to play even if you are a beginner. 
The song focuses on vocals, so you won't have to worry about the instruments playing it. It is a nice tune, and we all remember how popular this song was a couple of years ago. 
Careless Whisper – George Michael
Careless Whisper is evergreen. The song was released in 1984 by Wham!, and it quickly became a hit. What is more important, the song is not so difficult to play, and you will have tons of fun learning it. 
Even though the legendary saxophone plays the intro, you can make it sound a bit more unique with your kalimba.
Wish You Were Here – Pink Floyd
"Wish You Were Here" by Pink Floyd is one of the most emotional and recognizable songs in rock music. Interestingly, the song isn't losing at all if you play it on kalimba instead of guitar. 
However, this is not the easiest song on the list, and you might need to practice it a bit to perfect each part of the song. But you can make it!
Seven Nation Army – White Stripes
This legendary song by Jack White is easy to play on any instrument. Many recommend learning it if you are a beginner guitar player. 
Similarly, you can learn it on kalimba in no time. The song is fun to play, and you will improve your skills on the thumb piano. 
Harry Potter – Theme
It almost seems like John Williams wrote this song for kalimba. Harry Potter theme is one of the easiest and recognizable themes you can learn, and playing it on kalimba sounds especially good. 
If you grew up reading about the adventures of this famous wizard, you will enjoy revisiting it with your beloved instrument. 
Bring Me To Life – Evanescence 
Evanescence and Amy Lee made quite an impact on the entire world in 2003 with their song Bring me to life. It seems impossible that you never heard this one, and playing it on kalimba should be your next goal. 
But beware, this song is not the easiest one, and you might need a bit of practice to nail every note down. 
Hallelujah – Jeff Buckley
Even though Jeff Buckley died young, he still managed to leave so many incredible songs. One of the most famous songs by this incredible artist is Hallelujah. 
There is a chance that you heard some of the versions, but here, we will talk about the original. The song is fun, emotional, and easy to play. So grab your kalimba, and start practicing.
How Deep Is Your Love – Bee Gees
Bee Gees were big in the seventies and How deep is your love is just one of their many hits. This song is among easier ones on the list, but that doesn't mean that you won't need to practice it. 
However, you won't need to spend hours, and you'll probably master it quite fast. 
Carry On My Wayward Son – Kansas
Though you might think that this song is difficult to play, you should know that this version focuses on vocals and the main theme, so you won't have to worry about heavy guitar riffs. 
One of the legendary songs by Kansas can be your next song to practice, and you will undoubtedly have so much fun learning it. 
Castle In The Sky
No, this isn't The Castle on the Cloud from Les Misérables, but the theme song from Castle in the Sky film from 1986. The song is incredibly fun to play, and it's perfect for beginners. 
However, even if you are not a beginner you can still have a lot of fun learning it. The theme song is beautiful, and the real name of the song is Carrying You.
Can't Help Falling In Love – Elvis Presley
Any list without Elvis on it is not really a good list. This classic is one of the most recognizable songs by Elvis, and there are so many covers available. The song was originally released in 1961, but it still sounds incredible after all these years. 
Furthermore, the song is in the "easy" category, so you probably won't have any trouble learning it. 
La Vie En Rose – Édith Piaf
The song had many interpretations since it was initially released in 1947. Besides Édith Piaf, there is a version by Louis Armstrong, Bing Crosby, Donna Summer, and many more. 
Now, you can make your own version using kalimba and these tabs. The song is perfect for players who already had a bit of experience playing the instrument. 
Stairway To Heaven – Led Zeppelin
Many claim that this is the best rock song in history, and whether you agree or not, you can't deny its presence in popular culture and the impact it had. 
Fortunately, you won't need to be a virtuoso to learn how to play this song. For kalimba, the song will follow vocals and you can learn it in no time. 
Fly Me To The Moon – Frank Sinatra
Bart Howard wrote the song in 1954, but Sinatra made it popular. It is one of the finest songs by this legendary singer, and you can learn how to play it on the kalimba. 
The difficulty of the song is medium, which means that absolute beginners shouldn't start with this one, but they can learn it after practicing for a while. 
Let It Be – The Beatles
The song was written and recorded by Paul McCartney in 1969, and it was released on the album named The Beatles. 
It is one of the most recognizable songs by the Beatles, and as many of their songs, it is quite easy to play. You can learn how to play Let it be even if you are a beginner. 
I See The Light 
Disney movies always had incredible songs and themes, and Tangled is no different. The movie about Rapunzel is amazing, and you can learn the song I see the light even if you are a beginner. 
So, if you enjoyed watching the adventures of this Disney princess, there is no doubt that you'll love learning this song. 
Take On Me – A-ha
If you ever watched this video, you probably fell in love with it the second you saw it. But if you thought that the song is difficult to play, that's not the case. 
Even though the song is difficult to sing, the playing part is excellent even for beginners. 
Toss A Coin To Your Witcher 
Whether you are a fan of video games, TV shows, or books, it seems almost impossible that you haven't heard about the famous Geralt of Rivia. 
Recent Netflix adaptation of the Witcher books gave us so many incredible things, and Jaskier's song is just one of them. Now, you can learn how to play "Toss a Coin to Your Witcher" on your kalimba!
Somewhere Over The Rainbow – Judy Garland
Let's check another classic. The movie Wizard of Oz made quite an impact on the music industry. But one of the most recognizable parts of the movie is a song named "Somewhere Over the Rainbow." 
Judy Garland did an incredible job, and now you can learn how to play it on the kalimba. 
Wake Me Up When September Ends – Green Day
You can play any music genre on kalimba, and there are no limits to what you can achieve. In 2004, Green Day released American Idiot which is one of the best albums of their career. 
If you are a fan of this band, you'll love the fact that you can easily learn to play "Wake me up When September Ends."
Bad Guy – Billie Eilish
There is no doubt that Billie Eilish took modern music by the storm, and one of the songs that became a hit worldwide is "Bad Guy." 
If you are looking for some modern songs to learn, this might be a perfect starting point. Bad Guy is easy for beginners, fun, and recognizable. 
Shape Of You – Ed Sheeran
It seems that there was a point where you could hear Shape of You wherever you go. Not to say that it is a bad thing, and there is a reason why everyone went crazy for this British musician. 
If you are a fan of his unique music and style, you should learn how to play it on the kalimba. Trust me, it's easy, and you'll learn it quite fast. 
Game Of Thrones Theme
There are so many fans of this TV show, and surprisingly, everyone loved the song on the intro (unlike the last season). If you are one of the people that enjoyed listening to it, you can learn it using the link below. 
And if you are wondering if the song is difficult, you will have a much better time than most of the characters from the show. 
Imagine – John Lennon
Late John Lennon tried to tell us how beautiful the world can be if we just focused on love and caring for each other. 
There is no doubt that this is the best song by John Lennon, and you can easily learn how to play it on the kalimba. Learning it is perfect for beginners, and there won't be any tricky parts you need to figure out. 
Davy Jones Theme – Hans Zimmer
One of the most beautiful themes in cinema is Davy Jones theme from Pirates of the Caribbean. The song perfectly captures his love for Calypso and it just shows how amazing Hans Zimmer is. 
And since the kalimba can create such incredible sounds, the song is equally beautiful when you play it on the thumb piano.
Jingle Bells 
Even though it's not Christmas yet, it's never too early to prepare for holidays. All jokes aside, there aren't many songs that are easier than Jingle bells. 
You can play this song on almost any instrument, and even if it seems too simple, it can be a nice practice to get to know your instrument better.
Everything I Do – Bryan Adams
Interestingly, this song was written by Adams and legendary Michael Kamen for the movie Robin Hood. Over the years, the song became enormously popular across the world. 
You can easily learn how to play this beautiful song on kalimba as well. The song is simple, and it sounds amazing on the thumb piano.
All Of Me – John Legend 
John Legend became rather popular and there is no chance that you missed it if you listen to the radio. The song "All of me" is fun to play, and there is something special and unique in the way it sounds on the kalimba. 
Fortunately, the song is suitable for beginners as well, and you won't need any complicated techniques to learn it. 
Wonderful Tonight – Eric Clapton
One of Clapton's most popular ballads is Wonderful Tonight, and the song sounds incredible on the kalimba. If you are looking to learn this Clapton's classic, you're in luck! 
There are so many adaptations of this song available, and here is the one you might enjoy. 
True Color – Phil Collins 
The song was originally recorded by Cyndi Lauper in 1986. Phil Collins recorded his own version almost a decade later for his album …Hits. 
This cover is great for anyone looking to improve their skills, and you won't need to spend hours and hours practicing it. 
The Scientist – Coldplay
There are so many fans of this British band, and they will be delighted to learn how to play one of their most popular songs. 
The Scientist by Coldplay is played on the piano, and it sounds quite good on the kalimba. Moreover, the song is not difficult to learn, and it's suitable for any skill level. 
I'm Yours – Jason Mraz
If you are looking to learn newer songs, and are not really a fan of classic rock, you might like the idea of learning to play I'm Yours by Jason Mraz. 
The song is a bit more advanced, but nothing too hard. So you won't suffer for a long time trying to perfect it. You will need good coordination between your left and right hand, but with enough practice, you'll be there.
Sweet Child O' Mine Guns 'n' Roses
If you ever dreamed of learning how to play this song, but are not a guitarist, now is your time. Sweet Child O' Mine is probably the most famous song by Guns 'n' Roses. 
However, the kalimba version is definitely not the easiest song you can learn. But if you are looking for a challenge, you should try learning this one. 
Cantina Theme – Star Wars 
Do you remember that band from the cantina on Tatooine that can play only one song? Well, you can learn it now. Don't let the ktabs confuse you. 
There are two kalimbas playing this song, and you can focus on learning only one, or you can learn both. The only important part is to play the theme over and over again like in the movie. 
In The End – Linkin Park
We all know and love Linkin Park, and for many, it was an important part of childhood. Similarly to the previous entry on the list, there are two kalimbas playing together, and it sounds incredible. 
Needless to say, the song is a bit more complex than the rest on the list, but it's well worth the time and practice. 
House Of The Rising Sun – Animals
The song is one of the first rock songs ever recorded, and it is a major part of music history. The kalimba version of this song is a bit different than the original one, but it still keeps the essence of the original version. 
Furthermore, it might be a bit challenging if you never had experience playing kalimba before. 
Let Her Go – Passenger
The song Let her go features a beautiful acoustic guitar intro that sounds great on kalimba as well. If you love this song, there is no doubt that you will enjoy learning it on your thumb piano. 
When it comes to difficulty, any skill level can learn this song, and it's not as complex as others on the list. 
Yesterday – The Beatles
Another classic by the Beatles, Yesterday, is a great song you can learn on the kalimba. 
The best thing about this version is that it requires you to practice coordination between your left and right thumb, to make it sound as good as possible. 
Tale As Old As Time – Beauty And The Beast
With the recent movie adaptation of this Disney classic, many remembered the song Tale as Old as Time that appears in the movie. 
This beautiful song is great for any Disney lover out there, and for anyone looking to improve their skills. 
A Whole New World
Seems like everyone loves Disney songs, and there are so many kalimba covers available online. One of the popular ones is from Aladdin, and the song is intermediate or medium difficulty. 
This means that the song might be challenging for beginners, but they too can learn how to play it with enough practice.
Concerning Hobbits 
If you love the Lord of the Rings you probably know which song this is. The movie series based on Tolkien's books is one of the best movies you can find, and the music perfectly follows events and stories.
Concerning Hobbits gives you an opportunity to travel back to the Shire after all these years. To help you achieve that, here is a great tutorial for kalimba.
Mr. Sandman – The Chordettes 
Mister Sandman is a beautiful song from 1954, and it sounds so incredible if you play it on the kalimba. 
There is something unique about this instrument, and it is perfectly captured in this version of the song. Moreover, the song itself is not really difficult and it is suitable for any skill level. 
Wind Of Change – Scorpions
One of the most popular songs by this German band, Wind of Change is both simple and fun to play. 
Needless to say, the version is adapted for the kalimba, but it still sounds incredible. The song is great for both beginners and intermediate players. 
Swan Lake – Tchaikovsky
Now, to spice things up, the next addition on the list is by Tchaikovsky. This is one of the best ktabs on the list, and it is a bit challenging. 
While beginners may try this one, there is a high chance that they will have problems with it. Hopefully, this song will serve as a motivation and goal for your kalimba playing. 
Video Games – Lana Del Ray
Video Games is a song from the second album of the American singer, Lana Del Ray. 
Her unique music style and singing seem almost perfect for kalimba, and the song is both fun and emotional. Moreover, it's great for any skill level, including beginners. 
You're Still The One – Shania Twain
If you love Shania Twain you will enjoy learning this song. But even if you are not a fan of this Canadian singer, you can still have a great time improving your playing skills. 
You're Still The One is a great way to progress with the instrument especially if you are inexperienced. 
Bohemian Rhapsody – Queen
Finally, there are many Queen lovers out there, and they will be delighted to learn this song. Bohemian Rhapsody is one of the most popular songs by this British band, and it remained popular even after all these years. 
Hopefully, this won't give you trouble if you are looking to learn how to play it. 
Summary
There are so many great songs you can learn on the kalimba, and these are just the tip of the iceberg. But hopefully, they will help you start practicing and understand better how kalimbas work. 
You can also try learning new songs once you finish with these, and continue exploring. The only important thing is to continue practicing and improving your technique and playstyle.
If you found this article useful you may want to save this pin below to your Kalimba board
Sours: https://kalimbahq.com/easy-kalimba-songs-tutorials/
Starting to learn a new instrument can be a daunting task, especially if you've had no previous experience with other musical instruments. The kalimba is no different, and choosing the right songs to start learning can be the difference between developing a new long-term hobby or giving up before you've even started!
In this article, we'll look at 5 easy songs to play on the kalimba and what makes them so great for beginners. Even if you've never touched a musical instrument before in your life, you should be able to pick up these easy songs in no time!
Here are the 5 easy songs to play on the kalimba:
Twinkle Twinkle Little Star
Happy Birthday (To You)
Heads, Shoulders, Knees, and Toes
Auld Lang Syne
Silent Night
So, let's dive into each of the songs and find out what makes them so easy to play on the kalimba!
Twinkle Twinkle Little Star
I'm sure most people will be familiar with this classic nursery rhyme. Twinkle Twinkle Little Star is a song that many people are taught at a young age, and with good reason. The song is very short, making it easy to remember, and has a very simple, slow-paced melody line and steady rhythm, making it very easy to learn quickly.
Twinkle Twinkle Little Star is, in my opinion, the easiest song you could learn regardless of instrument. This is especially true of the kalimba as the song can be played comfortably in C Major, which most standard kalimbas are tuned to.
Take a look at the below tutorial video and try it for yourself! You can also check out the Twinkle Twinkle Little Star kalimba tab to learn at your own pace.
Happy Birthday (To You)
Another World-renowned song. I'm sure you've both sung Happy Birthday and had it sung to you!
Happy Birthday is another very easy song to learn on kalimba due to its shortness and slower pace. What makes Happy Birthday different from Twinkle Twinkle Little Star is that it introduces a less steady rhythm, I.E. the timing between notes changes. This makes it ideal for learning to control your plucking.
If you'd like to learn Happy Birthday, you can either take advantage of the Happy Birthday kalimba tab or watch the tutorial video below!
Heads, Shoulders, Knees, and Toes
With Heads, Shoulders, Knees, and Toes we have yet another nursery rhyme. It shouldn't come as a surprise that nursery rhymes feature very heavily in lists of easy songs as they are designed to be simple for kids to grasp!
For this reason, it makes them very beginner-friendly songs, and Heads, Shoulders, Knees, and Toes is no exception!
With Heads, Shoulders, Knees, and Toes, things get a little harder as the song is designed to be played at a quicker pace. That doesn't mean that you shouldn't start off slowly though. No matter what song you are learning the best advice anyone could give is to start at a comfortable pace and slowly get faster and faster.
You can find the Heads, Shoulders, Knees and Toes kalimba tab here if you'd like to learn this song, or alternatively, the tutorial video is below!
Auld Lang Syne
Moving away from nursery rhymes now, we have Auld Lang Syne. If you're not a fan of nursery rhymes this song could be the choice for you.
Auld Lang Syne is the classic poem written by Robert Burns and is, of course, well known as the song that is sung at New Year.
Although this is still classed as an easy song to play on the kalimba, it is a little more challenging compared to the songs above. Auld Lang Syne features a lot of different note durations and off-the-beat melodies so can be a great choice for developing your ear for timing.
You can learn the song using the Auld Lang Syne kalimba tab or via the tutorial video below!
Silent Night
The final song in this list is Silent Night, a Christmas classic that is great to play at that festive time of the year.
Silent Night sounds great on the Kalimba due to its soft style and relaxing melody and learning it on the kalimba is very easy too!
The song is mostly slow-paced and features some quicker runs which are great to practice with.
If you'd like to learn this song, here's the Silent Night kalimba tab and the video tutorial below to help you on your way!
Conclusion
And there we have it! 5 very easy songs to play on the kalimba.
Each of these songs has unique qualities that will help improve your kalimba playing in different ways from working on tempo and timing to exploring various keys or tines of the kalimba.
So if you've just picked up your first kalimba, why not have a go at learning all 5?
Sours: https://www.saorsamusic.com/easy-songs-to-play-on-the-kalimba
Thumb songs easy piano
Welcome to Mountain Melodies
Each piece is handcrafted to the standards that you, the customer, set. It is important to us to create new ways to improve the process by listening to our customers feedback. Our motto is great customer service with 100% satisfaction guarantee.
About The Owners
Fearless entrepreneurs, Sue and Paul have owned, operated, and run many different small businesses over the years. With Paul's wood working and business skills and Sue's creativity and marketing experience, they have put their skills to the test flipping homes, selling medical lighting, creating custom wood puzzles, cutting boards, and crown molding, laying epoxy flooring and framing diplomas and lithographs, and even mixing holistic moisturizers and tonics.
Music was not in the picture until a chance meeting with Glenda Allison of Berryville, Arkansas. Glenda introduced Paul and Sue to the thumb piano and their next adventure. Mountain Melodies immediately became a way for Paul and Sue to utilize all of their previous experience and still push their creative boundaries. They honor their motto, "Music Made Simple for all Ages" while continuing to create beautiful one-of-a-kind instruments.
About the Laser Engrave Artist
Joy Atkins has been a friend of Mountain Melodies for many years. Joy grew up in the North Georgia Mountains of Blairsville and still resides there today. A wife, and a mother of two handsome boys, she will often take time for herself and sketch on her patio. She started drawing for fun when she was a young girl and has kept it up since. Taking the time for her art quickly became a habit and opened other doors for creativity, such as painting and teaching.
Sours: https://www.mtnmelodies.com/
8 Key Kalimba Easy Beginner Songs Tutorial
Kalimba. 50 Traditional British and American Songs for Kids: Song Book for Beginners (Paperback)
Description
---
Learn how to play music in a quick and easy way, without knowledge of reading sheet music. Playing by notes is difficult for beginners, but here you can play simply following numbers. This learning book will help you begin to play music simply and easily.
This is a universal songbook and it is suitable for any 8 -, 10 - or 17- note kalimbas and mbiras.
This thumb piano songbook for beginners includes not only numbers but also classic sheet music and it is helpful in developing music literacy.
Most of these melodies are rather unique. These are lesser-known songs that you and your kids will certainly love. Although this songbook includes basically kids' songs, you will find several Christian hymns and Christmas carols.
In addition, you can find another book for kalimba with the most popular simple kids' songs "KALIMBA. Play by Letter: 22 easy to play songs for beginners".
Also, we added a QR code to all songs. You can follow the link and listen to the rhythm before beginning to play.
Some melodies might be changed and simplified to be played within one octave. If your thumb piano has flat keys, please use the classic music score for the piano.List of 50 songs for kalimba:
Traditional British Folk Songs
1. Alphabet Song
2. Amazing Grace
3. Baa Baa Black Sheep
4. Bobby Shafto
5. Cobbler, Mend My Shoe
6. Cock-a-Doodle-Doo
7. Dr. Foster
8. Fiddle-De-Dee
9. Five Little Monkeys
10. Here We Go Looby Loo
11. I Love Little Kitty
12. It's Raining, It's Pouring
13. Jack and Jill
14. Little Jack Horner
15. Old Mother Hubbard
16. Rain, Rain, Go Away
17. Rig-a-Jig-Jig
18. Ring Around the Rosie
19. Wishy-Washy Wee
20. See-Saw Margery Daw
21. Silent Night
22. The First Noel
23. This Old Man
24. To Market, to Market. Traditional American Folk Songs
25. A-tisket, A-tasket
26. I Like to Eat (Apples and Bananas)
27. Baby Bumble Bee
28. Bill Grogan's Goat
29. Bim Bum Biddy
30. Charlie Over the Ocean
31. Chattanooga Choo Choo
32. Chumbara
33. Ding Dong Diggidiggidong
34. Frog in the Meadow
35. Go Get the Axe
36. Heigh Di Ho
37. I Fed My Horse
38. Jack-o-lantern
39. Old Bell Cow
40. Old Blue
41. Old Brass Wagon
42. Over the River and Through the Woods
43. Pizza Pizza Daddy-o
44. Ten in the Bed
45. Ten Little Fingers
46. The Bear Went Over the Mountain
47. The Bee and the Pup
48. The Big Sheep
49. When Sammy Put the Paper on the Wall
50. Zudio.

Sours: https://www.rjjulia.com/book/9798704073055
You will also like:
08: 52): Kick. I am wet. I'm sitting naked next to my son. 08: 53): Is the son asleep. Or is he looking at you.
777
778
779
780
781