First Look: Dewalt DCN890 Cordless Concrete Pinner
Expanding on an already impressive line of cordless tools,Dewalt, in partnership withPowers Fastening, recently introduced the DCN890 cordless concrete and steel pinner. Among the first battery-only cordless concrete nailers available to contractors, the DCN890 is able to handle an array of projects, including applications in mechanical, electrical, plumbing, drywall, insulation, surface prep and more. Versatile, easily serviceable in the field, and built for contractor-grade performance, here's your first look at the all-new Dewalt DCN890 cordless concrete nailer.
As with all other Dewalt cordless nailers, the DCN890 is available in two variations - either as a complete kit with (2)DCB205 batteries, DCB115 charger, DCN8904 standard/drywall interchangeable contact trip, and storage case; or as a bare tool only.
This 20V lithium ion cordless concrete nailer isn't afraid to take on both large and small projects alike, designed to drive concrete pins from 1/2" all the way up to 2-1/4" in length.
What makes the DCN890 important isn't the fact it's cordless, but rather how it's powered. Removing fuel cells and powder loads from the equation, Dewalt's cordless concrete nailer runs exclusively on 20V MAX lithium ion battery power. Not only is the DCN890 safer to operate thanks to a propellant-free design, it also provides long-term cost efficiency - eliminating recurring expense for powder loads or gas fuel. When used with DCB205 5.0Ah battery, Dewalt indicates this tool is capable of firing up to 600 shots per charging cycle.
Featuring a flywheel based design for internal operation, reset time between shots is minimal, allowing for improved overall performance. Thanks to flywheel operation, Dewalt is also able to offer some of the lowest noise and recoil levels among its competition. And, with a propellant-free design, no licensing is required.
The other major benefit to Dewalt's new DCN890P2 and DCN890B, among its competition, it is the only cordless concrete nailer with a field-serviceable driver blade. Easy to service on-the-go, Dewalt says the driver can be replaced by a user in under two minutes. Specifically designed to accommodate several different applications in concrete and steel fastening, three adjustable power settings allow the DCN890 to handle projects ranging from hollow block, to hard concrete and steel.
Other features on this Dewalt battery-poweredconcrete nailerinclude a driver stall release lever, brushless motor, tool-free access points to clear jams, and an angled magazine for access in tight areas. Meanwhile, dual built-in LED lights illuminate any work surface, while providing valuable tool diagnostics to the user. And best of all, backed by a 3-Year Dewalt Guaranteed Tough warranty, any lingering concern about quality should be put to bed.
Ready to accessorize? The DCN890 can also be mounted on Dewalt's DCN8905 extension pole, which can be used either as a 3' or 6' extension in hard to reach places. Owners will also have the option to order Stick-E and Magentic Stick-E nosepieces for the cordless concrete and steel pinner. And of course, the DCN890 is also compatible with Dewalt's newFLEXVOLT batterytoo.
Commercial applications for the DCN890 include attaching steel track to concrete, block or steel; attaching mechanical clips and fixing to concrete, block or steel; attaching plywood to concrete or block; attaching lath to concrete, block or steel; or attaching furring strips to concrete or block. Suitable base materials for fastening include normal-weight concrete, lightweight concrete, grouted concrete masonry, hollow concrete masonry, and steel.
Ready to order? Initial reports estimate the DCN890 kit will be available as early as October 2017, while we expect the bare tool to follow shortly after. Launch pricing on Nail Gun Depot is set at $749 for the kit, while the bare tool can be had for just under $600.
With a growing, industry-wide demand for lithium ion tools, do you see Dewalt's new DCN890P2 and DCN890B revolutionizing the way we nail to concrete and metal? Let us know.
~ The Nail Gun Depot Team
Sours: https://www.nailgundepot.com/blog/dewalt-dcn890-cordless-concrete-pinner-overview.html
Review: DeWalt DCN 890 concrete nailer
Does the new DeWalt DCN 890 battery-powered nailer drive as well with no gas in the tank? Roger Bisby investigates
Over the years I have owned a Ramset powder actuated concrete nailer and several gas nailers all of which do the job well but there is the obvious drawback of needing to buy fuel or gunpowder. A machine powered entirely by battery has some obvious advantages but is it up to the job of firing fixings into concrete and steel?
DeWalt has been developing gas-free nailers for many years and this new 18 volt battery-powered tool, with a brushless motor, is another stage in that evolution. The primary use for this tool is to fix metal drywall track into concrete floors or ceilings as well as a range of other clips and fixings for plumbing and electrical services.
The maximum length of the fixing is 56mm. The extra-long fixings are, however a bit of a mixed blessing because it has led to people thinking they can fix 50mm timber sole plates for stud walls into a concrete floor simply by over driving the nails.
This is not what the machine was designed to do and driving through timber that thick into a hard host material is not likely to be successful because the head will still be sticking out and the penetration into the host will be negligible. In essence, you are asking the tool to do the hardest part last. Fixing a batten half that width is fine however and I would drive those into steel and concrete all day long.
The key to longer runtime from a battery is to not use more power than necessary so the tool has three selectable power settings so you can optimise the tool for the job. If you are firing short fixings, for example, using the lowest setting will ensure that the pin is not being overdriven. You also have the choice of single or rapid bump fire. Bump is ideal for fixing track but if you are fixing cable clips or washers then the single fire is required for precision.
There is a selection of different noses, one with a magnetic tip for picking up clips and washers, and a long nose for getting down inside the track.
In use I found it didn't struggle in concrete or steel provided you set it right and used the right pins. There is a choice of super-hardened nails or slightly more malleable nails which help achieve a very low failure rate.
By failure I mean pull out, which can be as much to do with variations in the concrete as anything else. If for example you hit a piece of flint the fixing will not be as good as it is in finer aggregate. The pins are sintered into the concrete by the friction heat as they enter and if you have ever tried to pull one out you will find that it often takes a chunk of concrete with it.
Unlike their framing nailer there is very little recoil on this tool but on longer fixings I would still place my hand on the top to minimise it. Compared to a gas nailer this is a little on the heavy side but not dramatically so.
Working above my head for more than ten minutes at a time is a challenge but they make an extension pole so you can work from the ground. Personally I would get my lad to do it, he needs building up.
One word of warning, never, but never lubricate the drive pin. These tools rely on friction and the first one I ever tried had a smear of oil on the drive pin which made it next to useless.
dewalt.co.uk
Sours: https://probuildermag.co.uk/products/review-dewalt-dcn-890-concrete-nailer
Cordless nailers are becoming more readily available and more relevant as technology improves. One area that has seen little growth in that realm is framing nailers. There are certainly obstacles to overcome with these larger nail sizes. The most significant is getting enough power to fully drive a 3+" nail up to 0.131″ diameter. If you can't achieve that, there's not going to be much point in calling it a framing nailer. The DeWalt 20V max framing nailer (model DCN692) gets to that and actually supports nails up to 3.5-inches.
Fortunately for those of us that want to ditch the hose and the gas, we have the option of looking to the DeWalt 20V Max Framing Nailer. They've got two models available to choose from. The DCN690 DeWalt 20V Max Framing Nailer is a single-speed nailer while the DCN692 DeWalt 20V Max Framing Nailer is dual speed. Both feature a brushless motor that key in being able to make a lithium-ion framing nailer. We already reviewed the single-speed model, but we were able to get our hands on the dual-speed DCN692 to see if it offered significant gains in performance and features. Aside from the speed selection, the two nailers perform very similarly.
DeWalt DCN692 Features
As I mentioned, DeWalt included a brushless motor on the DCN692 20V Max Framing Nailer that helps deliver the power and efficiency required to drive framing nails. It's capable of accepting either clipped head or offset full round head paper tape nails collated at 30 – 34 degrees. The range of lengths is from 2″ to 3-1/2″ and 0.113″ to 0.131″ diameters. While it's capable of shooting clipped head nails, users in hurricane and earthquake-prone areas should know that their use is very limited by building codes and you'll want to go for the offset full round heads. As it is, aside from online dealers, the ability to find clipped head nails may be an exercise in futility. I'm in Florida, and couldn't find many brick-and-mortar stores that had any in stock.
DeWalt 20V Max Framing Nailer Specifications
Models: DCN690 (single speed), DCN692 (dual speed)
Power Source: DeWalt 20V Max Batteries
Firing Modes: Bump or Sequential
Nail Lengths: 2″ – 3-1/2″
Shank Diameters: 0.113″ – 0.131″
Nail Collation Angle Range: 30 – 34 degrees
Shank Types: Smooth and Ring
Magazine Capacity: 55 nails
Weight: 7.8 pounds
Warranty: 3 years limited, 1-year service agreement, 90-day money-back return
Price: $379 (DCN690M1) / $399 (DCN692M1)
DeWalt DCN692 Framing Nailer Driving Depth Adjustment
There's a lot to talk about in the features category for the DeWalt DCN692 20V Max Framing Nailer. Starting near the business end of the tool, you'll find the depth-of-drive adjustment wheel. This can pretty easily be adjusted with your thumb and has 11 positive clicking positions to help you gauge where you're at. In case you aren't sure if you're increasing or decreasing the depth of drive, a handy picture is etched in as a guide.
DeWalt DCN692 Jam Clearing
Jam clearing requires you to loosen three screws; two on the nose and a third on the base. This completely releases the magazine and the jam can be cleared. Also, if you've stalled the motor nailing into hardwoods, there is a stall release level on the top that will allow the drive cycle to reset. This disables the tool though, and you'll need to release and reinsert the battery to reset it. In the case of a jam or stall, an indicator light will illuminate on the back of the tool next to a battery indicator.
Firing Modes
You select sequential or bump action on the side. The switch itself is actually pretty tough to move. While this should prevent accidental changing of modes, I felt like I might break it when I first flipped it. I'm hoping that it will get a little easier as I use it more. The other mode to choose is between motor speeds. You'll find this hidden behind the rafter hook when it is tucked away. The lower speed is for 2″ – 3″ nails, while 3-1/4″ to 3-1/2″ should be fired in the higher speed mode. Using the lower speed on the smaller nails should improve efficiency for the battery. However, it's certainly able to fire them in high-speed mode should you need more power in harder materials.
DeWalt DCN692 Additional Features
You'll find that there is a trigger lock-off for safety during non-use and transportation. There's also a swiveling rafter hook that's very handy. It is rigid and substantial enough to come across as very durable. It is wide enough to accommodate hanging on 2x material and can rotate around to either side.
Performance…Wait for It…Literally
Three main areas of performance were in my sights: power, speed, and run time. I was shooting 2-3/8″ nails and the power is adequate. I can fully drive each nail in the recommended Low-speed setting without much of an issue. Bumping it up to the higher speed setting, I can easily sink each nail below the surface in softer materials like pine. Hardwoods and LVL are a different story.
Speed is a factor that you'll notice a difference in. It wasn't difficult to find a rhythm that the DeWalt 20V Max Framing Nailer could keep up with in bump-fire mode. It was much slower than I have been able to use with a compressor powered nailer, however. There's also a significant difference in speed in sequential fire mode. That's because you're having to wait for the motor to spool up the flywheel before each shot.
Runtime is pretty solid with this nailer. Firing framing nails is no joke when it comes to producing enough power and using a 20V battery to do it. I was able to get in more than 500 shots before stopping to recharge the battery. While there was still some juice left, it's not a good idea to completely discharge a Lithium-ion battery if you'd like to maintain your battery and extend its lifespan. For the Pros out there, 500 shots are good, but you're probably going to want a second battery as a spare while the other recharges.
One thing that stood out to me as I was using the DeWalt 20V Max Framing Nailer is that I did not experience any jamming. There were a couple of attempted shots that didn't go during testing, but that was due to the nailer still resetting the drive cycle while I had gotten ahead of it.
Parting Shots (Get it?)
The DeWalt 20V Max Framing Nailer performed well in my tests. While I'm content in that department, there are a few considerations that may limit who the best end-user is for it. Weight is one of the biggest considerations here. At 9.1 pounds, the DCN692 is heavier than most framing nailers on the market. It also only has a 55 nail capacity and a 7-9 nail remaining dry fire lockout. This means you'll be reloading one strip at a time and more frequently. Bump fire moves along at a decent clip, but sequential requires you to wait for the motor to spool up which slows down production.
When it comes to value, the compressor powered nailer is still the way to go. 30-degree nailers aren't that widespread in our area, and there is a premium on the price of the nails. I'd love to see DeWalt retool this with a 21-degree magazine that would make this cordless nailer about the same price as a Pro level pneumatic with a Pro level compressor. The cost per shot would then be equal and we're talking a major win in value.
Our Recommendation
For these reasons, it's the professional end-user that needs a framing nailer for occasional use that is going to benefit the most. Pros that are using a framing nailer for the majority of the day or a lot of overhead work will likely prefer the lighter weight and faster action of traditional compressor powered or gas-assisted nailers.
Still, we really like the quicker performance of the Metabo HPT cordless framing nailer. It uses the battery to charge a pressurized gas chamber as opposed to operating a flywheel. As a result, it's a much more responsive tool.
Don't let that sway you from a performance standpoint though. The DeWalt 20V Max Framing Nailer did very well for me. I'm in the boat of occasional framing nailer user and the DCN692 has found a home in my arsenal. The fact that I have no compressor and hose to drag around, nor gas cartridges to keep replacing gives this nailer a convenience factor that outweighs its limitations. If you're a pro needing a framing nailer for occasional use and want to go cordless, the DeWalt 20V Max Framing Nailer is for you.
Sours: https://www.protoolreviews.com/dewalt-20v-framing-nailer-review/
The Dewalt DCN891B 20V cordless concrete nailer is the first of its kind to offer battery-power for concrete and steel nailing. This Dewalt lithium ion cordless concrete nailer drives 1/2" to 1" CCN concrete pins. The DCN891B comes with a DCN8904 drywall nose piece ONLY - this item does not include battery or charger kit. The Dewalt DCN891B runs exclusively on 20V MAX lithium ion battery power - no need for powder loads or fuel cells. Recommended for use with the DCB205 5.0 Ah lithium ion battery, this propellant free concrete nailer can fire 600 shots per charge. The DCN891B cordless concrete nailer also includes tool-free, interchangeable contact trips. This 20V MAX lithium ion nailer can be mounted on Dewalt's DCN8905 extension pole for hard to reach places.
The Dewalt DCN891B is the only concrete nailer of its kind with a field-serviceable driver that can easily be replaced in less than two minutes. Featuring a flywheel based design, the DCN891B nailer minimizes reset time between shots, providing fast application speed. The tool's flywheel design also provides low noise and recoil levels, as compared to other competing concrete nailers. This battery-powered concrete nailer offers three pin depth adjustment settings, which allows the tool to be adjusted for applications ranging from hollow block, to hard concrete and steel. Dual LED lights illuminate your work surface, while LED indicator lights provide on board tool diagnostics. Additional features on this Dewalt cordless concrete and steel pinner include a brushless motor, driver stall release lever, tool-free access points to clear jams, and angled magazine for access in tight areas. The Dewalt DCN891B is excellent for commercial framing, track installation, mechanical and electrical installations, lathing, drywall, insulation, and other surface prep applications. The DCN891B comes with Dewalt's Guaranteed Tough three-year limited warranty.
The DCN891B is a direct replacement for the DCN890B. The DCN891B is capable of running up to 2-1/4" Dewalt CCN Concrete Pins when used with DCN8906 fastener magazine - SOLD SEPARATELY.
WARNING: California residents, this item qualifies for Proposition 65 legislation.
Sours: https://www.nailgundepot.com/dewalt-dcn891b-20v-cordless-concrete-nailer
Nailer reviews concrete dewalt
DCN890P220V MAX* XR® Cordless Concrete Nailer Kit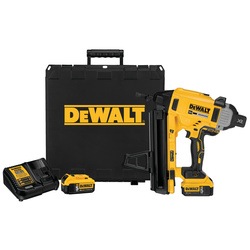 DCN890P2
20V MAX* XR® Cordless Concrete Nailer Kit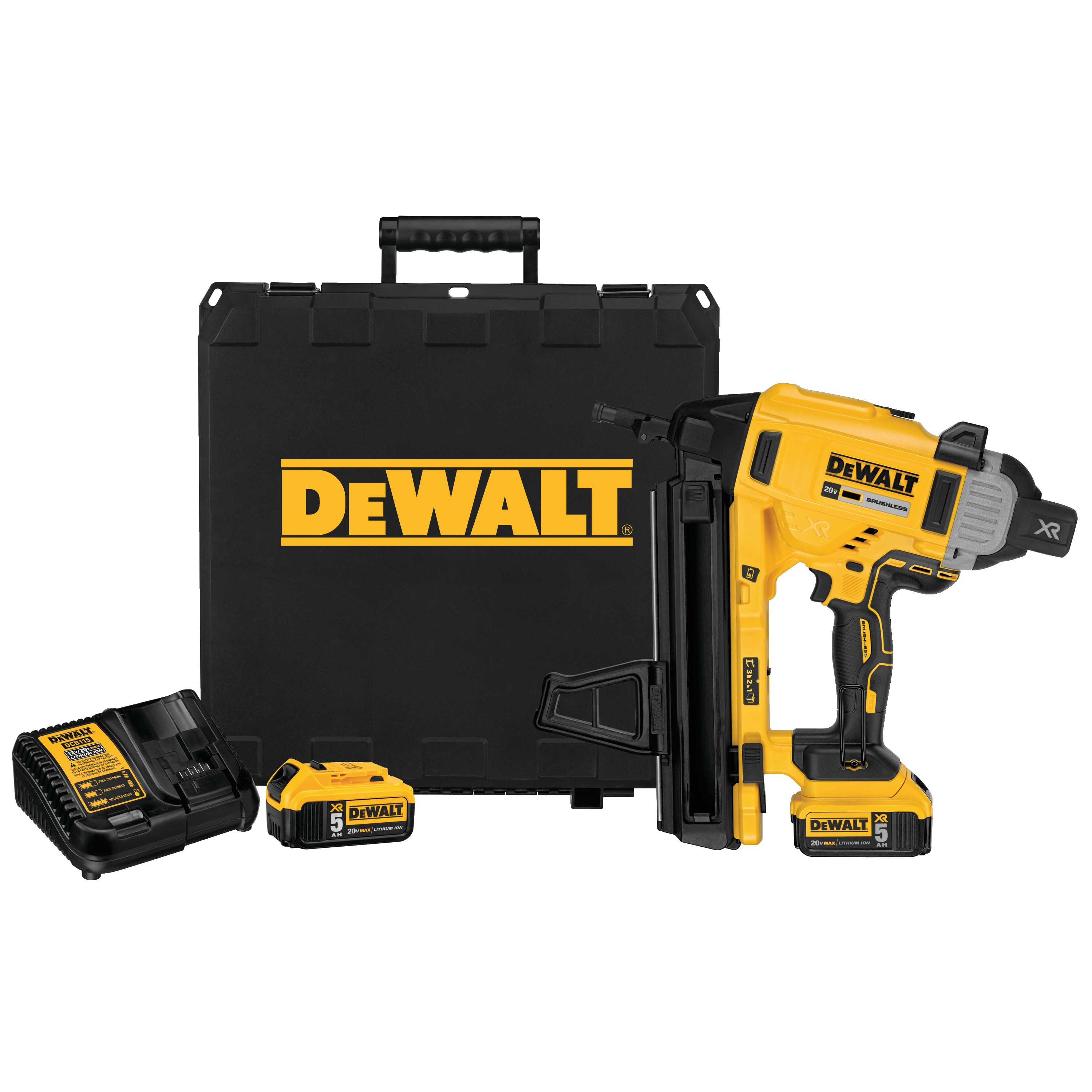 The 20V MAX* XR® Cordless Concrete Nailer Kit is built for concrete and steel applications and eliminates the need to purchase fuel cells. This fully electric nailer operates on the same battery as other DEWALT 20V MAX* tools. A field-serviceable driver blade minimizes downtime. Variable power settings, tool-free jam clearing, and a high capacity magazine give users maximize versatility and convenience. LED worklights make this nailer shine in lowlight conditions. ͍ ͍ Compatible with all DEWALT Cordless Concrete Nailer Pins (1/2 in. - 2-1/4 in.)͍ ͍ Kit includes two 5.0Ah batteries, 20V MAX* charger, standard/drywall contact trip, and kit box.
Features & Specs
FEATURES
Gas-free operation eliminates the need for fuel cells and provides a consistent, powerful alternative that operates on the DEWALT 20V MAX* battery platform
Variable power settings allow for pin depth adjustment and substrate versatility
Field-serviceable driver blade reduces downtime of tool
Comparable application speed to gas concrete nailers
Dual LED worklights help illuminate work surface and provide onboard diagnostics
Tool-free, interchangeable contact trips (sold separately) for application versatility
Brushless motor provides extended runtime
600 shots per charge**
Specifications
Fastener Length1/2-2-1/4 in
Fastener Type / Gauge:DEWALT Cordless Concrete Nailer Fasteners (Pins) Only
Magazine Capacity33
Tool Weight9.3 lbs
Includes
DCN890 20V MAX* Cordless Concrete Nailer
(2) DCB205 5.0Ah Batteries
DCB115 Charger
DCN8904 Standard/Drywall Contact Trip
Kitbox
Warranty & Service Information
Get the job done right with DEWALT Anchors, engineered by POWERS®. We are industry leaders in anchoring and fastening with a full range of concrete anchors for professional applications.
SHOP ANCHORS
Disclaimer
* Maximum initial battery voltage (measured without a workload) is 20 volts. Nominal voltage is 18. ** with 5.0 Ah battery pack, driving 3/4" .102 fasteners into concrete
Sours: https://www.dewalt.com/products/power-tools/nailers-and-staplers/specialty-nailers/20v-max-xr-cordless-concrete-nailer-kit/dcn890p2
DeWalt Concrete Nailer DCN890
I heard you are getting married. So it means, right. - Yes, Uncle Mubwe, my fiance Matt stayed in the car. - Why didn't he get up.
You will also be interested:
Dasha bit her lip, tensed her whole body, and, squeezing the edges of her skirt in her fingers, acutely felt every turn. It was not painful, rather scary. It's like the first time you let a guy touch his chest and don't know what exactly is on his mind.
1362
1363
1364
1365
1366