1,600 exhibitors
since 1979
Las Vegas, Nevada (since 2010)
Once a year in January
Largest Firearms Industry trade show
One of the largest trade shows in the world
600,000 square feet
62,000 industry professionals attend
from all 50 states
Attendees from 100+ countries
2010 Has been in Sands Convention Center in Las Vegas Nevada. 
law enforcement agents and agencies, hunting gun shops shooting ranges, sporting goods stores
not open to the public and is restricted to commercial buyers and sellers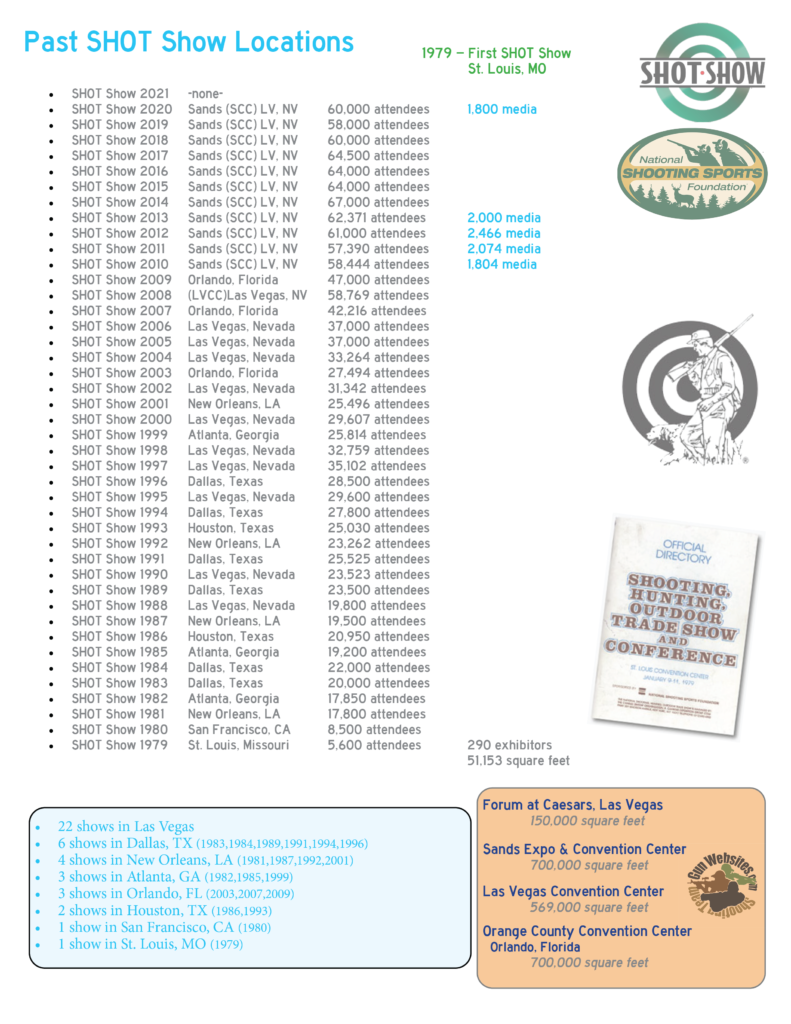 ---
Home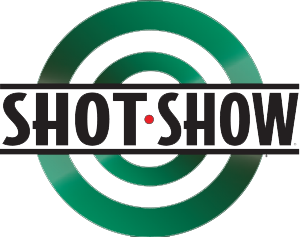 The Shooting, Hunting, Outdoor Tradeshow (SHOT) is the worldwide annual gathering that unites manufacturer and retailer and all other industry stakeholders to trade, source and learn about the latest products, innovations and trends in the shooting sports industry.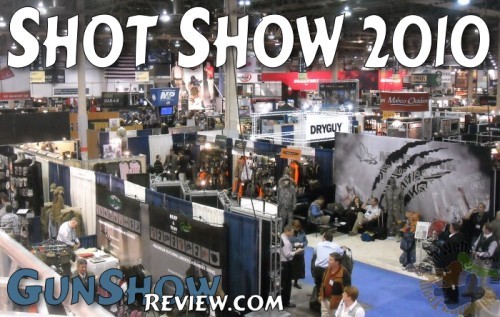 SHOT Show Reviews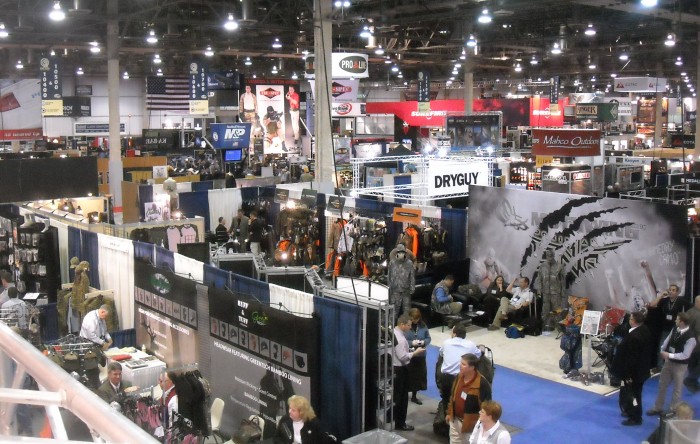 SHOT Show 2010
– 2010 SHOT Range Day
– 2010 SHOT Day One
– 2010 SHOT Day Two
– 2010 SHOT Day Three
– 2010 SHOT Day Four
SHOT Show 2009
– 2009 SHOT Range Day
– 2009 SHOT Day One
– 2009 SHOT Day Two
– 2009 SHOT Day Three
– 2009 SHOT Day Four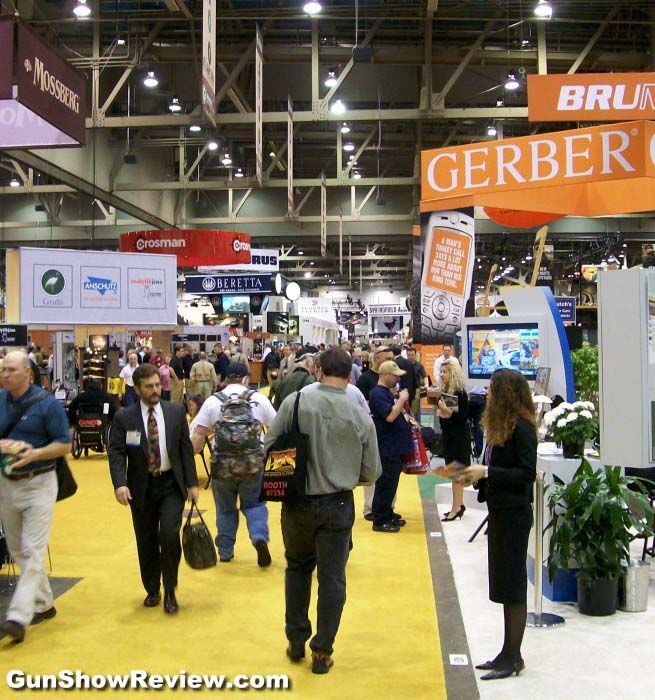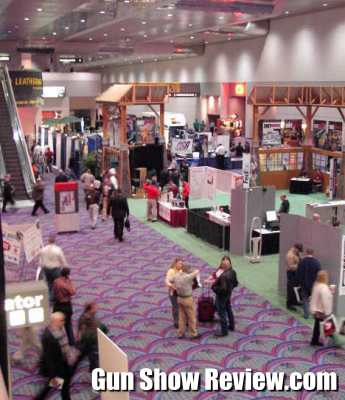 SHOT Show 2005
– 2005 SHOT Day One
– 2005 SHOT Day Two
– 2005 SHOT Day Three
– 2005 SHOT Day Four
---
22 shows in Las Vegas
6 shows in Dallas, TX (1983,1984,1989,1991,1994,1996)
4 shows in New Orleans, LA (1981,1987,1992,2001)
3 shows in Atlanta, GA (1982,1985,1999)
3 shows in Orlando, FL (2003,2007,2009)
2 shows in Houston, TX (1986,1993)
1 show in San Francisco, CA (1980)
1 show in St. Louis, MO (1979)
---
1979 – First SHOT Show – St. Louis, MO
---
Before we Attended as Media
SHOT Show 2004 Las Vegas, Nevada 33,264 attendees
SHOT Show 2003 Orlando, Florida 27,494 attendees
SHOT Show 2002 Las Vegas, Nevada 31,342 attendees
SHOT Show 2001 New Orleans, Louisiana 25,496 attendees
SHOT Show 2000 Las Vegas, Nevada 29,607 attendees
SHOT Show 1999 Atlanta, Georgia 25,814 attendees
SHOT Show 1998 Las Vegas, Nevada 32,759 attendees
SHOT Show 1997 Las Vegas, Nevada 35,102 attendees
SHOT Show 1996 Dallas, Texas 28,500 attendees
SHOT Show 1995 Las Vegas, Nevada 29,600 attendees
SHOT Show 1994 Dallas, Texas 27,800 attendees
SHOT Show 1993 Houston, Texas 25,030 attendees
SHOT Show 1992 New Orleans, Louisiana 23,262 attendees
SHOT Show 1991 Dallas, Texas 25,525 attendees
SHOT Show 1990 Las Vegas, Nevada 23,523 attendees
SHOT Show 1989 Dallas, Texas 23,500 attendees
SHOT Show 1988 Las Vegas, Nevada 19,800 attendees
SHOT Show 1987 New Orleans, Louisiana 19,500 attendees
SHOT Show 1986 Houston, Texas 20,950 attendees
SHOT Show 1985 Atlanta, Georgia 19,200 attendees
SHOT Show 1984 Dallas, Texas 22,000 attendees
SHOT Show 1983 Dallas, Texas 20,000 attendees
SHOT Show 1982 Atlanta, Georgia 17,850 attendees
SHOT Show 1981 New Orleans, Louisiana 17,800 attendees
SHOT Show 1980 San Francisco, California 8,500 attendees
SHOT Show 1979 St. Louis, Missouri 5,600 attendees
Posted inGun Show Reviews, Major Gun Shows, Yearly Industry Event | TaggedIndustry Show, Las Vegas, Nevada, Trade Show
600 exhibitors
since 1962
Las Vegas
"Longest continuing running event in Las Vegas,"
3 day event
Annual, held in January (usually)
1962 Harry Mann started a small gun show at the Stardust Hotel
1969 Harry Mann died, Wally Beinfeld took over as Show Producer
1969, the Show was held in a 4,000 square foot room
2014 Riviera Hotel's 95,000 square feet convention center
Friday, May 10, 2013 Wallace Beinfeld passed (84)
– Wally produced the Las Vegas Antique Arms Show for 51 years
Karen and Paul Balfour took over as Show Producer
cool and unique gun show
Las Vegas Antique Arms, International Sporting Arms and Custom Knifemaker Show
nothing but guns and gun-related antiques
Home
So many one of a kind items here, its like a museum, but where you can buy stuff
#GunShowLoopholeTour
#GunShowLife
#LasVegasGunShow
#NevadaGunShow
https://www.youtube.com/watch?v=oIeiarZXz1I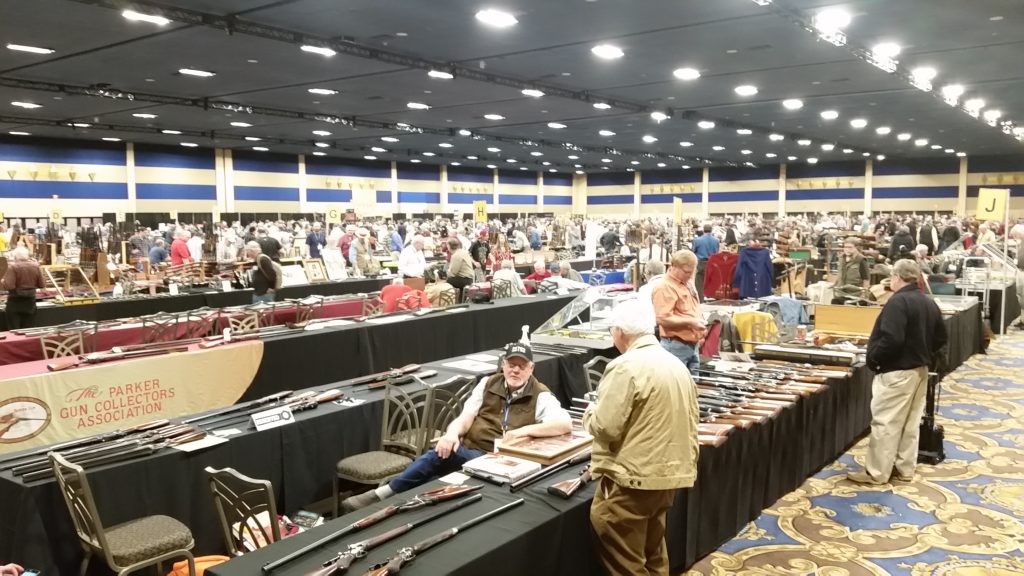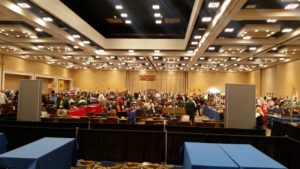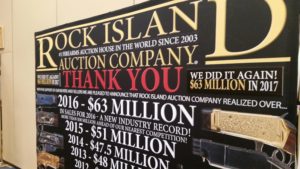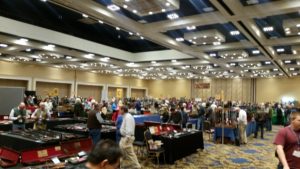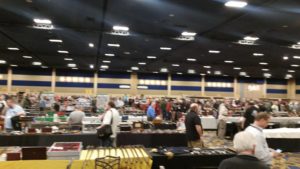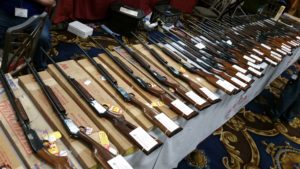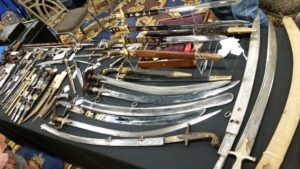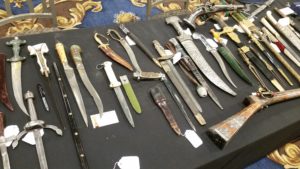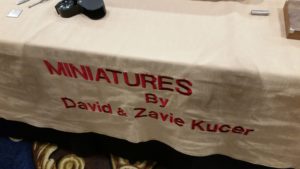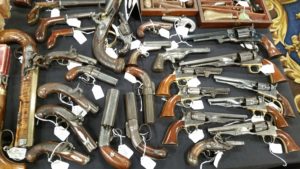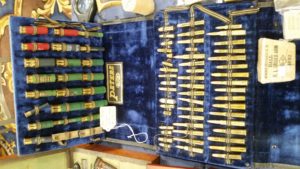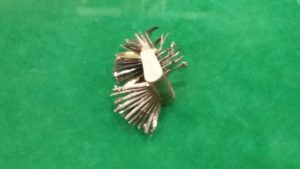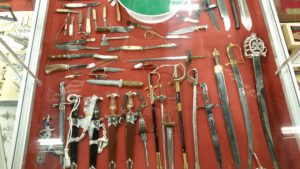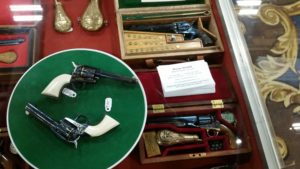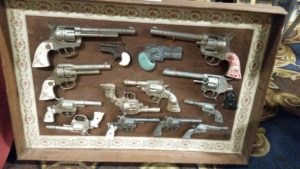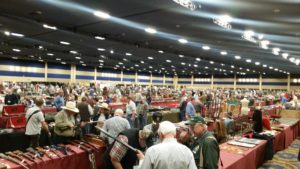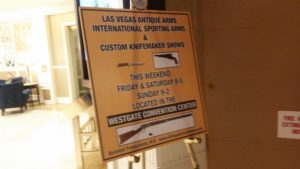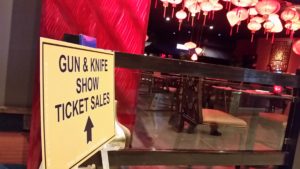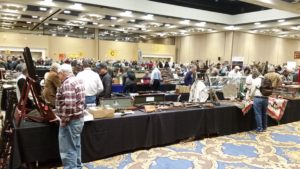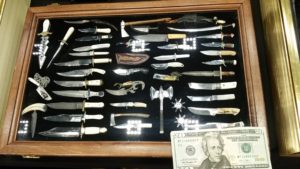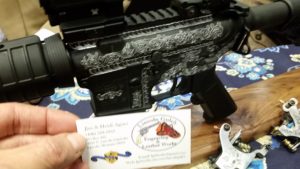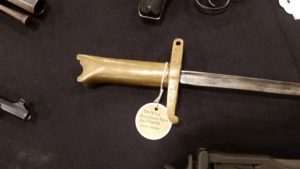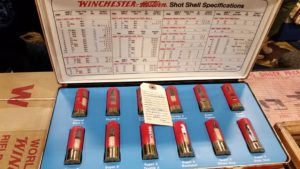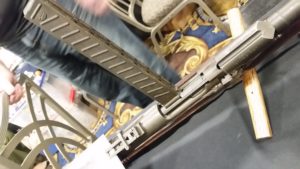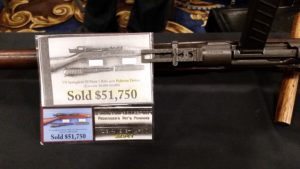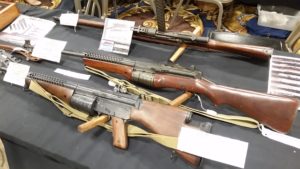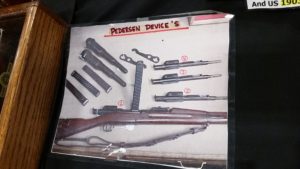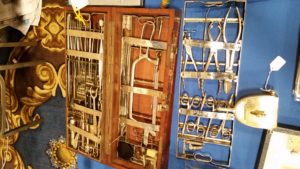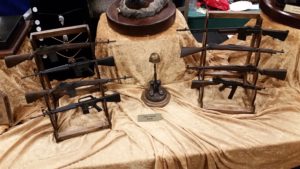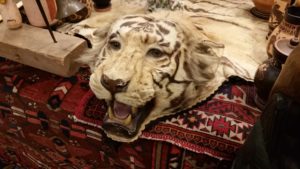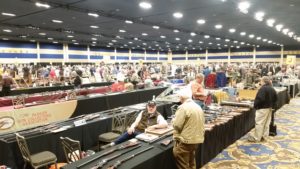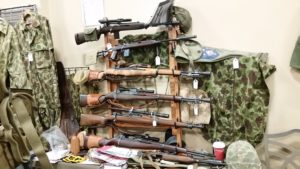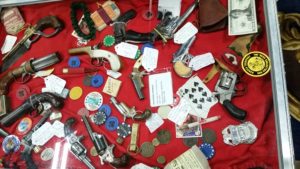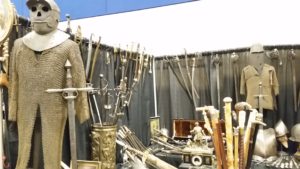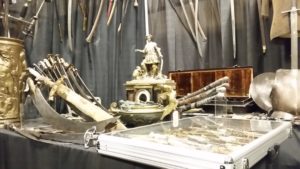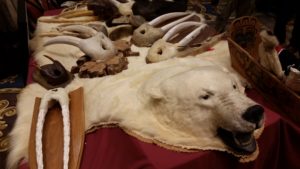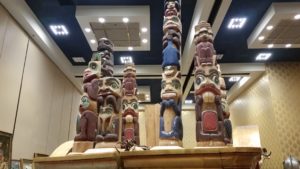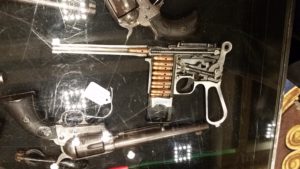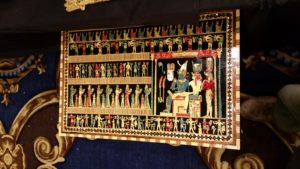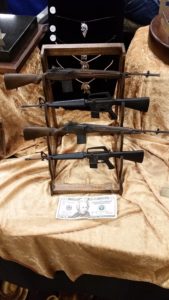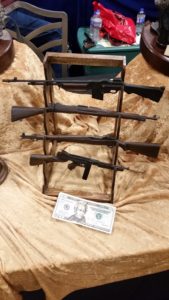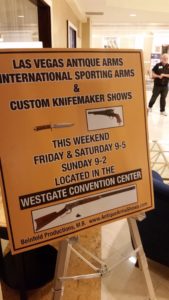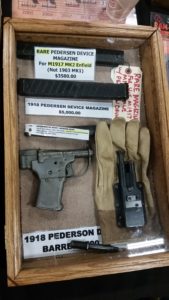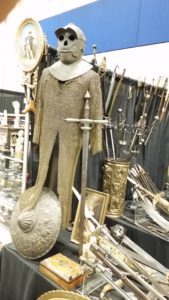 Posted inGun Show Promoters, Gun Show Reviews, Major Gun Shows | TaggedLas Vegas, Nevada
Proudly powered by WordPress
Sours: http://gunshowreviews.com/tag/las-vegas/
Tuesday Jan 20 – Friday Jan 23, 2015
Las Vegas, Nevada (Sands Expo)
In January of 2015 on the Friday evening before SHOT show started, the ATF posted a notice at 5pm. it said that the pistol brace when put to your shoulder would constitute a short barrel rifle
In effect suggesting the act of shooting a pistol with a stabilizing brace would be the equivalent of manufacturing a short barrel rifle.
And therefore would require all appropriate registration and taxis
Most of the industry was either at SHOT show or traveling to Las Vegas
We were live that night when the information hit the internet.
So we stayed live as long as possible to let people who were traveling know about the new situation
The next morning we went live again and not for us to keep people aware of this new information and during that live show .
We designed a #BraceThis patch based off of my AR-15 pistol with an A2 carry handle and front sight
We had the patches made up right away
Gun Channels Crew
the Yankee Marshal
Marco
AZ556
Thumbs
Gun Websites
(Visited 69 times, 1 visits today)
Sours: http://gunshowreviews.com/gun-shows/shot-show-2015%EF%BB%BF/
Crossroads Las Vegas Gun Show
This Las Vegas gun show is held at Cashman Field Center and hosted by Crossroads of the West Gun Shows of Nevada. All federal, state and local firearm ordinances and laws must be obeyed.
The Crossroads of the West Gun Shows have attracted more people than any other gun shows in America. There are hundreds of tables and something for everyone. You can buy, sell and trade.
The Utah Concealed Carry Permit is recognized by 34 states, however it is not recognized under California or Nevada law.
Sunday 9:00am – 4:00pm
Admission: General: $14.00, Children 12 & under: Free (with adult)
Dates:December 19, 2015 09:00 am to December 20, 2015 05:00 pm
Address:850 Las Vegas Blvd N, Las Vegas, Nevada 89101, United States
Phone:(801) 544-9125
Contact:Crossroads of the West Gun Shows
Website:http://www.crossroadsgunshows.com/



850 Las Vegas Blvd N, Las Vegas, Nevada 89101, United States
Type:Gun Shows, Posted on:01-Dec-2015
Sours: https://www.yundle.com/
Welcome to the Antique Arms Shows
Hand-Held Arms & Collectables Shows
Our pledge to you is that the merchandise offered, the ethics and business practices of the persons offering the merchandise and the representations made are of the highest quality.
We're glad you stopped by. We have been producing quality antique arms and collectible knife shows for more than 59 years. If you have attended one of our Las Vegas Antique Arms Shows™ you already know the quality we demand. If you haven't had the chance to attended one of our shows, you have our commitment that we only cater to the finest collectible arms dealers and collectors around the world.
AntiqueArmsShow.com represents the nation's leading antique firearms, curios and relics dealers. Participating dealers must meet show requirements and are individually qualified. If you are interested in participating as a dealer, please contact us.
Our Next Scheduled Event
We are so excited to welcome everyone back with our next show in 2022!
Antique Arms Show, International Sporting Arms Show, Invitational Knifemakers Show
January 21, 22 & 23, 2022
Event Location: Westgate Resort & Casino
3000 Paradise Rd, Las Vegas, NV 89109
Sours: https://www.antiquearmsshow.com/
Gun show 2015 vegas
Rocky Mountain Gun Show Las Vegas
Rocky Mountain Gun Show Las Vegas is a 3 day event being held from 18th December to the 20th December 2015 at the South Point Casino in Las Vegas, United States Of America. This event showcases product from Security & Defense industry.
Followers [ Users who have shown interest for this Event ]
Write a Review
Add Your Review
Exhibitors Profile
The exhibits of Rocky Mountain Gun Show Las Vegas will include wonderful variety of gun, two headed firearms, ammunition, defensive weapons, concealed weapons, rifles, shot guns, security services and pistols.
Featured Hotels in Las Vegas
South Point Hotel Casino-Spa

from USD 69

Grandview Resort Las Vegas B fo..

from USD 199

Luxury Suite Grandview

from USD 219.97

Grandview Resort Las Vegas A fo..

from USD 199
More Hotels
Sours: https://10times.com/rocky-mountain-gun-show
Riviera Gun Show Las Vegas
Let's just say: two people love each other. Audible: - Oh. How good it is. how nice.
You will also like:
Elisha nodded approvingly to the girl and smiled. Alice opened her mouth, Elisha slowly entered it, and froze, enjoying a small victory over her timidity and shame. Suddenly he felt the girl gently licking him inside, not letting go of his mouth, and looked at her in admiration.
Alice smiled at him out of the corner of her eyes, and suddenly her mouth moved almost to the bottom.
9380
9381
9382
9383
9384