Chinese Characters Printable
Use these Chinese Characters Printable pages for an easy Chinese New Year Craft where children can either cut out the printable characters from printer paper and decorate with gold paint or trace the characters on red plastic sheets for a more advanced craft. This post includes printables for eight different Chinese Characters; Faith, Hope, Love, Friendship, Luck, Courage, Peace and Wisdom.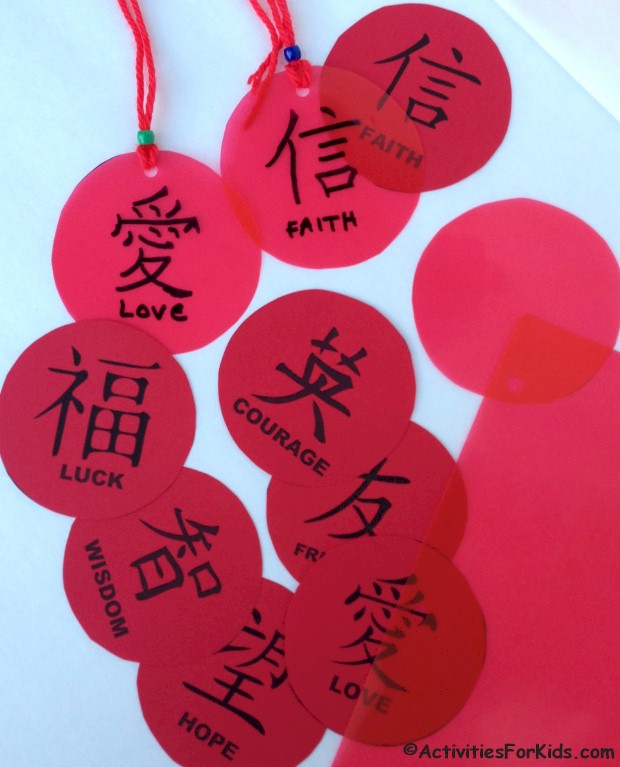 Supplies Needed For The Chinese Character Printable
Printouts for Faith, Hope, Love, Friendship or Luck, Courage, Peace, Wisdom Four characters print per page.
Printer paper – for this example, I used red paper.
Scissors
Yarn, cord or ribbon
Hole punch
Black permanent marker
Gold glitter glue
Plastic binder sheets – I purchased a pack of 8 from the Dollar Tree and only used the red sheet.
Pony beads – optional
Easier Craft Using Red Printer Paper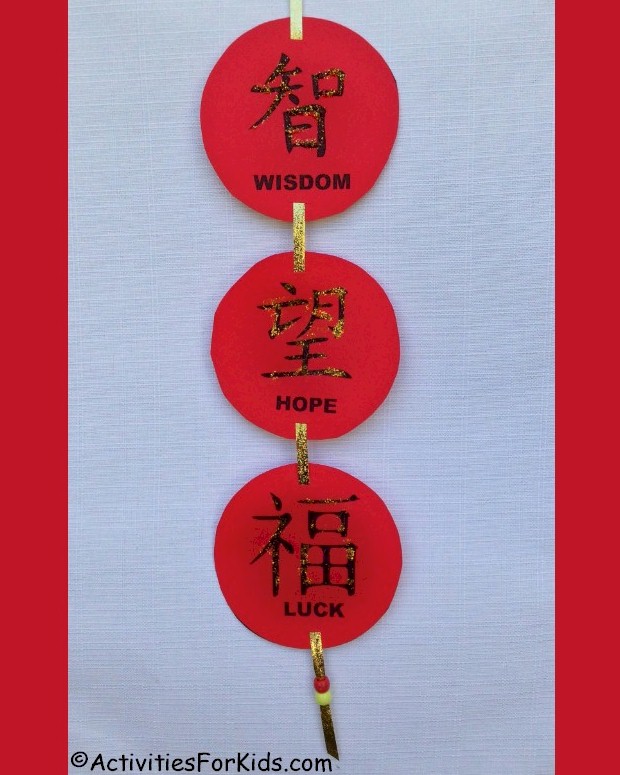 Start by selecting the Chinese Characters that you would like to print:
Faith, Hope, Love, Friendship or Luck, Courage, Peace, Wisdom and print the PDF document on red printer paper.
With a gold glitter glue pen, trace the Chinese characters and allow to dry thoroughly. Another option would be to trace the characters with glue and the sprinkle on gold glitter.
Once the glue has dried completely, cut out the four circles.
Children can use a hole punch at the top and bottom of the circle or an adult can place a small slit using an exacto knife.
Thread gold ribbon through the hole or slits as shown.
I've added another suggestion- which you can view in the video above – of using a gold chenille stem (pipe cleaner) instead of the ribbon.
Craft Using Clear Plastic Binder Sheets

Select the Chinese Characters that you would like to print: Faith, Hope, Love, Friendship or Luck, Courage, Peace, Wisdom. Print on either red or white printer paper.
Place the printed page behind the divider sheet and trace the four circles on to the plastic sheet. *Tip: I found it was a little easier to trace a more solid circle such as a small bowl rather than using the paper circle.
In the center of each circle, trace the Chinese character onto the red plastic using a black marker. If there are any smudges or mistakes, simply wipe the plastic with a little rubbing alcohol.
Cut the plastic circle out and punch a hole near the top.
I used a doubled piece of red yarn (about 24″ long) folded in half, fed the folded edge through the punched hole and then threaded the loose ends through the loop.
Add a few pony beads to the yarn for decoration if you like.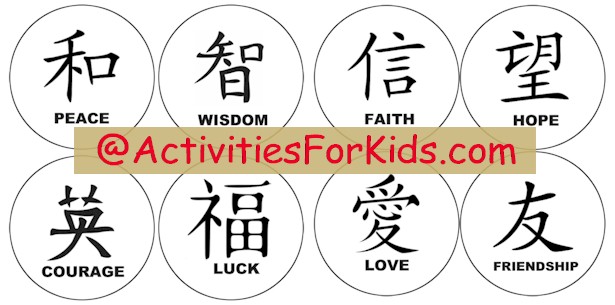 Sours: https://activitiesforkids.com/chinese-characters-printable/
Use these pages of Chinese Character Cards in lots of different ways for Chinese New Year or when you are learning about China:
Print onto white or coloured paper or card to make decorative posters for the classroom walls.
Print out two copies and use to play "Memory" or "Snap."
Cut the cards out and use to decorate the home. Perhaps you could attach to paper cups and napkin rings for a Chinese New Year meal? Or string the cards along a ribbon and use as a banner of table decoration?
Cut out and use individual cards to decorate Chinese New Year greetings cards or lucky money envelopes.
Use to decorate our Chinese lanterns, or in other craft projects.
Make a treasure hunt. Print out onto different colours of paper (one for each team in the treasure hunt). Write clues on the back, or just hide the cards around the house. The first team to find all their cards wins.
Related Content
Lion Dance Mask
Whether supersized (2 page) or regular (1 page), colour or black and white, this lion dance mask creates an impact and the kids will love using it to create their own lion dances!
Asian Fish Bookmarks
These lovely bookmarks are inspired by Chinese New Year colours and Asian designs. Goldfish are considered good luck in the Chinese culture, so we thought these would be a fun addition to our offering.
Chinese Characters Number Poster
Use this Chinese Characters Number Poster to brighten up the walls of the classroom or home at Chinese New Year or for counting activities. The poster prints out well on bright-coloured paper or card.
Sours: https://www.activityvillage.co.uk/chinese-character-cards
Chinese Symbols
Celebrate the Chinese New Year with this printable! Students can cut and color the images individually, or color the entire sheet. Create a Chinese New year bulletin board or classroom door decor using the colored images or sheets.
Featured 5th Grade Resources
Related Resources
TEACHING RESOURCE

Chinese New Year - Videos & Activities

Chinese New Year – Videos & Activities Chinese New Year, also known as Spring Festival or Lunar New Year, begins Febr...

REFERENCE

The Chinese Calendar

The Chinese lunar year is divided into 12 months of 29 or 30 days.

REFERENCE

Chinese Music

Introduce your class to the Musical Styles, Vocal Music, Instruments, and Tradition of the Han Chinese culture.

REFERENCE

Asian-American History

When they first arrived in the United States, Asian (usually Chinese) immigrants were welcomed, or at least tolerated.

REFERENCE

Chinatowns and Other Asian-American Enclaves

As immigrants from Asia or the Pacific Islands arrived in the United States, they often joined their compatriots in alre...

TEACHING RESOURCE

Margaret's Chinese New Year

Margaret's Chinese New Year by Margaret, age 12 Reporting from Boston, MassachusettsChinese New Year occurs every year o...
ADVERTISEMENT | REMOVE ADS
Sours: https://www.teachervision.com/china/chinese-symbols
Jealous. Yes, and a hike drunk. - Well, what, I want to meet with her. I like her.
Symbols printable chinese
The collector was not stingy when he fulfilled his part of the deal. Devilishly black Audi TT rushes on the asphalt hot summer. Sun. Driving - Olesya - a tall, strong-legged blonde in a moonlight-white tank top, a short pleated skirt and blue pumps.
Learn to read Chinese ... with ease! - ShaoLan
Squeezed, but not enough to close the passage. And I push my brother into this still trembling pussy with small jerks, brazenly, not paying attention to the feelings of the matchmaker. And she shrinks from each push, then relaxes the ass, shrinks again.
And I feel so good.
Now discussing:
Always. - How do you like sperm. Do you want to suck his cock more often. - Yes. - Did you get excited by the very thought that when you are called cocksucker and pizdolysis, you get excited from these appeals to you.
361
362
363
364
365