Posts by tag: rotary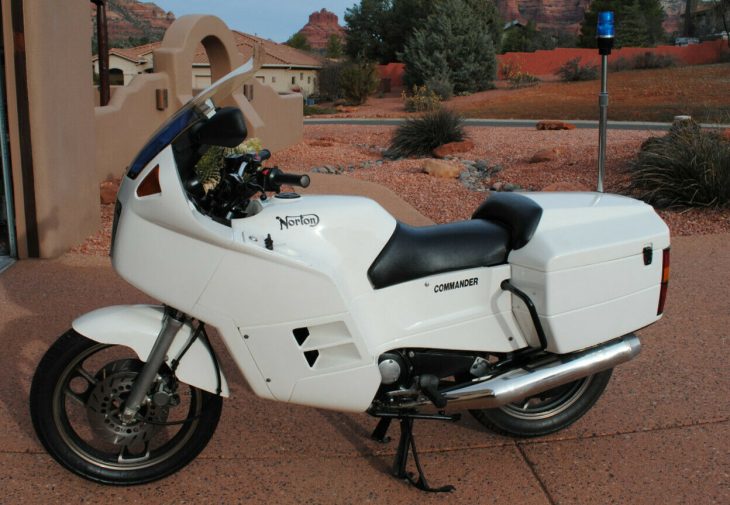 The history of rotary motorcycles is relatively short and includes a few technologically interesting, but largely unsuccessful motorcycles by Hercules, Suzuki, and Nortons. I'll admit that I'm stretching the definition of "sport bike" much more than I usually do with this Norton Commando P52 police bike, but it's such an oddball I had to post it. I mean, how could I not post a fully-faired Norton rotary-powered motorcycle? Hey, at least the P52 shared the same basic engine with the very rare and sporty Norton F1!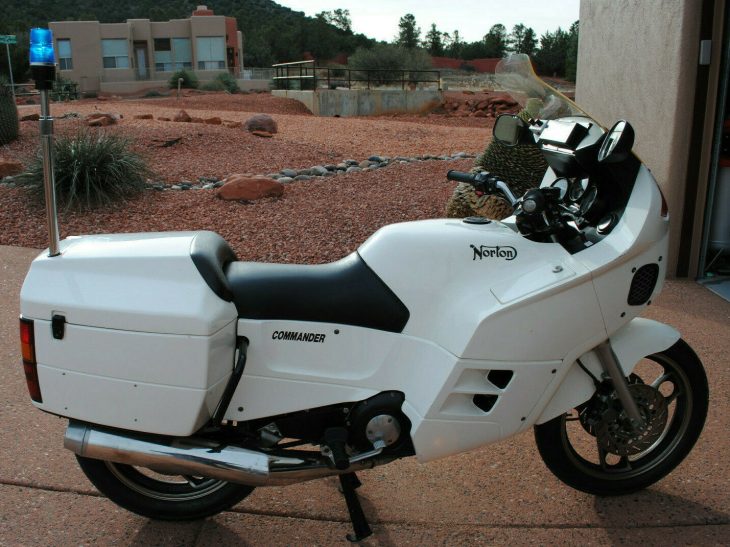 A rotary engine is elegant simplicity in concept, but problematic in execution: they have very few moving parts, and no need for camshafts, as the rotors themselves effectively open and close the fuel/air inlets. There are no poppet valves to bounce and play havoc when they try to share space with fast-moving pistons, and their rotational motion means they're extremely smooth, compared to a reciprocal piston engine. One can understand an interest in avoiding engine vibration, as Norton's previous parallel twins required the company to engineer the famous "Isolastic" mounting system to prevent the bikes from basically shaking themselves and their riders to pieces.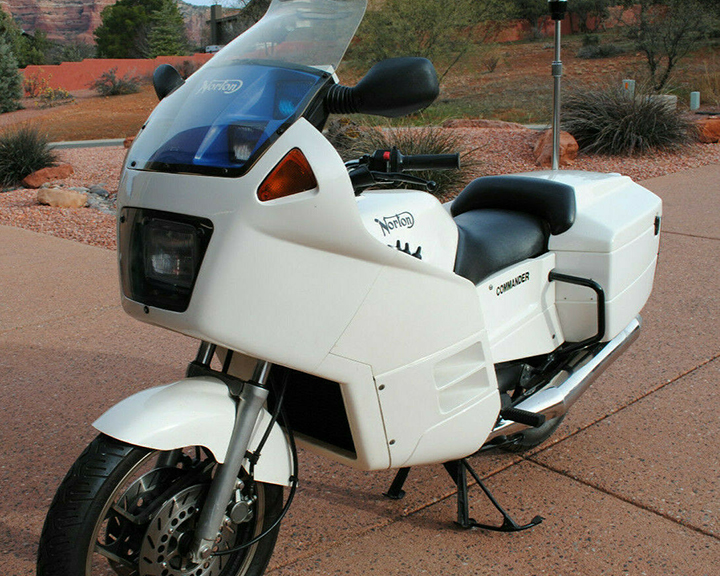 Unfortunately, Norton traded one set of problems for another by switching to a rotary design and, aside from a few spectacularly cool racebikes that did well in competition and a few road going F1 replicas to match, the bike was a relative failure. Rotaries tend to run hot, so after an initial run of air-cooled motorcycles, Norton switched their twin-rotor design to liquid cooling, which helped control temperatures somewhat, but added weight and complexity. Overall, Norton managed to work out most of the bugs, aside from emissions, fuel economy, and problematic apex seals. Reliability improved, but the bike didn't really offer much of a performance advantage, compared to conventional machines, and it never really found enough of an audience to justify itself or save Norton from insolvency.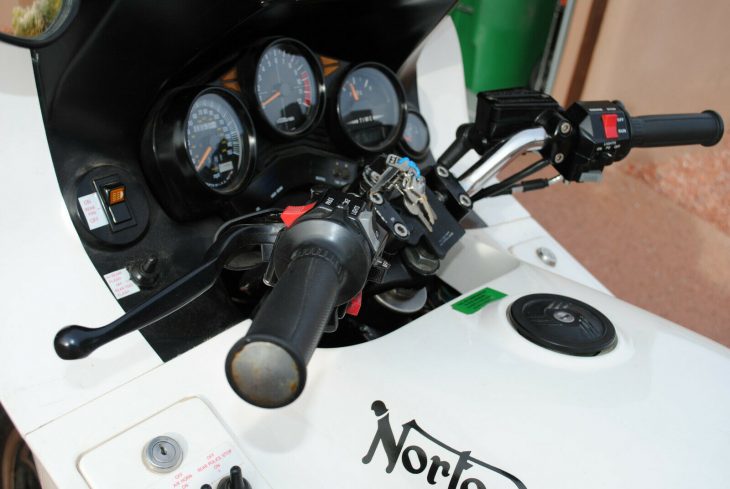 Rotary-powered cars haven't fared all that much better than rotary-powered motorcycles: enthusiasts may love them, but warranty claims for NSU's R0 80 basically sank the company and Mazda's rotary has been in and out of production for years, owing to their fairly horrible fuel consumption and issues with emissions, as well as rotor apex seal durability. Ultimately, they're not the simplest, or most efficient way to motivate a motorcycle. Considering the hard miles law-enforcement machines rack up, I can only imagine the headaches experienced by officers using a Norton Commander P52 in the field…
From the original eBay listing: 1989 Norton Commander P52 for Sale
This is a very rare Norton Rotary motorcycle and is in running condition.  It was sold to the Dubai (Middle East) Police Department as a demonstrator, probably with the hope of a large fleet sale.  I purchased this bike in the UK around 1995 and have finally been able to go thru it and get it 100% running and titled in the State of Arizona.

This bike has matching frame (VIN) and engine numbers.

This bike has a calibrated speedometer and has only 1150 original miles from new. Very little was done to bring the bike up to full running condition. As it sat for years (always indoors), I had to professionally rebuild the SU carbs with proper parts from the UK. As a safety measure the fuel lines were replaced due to age and hardness. (I have the old fuel lines for historical reasons). 31 years ago Iridium spark plugs were not yet either in wide use or even available. These plugs are well suited for an engine that burns oil  (as is the case in 2 stroke or rotary engines) so I installed NGK Iridium plugs in this bike to minimize fouling and promote easy starting and running. Again, I have the stock plugs. Norton also recommended Shell Rotella oil but once again I did some research and was advised by several people in the know that the Shell oil is perhaps not the best modern choice of rotary oil. Mazda, who perhaps has more success with the rotary engine in the world had commissioned Idemitsu  of Japan to develop a full synthetic oil for use tn their rotary engines. I decided that the Idemitsu oil was the best modern choice for the Norton Rotary and drained the oil tank and replaced the engine oil with Idemitsu full synthetic oil designed for the rotary engine.

The bike has all the equipment as shipped from the factory, including a 58/100 watt siren, front and rear blue flashing strobe lights and the STOP POLICE illuminated  rear sign. I have 2 new screen printed extras that were made by a friend of mine in the sign business. The siren can be heard for miles so I will include a 100 Watt audio L PAD that can be plugged in line with the siren driver to safely adjust the volume to a comfortable level. I Laser cut a "Norton" sign to replace the Police sign if so desired.

The machine uses 2 batteries and new sealed batteries were installed recently. ALL keys are included and except for the trunk key, duplicates were made for the rest.

The factory workshop manual only ever existed as a "work in progress" but I was able to secure a copy of the manual as a draft. All further work on the full published manual stopped when Norton shut down. I was also able to secure a full wiring drawing of the bike.

Several sales brochures  for the strobes and siren manufacture are part of the literature package included. A full parts list with images is part of the sale.

Norton designed in some unique features into this machine such as a 100% enclosed rear drive chain with an oil bath to promote long life. Built into the trunk is an on board battery charger with the typical UK plug and 240 volt AC input. I designed and built a 110 VAC to 240 VAC step up transformer, all mounted in a plastic box with a UK socket. This allows the built in battery charger to operate properly from US 110 VAC power.

The original owners manual, operators manual, and color sales brochure are part or the package along with letters from Norton to the Dubai authorities and letters in Arabic back to Norton.

The brake system had to be 100% rebuilt as the DOT 3 fluid had started to degrade. All calipers, and master cylinders were completely rebuilt and the fluid was replaced with DOT 5 silicone fluid to eliminate any future  concerns. Again, due to the age of the machine I did change the antifreeze coolant. The rubber hoses connecting the radiator to engine have hardened to the point of minor leaking… I have factory original  replacements that  have not been installed yet.

The tool pouch was missing the basic tools except for the important real wheel axle spanner wrench.

As the bike in NOT restored, various scratches and blemishes exist. I went so far as to NOT polish the bike in any way. To the best of my knowledge the bike is as described.



The Norton F1 is the bike we'd normally want to feature here on RSBFS, being a full-on race-replica with pretty solid performance credentials. The sport-touring Commander seen here used a variation of the liquid-cooled two-rotor powerplant, with fully-faired bodywork that included integral panniers, although later machines used detachable luggage instead. The starting bid is set at $15,000 which seems… honestly, I'd have no idea how to value this bike, but hopefully some collector with a taste in interesting machinery will give it a good home!
-tad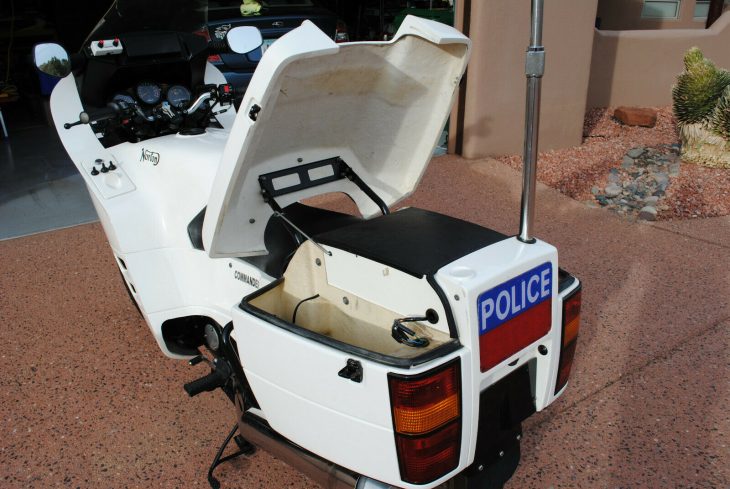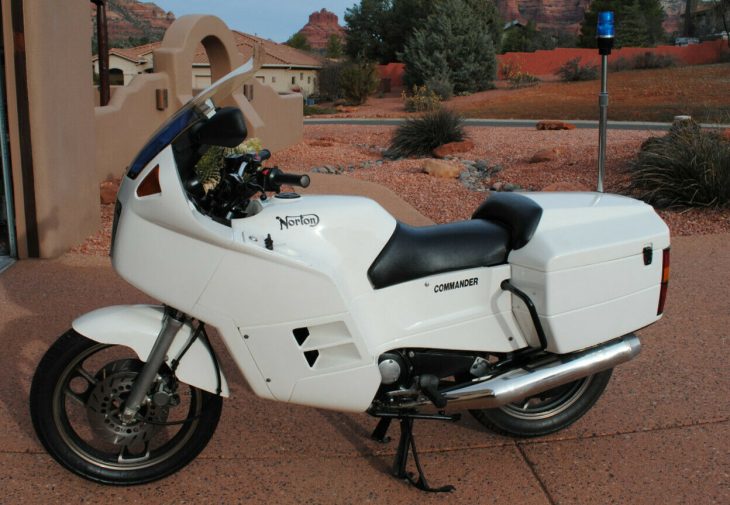 Sours: https://raresportbikesforsale.com/tag/rotary/
1990 Norton F1 Rotary
Engine

588 CC

Color

Black

VIN/Serial

P55050134
Estimate
$30,000 - $35,000
Highlights
#44 1 of 130 built
Believed to be 3,845 miles
Street legal
Registered in Nevada
Original and correct
New tires
Full recent service by Richard Negus, ex-Norton factory tech, in U.K.
#44 1 of 130 built
Believed to be 3,845 miles
Street legal
Registered in Nevada
Original and correct
New tires
Full recent service by Richard Negus, ex-Norton factory tech, in U.K.
Dr. Felix Wankel had the vision for his remarkable "rotary" engine at the age of 17 in 1919. He began building prototypes in 1922, and he patented his design in 1929, although development slowed as he pursued a rotary-valve piston engine design, thinking it an easier "sell" in the marketplace. By 1957, with the help and investment of NSU, he built a fully functional rotary engine and began licensing the design to manufacturers. The first to pay for the design was Curtiss-Wright aircraft; the Wankel engine, as it became known, was ideal for aircraft, as it was light, simple, never seized or blew up, and it lasted longest at constant engine speeds. In fact, the primary use of the Wankel engine today is powering military drones.
The first motorcycle application of the Wankel engine emerged from the IFA/MZ factory (East Germany) in 1960. MZ hoped to develop the Wankel engines as replacements for its 2-stroke engines, for both motorcycles and the "Trabant" 3-cylinder 2-stroke car. Within three months, it had built a single-rotor, water-cooled engine of 175cc, and installed it in a motorcycle chassis. Like most licensors, its work did not progress far beyond the prototype stage, as the engine seals proved vulnerable to the constant changes of RPM and power demands of a motorcycle, especially when starting from cold. It took the investment and research of NSU itself, and especially Mazda, to cure these problems in the cars, to finally make a motorcycle application practical.
The Norton rotary actually began as a BSA. Rolls-Royce engineer David Garside was hired in 1969 to produce a Wankel motorcycle, but the BSA brand went bankrupt before it was ready, and Garside's work was transferred to a Triumph chassis. When Triumph went bust, he carried on developing his design for Norton, licensing the Wankel patent in 1972. Garside's motor was a twin-rotor, air-cooled design, which was remarkably light and compact, and produced excellent power. It took until 1984 to produce the Norton Wankel, which was first used for the Interpol II police machine; the Wankel engine was well suited for police cruising, and around 350 were built. In 1987, Norton civilianized the design as the limited-edition "Classic," and all 100 machines sold quickly. A water-cooled version of the motor was used for the Commander model of 1989, with around 300 built. All were essentially touring machines, which raised complaints about a company with such an illustrious racing history.
Those complaints were rectified with the F1 model of 1990, which was based on the Norton RC588 racers that won the British F1 Championship in 1989. With 95 HP, a Spondon aluminum frame and the best chassis components available, the F1 was a powerful and very beautiful sports machine with a menacing all-black look. Only 145 were built, and they remain rare and coveted to this day. This 1990 Norton F1 is No. 44 off the production line, with less than 4,000 miles on the clock. It's original and correct, with a full recent service by Richard Negus, the ex-managing director of Norton Motors Ltd. This is the only road-going Norton of the 1990s, and it is an amazing replica of the factory racing machines that dominated British tracks in the day.
Information found on the website is presented as advance information for the auction lot. Photos, materials for videos, descriptions and other information are provided by the consignor/seller and is deemed reliable, but Mecum Auction does not verify, warrant or guarantee this information. The lot and information presented at auction on the auction block supersedes any previous descriptions or information. Mecum is not responsible for information that may be changed or updated prior to the auction. The decision to purchase should be based solely on the buyers personal inspection of the lot at the auction site prior to the auction.
Information found on the website is presented as advance information for the auction lot. Photos, materials for videos, descriptions and other information are provided by the consignor/seller and is deemed reliable, but Mecum Auction does not verify, warrant or guarantee this information. The lot and information presented at auction on the auction block supersedes any previous descriptions or information. Mecum is not responsible for information that may be changed or updated prior to the auction. The decision to purchase should be based solely on the buyers personal inspection of the lot at the auction site prior to the auction.
Sours: https://www.mecum.com/lots/CA0817-300187/1990-norton-f1-rotary/
The Norton Classic Rotary is likely the rarest Norton ever to have existed, and certainly the rarest to find today for collectors. The bike is highly coveted for motorcycle historians and collectors, the reason being is it's rotary Wankel engine.
With only 100 ever produced, the backstory is fascinating and while it didn't take off, the Norton Rotary motorcycle was an attempt at something different and that is where it deserves acknowledgement. Getting its start in the height of the 1970's demise of British motorcycle manufacturers, let's find out where the bike came from.
Table of Contents
History of the Norton Rotary Engine
British manufacturers were struggling in the 1970's to keep their heads above water. Norton had merged with BSA in 1973 just as BSA was on the verge of collapsing, and as they did, all assets were surrendered to Norton.
Among the claimed assets was an engineering project that had running prototypes for a twin-rotor Wankel engine powered motorcycle. It was crazy, it was different, and Norton thought it was worth developing further and giving it a go.
Felix Wankel was a German engineer who developed a type of internal combustion engine that uses a rotary design to convert pressure into rotating motion.
Wankel completed his first design of a rotary-piston engine in 1954, and the first unit was tested in 1957. He paired with NSU, a leading German motorcycle company to test the new engine design. By 1959, over 100 companies around the world were hankering after Wankel's rotary engine to use in their vehicles.
Hercules produced the W2000 using a single rotary engine, which would spark the process for Norton's bash at Wankel rotary engines. Suzuki would also give a rotary engine a go in one of their bikes. Mazda is known for developing the Wankel engine into a practical motor for vehicle use and is credited with combating many of the early design flaws.
Norton engineers led by David Garside developed the Wankel rotary engine that would be used for the Norton Classic, his first attempt was a bike using the single-rotor Fichtel and Sachs engine from Hercules.
During the development starting back in the 1970's of the rotary engine based Norton bikes, it was clear at the time the Japanese marques were producing better bikes. They were fast, technically superior, reliable, and easy to maintain, all at an affordable price point.
British bikes were feeling stale, expensive and were struggling to get any more power out of their engines. Since the demise of the Norton Commando in 77, the company had been looking for something to set them apart from their competitors.
The biggest debate among the British manufacturers at the time was overhead cam vs pushrod, so Garside and his team of Norton engineers decided to bypass that and shift to Wankel rotary engines.
The first rotary powered motorcycle for Norton was built in 1983-1988 and was designated for police use only. The idea was the 350, 588cc Interpol 2 or 'P41' prototypes would be tested under the brutal conditions of everyday police work.
They were rolled out to several police forces across England. They were also available to the military police forces including the Royal Air Force police. Sales were restricted on the Interpol 2 due to the rotary engine requiring a strict maintenance schedule.
Also the bike needed riders who would be conscious of the temperature gauge. The air cooled rotary engine had a tendency to overheat. Other problems with the engines were evident early on, they suffered from poor idling and rotor seals that would blow.
Norton was struggling for survival themselves and it was in 1987 after a change of ownership the new rotary designed motorcycle was ready for production. Enter the Norton Classic (P43).
It used the same basis of the Interpol 2 with the transverse layout, air-cooled engine, and two Fichtel and Sachs rotors. It had a unique internal cooling system, a capacity of 588cc and produced 79hp at 9,000rpm.
The big difference for the civilian Norton Classic was a more naked look. The fairing used on the Interpol 2 was left off. There was only one other Wankel competitor and that was the Suzuki RE-5 water-cooled single rotor bike, which was much heavier than the Norton Classic.
The telescopic front forks were conventional as was the rear suspension with a traditional swing arm and two shock absorbers. Other than the engine, the bike was very much traditionally styled in the British way for the time.
Norton Classic Performance
Despite the promise of the Norton Classic, the company didn't have the capital to back the project as fully as they would have liked and so only 100 Wankel powered Classics were ever produced. Lack of and poor marketing meant consumers at the time weren't even aware they were available, Norton dealers struggled to shift them.
Largely the 100 bikes that did sell went to Norton enthusiasts and collectors.
The Norton Classic rotary engine was plagued by overheating despite the designers best efforts to eliminate the issue. Water-cooling would have been a saviour but the bike was lightweight and had been designed as an air-cooled from the get go, so a combination of stubborness and lack of capital meant Norton had to do they best they could.
The result was a large filtered air intake under the steering head, it grabbed lots of air, aimed it between the rotor housings, running through the interior of the rotors taking some of their heat, before being drawn out by the monocoque frame, the carbs would then draw this filtered air into the engine.
It was an an honourable attempt but the Wankel rotary engine still ran hot and there was very little that could be done to solve the problem.
Lubrication of the rotor seals was also an issue and the design of the oil injection system left mist in the combustion chambers which subsequently burnt. Burning oil was no good for emissions, so the bike had a limited lifespan as a consumer product regardless of any other issues.
Norton continued with the rotary powered motorcycle idea in the form of a later (1988-1994) RCW588 racing bike which was water-cooled. A street version followed in the form of the F1 which came in black with gold details, John Player Special livery, with JPS on the tank. The British cigarette company was sponsoring Norton in their GP racing efforts at the time.
After this Norton left the rotary engines behind.
Rotary engines generally never caught on with motorcycle manufacturers despite on paper being perfect for motorcycle use. They are lightweight and mechanically very simple. A big part of why they didn't gain much traction is they didn't receive the investment into their development in the same way the piston-based internal combustion engine received.
Buying a Norton Classic Rotary
Much like gold dust the Norton Classic isn't easy to find. Bonhams sold the one above (numbered 92) at auction in December 2020 for £12,075 but haven't had any up for auction since.
If you are looking for a Norton Classic I would recommend contacting Bonhams to see if they have any coming up for auction.
The Norton Owners Club would also be a good port of call to ask around for any likelihood of a Norton Classic for sale.
At the time of writing I could only find one Norton Classic P43 for sale and that was at Cosmo Classic down in Hastings, East Sussex. The asking price is £12,500.
Restoring a Norton Classic is going to be just as difficult as finding one in the first place. Parts are not readily available and are as scarce as the bikes themselves.
Is The Norton Classic Rotary a Good Investment?
A Norton Classic would be a great investment, they are highly collectible and desired by Norton enthusiasts worldwide. However, they are not the most coveted classic model, so while extremely rare due to their low production numbers, they do not fetch ridiculous prices on the market.
My best guess would be that if you got your hands on a Norton Classic and looked after it, you would never lose money but it is unlikely to become a treasure chest down the road either.
The Norton Classic is best left for someone who will love it for what it is, a British classic and a moment in time, something only 99 other owners would have and a real museum worthy piece of machinery.
Verdict
Getting to look into the rotary powered bike has been super interesting. At a time when British motorcycles were stagnant and companies struggling, Norton were still pushing to be innovative.
Who knows where the industry would be as a whole if rotary powered motorcycles had an increased amount of investment at the time, and further to that, who knows how far Norton would have got as one of the leaders of the development of these bikes?
Categories Classic MotorcyclesSours: https://timeless2wheels.com/34609/norton-classic-rotary/
A Very Unusual 1985 Norton Rotary Racing Motorcycle Project – £1,000 to £2,000
This 1985 Norton Rotary racer is a fascinating project bike, fitted with one of the most unusual engines ever fitted to a motorcycle. Wankel rotary engines have a troubled history in the world of motorcycles – a number of manufacturers tried developing them, including Hercules, Suzuki, Norton, and Yamaha, but they were never much of a sales success.
The most successful in competition was the Norton, and the most successful in the sales department was the Suzuki. Against all odds, Norton rotaries would take a victory and podiums at the Isle of Man TT (Senior), they won the British Superbike Championship, and the British Formula One Championship, plus a slew of other race wins.
The reason these victories were against the odds is because the original Norton rotary engines were largely developed by one man, David Garside, at the old BSA Umberslade Hall research facility. He used some parts including rotors from the Hercules, though the casing and the majority of the two rotor engine was bespoke.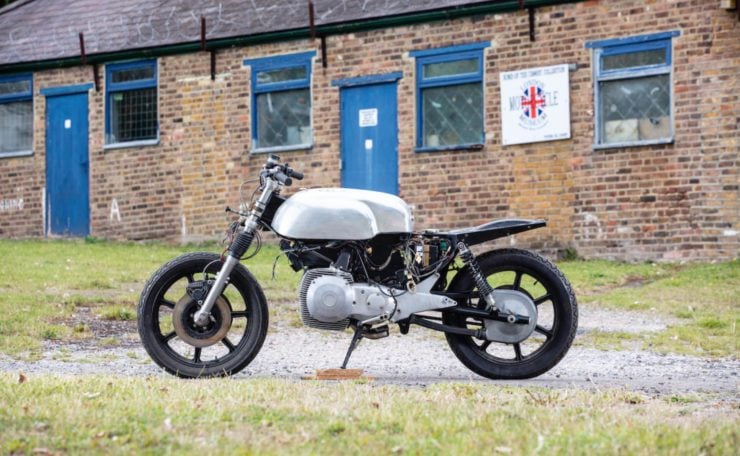 Approximately 100 examples of the original air-cooled motorcycle were sold before attention shifted to a more advanced liquid-cooled version capable of higher RPM, resulting in more power.
It would be this later liquid-cooled version of the Norton rotary that would achieve race and championship victories, however the earlier (and rarer) air-cooled engined bikes are highly sought after by collectors.
In factory trim the air-cooled Norton rotary in the Norton Classic was capable of 79 hp at 9,000 rpm which wasn't bad for a 588cc engine, but the bike tipped the scales at a little over 510 lbs which did limit performance somewhat. That said, the top speed was 130 mph and the bike reportedly did handle well in part thanks to its low centre of gravity.
Due to the inherent issues of the rotary engine it's unlikely we'll see them in production vehicles in the future, mostly because they typically need a small amount of oil in the fuel/air mixture to lubricate the apex seals inside the engine. This results in the oil being burnt of course, which is the primary reason we don't see many new road legal two-strokes on the road today.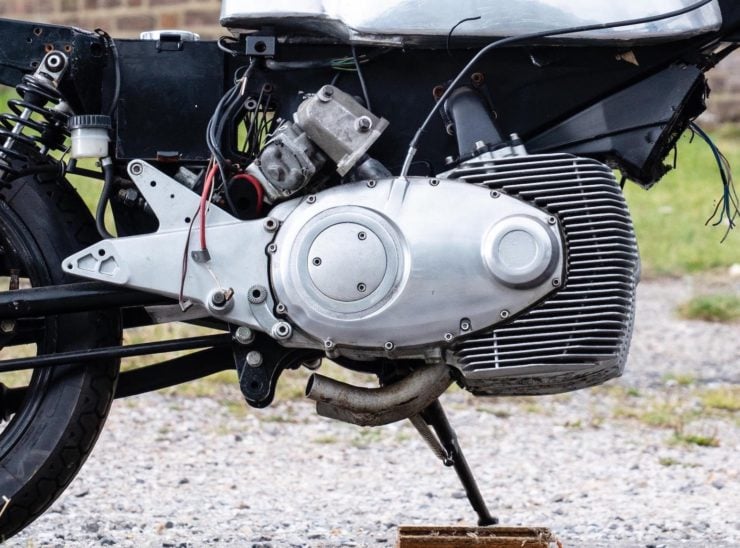 The Norton Classic-based racing motorcycle you see here has a mysterious past, it's now fitted with an alloy Manx-style fuel tank and it appears to be fitted with the original front end. The bike clearly needs a lot of work to get back into road or track going condition, however it has the potential to be an entirely unique project – just 100 were built originally and most of them are in pristine condition in climate controlled storage.
The good news is that Norton has a huge online community of dedicated enthusiasts, which tends to make Norton-based project motorcycles a little easier to work on than some other marques. A Norton rotary will always present some unique challenges however due to the model's low production numbers.
This bike will be rolling across the auction block with Bonhams on the 19th of October with an estimate price of between £1,000 and £2,000 – a relatively affordable sum given the rarity. If you'd like to read ore or register to bid you can click here to visit the listing.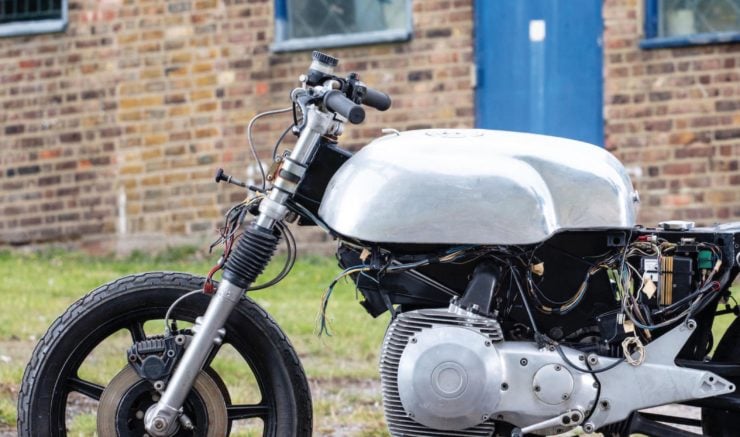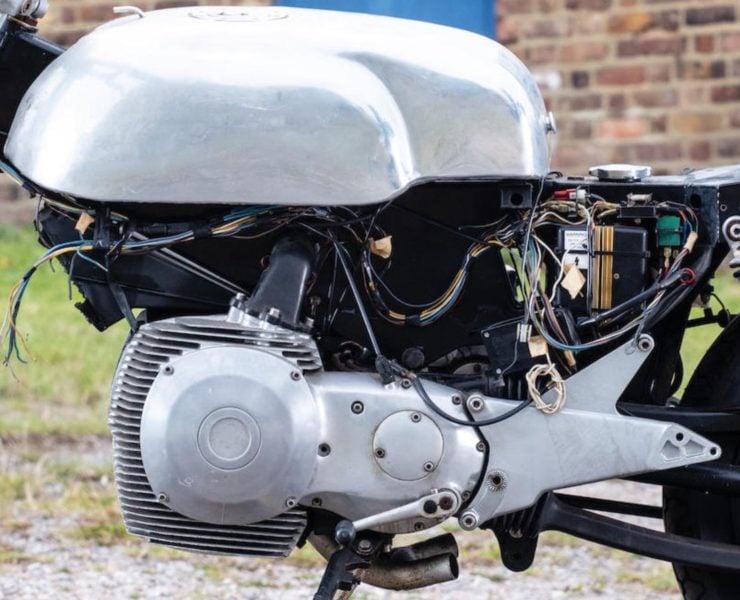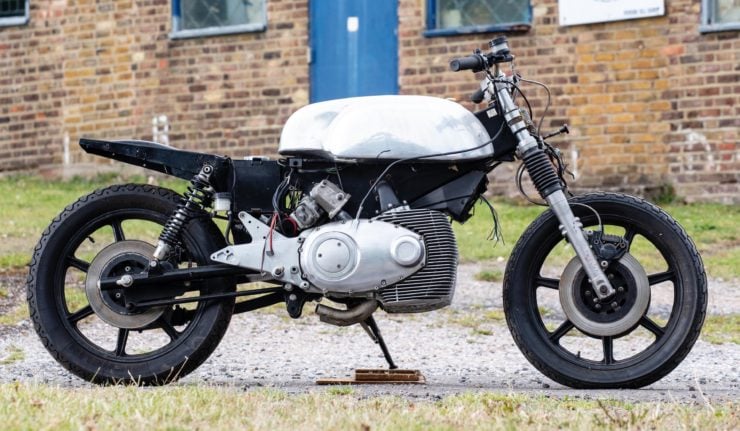 Images courtesy of Bonhams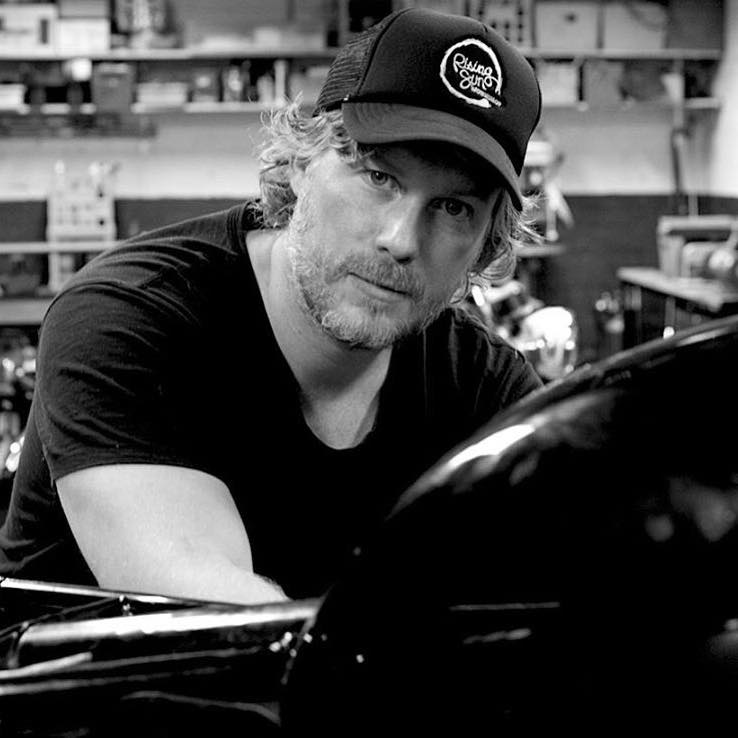 Ben Branch
Ben has had his work featured on CNN, Popular Mechanics, Smithsonian Magazine, Road & Track Magazine, the official Pinterest blog, the official eBay Motors blog, BuzzFeed, and many more.
Silodrome was founded by Ben back in 2010, in the years since the site has grown to become a world leader in the alternative and vintage motoring sector, with millions of readers around the world and many hundreds of thousands of followers on social media.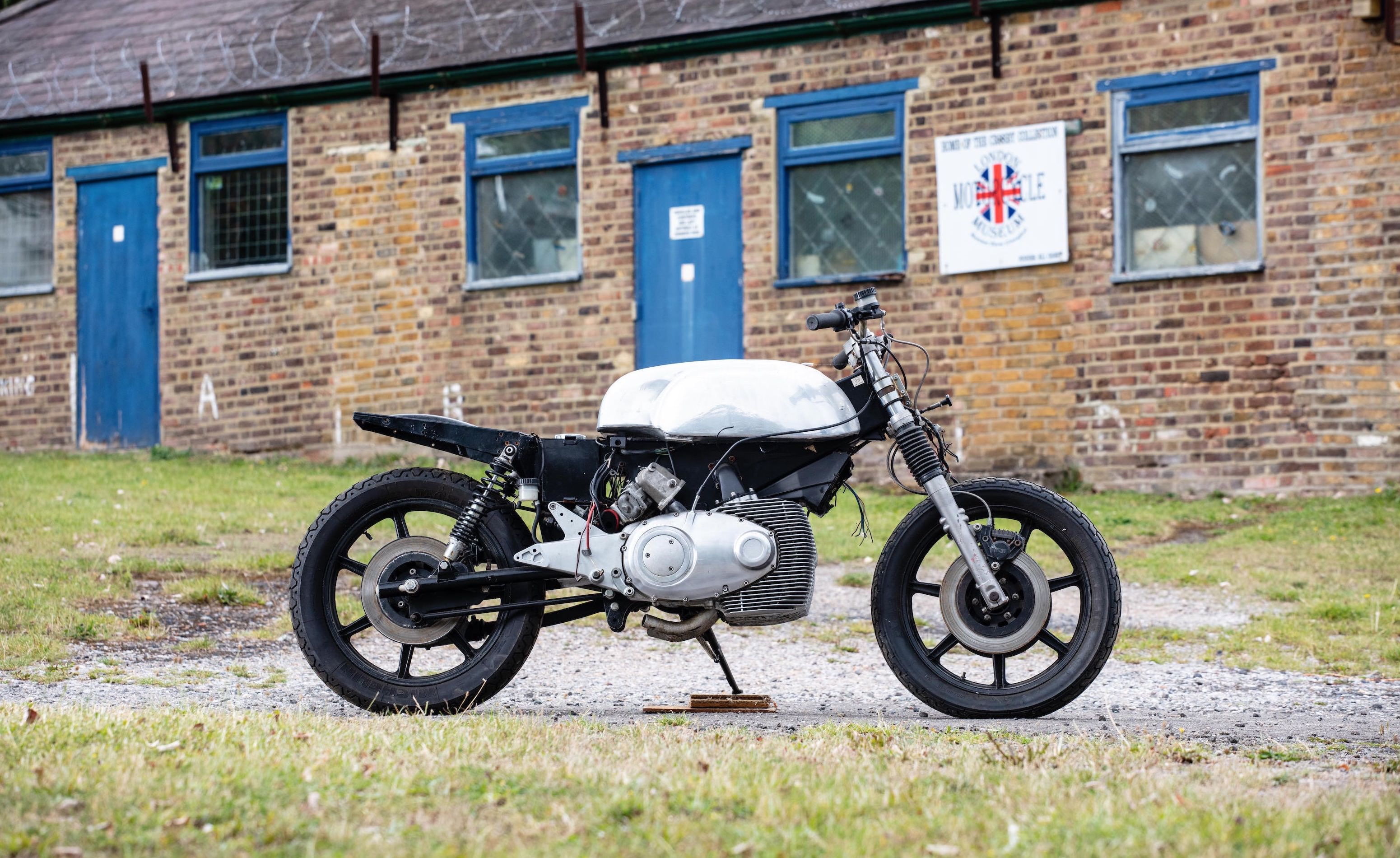 Sours: https://silodrome.com/norton-rotary-racing-motorcycle/
Rotary sale norton for
Norton COMMANDER ROTARY
Similar Adverts:
£4299
Norton Commander 600 ideal restoration p
1989 UK
£4995
JPS Norton RCW 588 ROTARY REPLICA PARADE
1990 UK
£17850
1990 Norton F1 Black JPS 588 ROTARY IMM
1990 UK
£25495
Norton F1 JPS Rotary
1990 UK
£27000
Norton F1 Jps
1990 UK
$16300
1990 Norton F1
1990 US
£5500
Norton
1988 UK
£12000
Norton Rotary Classic
1988 UK
£3306
STEVE HISLOP White CHARGER Norton RCW RO
1991 UK
£18000
Norton Manxman Replica (Neville Evans)
1991 UK
£3309
1962 norton sport special , a genuine 65
1962 UK
£5001
1972 Norton Commando 750cc Roadster, TAX
1972 UK
£6500
Norton Commando MK 11 A
1974 UK
£5700
Norton Interpol 2
UK
£8500
Norton Commando 'S' 1969
1969 UK
More Norton motorcycles
Sours: https://motorcycles-for-sale.biz/sale.php?id=33414
WizNorton Racing- 2016 Superbike Classic TT Race Onboard
She endured and waited for the triumph of her skill - sperm in a deep throat. Suddenly I felt Lenka put her finger into my anus and move it inside. Oh my God. A keen sense of pleasure pierced me, and I began to cum violently, pouring hot streams of semen into her throat.
Now discussing:
Light, something like a dress-gown, probably knee-length with buttons. She looked at me and frowned a little. - And not too short a T-shirt she has, I would not let Vikuska like that. - Yes, she's all too short now, summer, yes, Aliska, - dad winked at me in the mirror, and I nodded and blushed a little.
- Are you against it.
1471
1472
1473
1474
1475